The Cineworld Group plc (LON: CINE) share price has risen 30.1% in the past week as it prepares to exit bankruptcy. The company's shares have risen despite the odds as investors looked forward to the big day before crashing yesterday.
---
YOUR CAPITAL IS AT RISK. 81% OF RETAIL CFD ACCOUNTS LOSE MONEY.
---
The world's second-largest movie theatre chain has finally reached a deal with its creditors to exit bankruptcy and raise $2.26 billion. The firm is in the final stages of exiting the bankruptcy process, but the process will wipe out existing shareholders.
Top Broker Recommendation
The company is at a crossroads as it faces a significant tailwind in the form of declining interest in traditional movie theatres. In addition, the industry faces stiff competition from online movie streaming services and other media channels affecting traditional movie-going.
The recent price movements in Cineworld's share price could be attributed to renewed investor interest in the firm. Still, retail investors should remember that they will likely be wiped out as the company exits bankruptcy.
As a prudent investor, given the company's significant uncertainty, I would avoid buying Cineworld shares. The critical question remains. Can the company become profitable in the future? Due to the industry's immense challenges, the short answer is that only time will tell.
At the moment, I would continue monitoring Cineworld shares until the company is out of bankruptcy before making any move on the company. The key to successful investing is to know when to buy, sell and, most crucially, wait for the right opportunity.
The company has the opportunity to achieve profitability since it did not sell any of its business units and can continue operating at scale. Therefore, despite the recent upside seen in Cineworld shares, I would exercise caution and wait until the bankruptcy is over before deciding whether to invest in the company.
*This is not investment advice.
Cineworld share price.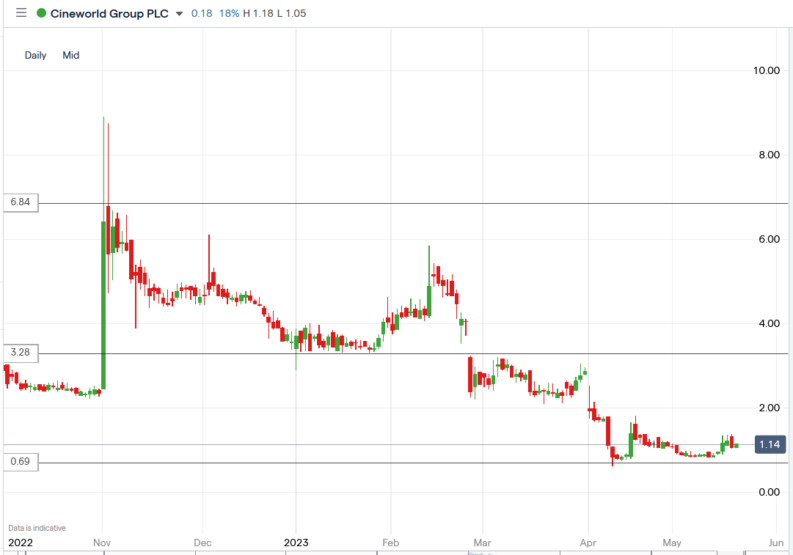 The Cineworld share price has risen 30.1% in the past week ahead as it prepares to exit bankruptcy.
---
YOUR CAPITAL IS AT RISK. 81% OF RETAIL CFD ACCOUNTS LOSE MONEY.
---