Acuity Brands (NYSE:AYI) shares tumble after Q3 sales miss
Joe Hatch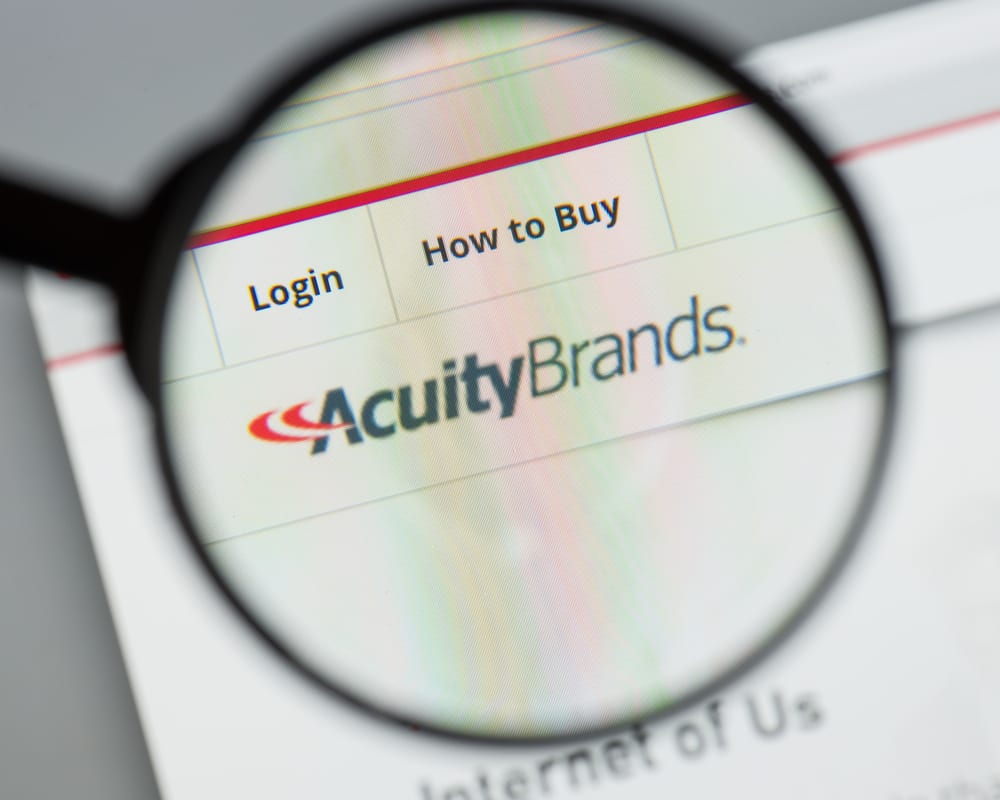 Reports $947.6M revenue, $21.88M below consensus and down 0.4% Y/Y
Non-GAAP EPS ($2.53) beats by 2 cents, GAAP EPS of $2.22
Downbeat outlook for Q4 as markets soften and trade tariff impact lingers
Expects modest drop in net sales as efforts to boost margin profile continue
Acuity Brands (NYSE:AYI) shares slumped 7.9% following the close on Tuesday after the lighting and building management solutions provider came up $21.88 million short on the Wall Street consensus for revenue in fiscal Q3, and offered weaker-than-expected guidance for the remainder of the fiscal year.
Acuity Brands did manage to deliver an earnings beat with the $2.53 EPS, which is a 6.8% increase year-over-year and 2 cents ahead of the pre-report estimates. The increase was driven by several factors including productivity gains and an uptick in price realisation, but those positives were offset to a degree by the impact of the US-China trade battle.
CEO Vernon J. Nagel touched on the headwinds caused by the long-running conflict in a statement where he said "trade policy issues" had made for a "challenging market environment" during the three month period to May 31, 2019. However, he said he was "pleased" with overall performance in light of the "ongoing angst".
Net income during the quarter did rise 21% from $73 million to $88.4 million, while adjusted share earnings advanced from $2.37 to $2.53 Y/Y. In contrast, adjusted operating profit fell 1.3% to $135.5 million and the adjusted operating profit margin tumbled 20 basis points to 14.3%.
Nagel said that the adjusted gross profit margin managed to trend higher for the third successive quarter as it remained above 40 per cent. He also said the diluted EPS ($2.22) and adjusted diluted EPS ($2.53) figures were both quarterly records.
He added: "Net sales growth through our independent sales network channel was largely offset by lower net sales in the retail sales channel compared with the year-ago period, which was primarily due to the impact of efforts this year to eliminate certain product categories that do not meet our expected profit margin profile."
AYI shares traded higher immediately after the report, but investors may have taken a dim view on the company's outlook for Q4 sales which warned of a "modest" decrease and noted that demand in certain markets had "softened" in recent weeks.
Nagel said he remains "cautiously optimistic" about market conditions heading into H2 2019 and does not believe that there have been any major developments that would cause it to revise the outlook provided during the previous quarter. The North American lighting market as a whole is tipped to grow by 1-4% this year though recent indexes have not been as strong.
On the analyst front, Acuity Brands still has an Overweight consensus with 5 Buy ratings and 4 at Hold. There is only one Sell rating. The average price target for the Atlanta, Georgia-based company is $144.67, which is around $9 upside on the current price.