Altcoin hodlers still holding our for "Alt-season", but opinions vary
Tom Cleveland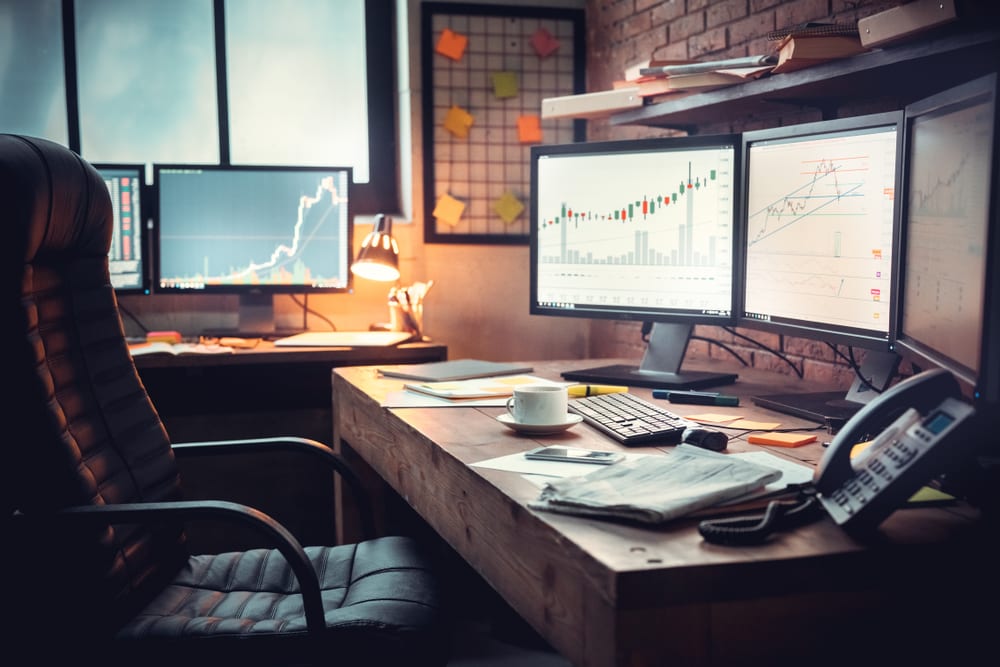 If there is one thing that technical analysts revere, it is a repeating pattern, at least one that repeats at better than 60% odds. Trading strategies are built upon such a foundation in order to tip the scale, so to speak, in one's favor over time. In Crypto-Land, there is one pattern that had repeated frequently in the past, but, for some reason, it has been very sluggish, of late. When Bitcoin assumed a ranging mode or pulled back to a stable support level, altcoins had typically enjoyed an accompanying rally, a sign that the risk appetite of investors had increased. This "Alt-season" has not occurred in 2019.
Altcoin hodlers, however, are a very hopeful lot and truly believe that a non-BTC resurgence is just around the corner. Analysts will also add that even though Bitcoin may gain market share, that fact does not necessarily mean that altcoins are somehow underperforming. Many of these programs have regained much of the ground lost during Crypto Winter, as has Bitcoin, but Bitcoin is the market leader for a reason. It is the oldest coin in the system, and it has earned the respect of institutional investors as being the "premier cryptocurrency on the market today".
Bitcoin's dominance has not always been so mind boggling, but 70%, which it achieved last week, is a milestone that it had not seen in 29 months. This history chart from Coinmarketcap.coin speaks volumes: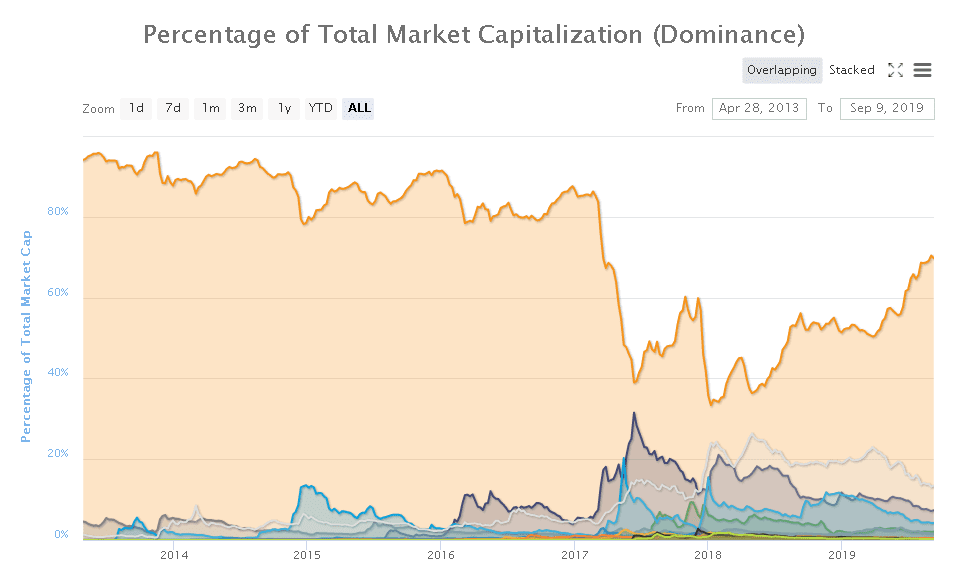 Gone are the early days when the only competition for its title as market leader came from the likes of Ethereum and Litecoin. The "blossoming" of altcoins occurred in 2017, and now there are, according to Coinmarketcap figures, more than 2,500 crypto programs vying for investor dollars. Yes, Bitcoin dominance dipped as low as 35% in 2017, but it has made a miraculous recovery, blasting through 50% by the end of 2018 and now 70% in September of 2019.
If there has been an "alt-season" or altcoin rally over the past few years, it has been temporary, only lasting a few days at most. A few analysts have said that it is misleading to lump everyone but BTC into one classification. There are tokens that have actually outperformed Bitcoin, but the recommendation, which remains an open industry item, is to group altcoins into three categories – the majors, the minors, and the exotics – much in the same fashion as currency pairs in the forex world.
As for Bitcoin's blistering pace of recovery in 2019, a few consulting firms had actually forecasted its comeback for the current year. The reasoning behind such predictions was that a day of reckoning was coming for the multitude of altcoin development programs in existence. They needed to deliver sound results and use cases to the marketplace or perish. Investors would grow more discriminating in the process, thereby draining additional cash flow to the enterprises in need. Most firms, however, capped the Bitcoin resurgence at 67%, not 70% and beyond.
Will there be an Alt-season in 2019? Several respected analysts have opined on the topic, often expressing harsh condemnations in the process. Peter Brandt has actually said that 99% of all cryptos will not exist and become forgotten in five years. He feels that Bitcoin will outshine everything else, no matter what in the years to come. Max Keiser also holds a dim view. His tweet says it all: "Alts never coming back… Sorry."
Not everyone is so negative on the topic. CryptoGlobe recently reported on a Binance Research report that proposes that: "BTC dominance will go back down to the 50-60% range. We still believe in this, partly because BTC dominance was below 60% for an extended period, from May 2017 until June 2019… For the whole crypto industry to develop, though, we feel that altcoins must be an integral part of the maturation process."
JP Buntinx, a scribe at Nulltx.com, canvassed a number of industry players and concluded that: "For all intents and purposes, it seems unlikely the year 2019 will see a massive altcoin revival. Unless they can decouple themselves from Bitcoin's momentum, this endless cycle will continue to repeat itself time and time again. The main question is how strong it will be and whether it can last for more than a few days. Even if an altcoin season were to materialize, one has to wonder how that will affect the Bitcoin price."