Bitcoin has been confined for the past two months within fairly tight boundaries, at least ones that are reasonable for the world's most volatile asset class in history. As the chart, courtesy of Coindesk, demonstrates below, Bitcoin's ranging behavior has gyrated rather predictably between $9,000 and $12,000, as if in a holding pattern, awaiting the big push that will drive it beyond its All-Time-High (ATH), just under $20,000. While the analyst community contemplates the next near-term movements, other investors look long term.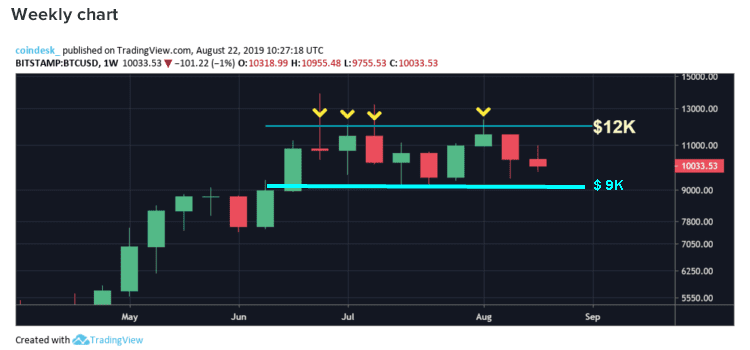 For those long-term thinking investors, the question then becomes: "What will provide that "big push" to launch Bitcoin past the $20,000 level?" Anthony Pompliano, an outspoken Bitcoin advocate and co-founder of Morgan Creek Digital Assets, believes he has the answer and wastes no time broadcasting it to the world. His belief is simple. He thinks that at some point in the not too distant future crypto investments will find their way into every portfolio that institutional investors currently maintain.
According to CCN, Pompliano was recently interviewed by Joe Kernen on CNBC's Squawk Box financial news channel program and shared his thoughts about what impact the new Bakkt crypto exchange would have on the market. The "state-of-the-art" exchange will initially offer BTC futures contracts on a daily and monthly basis that settle "in kind", along with every other feature that institutional investors demand. Anthony's opinion: "The more infrastructure that's built around this, the more likely it is to never go away… we're at a tipping point now where Bitcoin is here to stay."
Pompliano is not alone in his enthusiasm. There is more than just anecdotal evidence to back up his proposition. Coinbase announced its acquisition of Xapo Ltd last week, a leader in secure custody arrangements for investors in digital assets. Coinbase at $7 billion in assets under management and climbing is now the "Number One" crypto exchange offering "institution-grade" custody services, a "must have" for all Big Money clients.
Brian Armstrong, the CEO and co-founder of Coinbase, suddenly had a favored position to witness the inflows of institutional capital into the crypto arena, albeit limited to the Coinbase-Xapo consolidation. Per CCN's recap of Armstrong's statements: "Whether institutions were going to adopt crypto or not was an open question about 12 months ago. I think it's safe to say we now know the answer. We're seeing $200-400M a week in new crypto deposits come in from institutional customers."
Countless surveys by firms, such as Fidelity Investments, TD Ameritrade, and e*Trade, have indicated that institutions and retail investors are eager to invest in BTC. Your larger firms are taking a slow and deliberate approach, bringing their client bases on gradually and testing the effectiveness of their platform and support services before opening any floodgates. With supplies of Bitcoin limited, no investment firm wishes to unleash a major buying spree and replicate the speculation mania of 2017. At some point, however, slow steps will add up to big leaps in demand.
Easy access, without the issues of fraud, security, and protective wallets, is also a hurdle that will be solved, as soon as the SEC approves a Bitcoin Exchange-Traded Fund. As we recently reported, Matt Hougan, Bitwise Asset Management's global head of research and a firm with an application in the SEC pipeline, recently spoke with Bloomberg UK: "A key aspect to a Bitcoin ETF in the U.S. is that it unlocks the financial advisor marketplace. So far crypto has focused mostly on retail investors […] or institutional investors […] Half the money in the U.S. is managed by financial advisors, and right now it's very difficult for them to access that market."
Lastly, the use of Bitcoin as a "protective hedge" against chaos and uncertainty in the financial markets is growing exponentially amongst the institutional sect. Yes, volatility makes buying BTC as a short-term safe harbor questionable at times, but as a longer-termed hedge, it is difficult to argue against it. As long as central banks are determined to debase fiat currencies and allow debt and deficits to grow out of control, there will be a compelling case for an instrument like Bitcoin.
There is a respected maxim in investing and trading that the longer the ranging period, the more forceful the break out when it comes. Many analysts have postulated that Bitcoin could range for several months. If and when the break out comes, it seems a valid possibility that each of the situations cited above could have a combined impact that could be explosive. The jury is out on this line of thinking, but we have learned that anything can happen in CryptoLand, both good and bad, but the ride will be interesting.