Bitcoin has doubled in value over the last seven weeks
Still below all-time highs
Positioned some way above the $10,000 support level
Is Facebook's libra heralding a paradigm shift?
Through Q4 of 2018 and Q1 of 2019, bitcoin has been trading in the price range between $3,170 and $6,640. As financial instruments go this is a not insignificant price range and one that illustrates the inherent volatility of the instrument. But since the middle of May, price has broken out of that range and continued upwards to touch the $11,200 mark on 23rdJune.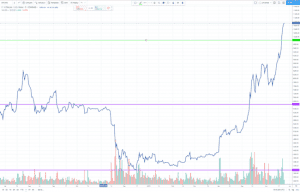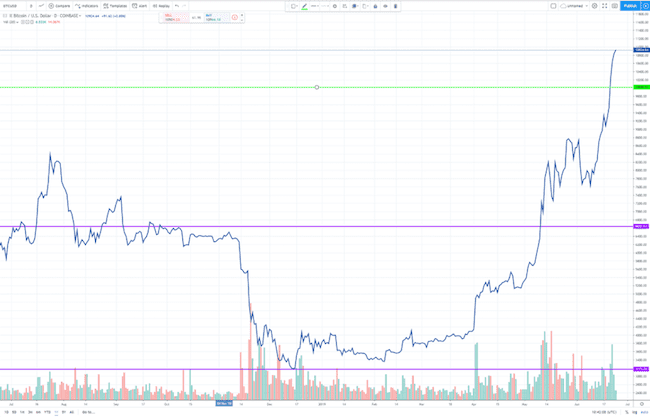 Source: www.tradingview.com
From a technical perspective, there are a lot of support/resistance levels in the $9,000 – $10,000 price range and $10,000 is psychologically a 'big number'. In addition, any price level over $9,000 is seen as being an opportunity for bitcoin miners to take profits and meet their costs. The break-through of those levels and move up to $11,000 is therefore significant.
The next few trading sessions may see some profit taken from those who have held long for some time. Also consider that prices have exceeded the $19,000 mark within the last 12 months so traders who bought at levels even higher than they are now may take an opportunity to scale out of their loss-making positions. A chance of a pull-back to the support levels of $10,000, $9,500, $9,200 and the strongest support of $9,150 is therefore a possibility. This tallies with the belief that price action likes to revisit a previous resistance level before continuing on and converting it to a support level. If this pull-back does happen, it will be interesting to see to what extent that support levels are tested and there could be an indication of just how strong this rally is.
TRADING VOLUMES
Trade volumes in crypto markets can, for extended periods reflect, that the market is something of a niche. The below chart with volumes reflected in histogram form, highlights that major price moves (November '18, April '19 and May '19) have been associated with peaks in volume. Lower trading volumes being associated with (relatively) side-ways markets as crypto traders trade among themselves.
Reading between the lines, it's possible to suggest the current move reflects a groundswell of interest from mainstream investors.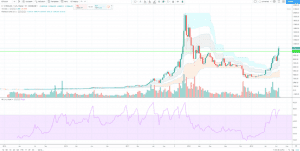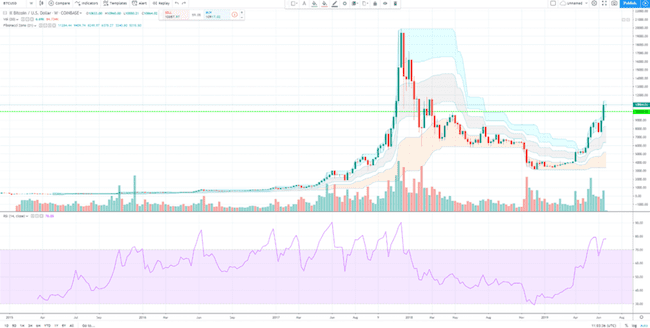 Source: www.tradingview.com
FUNDAMENTALS
Using fundamental analysis to disseminate the crypto markets can be tricky to do. One of the barriers to wider general use of cryptocurrencies remains the perception that crypto markets, crypto wallets and crypto-exchanges appear 'hazy' to much of the general public. The opaque nature of the market is reinforced by some brokers not supporting trading in crypto currencies, whilst others allow their clients to trade only a handful of the more well-known names.
Two recent events that might be seen to be influencing the price are forays by Facebook into the sector, and the US Federal Reserve and European Central Bank (ECB) indicating interest rates may remain lower for longer.
The Facebook news could be something of a game-changer. Michael J Casey, chairman of CoinDesk's advisory board states:
"Currently the one value proposition that holds well for bitcoin is that it will be a more liquid, digitally up-to-date risk-hedging vehicle than gold when people need to preserve value in something immune from political and institutional risk. That argument could be enhanced if Libra succeeds in converting billions of people to digital payment wallets, because it will more broadly establish the power of blockchain-based digital money as the way of the future."
Source: www.coindesk.com/a-monumental-fight-over-facebooks-cryptocurrency-is-coming
The argument continues that investors looking for an 'alternative' investment might prefer to go the whole way and hold a crypto with a back-story such as bitcoin's. Libra does use block-chain technology but is a digital token rather than a cryptocurrency. It is also spun out of a corporate entity, which gives credence to the concept of holding cryptocurrency, but those that are converted to the idea may see Libra as a psychological stepping stone to the real deal.
The interest rates news has been running for a long time and might be picked up on by more 'traditional' investors wanting to point to Quantitative Easing and record low levels of interest rates as creating an environment that nurtures speculative bubbles.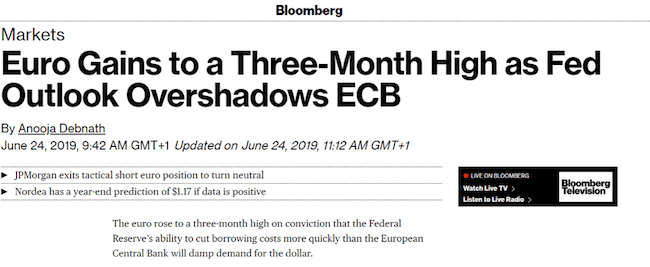 Source: www.bloomberg.com/news/articles/2019-06-24/euro-gains-to-a-three-month-high-as-fed-outlook-overshadows-ecb
Bloomberg reported on 24thJune that the ECB is expected to cut rates in September 2019 but that the US Fed may do so as soon as next month. This would be considered a race to the bottom if euro zone rates had not already cut through zero. Even before any expected rate cuts, the ECB is applying a negative interest rate of -0.4% on deposits lodged with it. With crypto being pushed as the 'new gold', currencies such as bitcoin would be expected to rise in value as interest rates fall. This comes at a time when western economies are considered by some analysts to be entering the final stages of a bull market. As more traditional investments look increasingly unattractive, investing in crypto becomes more appealing.
WHERE NEXT?
For those that have missed the initial price move there are a host of opinions to take on board regarding potential future price moves. A good place to start is taking note of the current resistance, support and pivot point levels.
The FXstreet.com analyst John Isige provides the below graphic and analysis: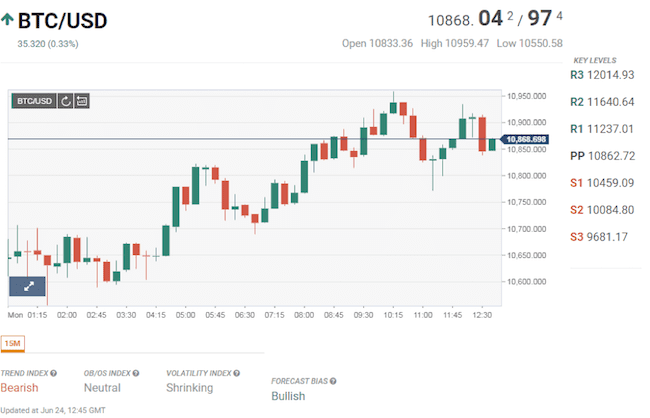 Source: www.fxstreet.com/cryptocurrencies/news/bitcoin-price-prediction-btc-usd-bear-phase-is-behind-us-10k-is-the-next-stop-confluence-detector-201906211304
The conclusions of this analysis being that:
"Bitcoin cleared a 40% selloff that had been holding the market hostage for more than 11 months to December 2018".
And looking forwards:
"As shared by Tyler, co-founder of Gemini exchange, bitcoin trading above $10,000 is a clear indicator that $15,000 is around the corner."
Given that the side-ways/bear market in bitcoin appeared so entrenched, it's worth recognising those that predicted the direction and timing of the break-out.




Source: www.cnbc.com/
Someone who predicted the break-out back in April is analyst Tom Lee of Fundstrat Global Advisors. One trading idea he discusses during an interview with CNBC is that Bitcoin price movements can act as a leading indicator of Alt-coin currencies such as Litecoin.
The full CNBC interview can be accessed here:
https://www.cnbc.com/video/2019/04/25/bitcoin-bull-tom-lee-says-the-crypto-winter-is-over-says-new-all-time-highs-by-2020-likely.html