Bitcoin – cryptocurrency reclaims $13,000 mark and carries on up
Joe Hatch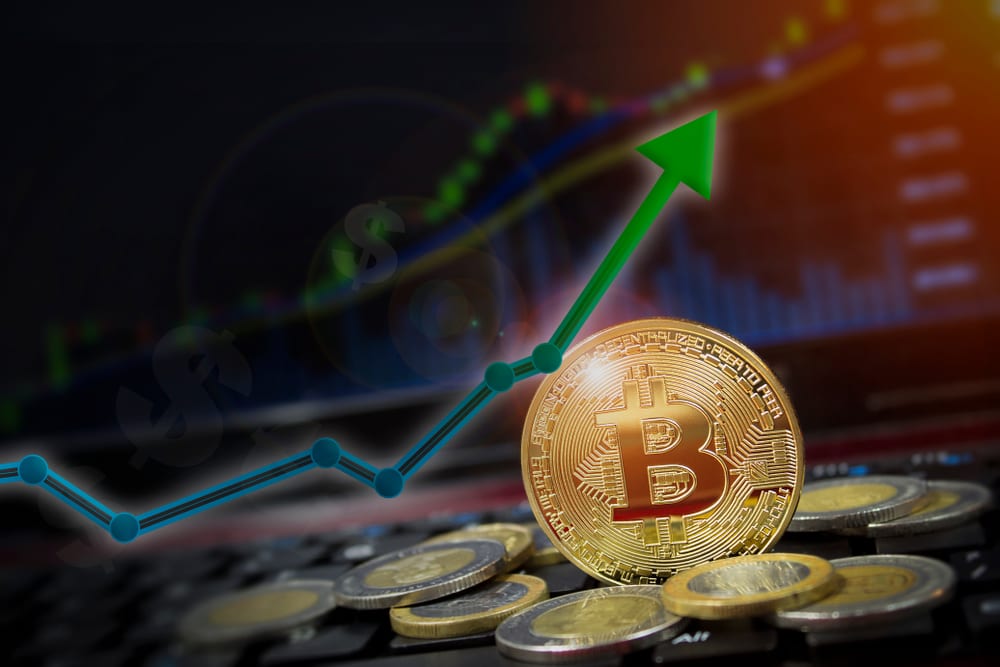 Bitcoin (BTC) surpasses $13,000 mark
The cryptocurrency had been slipping away since a four month high posted on 26thJune
Continued speculation that broadening appeal will support recent price moves
Upwards appears the path of least resistance
Bitcoin has moved through the important $13,000 barrier and remains trading at higher levels.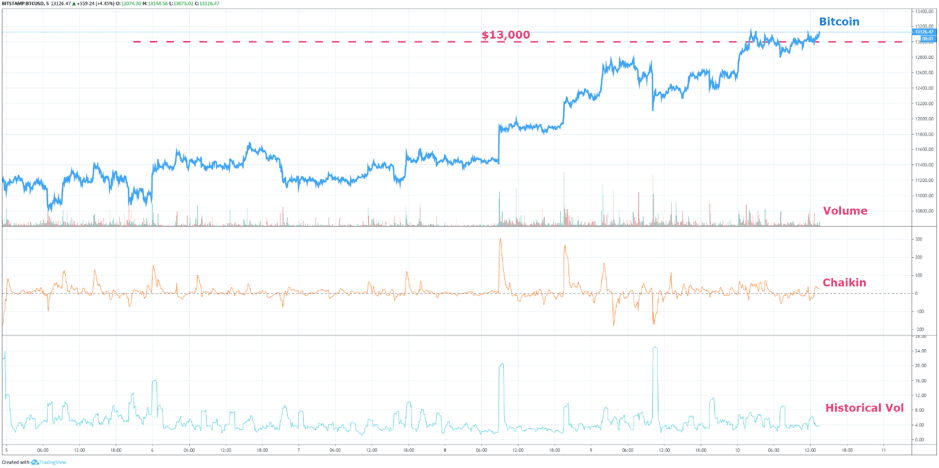 The TradingView technicals are pointing towards 'buy' and unsurprisingly, with such a vociferous fan base, there are a lot of analysts sharing ideas on long strategies.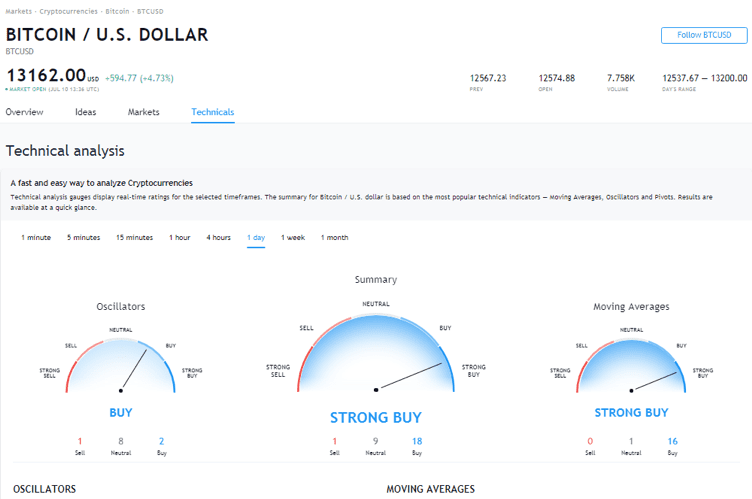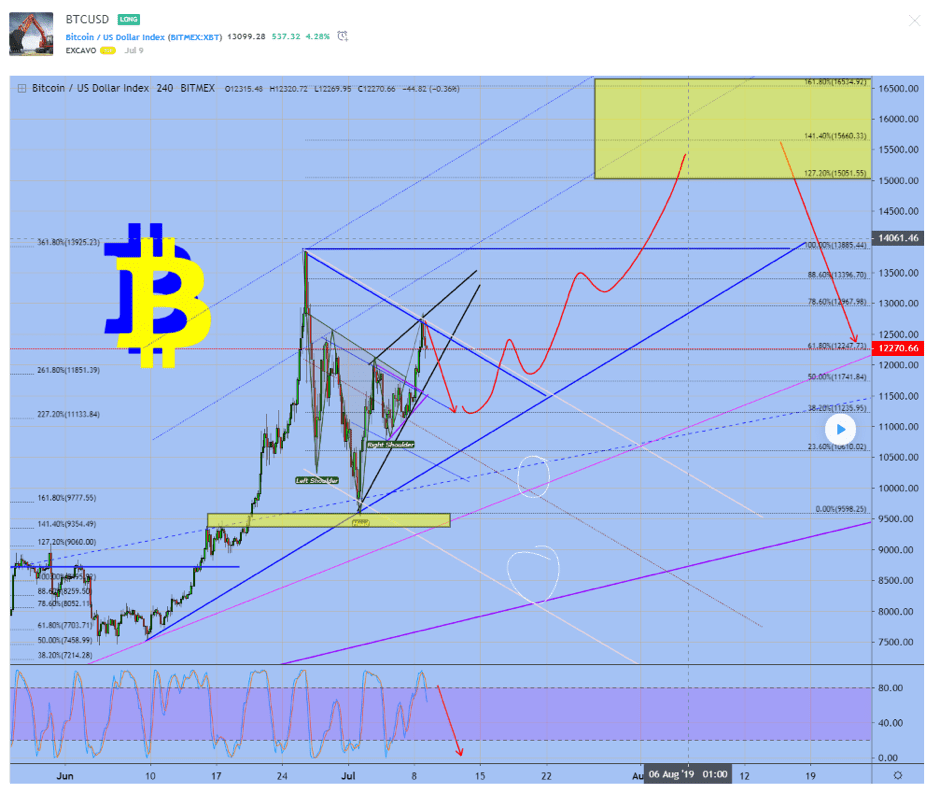 The nature of the move is notable, as Anthony Cuthbertson of The Independent writes:
"Bitcoin's remarkable resurgence shows no sign of slowing down, with price gains of nearly $3,000 (£2,400) over the last week… The latest price rise has been spurred on by a series of mini price surges, with bitcoin shooting up by $500 in less than 10 minutes on Monday."
Source: The Independent
The FXStreet website lays out the current resistance, support and pivot points. As the site says:
"Considering that the way to the South is packed with technical levels, the further upside looks like a path of least resistance at this stage."
Source: FXStreet
Resistance levels
$13,200 – the upper line of Bollinger Band on 1-hour chart and Pivot Point 1-day Resistance 2
$13,500 – Pivot Point 1-week Resistance 2
$13,850 – the highest level of the previous month
$14,000 – Pivot Point 1-month Resistance 1
Support levels
$12,900 – the upper line of 1-day Bollinger Band, the middle line of 15-min Bollinger Band, a host of short-term SMA levels
$12,400 – 23.6% Fibo retracement monthly
$12,250 – Pivot Point 1-day Support 1
$11,400 – 38.2% Fibo retracement monthly
Source: FXStreet
Three main reasons are being suggested as the drivers of the price increase.
1) Bitcoin is increasingly seen as a defensive asset, a substitute for gold at a time when more liquid asset markets could be close to a correction.
2) Profit never goes out of fashion. Price volatility provides opportunities for traders to make profits. Reports are that alternative asset managers and hedge funds are entering into the market to try and boost their performance returns.
3) Reference is also made to the cryptocurrencies in general, and bitcoin in particular is becoming more widely accepted.
Looking forwards – What if the 'mainstream' turns to flow against you?
Bitcoin fans have been drawing comfort from certain news headlines indicating crypto currencies are joining the mainstream. This year, both Facebook and JP Morgan have made landmark moves into the sector. The question still remains, whether these high risk-return business ventures signify the desire of some corporations to profit from the status of 'early adopter' or if they do signify wide-spread acceptance of crypto by the general consumer.
The journey towards wide-spread use creates as many new challenges as it does opportunities. Take for example the news releases from Greenpeace reflecting its policy towards crypto donations.
At face value, Greenpeace and cryptocurrencies might make good bed-fellows. Both have an alternative edge (though time may have eroded some of Greenpeace's) and both share the profile of a 'disruptor'.
The below letter, taken from Reddit, outlines the eco-charity's initial position on the subject of bitcoin donations:
"You'll probably know that we do not accept funding from governments or companies… Unfortunately bitcoins would allow users to make a donation without a paper trail which would make it extremely difficult for us to find out if the donation was from a corporation or not. This is something we can't change… (and) would seriously compromise our campaigns."
Source: Reddit
Only a few months later, the charity announced a complete change of approach:
"We are no luddites here at Greenpeace!… Decentralised digital currency basically means that transactions are processed without a bank or other financial institution taking a processing fee, typically 3 percent. Bitcoins travel from person to person directly."
Source: Greenpeace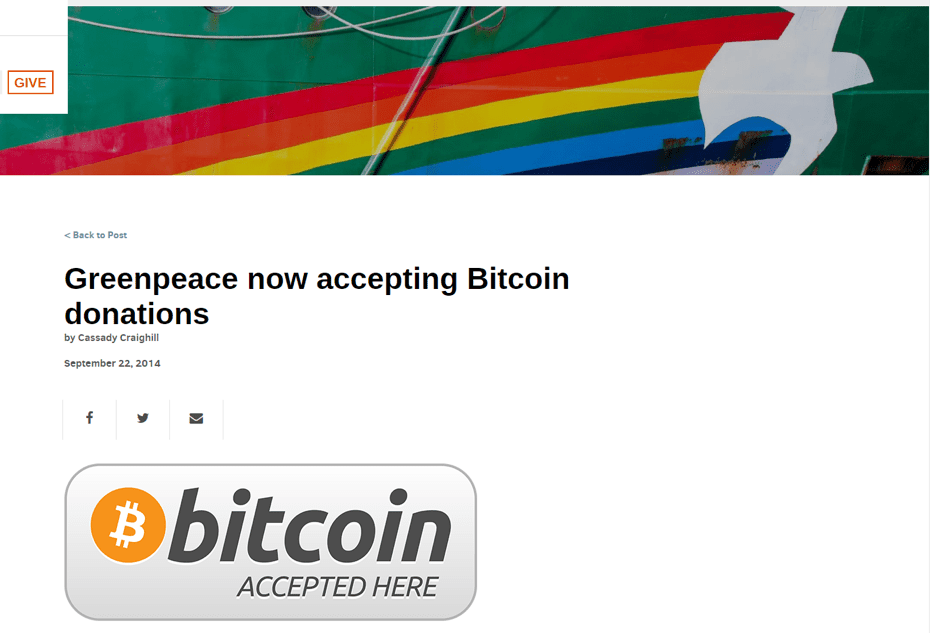 It is of course likely that other large corporations and NGOs will follow the money in the same way as Greenpeace has. It's also fair to say that such a volte-face has to date not been met with much scrutiny.
Another charge against bitcoin as a payment process is the amount of energy used. Coin Telegraph ran a report in March based on the hot-topic of sustainable energy:
"Renewable energy will not solve Bitcoin's (BTC) sustainability problem according to a blockchain specialist at Big Four auditing company PwC, Alex de Vries. De Vries presented his argument in a study published in sustainable energy journal Cell on March 14."
Source: Cointelegraph
"The research cites estimates from de Vries' website, according to which bitcoin consumed anywhere from 40 terawatt hours (TWh) to 62.3 TWh throughout 2018."
Or to paraphrase, as The Independent headline of 5th July does:
"Bitcoin Uses More Energy than the Whole of Switzerland – and it's Getting Worse"
Source: The Independent
Of interest is how this story started as an industry specific research note and gradually moved through to the mainstream news. Coin Telegraph was quick out of the blocks but the BBC for example didn't run with the below headline until 3rd July. It might be the main news outlets just missed the story, or it could be the question of energy use has suddenly become much more of a hot topic.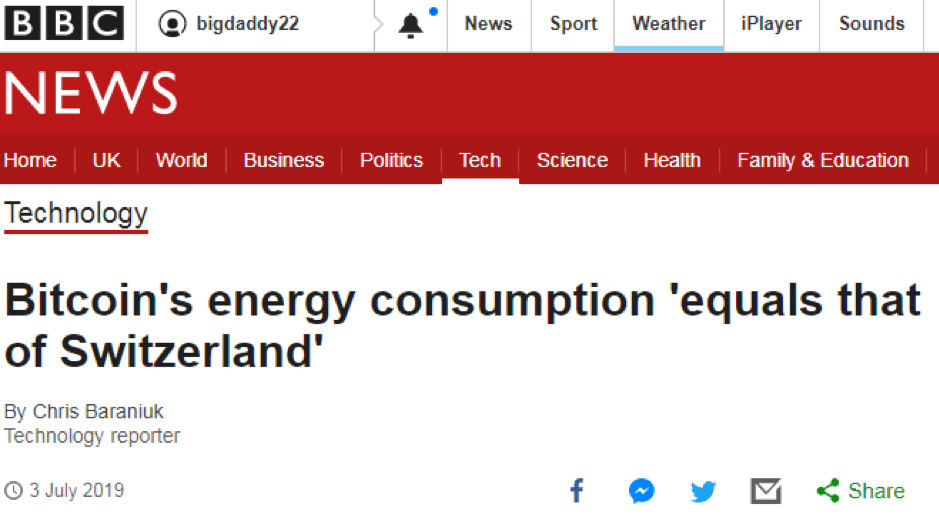 In the space of a few months, the issue has become headline material. Greenpeace is left having to justify accepting donations in such an energy intensive payment form.
The Coin Telegraph article on the research carried out by Mr de Vries continues:
"The world's data centres consumed about 194 TWh in 2014, and they are expected to increase by about 3 percent (to 200 TWh) by 2020. Bitcoin mining facilities purportedly use at least 20 percent (40 TWh) of this capacity."
Source: Cointelegraph
Those with concerns about bitcoin would possibly highlight the risk of fraud as being a major obstacle to their participation. If and when cryptos manage to move past those fundamental concerns, there will still be myriad more issues that need to be addressed. The question of audit trails, identity verification and energy consumption highlighted in the Greenpeace case are just a flavour of what's to come.