Bitcoin preparing to assault territory above $12,000, now resting at $11,800
Tom Cleveland
Bitcoin continues to amaze analysts far and wide, blasting through $11,300 resistance, as if it had never existed. It has peaked above $12,000 on occasion, forming a "Double-Top" in the process, but the excitement comes from its breaking out of a lengthy weekly corrective pattern and showing signs that it is prepared to march much higher. Longer timeframes often speak to longer termed trends, as depicted in the chart below: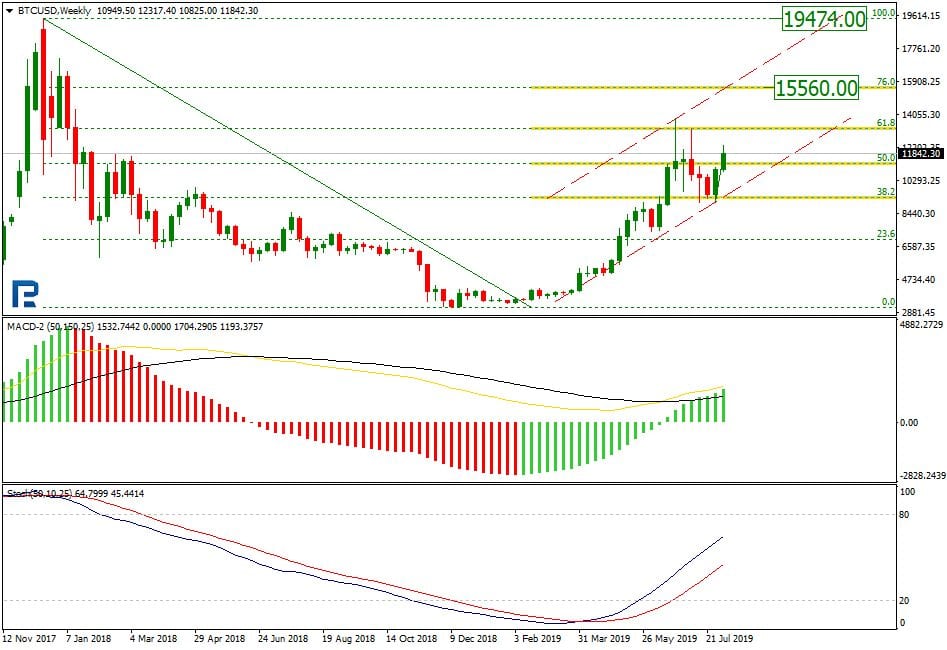 From this longer perspective, we can easily see key support and resistance levels that were created during the gradual demise of Crypto Winter. As any technician would tell you, the Fibonacci levels presented on the chart are significant, and even though Bitcoin is relatively "young" in its evolution, technical dynamics appear to be holding true over time. June was the quintessential moment when BTC pushed through the 38.2% level, but its ascent had been too much too fast. Momentum dissipated. A pull back ensued.
The bulls, however, have returned in August with a vengeance, pushing beyond the 50% parallel and threatening to go higher. Both the MACD histogram and Stochastic indicators are favorable, but Bitcoin needs to consolidate its gains, or risk repeating the tumbling motion witnessed in July. $11,800 is a key support area, which, hopefully, will not become resistance. The multitude of green candles in 2019 has analysts spooked a bit. In their estimation, a few more red candles would be healthy, but, as some have said, be careful what you wish for.
Wishing may not have a place in Crypto-Land, but fundamental drivers do. The financial press has been rife with discussions of how so many fundamental developments in the crypto arena have come to fruition this year to form a crescendo that is driving Bitcoin price behavior beyond everyone's short-term expectations. The prescient question is whether this recent rally has been too steep and is it sustainable?
The present consensus chooses to ignore the dozen or so favorable fundamental drivers in place and to focus on one central premise – the sudden "safe haven" status that is being acknowledged by institutional investors and accorded to none other than Bitcoin. Part of the reasoning behind this thinking is that altcoins have been sluggish, during this recent surge. Bitcoin's dominance has increased from 66.5% to 68.8% in just a matter of weeks, and there is a contingent that believes that 80% is not out of the question.
Nigel Green, chief executive of financial consultancy firm deVere Group, elaborated on the recent phenomenon: "Bitcoin is becoming a flight-to-safety asset during times of market uncertainty. Bitcoin is currently realising its reputation as a form of digital gold. Up to now, gold has been known as the ultimate safe-haven asset, but bitcoin – which shares its key characteristics of being a store of value and scarcity – could potentially dethrone gold in the future as the world becomes increasingly digitised."
The uncertainty that Green refers to has been palpable in global equity markets, as fears of a growing trade war between the U.S. and China becomes more intense. The global economy is slowing, and central banks around the globe are reacting with easing strategies to promote investment in more risky areas. While a portion of the investment community may take advantage of lower interest rates and more liquidity, there will always be a subset that will choose to find more secure footing in an uncertain world.
While Gold, other precious metals, and U.S. Treasuries have often been the final destination for these "weak hands", the potential of Bitcoin to act as a store of value, while also offering potential appreciation, is a value proposition that does not escape the attention of another subset of investors, the ones that appreciate a hedge and an aggressive one at that. For these folks, Bitcoin is an opportunity too good to pass up.
Marcus Swanepoel, CEO at cryptocurrency firm Luno, notes this subtle shift in the way that investors are thinking: "It is now clear that investors put money into cryptocurrency when the main markets are falling. The strategy of using gold or the yen as a safe-haven asset and at the same time buying digital assets to potentially produce a high return, is gaining momentum."
Safe havens, however, tend to be short-term holding positions, until the storm blows over. Is Bitcoin a temporary port in this trade war storm? We could find out in the weeks ahead. When an appetite for risk returns, be prepared for a sudden downdraft.