Bond yields nearing record lows
German 10-year Bund yields post record low yield of -0.4%
US Treasuries at lowest level for more than two years
Equity markets continue rising
Weaker economic data but a renewed relaxing of monetary policy
Bond market news rarely hits the front page. The sector attracts investors with long-term and considered opinions. As bond yields are more predictable than equity growth or equity yields, bond prices tend to be based off the 'big picture' rather than short-term news events. The below graphic shows the CNBC 'Top News' page whereby 'bonds' news only merits a sub-heading:
"Bond yields are falling to record lows as investors pull back from risky assets"
Source: CNBC
The actual article highlights issues about the health of the global economy and financial markets; should those issues materialise in the negative way that some analysts predict, then they would indeed very rapidly become headline news.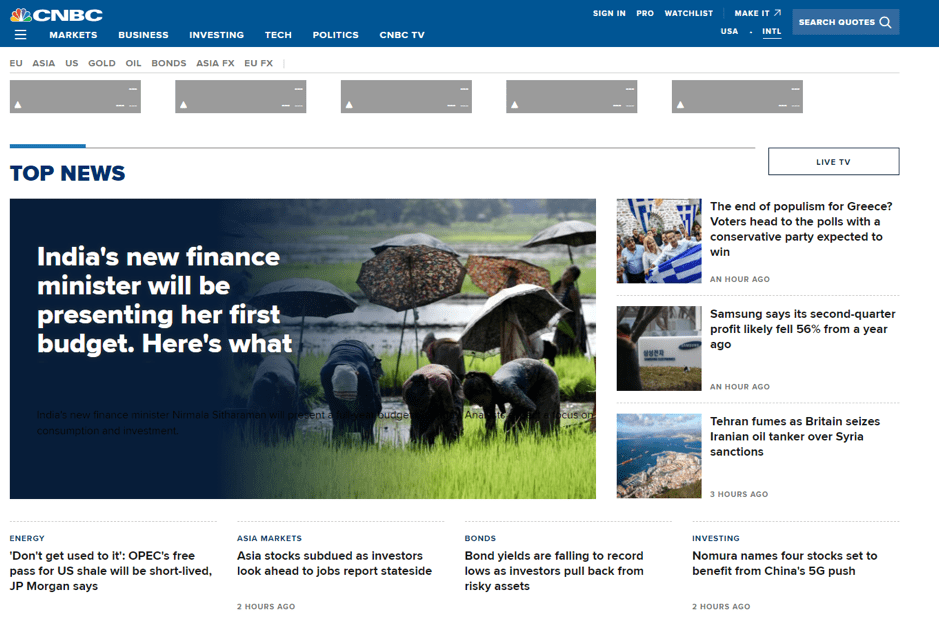 What's driving yields down?
Part of the reason for yields being driven down is the increased likelihood of further interest rate cuts by central banks. Both the US Fed and European Central Bank have given clear indications of a more relaxed approach. Christine Lagarde is set to head up the European Central Bank – having had 24 hours to digest the news of Lagarde's appointment, markets appear to be concluding that she will have a 'politically-based' mandate. That could translate as doing whatever she needs to do to 'make the pain go away', at least for the short term.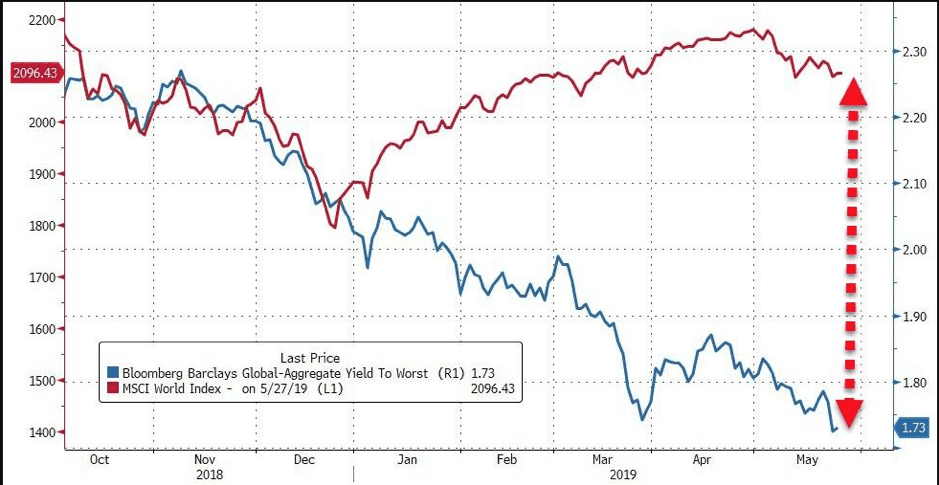 "Of course, investors are told to shrug this dramatic divergence off 'it's Japan and Germany's fault, not a reflection of US growth', keep buying NFLX calls and pray to the god of central banking that all will be well."
Source: ZeroHedge
Bond demand can also be influenced by factors other than central bank policy. The recent fall in yields is possibly a sign of investors rotating into a safer sector, which would signify an important structural shift in the markets.
"On Thursday, the yield on the 10-year German bund, an important benchmark for European fixed income assets and viewed as a safe haven for investors, was down at -0.398%. Meanwhile, French 10-year bond yields had fallen to -0.12%."
Source: CNBC
Reports that a range of asset markets continue to post new record highs fuels the argument that the global economy is entering the mature leg of a bull run. It does not entail that the 'only way is down' but those considering the change to the risk-return ratio might be being tempted to rotate out of riskier assets and into bonds. The record low yields being a sign that this shift from equities to bonds is occurring.
"The fall in US Treasuries came after a report showed US companies added fewer jobs than expected in June, raising concerns the labour market is softening even as the current US economic expansion marked a record run last month."
Source: CNBC
Quantitative easing and relaxed interest rate policies have helped provide the liquidity levels needed to drive stock markets upwards. In the background, data relating to the health of the economy is beginning to worry some. The German economy, which forms the engine room of the eurozone continues to post growth data that is below expectations. The UK economy still faces questions regarding the Brexit process and possibly even a 'no-deal' Brexit scenario, and the US consumer appears to be running to standstill.
What triggered the last correction?
The correction in equity markets at the end of Q4 2018 was triggered by announcements of poor underlying economic data. Looking back at the news flow that caused the downward move, it's possible to see what kind of announcements analysts might be looking out for this time and next time.
Schroder's Quarterly Market Review for Q4 2018 highlights a few or the reasons for the stock market correction in December.
Source: Schroders
Central banks were more hawkish back in Q4 2018. Japanese companies struggled with the rising yen, which was caused by investors rotating into safe-haven currencies and business data in the eurozone showed slowing momentum. One factor that cast a shadow over all of this already bad news was the risk of trade war escalation.
Apple was highlighted as one stock that led the markets into the red. It is of course a bellweather for the US economy and was not the only IT company to downgrade its trading guidance report. But the below note from Apple to investors is not the worst news an investor could receive: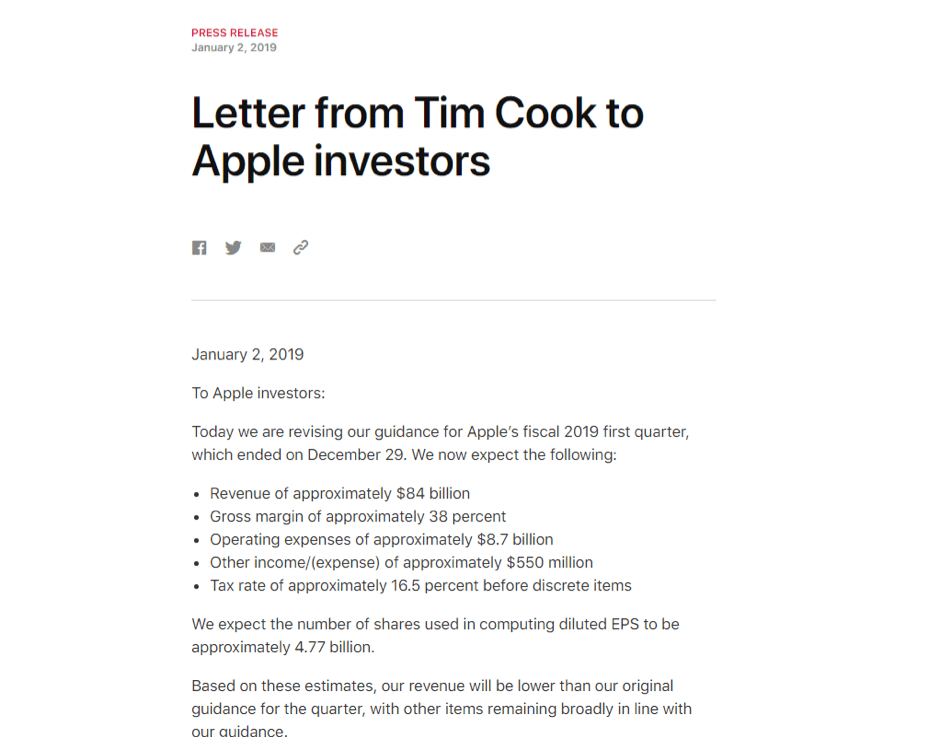 Whilst the data that came out at the end of last year was obviously significant enough to spook the markets, it looks like the markets were ready and willing to act on the bad news. Some are asking if that is maybe the same situation we are seeing now?
Schroder's report for Q2 2019 is due to be released in early July and comparing it to the Q4 2018 report will make for interesting reading. Its analysts may pick out other reasons why circumstances are different now to what they were in December 2018. What is known is that German economic data certainly continues to disappoint – Brexit posturing has if anything increased and the Japanese yen is priced at 108 to the US dollar. The US-China trade war has seen both sides double down, and in addition there is a heightened risk of military conflict in the Gulf.
The below note from the Schroder's report highlights the similar trends between then and now
"Global equities posted sharp declines in Q4 on persistent concerns over global trade and slowing economic growth. Government bond yields generally fell (i.e. prices rose), reflecting the broad uncertainty."
Source: Schroders
The only difference is that global equities have not posted a sharp decline – yet.
One, and possibly the most important difference between then and now is that central banks are distinctly more doveish. The US Fed, the ECB and a range of other central banks are sending out hints that policy is relaxing. Whilst the move towards more relaxed monetary policy is gaining considerable momentum, the recent moves in the bond market could suggest that some equity investors are taking that as an opportunity to jump ship.