UK retail data shows considerable year-on-year weakness
GBP currency moves and tax policy taking its toll
Retail firms squeezed and UK consumer due a health-check
German PMI data for July revised downwards
German manufactures have now missed rather than beat forecast levels of buying
PMI a useful leading indicator is now pointing in the 'wrong' direction
As the global markets look around nervously for the next geo-political risk event, the release of key economic data is slipping under the radar. Retail figures from the UK and German buying data releases are known to be useful leading indicators and have been released.
GBP – UK retail
 The British Retail Consortium reported on 6th August that UK retailers have recorded their worst July sales growth since records began in 1995. Put into a year-on-year context, the data showed total sales in 2019 have so far grown by 0.3% compared with 1.6% growth over the same period in 2018. Brexit uncertainty continues to overshadow the mood of shoppers and the recent report of growth in real wages is yet to be recorded as increased sales for retailers. The story for June was much the same with no 'World Cup bounce' to instigate extra spending. Barclaycard director, Esme Harwood, said:
"Underlying uncertainty about the wider economic and political landscape (is) causing many to hold off making purchases on bigger-ticket items."
 Source: Reuters
The British Retail Consortium, which represents major high-street chains and supermarkets, said annual total sales growth picked up to 0.3% in July after contracting by 1.3% in June and 2.7% in May. This sliver of good news won't raise too many hopes. The pound sterling's strength against the US dollar and move to $1.22 levels is being driven by the much larger issue of the US potentially stepping into the Forex markets in retaliation for Chinese 'manipulation' of the yuan.
GBPUSD – Five day chart: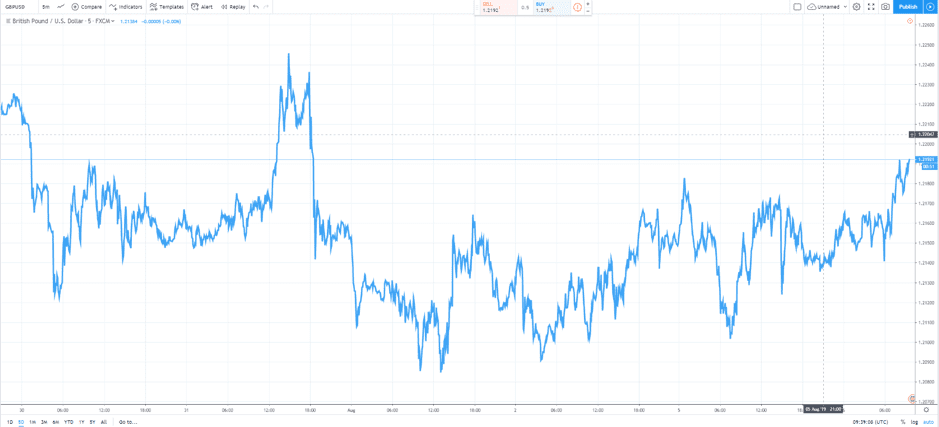 The longer term GBPUSD price chart highlights the fall in sterling. Since March, it has devalued 8% against the dollar and whilst this makes UK exports 8% cheaper, it means any retailers relying on imported goods are seeing their costs increase by a similar amount. The question then becomes how much of the cost increase can be passed on to the consumer, and the June and July figures might be showing the extreme degree to which shoppers are sensitive to those costs being passed on.
GBPUSD – One year price chart: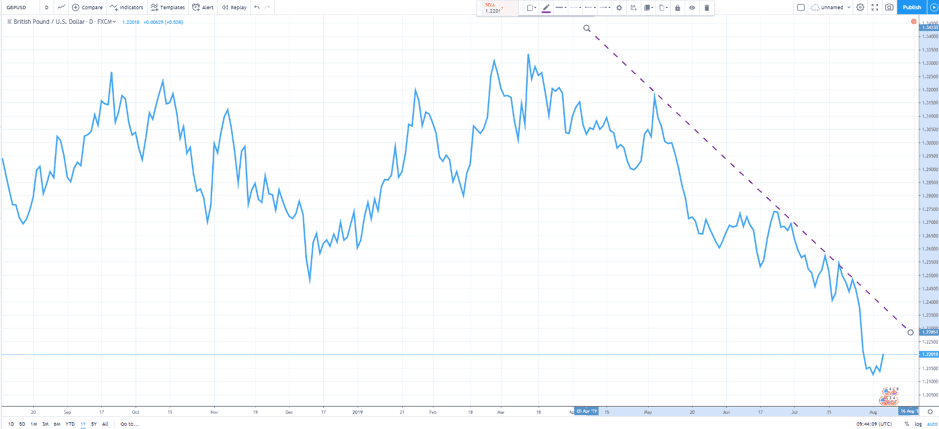 Firms that are reporting this week – which might shed some light on the health of the UK consumer –include bookmaker William Hill (LON:WMH) and media firm WPP (LON:WPP). Both are set to report on Friday 9th August. Shareholders in Hargreaves Lansdowne (LON:HL) could be in for a bumpy ride when that firm releases data on Thursday 8th August.
One possible source of good news is the Johnson-led tory government. Reports that ministers have been charged with instigating new policies that are not Brexit-related might conceivably see the business rates system come under review. If there is to be an early general election, the incumbent party will undoubtedly face photo-shoots on Britain's high streets. Without governmental support they will find it increasingly hard to find a store that is open and operating to stand in front of. Industry website Fashion United reported on 6th August a statement made by Helen Dickinson, chief executive of the British Retail Consortium (BRC), in which she said:
"The challenging retail environment is taking its toll on many high street brands who must contend with rising import costs, a multitude of public policy costs, and ever higher business rates. A coherent strategy for retail is needed. The Government should freeze future business rates rises and fix the appeals system before embarking on a wholesale reform of this broken tax system."
Source: FashionUnited
Online sales have traditionally been something of a redeeming feature for the retailers themselves, if not for the high street. There have been signs that the problems facing bricks and mortar trading are also moving into the Internet space.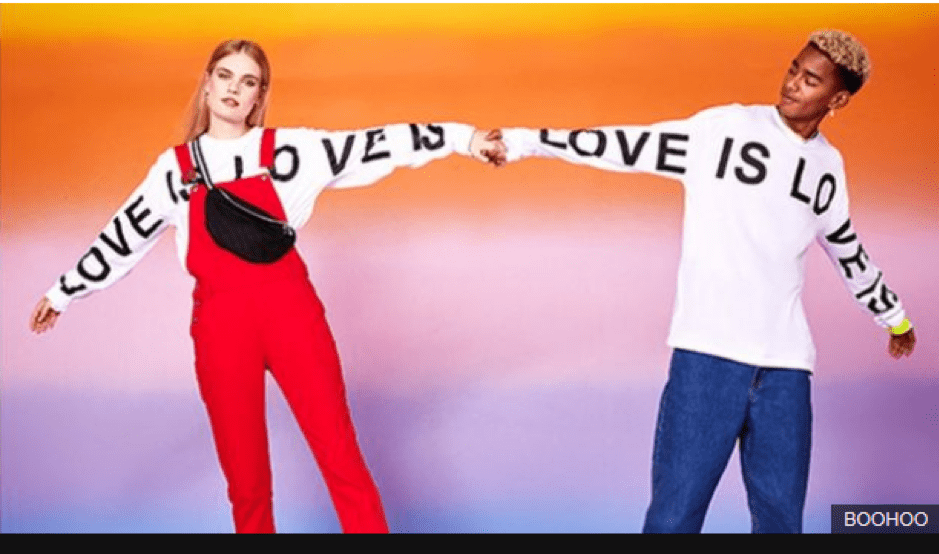 Fashion firm Boohoo has, as of 6th August, made a bid to buy the online elements of Karen Millen and Coast, but looks to be picking through the bones rather than signaling a change in fortunes. The fate of Karen Millen's High Street stores, which employ 1,000 people, remains in doubt.
Eurozone – Germany
If the approach to the October Brexit deadline is seeing the UK economy start to wobble, then those that study the German economy might suggest that signs from there are that the wheels might be due to come off completely.
On Monday 5th August, the German Purchasing Managers Index (PMI) data for July was revised down. The IHS Markit Germany Composite PMI was revised lower to 50.9 in July 2019 from a preliminary estimate of 51.4 and below June's 52.6 number. This meant that the forecast July figure of 55.4 was missed rather than bettered and that the month-to-month change was down, not up – which turns the report on its head.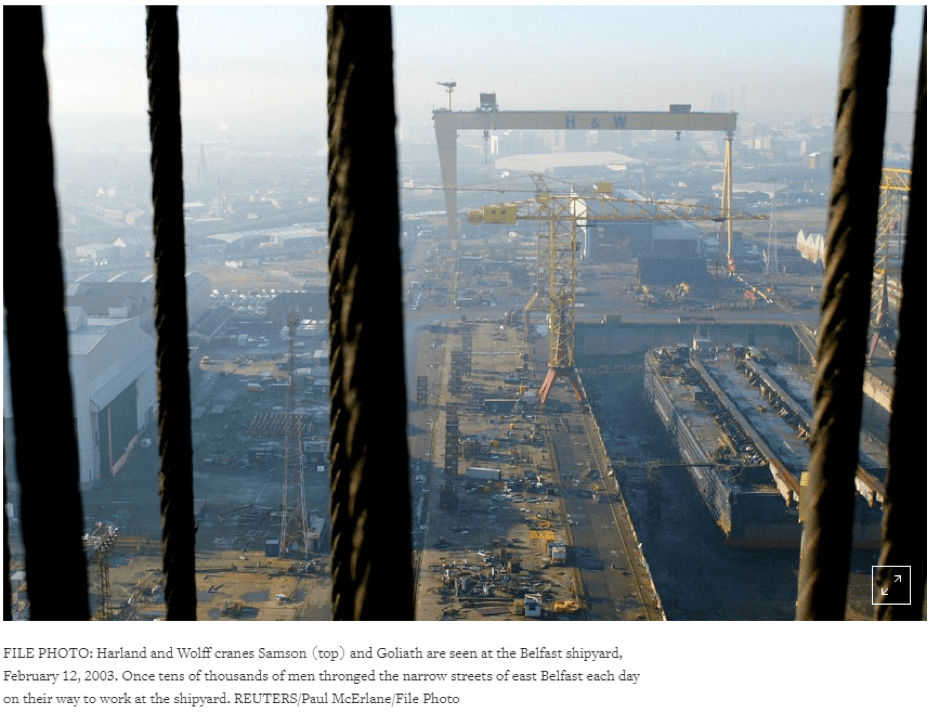 The German economy is experiencing the weakest pace of expansion in the private sector since June 2013. The all-important manufacturing sector posted the sharpest contraction since mid-2012 and the service sector business activity growth was the weakest for six months (PMI at 54.5 from 55.8). Year-to-date the relative strength of the German service sector has ameliorated the weakness of the manufacturing sector, but that situation could be changing.
German Composite PMI: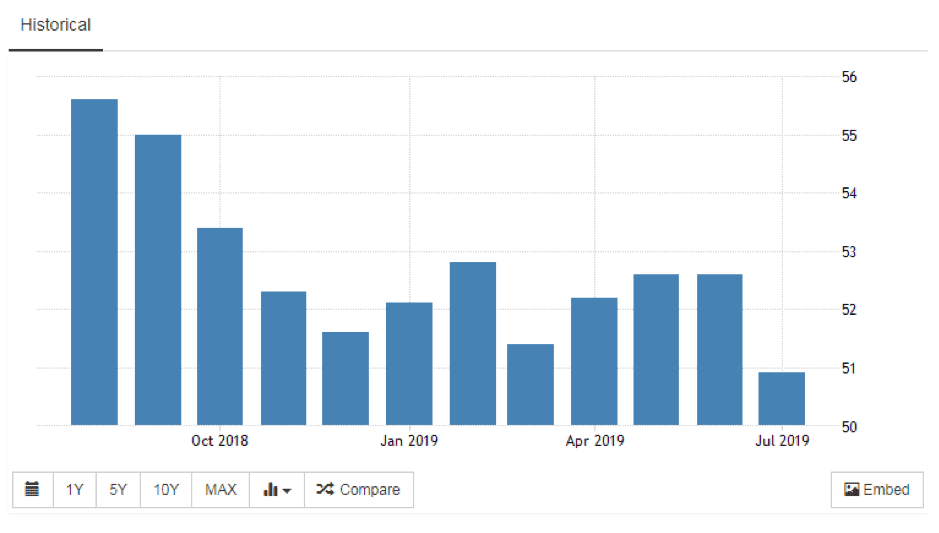 GBPEUR
Sterling is still in a four month downward trend against the euro. A messy Brexit would be bad for both parties, but the chance of it happening is weighing heavier on the pound than the euro. There is also the fact that the UK Bank Rate is at 0.75% and the ECB deposit facility is already negative at -0.4%. The Bank of England could be in a better position if it chose to reduce rates and spur internal growth, but this would weaken the pound. The ECB has much less freedom to use rates as a policy tool.
GBPEUR – One year price chart: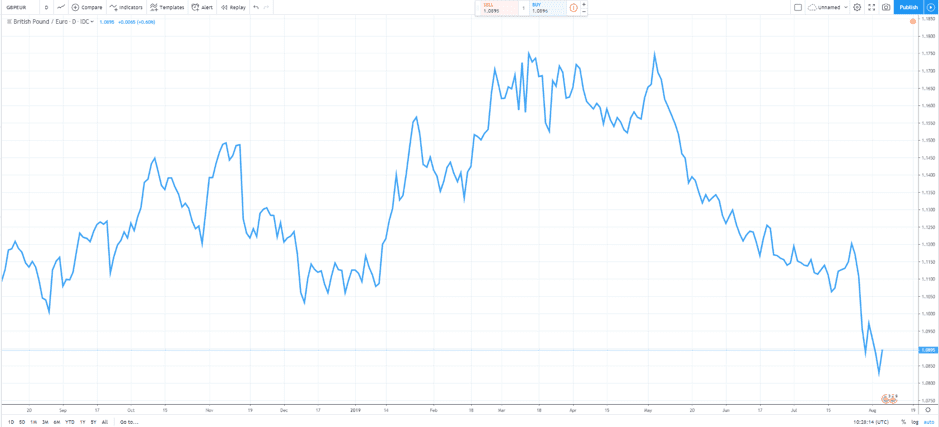 The strength of the euro was reported by Reuters to be one of the factors causing economic growth to be so poor. Reuters polling correspondent, Jonathan Cable, said:
"Forward-looking indicators suggested there won't be a turnaround anytime soon and demand for services in the eurozone waned, hit by falling new export business."
 Source: Reuters
Any movement to the upside in GBPEUR could see the downward trend broken. RBC economists were today telling their clients:
"Poor survey and hard data prints recently, along with the announcement of 10% additional tariffs on Chinese goods imports to the US will likely weigh on investor sentiment for the euro area in August."
Source: Reuters
GBPEUR – Three month chart – potential breakout territory: