Disney (NYSE:DIS) and Netflix (NASDAQ:NFLX) ­– Superpowers are waning as earnings disappoint the markets
Christian Habeck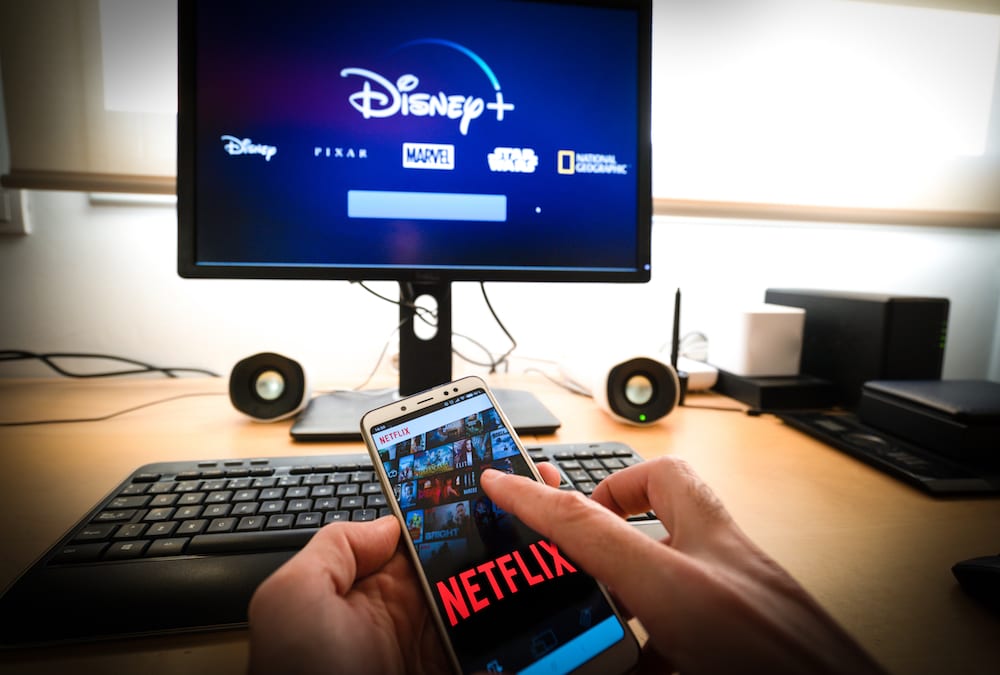 Disney (NYSE:DIS) falls 3.86% in after-hours trading
Netflix (NASDAQ:NFLX) reported last week. Share price fell 10% in after-hours trading
Disney's massive hits – 'Avengers: End Game' and 'Toy Story 4' simply not enough to meet targets
Burdened by takeover of 20th Century Fox
The media and entertainment landscape is changing
'Nothing is more important' than getting streaming right'
Mid-April saw a switch in terms of the relative strength of Disney and Netflix
Disney disappoints
Media and entertainment titan Disney posted Q2 earning figures on 6th August, which were a massive disappointment for investors. The studio reported revenue of $3.8bn during the quarter, representing a 33% increase in terms of year-on-year performance – but this was well short of the forecast revenue of $4.5bn that analysts had predicted. (Source: Refinitiv)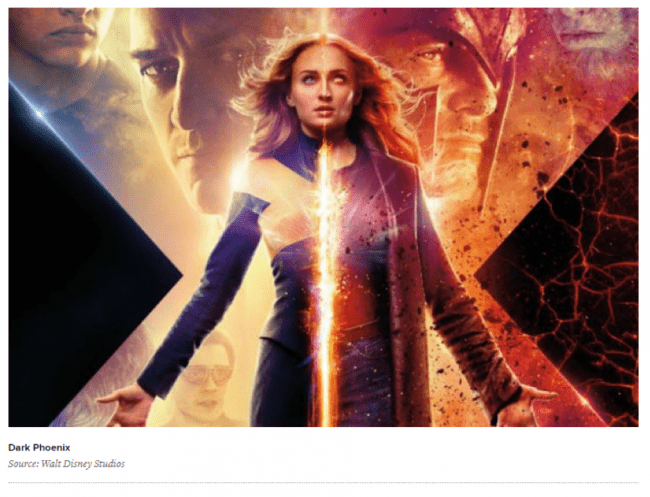 During a conference call with analysts held on 6th August, Christine McCarthy, Disney's CFO, cast the movie 'Dark Phoenix' as the villain. The work was acquired by Disney as part of the takeover of the Fox film studio and bombed with both critics and the general public. 'Dark Phoenix' posted a box-office revenue of only $65m in the US and $186m abroad. It cost an estimated $200 million to produce the film and that's not factoring in its marketing costs. Nor does it include the damage to the brand of those characters that Disney was looking to transition into its more successful franchises. The characters may be animated, but like the flesh and blood stars of Hollywood, they are only as good as their last film.
Marvel President, Kevin Feige, will be keen to bring the mutants back to life and include them in the much more successful Marvel Cinematic Universe. 'Endgame', 'Captain Marvel', 'Aladdin' and 'Toy Story 4', all performed very well with 'Endgame' outstripping 'Avatar' as the biggest grossing movie ever. Despite total revenues rising 33% to $20.2bn, profits for Q2 were halved and fell to $1.4bn.
The plot twist for Disney is that it managed to launch the highest earning film of all time and see its profits slump and intra-day share price fall 5%. There is the question of how to integrate Fox Studio materials into the Disney offering, but whilst the balance sheet adjustments make ugly short term reading, the firm has a good track record in the field. The incorporation and development of the Star Wars / Lucasfilm offering is a case of 'so far, so good'.
Disney streaming
Investors will also be giving the matter of streaming considerable weighting. Netflix, which reported its earnings last week, also saw its share price tank due to slightly different issues on the same subject. Understanding the different approaches of Disney and Netflix shows how the different nuances can impact the share price of the firm. Going 'long', Disney might not be such a write-off. The relative performance to Netflix has in the last few months tilted in favour of Disney – a notable switch considering how that pairing has for a long-time seen Disney cast in the 'Cinderella' role.
Netflix – facing a squeeze
The phenomenal success of Netflix is shown in the chart outlining its share price performance (compared to Disney) over five years. The market update it gave last week suggested that it might be at a tipping point where consumer demand for its steaming is resistant to any increase in price of the service.
DSNY / NFLX – Price comparison – Five year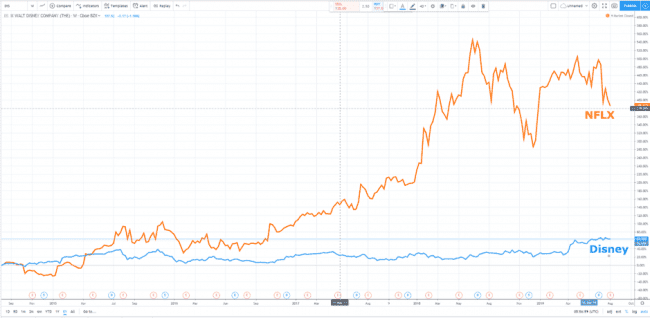 After reporting on 31st July, Netflix Inc's shares plunged more than 10% in after-hours trading. The cause for concern was badly missed projections for new paid subscriptions. Just 2.7m paid subscribers were added globally in the second quarter, far short of the 5.3m additional users Wall Street and the company were forecasting. (Source: FactSet)
In a letter to shareholders, Netflix executives noted that price increases began rolling out earlier this year, and disappointing subscriber additions were more targeted in regions that were experiencing the larger bills. Some time was given to the argument that the problem was not the price but the content and 'seasonality'.
Streaming war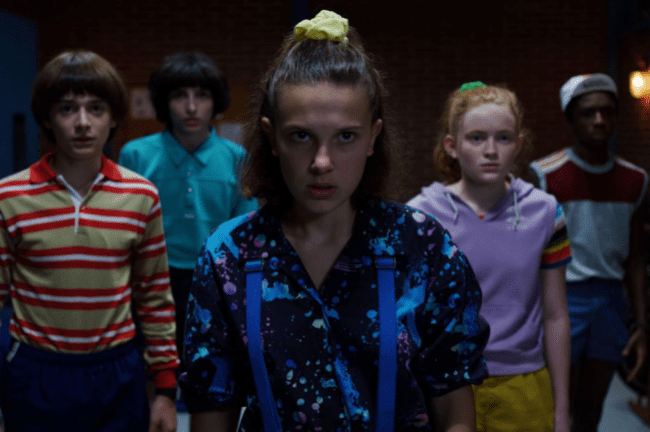 During an earnings video conference, Netflix CEO, Reed Hastings, said no single factor led to the subscription shortfall. A pricing increase, the quarterly content slate and seasonality were all factors, he and chief financial officer, Spencer Neumann, acknowledged.
The fall in share price by 10% suggests the markets aren't necessarily buying the argument that new popular shows like the latest version of 'The Crown' will be enough of a catalyst for new users to take up a subscription.
Netflix was hurt by the defection of lower-priced subscribers who may be looking to jump to a wave of competing services over the next six to 18 months.
In a phone interview, eMarketer forecasting analyst, Eric Haggstrom, told MarketWatch:
"Higher prices and more content choices could prove to be a difficult road, undercutting Netflix's pricing power… But a strong content schedule in Q3 should draw many former subscribers back in."
 Source: MarketWatch
One of those competitors for Netflix is the new Disney streaming service, which is launching as a premium quality service that could see Netflix caught in the painful middle ground between value and quality.
Details of Disney's streaming service signal the start of a streaming war. Beginning 12th November, when Disney's ambitious streaming service debuts, US consumers will be able to subscribe to a streaming bundle of Disney+, ESPN+ and advertising-supported Hulu for $12.99 a month. Disney CEO, Bob Iger, speaking to analysts said:
"Nothing is more important to us than getting this right."
Source: Barron's
Whilst the performance of Netflix stock has been stellar, Disney stock has also performed well. The five year price chart outlines recent stock price gains:
Disney (NYSE: DIS) – Five year price chart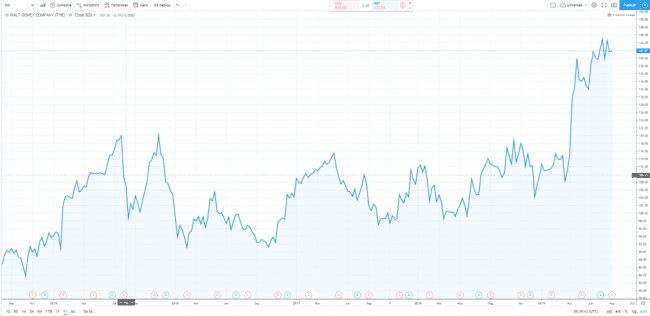 A comparison of the two firm's share price over the last 12 months shows Disney showing some relative strength. With the general market currently making bull and bear noises, it might be that some are looking to put on a pairs trade to play the relative strength of Disney.
DSNY / NFLX – Price comparison – One year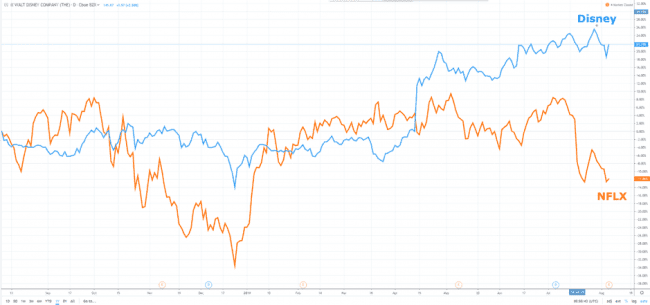 Christine McCarthy, Disney's CFO, on the same call with analysts pointed out that the "performance of the Disney film studio continues to be incredibly strong."
Source: CNBC
Indeed, the run in to the year-end will begin to shed light on whether viewers who stream lean towards new or classic content.