Equity markets — disappointing earnings and PMI data
Christian Habeck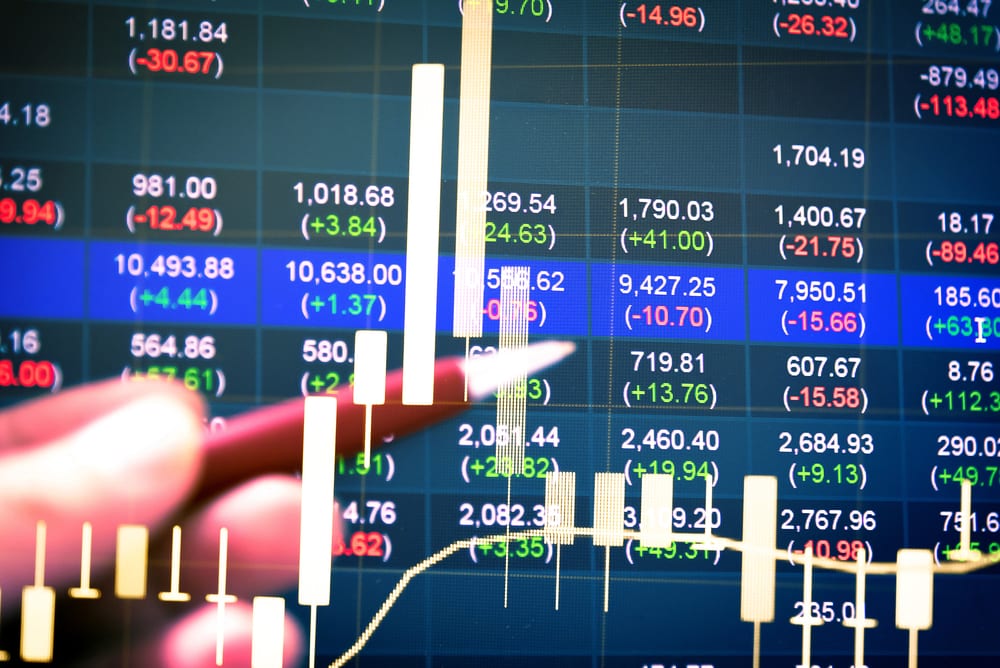 Equity markets spent most of Wednesday trading sideways.
The holding/consolidation pattern is probably due after the market rally that was initiated at the turn of the month. But it can also be attributed to a mixed bag of data reports released on Tuesday and Wednesday.
'Fundamentals' currently appear to be much less influential than developments in the US-China trade talks.
Firms active in a range of different markets have posted disappointing earnings figures. The earnings season started well, but recently some names have been going against the tide of upbeat announcements. A range of retailers, banks and tech stocks in Europe and the US have seen their share price fall on the back of poor data. As there are still some firms yet to report, the jury is still out on the overall state of the Q3 earnings season.
European PMI data, which considers the broader economy and studies activity higher up the production timeline, also gave a set of mixed messages when released on Wednesday.
IHS Markit — Euro-area composite PMI — 12 months: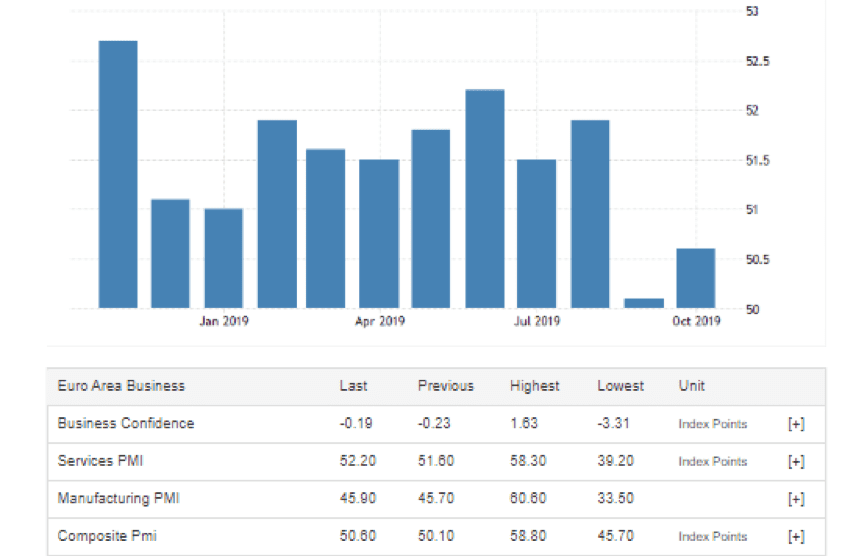 IHS Markit's whole economy Purchasing Managers' Index (PMI) for eurozone countries was released Wednesday. The gauge of economic health rose to 50.6 from September's more than six-year low of 50.1. October's figure was initially forecast to be 50.2. The overall total number is derived from surveys of private sector managers — 50 is neutral, above 50 positive and below is negative.
The market's response suggests that traders and analysts are unsure whether this particular glass is half full or half empty. The FTSE 100, CAC 30 and DAX Index have all been trading near to flat on the day. Halfway through the session, there is some light relief with the three indices now in the green — though, only marginally.
The positivity that comes from the PMI beating expectations is dampened by the headline figure being so close to the 'break-even' figure of 50.0. The chart of the last 12 months' figures also shoes a downward trend.
Other metrics released Wednesday have also reminded analysts how close the eurozone is to stagnation. Digging into the data at a more granular level highlights the issues relating to different types of growth. Reuters analysts reported on Wednesday:
"There are fears the manufacturing slump is increasingly acting as a drag on services industry. A euro zone services PMI measuring new business was at 49.6, above September's 48.7 but the second consecutive month below 50."
Source: Reuters
There appears to be every likelihood of the eurozone posting negative growth in Q4. Chris Williamson, chief business economist at IHS Markit, estimates economic growth in the period will be 0.1%. Furthermore, a survey conducted by Reuters in October produced a consensus-estimated growth figure of 0.2%. The markets are working with fine margins here. Is the shift from 0.2% to 0.1% statistically significant? Is zero or below on the cards?
Chris Williamson noted:
"The euro area remained close to stagnation in October, with falling order books suggesting that risks are currently tilted towards contraction in the fourth quarter."
Source: This is Money
Both the Services PMI and Manufacturing PMI are forming a downward pattern when viewed over a five-year time horizon.
Eurozone — IHS PMI — 5-year — manufacturing: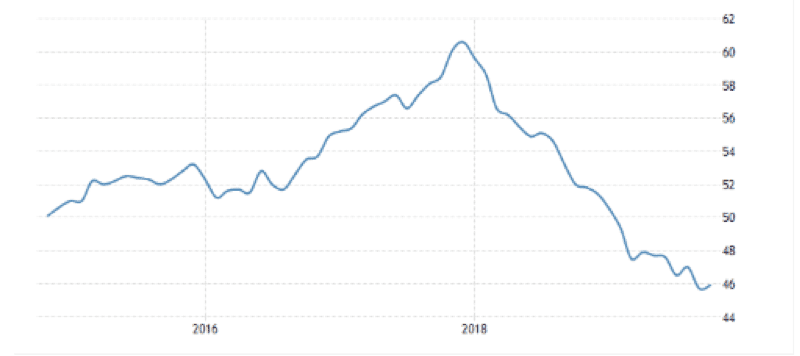 Eurozone — IHS PMI — five-year — services: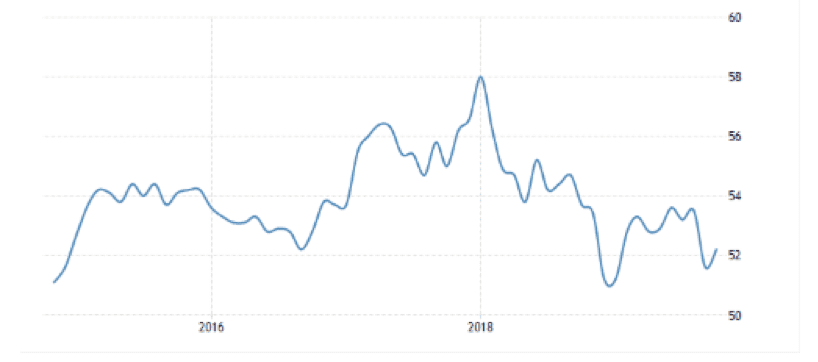 Earnings 
The PMI survey has for some time been raising the possibility that a general eurozone economic slowdown might be coming down the tracks. The manner with which global corporations have been beating Q3 earnings estimates had been surprising some, but this week the caution espoused by the PMI was finally cashed in. A concern for the markets is that it hasn't only been euro-denominated stocks missing targets this week.
Société Générale — France's third-largest bank reported a 35% decline in net profit in Q3. The figure of €854m was some way off the forecast target. Deutsche Bank analysts had, for example, projected a net profit of €922m. Top line revenue also missed forecast estimates and was down 8.4%.
The Société Générale share price actually showed strength. Some analysts had been expecting the miss to be worse than it was. The broader firm held up quite well and the bad news, which generated the headlines, was contained within the Investment Banking department.
Société Générale (Euronext:GLE) — intraday price chart — 6th November — earnings: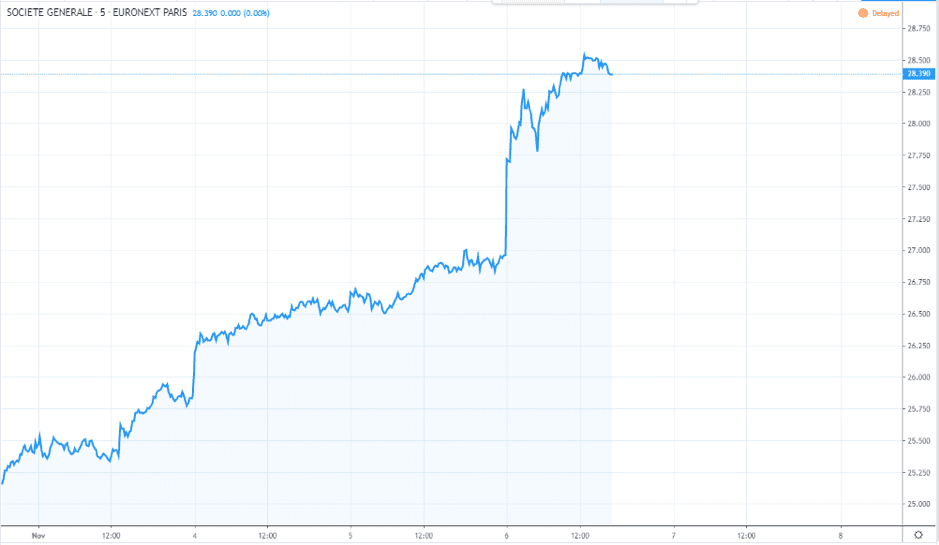 Anglo-Dutch oil giant Royal Dutch Shell reported a 15% fall in Q3 net profit. The figures released on 31st October led to the share price falling away by more than 1%.
Royal Dutch Shell (LSE:RDSA) — intraday price chart 31st October — earnings report: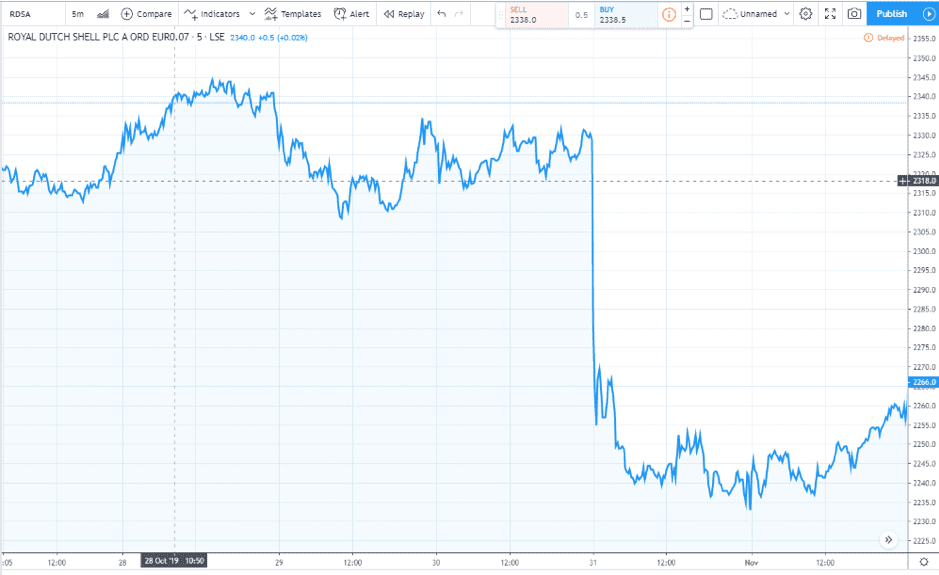 Market titans Facebook and Apple both beat their estimates. Part of the strength in the global equity indices has been down to firms such as these tech giants, with larger market caps performing well. The list of smaller cap firms, which missed earnings is actually quite a long one. Chevron (NYSE:CVX) reported on Friday that its earnings dropped 36% more than expected. Also, on Friday, Pinterest (NYSE:PINS) missed earnings, downgraded future growth and saw its stock lose 21% in value. Dunkin' Brands (NASDAQ:DUNKN) missed same-store sales estimates on 31st October. Uber (NYSE:UBER) stock fell on Tuesday when the newly-listed firm beat earnings but found it hard to make any headway with its cost base.
Q3 earnings season is almost completed and some had expected there to be more bad news than there actually was.
For the bulls, at least, the poor earnings make it less likely that Jerome Powell and the US Fed will take the recovery for granted. For the bears, the PMI data appears to be finally coming through into earnings results.
For both, the big news continues to be the US-China trade talks, which are the real driving force behind the current market moves.