FedEx (NYSE:FDX) posts earnings beat, revenue miss for fiscal Q4
Christian Habeck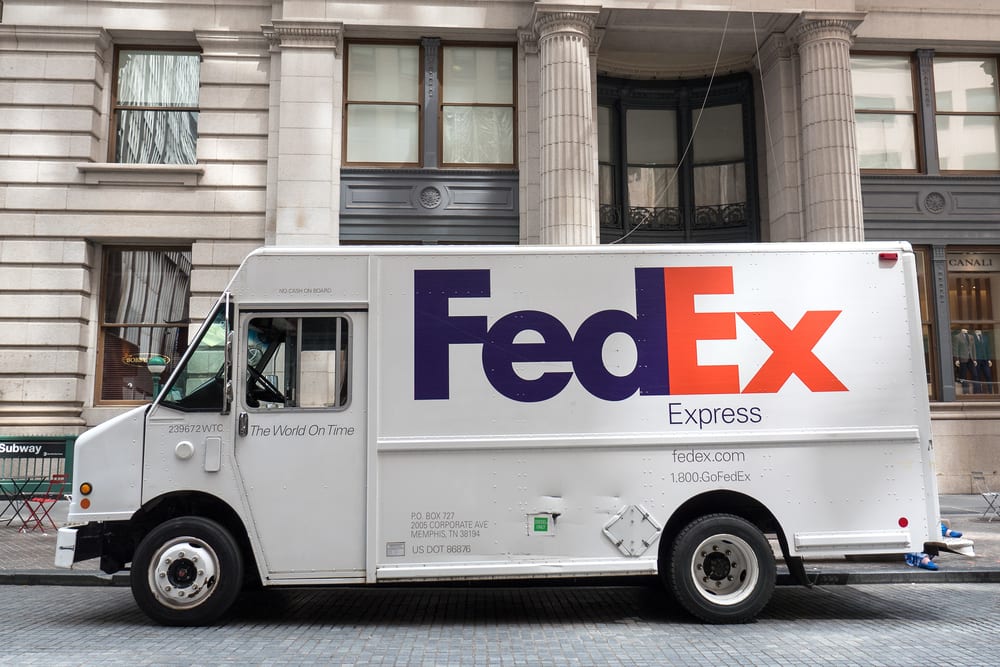 Books $5.01 Non-GAAP EPS and $17.8B revenue for the period ending May 31
Notes "continued weakness in global trade" for fiscal 2020
Capital Markets says results "better than feared"
FedEx Corp. (NYSE:FDX) posted a mixed corporate report on Tuesday as Q4 Non-GAAP earnings per share ($5.01) beat the Wall Street consensus by 18 cents but revenue ($17.8 billion) missed by $50 million despite rising 2.9% year-over-year.
The courier company said fiscal 2019 had been a year of "challenge and change" and it noted that several factors had pressured Q4 operating income including higher business realignment costs and a decline in freight revenues at FedEx Express.
However, these downsides were partially offset elsewhere as strong volume growth in the US and a higher revenue per shipment rate buffered bottom line. A 2.9% rise in revenue during the period ending May 31, 2019 also helped EPS to top pre-report estimates.
Zacks noted that the 4.16% earnings surprise in fiscal Q4 is the first time FDX has delivered a beat in the last four quarters. In Q3, the Tennessee-based company came in with $3.03 EPS, which was 2.26% lower than the $3.10 forecasts. While earnings were up in the fourth quarter, operating income slipped 8% to $1.72 billion.
For FY2019, FedEx ended with revenue of $69.7 billion, which is ahead of the $65.5 billion figure recorded for FY2018. However net income slumped from $4.57 billion to $540 million, while diluted EPS saw a similar decline, falling from $16.79 per share to $2.03. Operating margin remained largely unchanged.
FedEx said US-China tensions and weak global trade continue to impact its operations negatively, but looking ahead at FY2020 offered guidance for a higher operating income for both FedEx Group and FedEx Freight. Overall, it expects a 1-4% rise in diluted EPS for the year and capital spending of $5.9 billion.
"Our fiscal 2020 performance is being negatively affected by continued weakness in global trade and industrial production, especially at FedEx Express," Executive VP and CFO, Alan B. Graf, Jr said. "While we are adjusting our costs to mitigate revenue weakness and market shifts, we will continue to invest in areas that expand our capabilities, improve our long-term efficiencies and reduce our cost to serve."
FedEx shares were up by 0.72% in Wednesday's premarket and set to open at around $157.10. BMO Capital Markets analyst Fadi Chamoun said the Q4 results were "better than feared" and saw no reason to pivot away from his current Outperform rating and $190 price target. He noted that stock is now trading at "bargain valuation" and that investors could benefit as EPS may "reaccelerate" in the medium term.
Chamoun added: "Ground and Freight segments appear on a stronger footing going into F2020, while the Express segment outlook continues to be weighed down by a weak cyclical backdrop and TNT integration is likely still a year away from providing any substantial benefits."
Analysts are still bullish on FDX stock as there are currently 15 Buy, 4 Overweight and 7 Hold ratings. One lone bear has a Sell rating. Stock price targets vary from a high of $360 to a low of $120 and an average of $195.79.