Forex week ahead – downward pressure?
Nigel Frith
The USD and GBP look forward to a volatile week ahead
Significant announcements are diarised
Officials demonstrating an appetite for releasing guidance to the markets
Interest rate policies looking dovish
All three currencies could lose ground
USD, GBP and EUR have all shown weakness and largely traded sideways in week ending 19th July. The EUR/USD pair ended the week close to where it opened and intra-weekly trading was within a 75 basis point range.
Cables trading range was wider with the GBP/USD pair moving 1.59% from trough to peak. Despite the continuous stream of Brexit news, Friday's prices were at or around the 1.255 level – only 0.25% away from the week's opening GBP/USD level of 1.257
The dollar typically fell away in the last trading sessions on the back of remarks by John Williams, President of the New York Federal Reserve, who said central bankers need to "act quickly" when economic growth slows.
The extent to which a 50 bps interest rate cut becomes perceived as more likely will impact the Forex markets. The dollar being the base currency for major Forex pairs means some price moves might be expected as the greenback weakens. The calendar for week commencing 22ndJuly picks out a few events that might influence which currencies do (and don't) strengthen against the dollar.
EUR/USD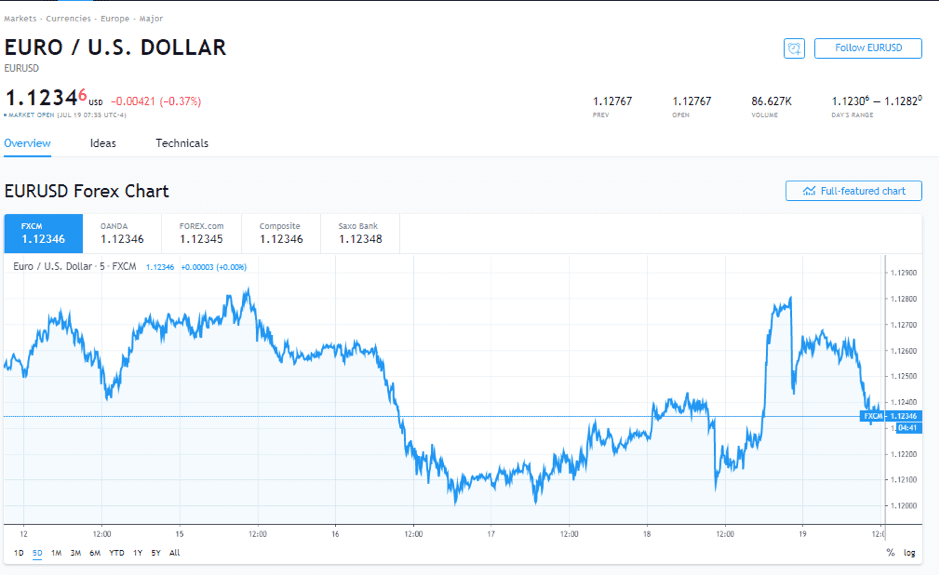 GBP/USD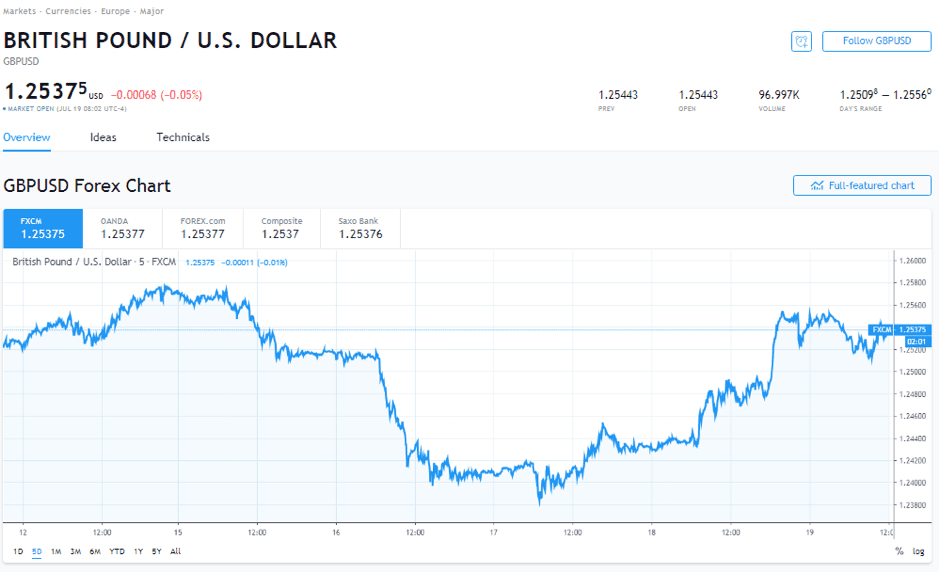 MAJOR TALKING POINTS
The eurozone is set to release some key sets of data during week beginning 22nd July. The major talking point will come on Thursday when the ECB updates the markets on its interest rates policy. It would be hard for the ECB to be more dovish in tone than it is at present, but whether that transpires as imminent cuts, or continued 'guidance' is the question. German manufacturing output is still a concern and the data to be released Wednesday at 9am will give a hint of how the ECB is going to play things the following day.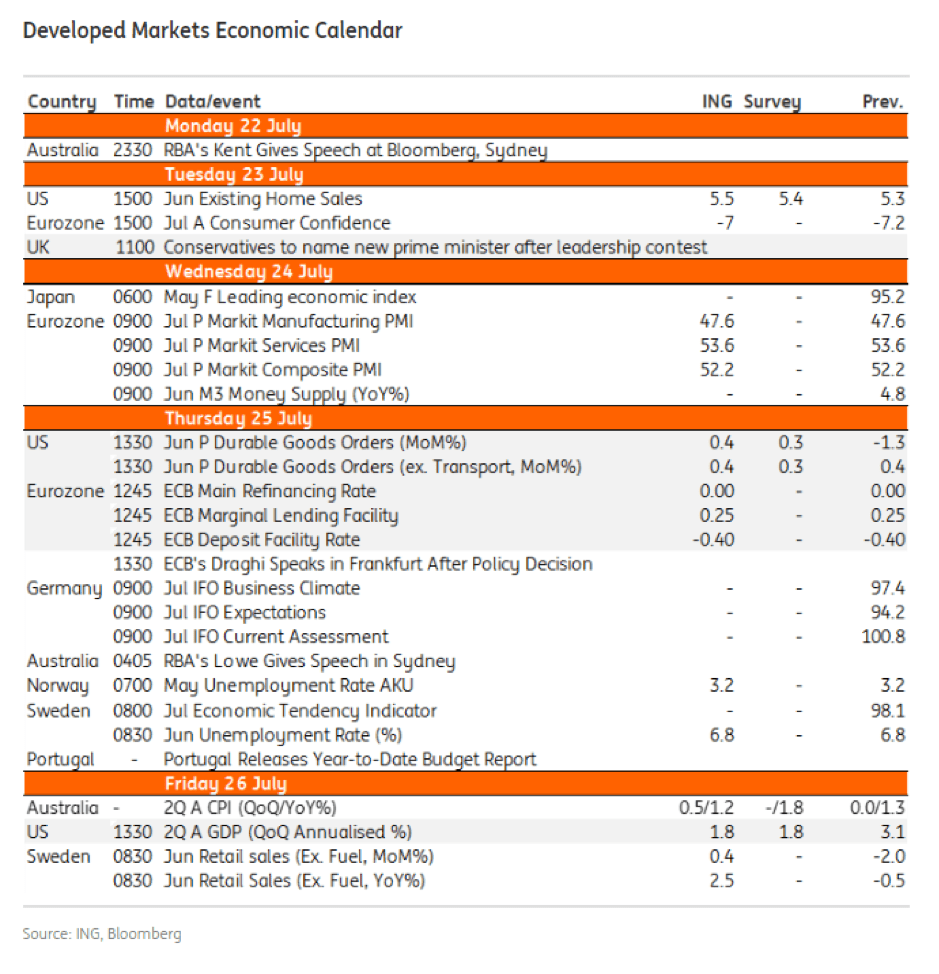 BREXIT OBJECTIVES
The process of electing a new leader of the Conservative party has formed a sort of quasi-election in the UK. Pollsters may well be held in lower regard following a spate of wrong calls, but the considered opinion is that Boris Johnson will defeat Jeremy Hunt to become leader of his party and of the Queen's government. Even if there was a surprise, the comments made by Hunt during the hustings have seen his position move towards a harder Brexit. Both candidates have called the current form of the Irish back-stop 'dead' and both have declared their intention to leave the EU on 31st October.
By Tuesday 23rd, all the votes will have been counted and bookmaker Paddy Power quotes Mr Johnson as having a 97% chance of winning.
Votes in the House of Commons on 18th July saw Remainer Tory MPs and cabinet ministers vote against the government. The Theresa May cabinet holds a strong contingent of Remainers and many are said to be waiting for Mr Johnson to take up his position before resigning as a group to demonstrate their objections to his proposed course of action. Whether they wait around for a while is a good question. Mr Johnson and Mr Hunt wouldn't be the first politicians to declare different objectives prior to and after votes have been cast.
High profile figures such as (current) chancellor Philip Hammond 'won't exclude' backing a no-confidence vote, which will bring about a general election. Whilst this option was publicly dismissed by Johnson in the leadership election, he may not mind his hand being forced as a general election would give him a 'puncher's chance' of increasing his majority in the house.
Will Johnson try to appease Remainers? The make-up of his cabinet should shed some clues. If he does load his management team with Leavers, he might feel more empowered when dealing with Brussels. Should the Remainer Tories side with the opposition and call no-deal then he can move on to plan B.
On 19th July, the EU linchpin Angela Merkel significantly broke ranks with EU policy and said the controversial backstop could be "overwritten." Quite what she meant by that could be fleshed out by Tuesday when the new PM takes office. If sufficient compromise was forthcoming, then a Brexit deal would be more likely to pass through parliament.
Weekly technicals from TradingView: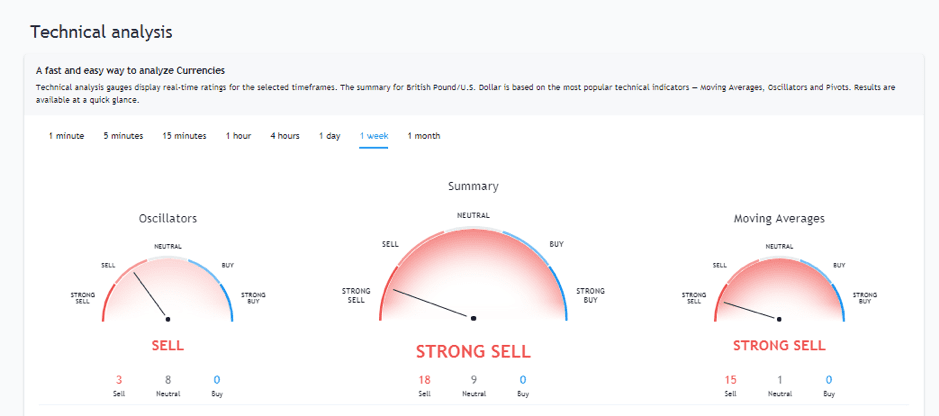 Analyst Marios Hadjikyriacos, of the XM Investment Research Desk, expanded on the view that Mark Carney, the Bank of England (BoE) chief and his team were turning dovish.
"Mark Carney, the Bank of England (BoE) chief, changed his tone recently by indicating that trade tensions combined with a slowing global economy have amplified downside risks for the British economy. This may be an early hint the Bank will abandon its rate hike plans soon, though admittedly, that will hardly be a surprise for markets – which currently price in roughly even odds for a rate cut before year end."
Source: XM
Which will be the least weak?
The abundance of influencing factors makes GBP/USD and EUR/USD price forecasts harder to make. What would appear to be the case is that all of sterling, the euro and the dollar are facing downward pressure. Whether this transpires as sideways trading depends largely on to what extent the politicians of each country engage in a 'race to the bottom'. Speaking specifically about GBP, but with words that could also apply to EUR and USD, Marios Hadjikyriacos said:
"Since the FX market is a zero-sum game, in that weakness in one currency must translate to strength in another, this could limit any severe losses in the pound."
Source: XM
Though there are 'known knowns' such as the dates of the Tory leadership and ECB announcements, the direction that the markets will take is hard to call. But it is possible to say with some certainty that volatility will definitely pick up at those times. Stop-losses might get hit by whip-sawing prices, good positions might turn bad. Lots to look forward to!