Goldman and J.P. Morgan beat estimates – banks come to a pivotal moment
Christian Habeck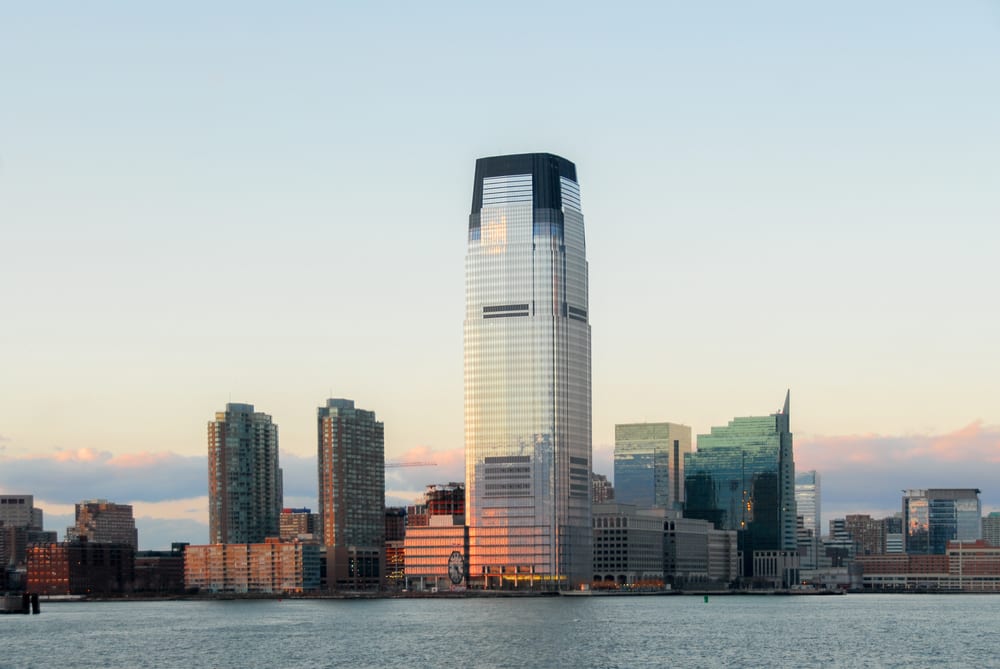 Earnings week for US banks
Citigroup reported 15th July and beat expectations on earnings and revenue
Goldman and JP Morgan continue the theme on 16th July – both beating expectations
15 banks will report figures by the end of the week
J.P. Morgan and Goldman Sachs reported second-quarter results on 16th July and both beat expectations. J.P. Morgan posted a record 2Q profit of $9.65bn, a 16% year-on-year increase; part of this out-performance being attributed to a one-off tax boost. Goldman put its out-performance down to investment banking and trading operations – actual earnings per share were $5.81 compared to a $4.89 forecast by Refinitiv. 
Breakdown – Goldman Sachs
Earnings: $5.81 per share vs $4.89 per share forecast by Refinitiv
Revenue: $9.46bn vs $8.83bn forecast by Refinitiv
Total investment banking revenue: $1.86 bn vs $1.77 bn projected by FactSet
Breakdown – J.P. Morgan
Earnings: $2.50 per share, a 9.1% increase from a year earlier, according to Refinitiv.
Revenue: $28.9bn, a 1.8% increase from a year earlier.
Net interest margin: 2.51%, according to FactSet.
Trading revenue: fixed income $3.36bn; equities $1.84bn.
Source: CNBC
 J.P. Morgan is the biggest bank by assets and Goldman holds a particular kudos. The fact that these two high profile banks chipped in with good figures will be taken as good news for the markets in general. The share price of both stocks rose on 17th July, despite the rest of the US market having a down day. J.P. Morgan was up 1.10% for the day, and Goldman closed 1.9% higher on the day and +29% year-to-date. Those getting their ducks in a line will also note that Citigroup's share price also rose on the day of their announcement (15th July). That stock was up nearly 1% after its results were released.
Wells Fargo senior analyst, Mike Mayo, said in a note to clients on Tuesday:
"Goldman is progressing fine through what we consider a transition year with the new CEO…It exceeded expectations on the strength of higher stock markets, which helped equity gains."
Source: CNBC
Goldman Sachs / J.P. Morgan / S&P 500 Index – share price – Intraday: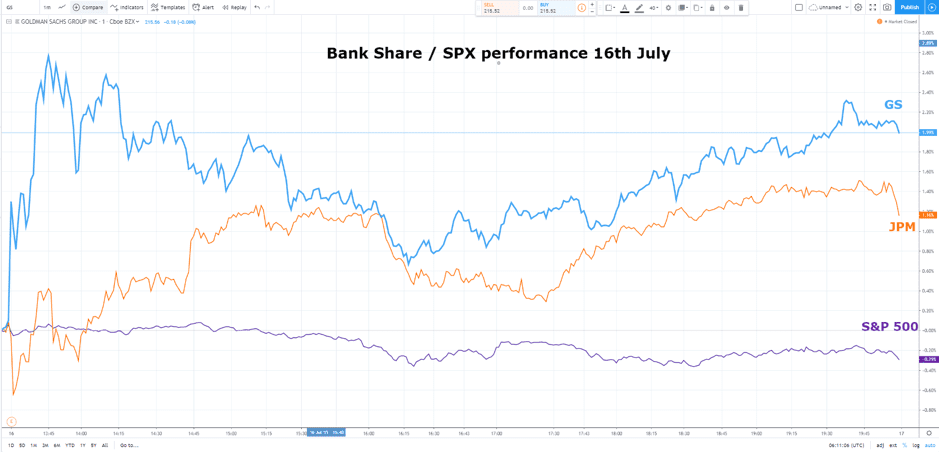 Goldman Sachs / J.P. Morgan / S&P 500 Index – share price – year-to-date: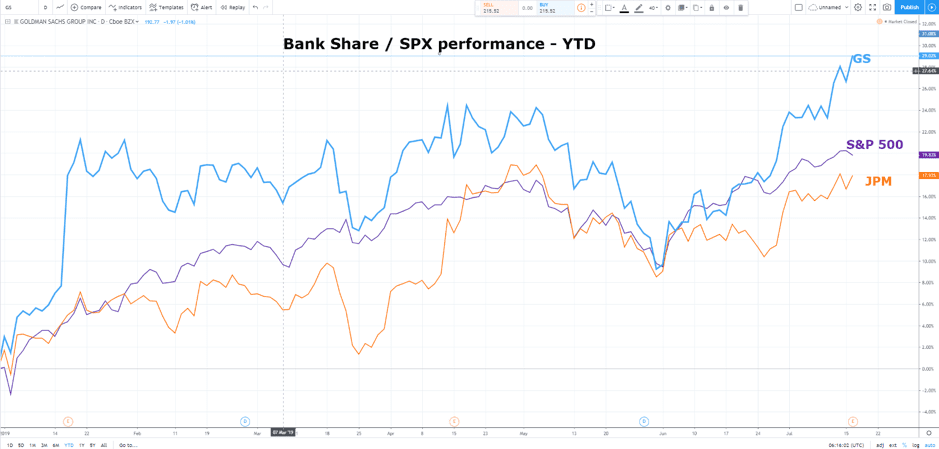 Goldman Sachs / J.P. Morgan / S&P 500 Index – share price – one year: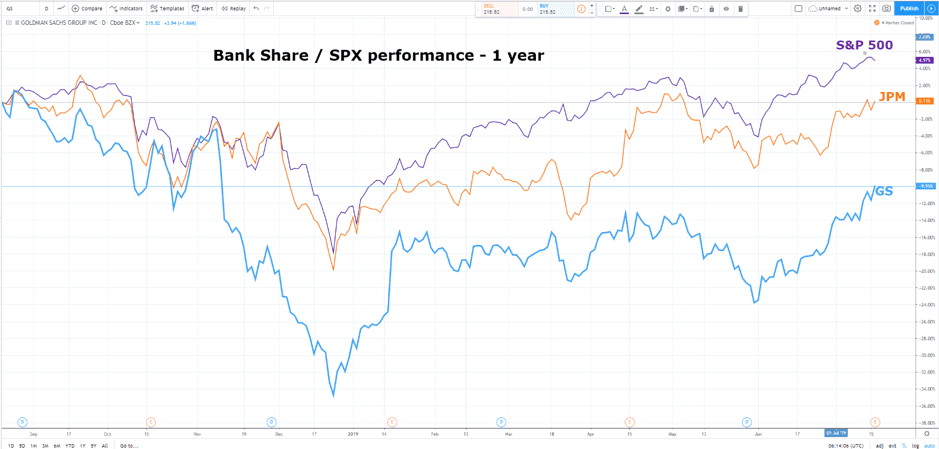 The charts of bank share performance compared to the S&P show JPM and GS outperforming over the recent time periods. This is more of a case of playing catch-up rather than leading the way. The one year performance chart shows the S&P 500 outperforming both bank stocks over that longer time period.
Caution required?
Some caution is recommended due to the nature of the US reporting season. In an interview with Nasdaq Digest, quant analyst, John Jagerson, said:
"Analysts have a very strong bias towards underestimating earnings numbers. Therefore, in any given earnings season, 70% of companies will 'surprise' by beating their estimates. This is even more extreme for the banks and investment companies. It's rare for the entire banking sector to miss low expectations. So, a positive surprise didn't really tell me anything historically. It wasn't a bad sign for the market, but it wasn't anything I would consider a buy signal either.
Disappointments, however, are a bigger deal because it's hard to miss the expectations of analysts who are already underestimating your earnings. In those cases, if more than 30% of the banks and investment companies disappointed expectations, the market dropped an average of 7% over the next 60 days."
Source: Nasdaq
A look through the reports released by JPM and GS shows some of the year-on-year performance was not particularly positive. Goldman's investment banking revenue beat expectations but was 9% lower year-on-year and total revenue was down 2% year-on-year. This is important because historical data correlates year-on-year declines in bank earnings with market corrections.
The detail of J.P. Morgan's figures was picked through by Jim Collins of Forbes:
"So, while the mainstream financial media focused on Jamie Dimon's bullish comments on the state of the US consumer, analysts should have been focusing on the lower profitability implicit in the guidance released by Dimon and his team… the US banking industry's profitability has peaked for this business cycle."
Source: Forbes
The notes by Jim Collins are brought into focus by the chart showing Nasdaq Bank forming a wedge pattern: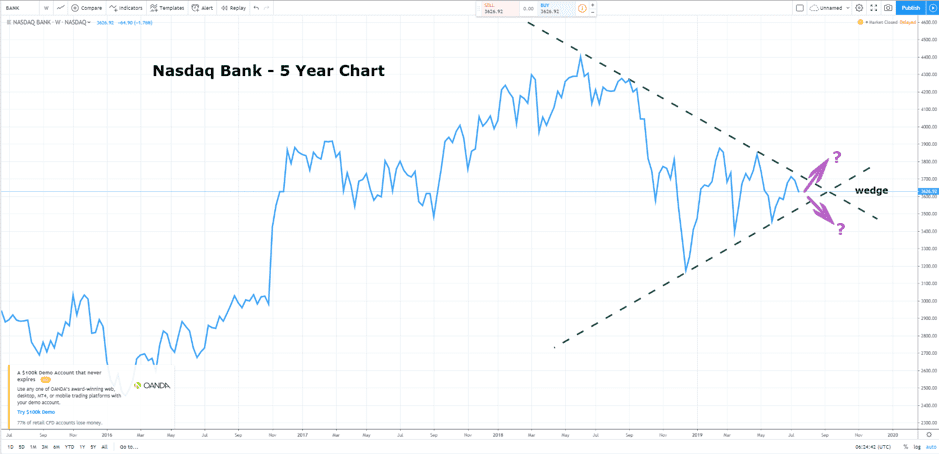 Crystal Balls
The Nasdaq Bank index is often taken to be something of a leading indicator. Of course it's not a crystal ball, but the argument goes that as banks are a source of capital for businesses then if banks are growing, so are their clients. It also follows that if wages are high then consumers will be looking to take on mortgages and credit lines.
More banks are set to report this week, but so far the customary 'beating of expectations' has been achieved. John Jagerson, commenting in the Nasdaq Digest said:
"There's a lot of pressure on the banks to pull a rabbit out of their hat and say that the business environment is improving and higher prices are justified."
Source: Nasdaq
The Nasdaq Bank index is referred to by some as a 'leading indicator', but it's more complicated than that. To start with, there is the question of correlation or causation. The bank reporting season, however, is undoubtedly an important time for the general markets. John Jagerson gave a succinct synopsis of how the figures this week might be interpreted:
"In my view, there are three different potential outcomes this week. If the banks experience a year-over-year decline in earnings, which is very unlikely, all bets are off and I wouldn't be surprised to see a major correction. If the banks surprise expectations, investors should consider that a positive for the market, but not the most powerful leading indicator. The third outcome is what I would like to see the market avoid – the banks see an increase in earnings compared to last year, but they disappoint analyst expectations for that increase. If that happens, the odds for a correction rise considerably and investors may want to add a hedge to their portfolio against a short-term decline."
Source: Nasdaq
Halfway through the week, major banks have beaten expectations and have seen their share price rise. The market as a whole is trading sideways, possibly looking for negative signs as the data comes over the news wires.