Goldman Sachs sees near-term target of $13,971 for Bitcoin
Tom Cleveland
In a note to its clients, Wall Street powerhouse, Goldman Sachs, actually pegged a possible target for the world's favorite digital asset in a few short weeks of $13,971. The preciseness of the prediction was oddly uncommon, but the mere fact that a mainstream investment house would even acknowledge Bitcoin to its investor base is cause for celebration in every corner of Crypto-Land. Are institutional investors finally onboard the crypto train? Several reports have concluded that the current year's momentum has come from the traditional investment community, not the retail trade, as in the past.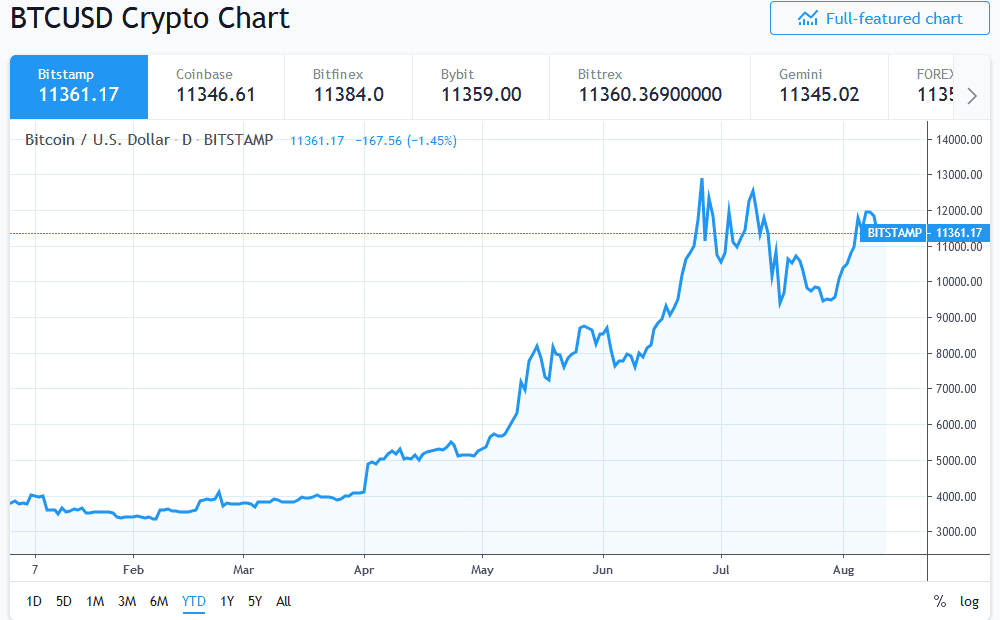 The folks at Goldman would have to admit that they would have to search high and low to find any equity offering that resembled Bitcoin's progress to date, step by step, as evidenced by the above chart. July was a harsh correction month, but the downward move was expected, after five consecutive months pf positive gains. The nice recovery in August has been attributed to investors realizing that Bitcoin can be a "safe haven", while also providing a healthy potential for appreciation, much more so than for Gold.
Depending upon the crypto exchange chosen, the high for BTC for 2019 was established back in June at roughly $13,800. The above line chart does not present "candlestick wicks", which would confirm this figure, but Goldman's forecast would surpass this figure and more to record a new yearly high watermark. As with any prediction, there are, of course, a few caveats.
First, the current corrective phase must end. Technically, the present trend is bearish by definition – a series of lower highs followed by lower lows. Secondly, according to Goldman's note, BTC cannot fall below $10,971, and if it can hold its position, then "there is every likelihood of a push towards the $12,916 and $13,971 price levels". If Bitcoin holds here, then a new All-Time-High of $20,000 is in sight. If not: "Any such retracement from 12,916-13,971 should be viewed as an opportunity to buy on weakness as long as it doesn't retrace further than the 9,084 low." Goldman has also relied on data from the futures market, a favored medium of the institutional crowd, which means that they are also ignoring weekend trading results.
Su Zhu, an analyst for Three Arrows Capital, tweeted a portion of the Goldman note on Monday and made these curious comments: "What is more surprising: that Goldman Sachs has a bullish target on $BTC, that they have any target at all, or that they use Elliott Wave Theory? I'm personally most surprised they can't be bothered to use a chart that includes weekend price action."
Not all analysts are in agreement with Goldman's hypothesis, as convincing as it might appear. One can look at the same chart and see a "Pole and Pennant" formation, which resembles a damped oscillating curve, if you recall your Physics class. The point here is that we may be in for a long ranging period, before another large move. In this camp are the analysts that point to the Bitcoin "halving" event in May of 2020, as the driver of price behavior for the next several months. Litecoin just completed its "halving" event, and a similar BTC path might hit the Goldman target next year, much further down the road.
Other analysts suggest that the current BTC technicals are weak. The Cryptomist, a popular crypto analyst on Twitter, is one voice of many that expect a near-term downward move: "$BTC: Bulls need a close above 11360 which I will be surprised to see. Weekly pennant present with support at 10060 region. Potential rising wedge present on smaller time frames. I suspect a drop before close today."