Gold futures take a breath
First weekly loss for nearly two months
Strong economic data takes some shine off the appeal of gold
Speculation remains that gold futures will push on to higher levels
2019 has seen gold behave somewhat in-line with what is expected of it. It's tracked riskier asset classes such as bullish equity markets, but underperformed them. Whilst major equity indices are posting YTD returns of between 15-20%, gold is up 9.4% YTD. The metal's price performance has also been less volatile than that of the equity markets. In short, it's demonstrating the characteristics of a classic defensive asset.
Is price at a crossroads?
The non-farm payroll numbers released in the US on 5thJuly were stronger than expected. This signalled an opportunity for interest rate hawks to suggest the number of imminent US interest rate cuts will be fewer than some were predicting. Prior to the healthier than expected jobs data, some analysts were going as far as to suggest the Fed would use its next announcement to cut interest rates by 50 basis points. Expectations have, to some extent, been reigned in but a 25 basis point cut is still pretty much priced in, even with riskier asset classes nearing record highs.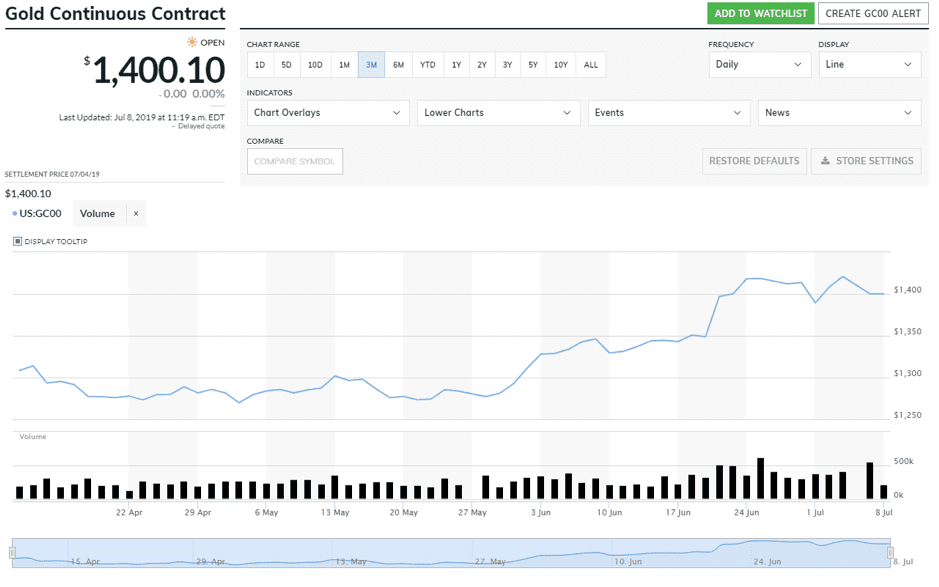 One of the peculiarities of the current market is the number that are reaching simultaneous highs. This of course reflects the QE generated cash swilling around, looking for a home. The sight of global bank balances paying savers record low interest rates has spurred gold futures onto long-term highs – the metal posting a six-year high of $1,422.875 on 25thJune.
Low interest rates mean the opportunity of holding gold is reduced. Those holding the metal can instead take comfort from it being the traditionally recognised defensive asset. With the geo-political situation in the Gulf and US-China trade wars ongoing, those with gold positions may see little incentive to trade out into riskier sectors.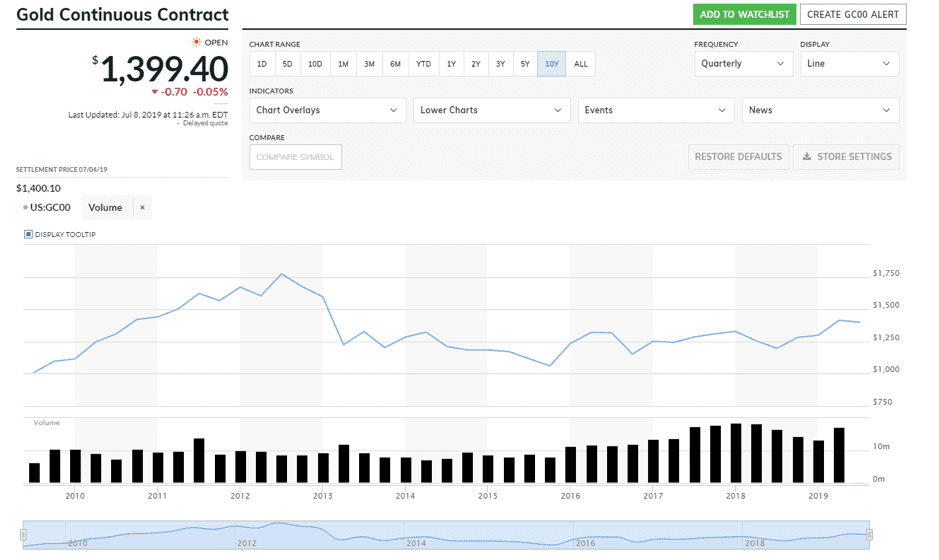 The above chart shows gold's steady six year bull-run. So far, there has been a lack of panic buying, which can cause prices to spike. Instead the chart suggests a steady rotation into gold. The argument that gold futures have a strong base at these levels is supported by the 'volume traded' chart at the base of the illustration. Volumes have picked up since 2016 and the most recent bar shows trading activity is still strong. The gold futures market is somewhere investors and speculators are heading with increasing frequency – possibly to take positions in case of a market melt-down.
David Roche, president and global strategist at London-based Independent Strategy, believes a correction is on the cards:
"I actually believe financial markets are now poised to crumble like a sand pile," he told CNBC's 'Squawk Box'."
Source: CNBC
Roche thinks gold prices are set to reach $2,000 by the end of the year and one of the main catalysts of this is the escalation of global trade wars. He's not alone in thinking the situation between the US and China will deteriorate before it improves. With presidential elections looming, the next six months present an opportunity for president Trump to drive a hard bargain, before calling a truce and letting markets rally and bear fruit by 3rd November 2020. Roche said:
"I think the trade conflict with the United States is a much far, wider-reaching, global conflict, which will undermine growth expectations in equity markets."
Source: CNBC
The below chart of gold prices over the last 40 years shows any prediction of price reaching $2,000 is pretty punchy. The break-through of the 90 month moving average in May of this year is possibly the kind of indicator that the gold bulls are taking into account.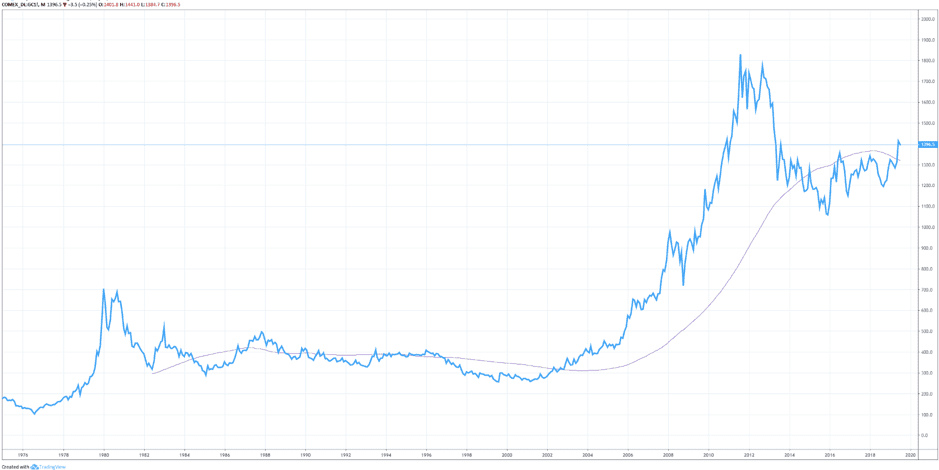 An overlay of the S&P 500 over the same time period illustrates the long-term correlation of the two and recent divergence. Could now be the time that the two converge?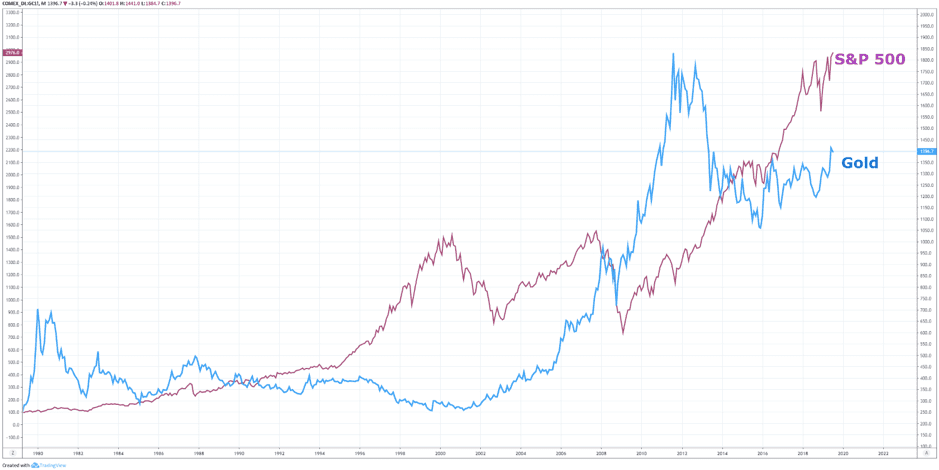 Further upwards price movement could come about as long as gold stays above the current support levels of $1,387 and $1,373 (the 21 day moving average).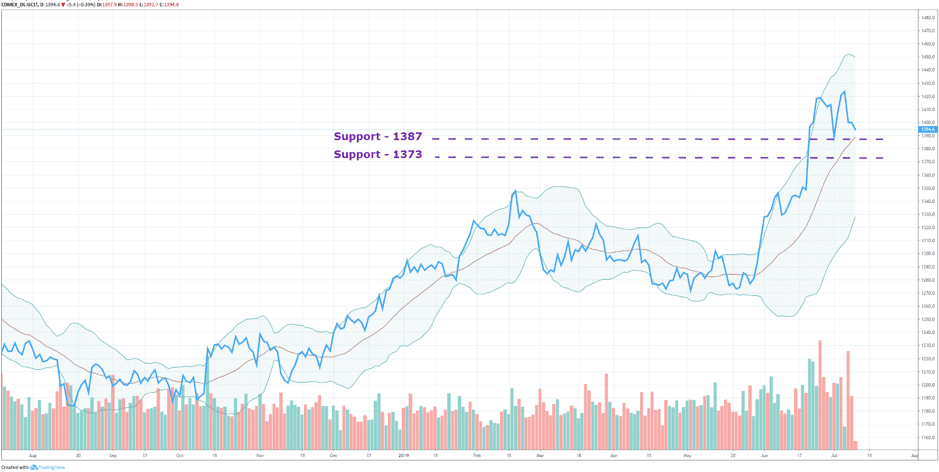 Gold's big price moves come about when the metal comes into focus for the wider trading community. Those focusing on other sectors may use the price of gold as a guide when trading other markets, but it is when they look to rotate into a 'safer' asset that price momentum builds. Mark Mobius, veteran investor and founder of Mobius Capital Partners LLP, has recently commented that every portfolio should have a 10% allocation to gold. Kitco news, references Jonathan Barratt's response to this view. Barratt told Bloomberg at the start of July:
"For me, the only right time to buy gold is when you can afford it."
Source: Kitco
Barratt may find there are some buying opportunities in the near future. After an extended rally, price could well show short-term weakness. TD Securities forecasts gold prices to trade in a range around $1,400 until the end of 2019, then find strength and rise to the $1,474 – $1,500 level towards the end of 2020. TD Securities' head of commodity strategy Bart Melek, and commodity strategists Ryan McKay and Daniel Ghali were reported by Kitco as saying:
"Once equity correction risks and vols rise as US data starts turning convincingly lower, low Fed rate expectations and insurance premiums should lift gold toward $1,500/oz in the final months of 2020."
Source: Kitco
Economic data in the US continues to give mixed messages. This makes it even harder to read between the lines of the comments emanating from the Fed. Data from other countries is more consistent, but not necessarily in a good way.
German industrial output continues to be a concern, the Australian consumer's malaise has brought about record low interest rates there and Asian countries such as South Korea and Japan are shaping their own personal trade-wars. The appointment of Christine Lagarde as head of the European Central Bank paves the way for a more relaxed monetary policy in the eurozone and gold bugs will be looking for signs of similar pressure on the US Fed – should any of the economic figures due out in the near future not meet expectations.