Deutsche Bank restricting will see 18,000 jobs go
Entire divisions, such as global equity sales and trading to close
Restructuring plan will cost €4bn and run until 2022
CEO says "we are returning to our roots" to focus on Germany
Setting up €74bn bad bank 'stuffed with toxic assets'
Deutsche bank has for some time been the subject of rumours that it is about to massively restructure its business. By Sunday 7thJuly, the detail of the plans revealed the scale of the overhaul was even greater than first thought. Once the world's biggest bank by assets, the move reflects the bank's struggle to post sustainable profits since the 2008-9 financial crisis. Although most of the job losses are set to fall on Europe and the US, whole teams across the Asian operations have, as of 8thJuly, already been laid off as the weekly business cycle opens in those markets.
Ben Wright, business editor of The Telegraph posted: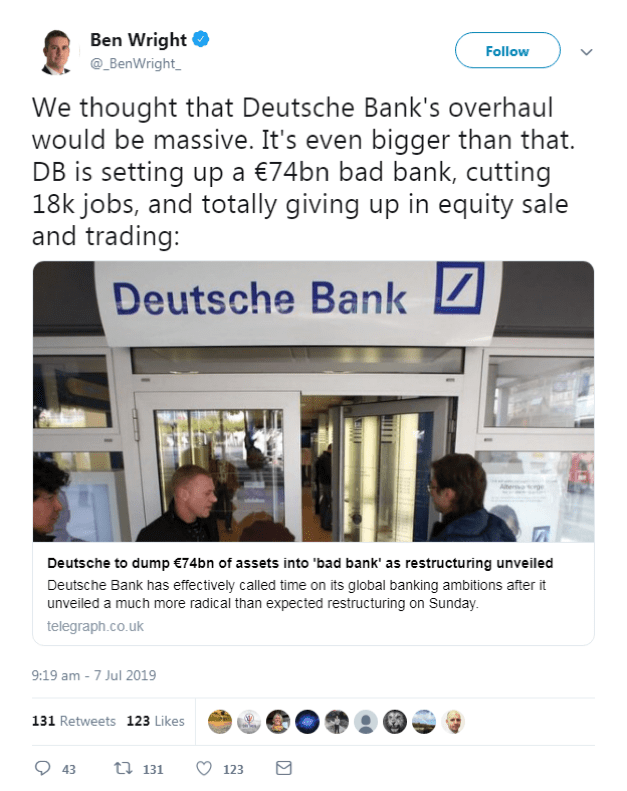 Trouble has been brewing at DB for some time. The fact that announcements are now official will do little to ease the pain of shareholders. Not only has the stock underperformed the general market but investors have been told that the dividend for this year and next is to be shelved – the first time this has happened since 1993.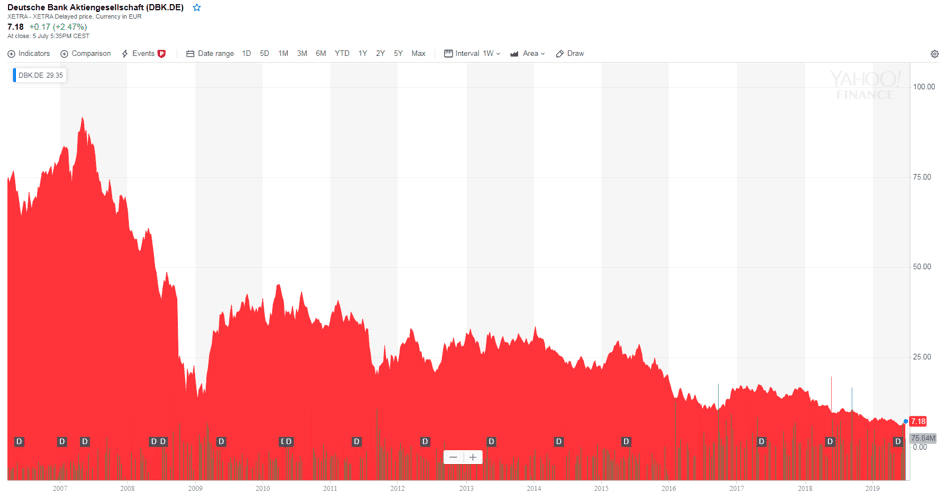 The planned job cuts will mainly affect the investment banking division and US office. There is the possibility that the 'once prized' US equities business may be sold off to another bank. Reports suggest Citigroup, BNP Paribas and others may be considering taking on this division. A report from JP Morgan estimates this group currently posts annual pre-tax losses of €200m, which gives an indication of quite how far its star has fallen.
There doesn't appear to be too many options open to the DB management. A proposed merger with Commerzbank collapsed earlier this year. The political support for a national champion ran into problems with regulators, employees, shareholders and labour unions. The plan hung around long enough to roil a whole range of stakeholders before finally being aborted in April.
More bad news followed when ratings agency Fitch downgraded Deutsche Bank's long-term debt, citing "difficulty and limited progress in improving its profitability and stabilising its business model."
Source: DW 
Internal reforms have also hit obstacles. A common heard malign from DB staff was that the IT systems impeded rather than assisted day-to-day workflow. DW.com quotes banker-turned-financial-writer Frances Coppola:
"If Deutsche Bank is to escape from mediocrity, it will need substantial investment, especially in technology: its vast spaghetti like heap of ancient IT systems seriously impedes its ability to compete with newer, more nimble entrants."
Source: DW
Dead cat bounce?
DB shares on Monday 8thJuly opened the session in positive mood. Prices since the weekly low of 2ndJuly have increased by 12.48%.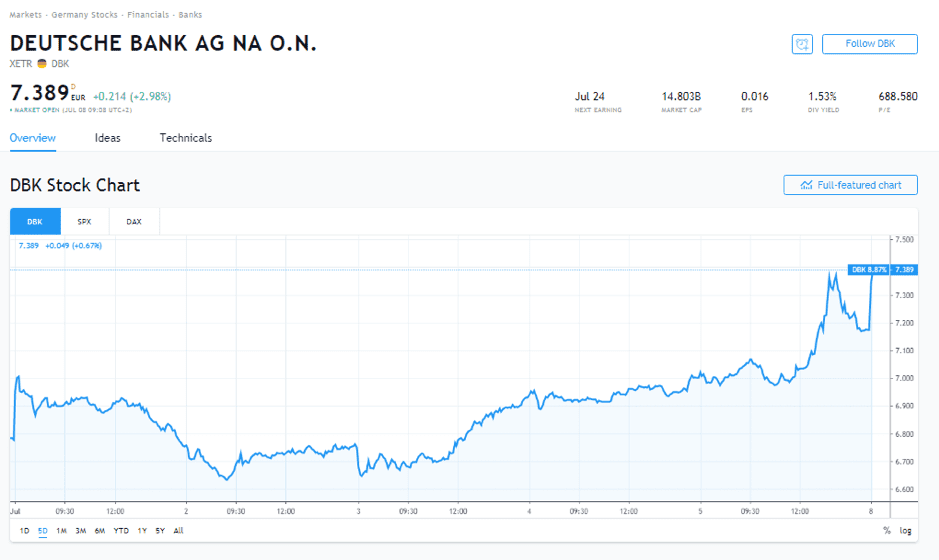 The weekly chart shows there is still some room before current price meets the MA (50):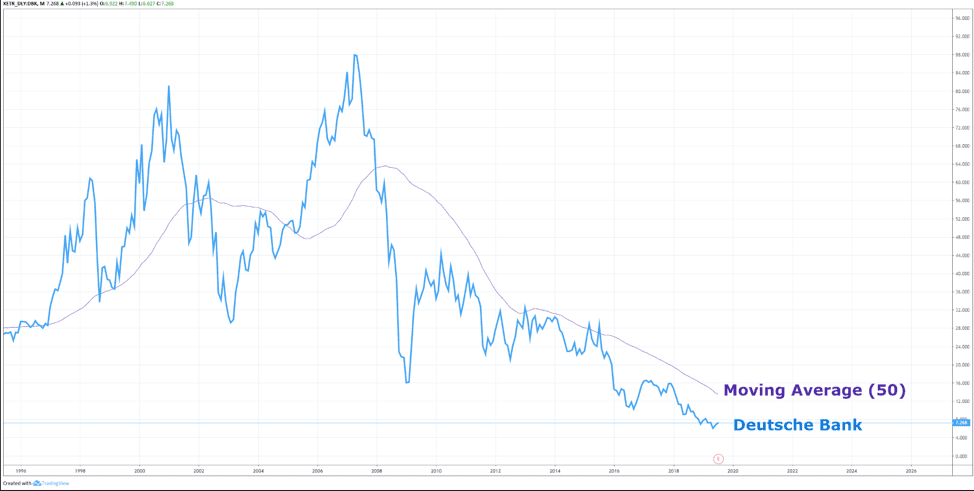 The daily chart shows a clean move through the MA (50) for that timeframe: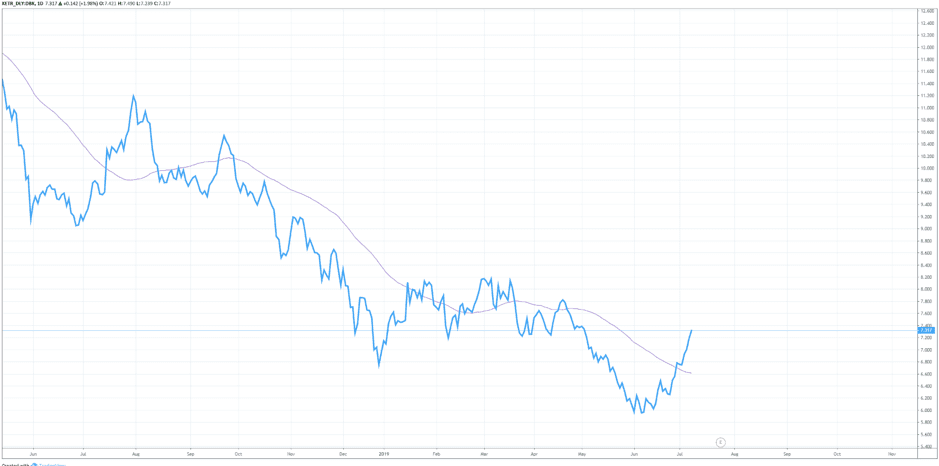 But long term performance relative to the DAX speaks volumes: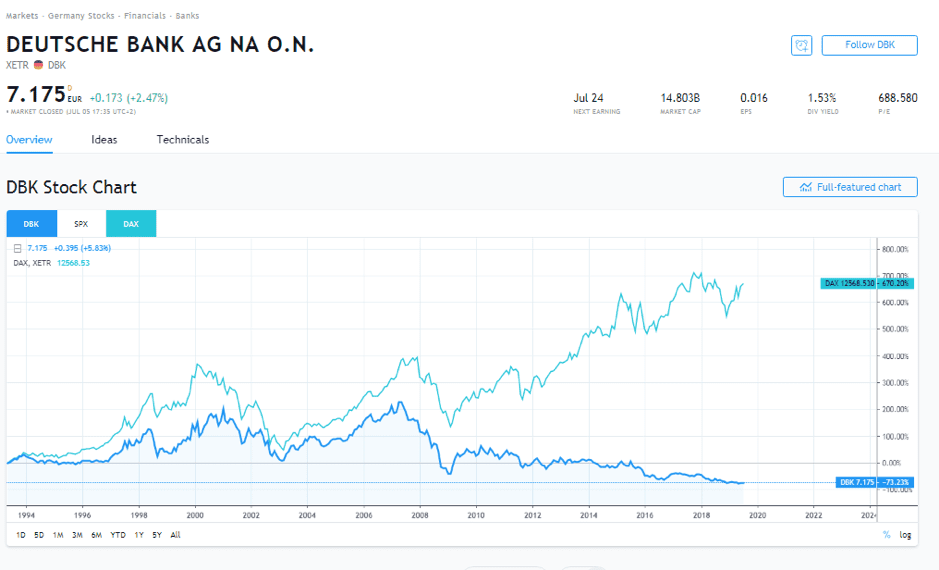 What forces are behind the recent price increase? It could be a short term relief rally trading within the long-term downward channel. Or maybe investors are looking to buy shares again now that the management have laid out plans for a more stable future?
James von Moltke, CFO of Deutsche Bank, in response to being asked why investors should look to buy Deutsche shares again, said:
"We are reorienting the bank away from the more volatile businesses towards very stable, very predictable businesses and as investors see both that and our execution against our targets, we believe there is a significant re-rating of the company that's available."
Source: CNBC
The Xetra traded stock is receiving some support from the TradingView technical analysis dashboard.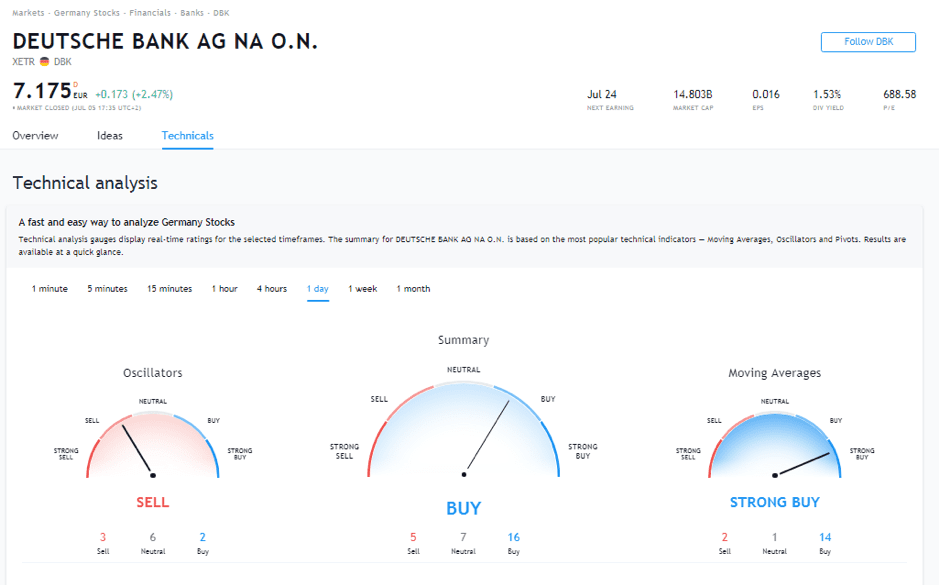 Bad Bank
The air of infallibility that once surrounded investment banks is long gone. As they are seen as high profile bellwethers for the economy, the news of the DB shake up has created a lot of interest. Some comment draws obvious comparisons with Lehman Brothers being one of the first major dominos to fall in September 2008.


The above reaction is unsurprising. How accurate it turns out to be is another question. Those questioning if the reorganisation has ramifications for the wider market might be spending some time looking through the plans for a 'Non-core unit' AKA 'Bad bank'. This entity will hold about €74bn of risk-weighted assets and being segregated off means that DB's capital buffer will be reduced. It is this buffer that the bank plans to draw from to finance the overhaul. With the share price being down 50% in the last two years, reaching out to existing investors and offering them more equity was considered unwise.
The bad bank will help segregate bad debts but also reflects the need for the core of the business to disassociate itself from the bad news and regulatory fines that have dogged it over the last few years. In 2017 it reached a $7.2bn settlement with the US Justice Department for allegedly miss-selling to investors – this charge relating to the sale of toxic mortgage-backed securities in the lead-up to the 2008 financial crisis. In January of 2017, regulators in both the UK and US fined DB for failing to prevent a $10bn Russian money laundering scheme.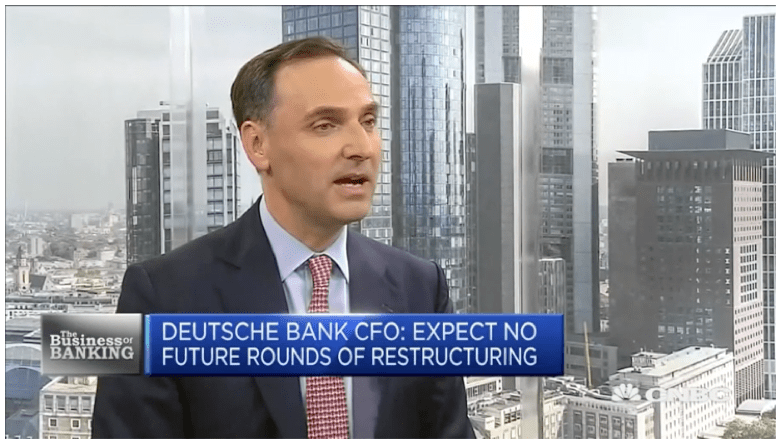 Years of piecemeal reform have failed to solve the problems facing the bank, and analysts are suggesting that the dramatic adjustment and new direction might be the best option. On 5thJuly CFO von Moltke told CNBC that "this is the final restructuring", explaining that the bank looked forward to moving on after it is complete. More study is required and investors will be looking for news from DB, particularly regarding just how the IT framework is going to be improved. Frances Coppola's comment, explains why some are yet to be convinced:
"Sadly, the level of technological investment that is needed does not seem to feature on the management's agenda."
Source: DW