Market highs – A range of asset classes are in bull market mode
Nigel Frith
The S&P 500 Index is up > 17% ytd Bitcoin price has increased 165% this quarter Gold is at a 52 week high ($1,442.90) The Fed and ECB are hinting at interest rate cuts in the near future Over the last 10 years, central bank and government policies have seen global economies managed through new and unprecedented tools.…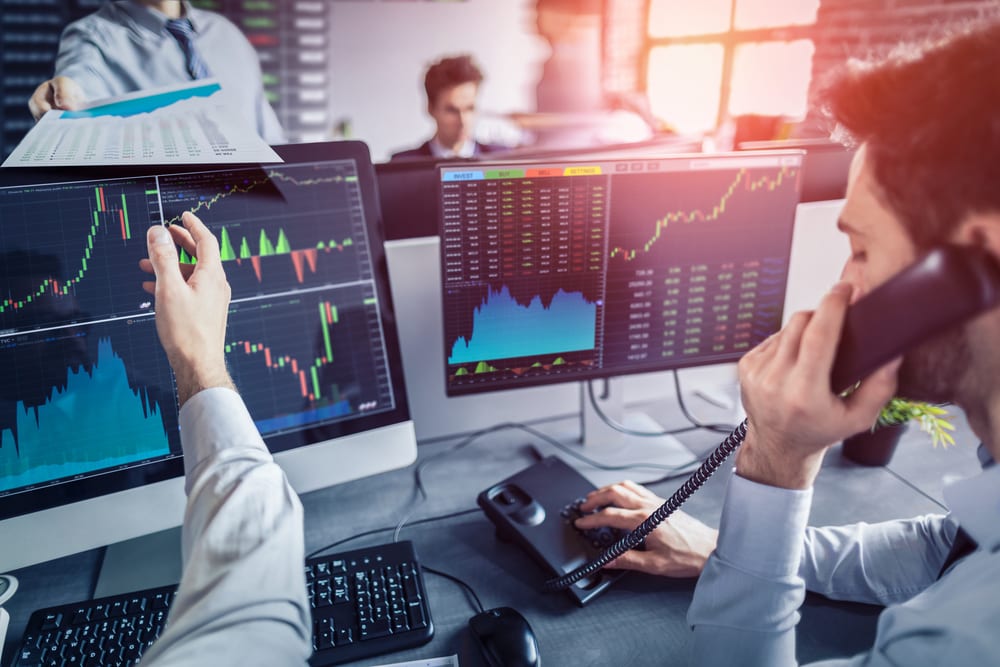 The S&P 500 Index is up > 17% ytd
Bitcoin price has increased 165% this quarter
Gold is at a 52 week high ($1,442.90)
The Fed and ECB are hinting at interest rate cuts in the near future
Over the last 10 years, central bank and government policies have seen global economies managed through new and unprecedented tools. With a range of asset markets recording new record highs, it could be time to consider to what extent this reflects markets entering a new paradigm or a good old fashioned bubble.
Consider the current situation of some markets. Gold, historically a defensive asset play and bitcoin – increasingly being mentioned as a defensive play for tech-savvy early adopters – are both setting new 52 week highs. (Gold is in fact reporting a five year high)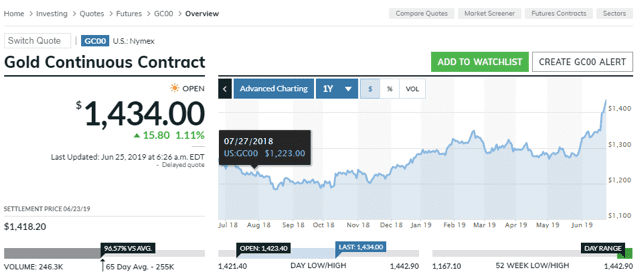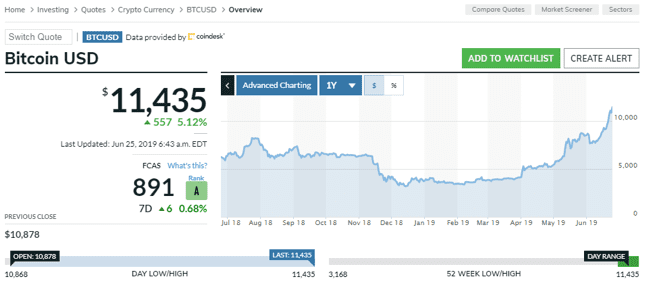 Whilst defensive assets are hitting new highs, equities are also posting very impressive annual returns. Investors who bought the S&P 500 Index at the beginning of the year would have posted a 17% return. Another example of the appetite for equities was last week's launch of Slack Technologies Inc into the NYSE, which was snapped up by billions of US reserves apparently sitting on the side-lines waiting for the right opportunity to get involved.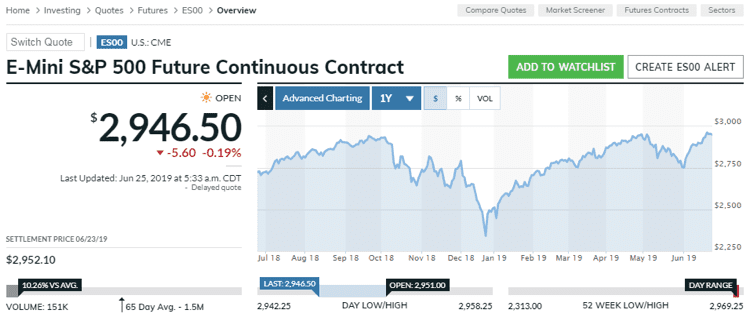 Stefan Hofer, analyst at LGT Bank Asia gives his insight on the current situation in this interview hosted by CNBC on 24thJun 2019.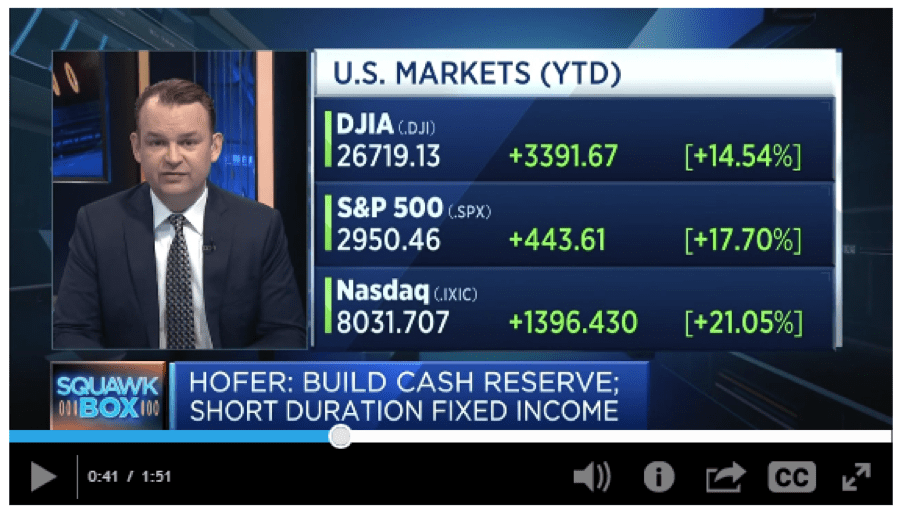 Stefan offers a calm analysis, which does include a proposal to take a more defensive approach:
"The prudent thing to do right now. Examine your portfolio, see where you have gains, lock them in and then wait and see what happens this week [G20 summit] and into July."
The bull-bear debate is thankfully always with us and acts as a healthy check on greed and fear. It's just that on this occasion the proponents of each cause can, for once, say with valid reason that 'it's different this time'.
Wells Fargo Securities', Chris Harvey (head of equity strategy) also on CNBC, gave this case for the bulls. His take on share prices trading at multiples of >x20 to corporate earnings is that they are justifiable in a low interest rate environment.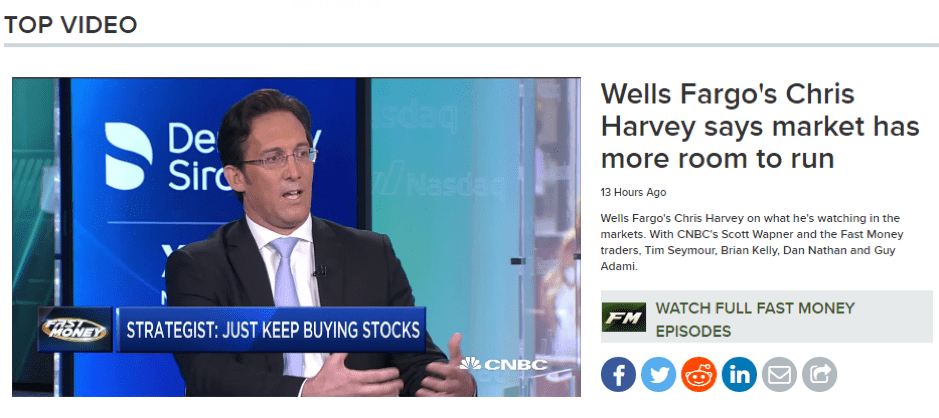 His argument takes strength from noises recently coming out of the US Fed and ECB suggesting that the next move for interest rates is downwards from already historically low levels.
Other perspectives?
This might be time to consider some of the other indicators of economic health.
Overheating markets are typically associated with substantial gains in Emerging Markets. The theory being that investors look to take positions in markets that offer the greatest opportunities for growth. A look at the MSCI Emerging Markets Index makes for interesting reading: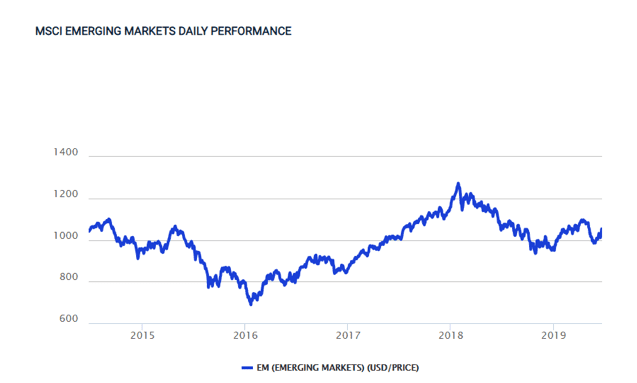 Conventional wisdom might be that a 'toppy' global market would be associated with Emerging Markets being overbought. Instead, the year to date performance of the MSCI EM index is 9%. Compare this to what is perceived to be a more secure S&P 500 Index that is up almost 18% over the same time period.
Jim Cramer of CNBC has dug a bit deeper into the S&P performance figures.

"A lot of the stocks that are going up in this particular leg of the market are the ones that go up when we're about to go into a recession…. Yield …. Yield. The stocks that are leading this rally are the Proctor & Gambles and Proctor & Gamble does not go up when the economy is on fire."
Cramer's analysis ties in with the Emerging Market data, suggesting that we could be seeing a move to more defensive positions. High yield US stocks being preferred over Emerging Market growth stocks. Maybe a turn in the currently strong IPO market will signal a reversal of direction. As Cramer adds:
"I think we're all beginning to realise there is going to be IPO fatigue pretty soon. I mean how many more companies that are $20bn dollars can this market sustain?"
Sit on your hands?
Following news flow, and indeed Twitter flow, could lead to traders taking a reactionary approach over the next week or so. That could be costly if the markets start to whip-saw. Rotating into defensive stocks is still an option but there are signs that a lot of the market are already in this trade.
Could it even be time to recall the advice from Ronald Reagan to a government colleague "Don't just do something; stand there!"
Out of the money options are always one way to cover all eventualities. Prices on these are not as low as they could be – this being another sign of there being a lot of cash in the markets.
Then there is the CBOE VIX. The 'fear index' is trading at relatively low levels. The below 15 year price chart shows the range of prices the VIX can get to when markets sell off.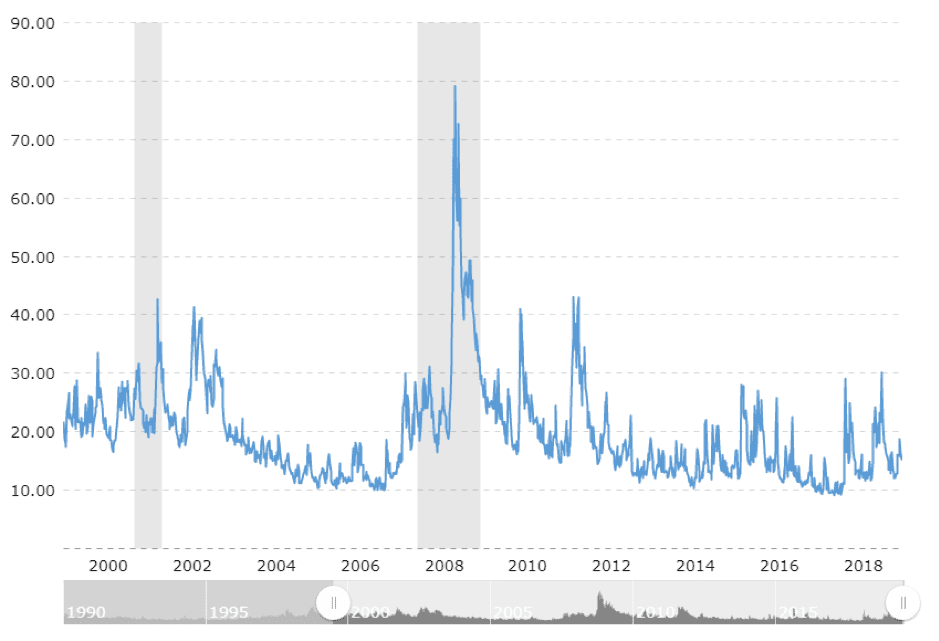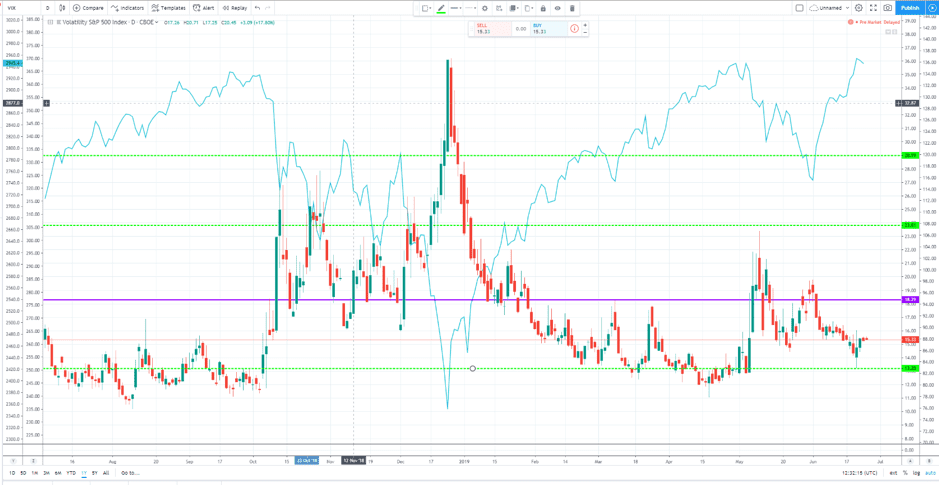 TradingView is reporting a price of $15.33. This level is roughly halfway between the Support 1 level of $13.20 and the Pivot Point of $18.29. If the price of VIX does break out over the Pivot Point, there is a clear run to the next Resistance 1 level at $23.81. A long position with a stop loss below $13.20 or mid-April year to date low of just over $11 would give a trade room to breathe. Clipping either of those stop losses would require markets to become even more complacent than they already are about the risk of a war with Iran or a G20 log jam. Should either of the political situations flare up then there could be opportunity for profits.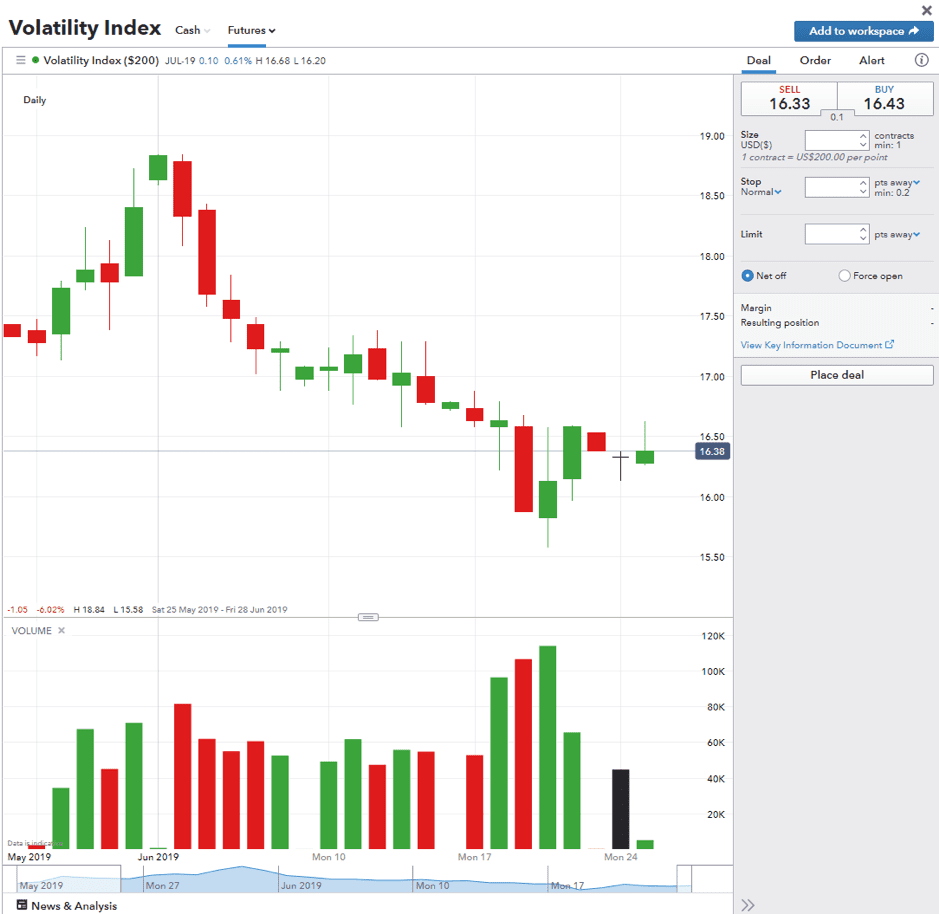 The market that IG is offering in its Volatility Index ($200) Future is currently trading at 16.33/16.43. Considering the 'insurance' that a position offers and that the spread is not punitive, a long VIX position may well be the easiest way to play the risks associated with the current political framework.