Newly released hedge fund data – mixed messages
Christian Habeck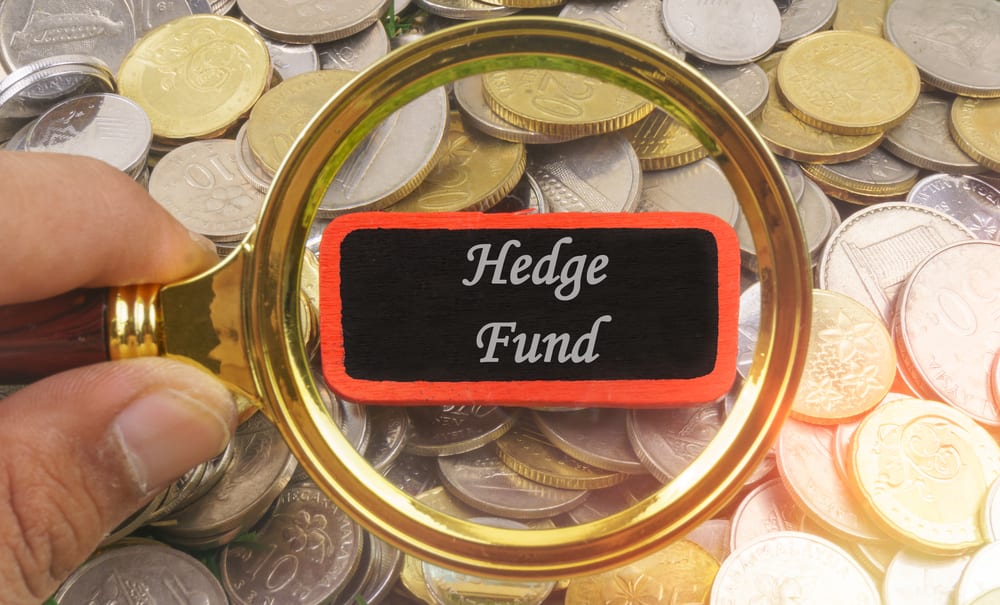 'Hedge Fund Closings Outnumber Launches Again' – Bloomberg
Actual number of new launches up from lows of Q4 2018
Alt Investment sector a bellweather for investment community
Consolidation of the sector continues
A reflection of a maturing industry or a sign of a slowing bull run?
The Hedge Fund Research group has released its latest report on the hedge fund sector and it makes for interesting reading. There is further evidence of consolidation within the Alt Investment industry, whilst analysis of the capital flows in and out of funds sheds some light on the state of the broader financial markets.
Hedge funds typically only accept investments from investment institutions such as pension funds, family offices and high net worth individuals; all of which are willing and able to make a minimum subscription of $100,000. Monitoring the capital flows in and out of the sector can give some kind of idea of the sentiments of those at the top of the financial food-chain.
Bloomberg news highlights that once more the number of funds closing exceeds the number of those opening.

"Hedge fund startups are under pressure amid lackluster performance and investor discontent over high fees. Investors pulled $17.8bn from hedge funds in the first three months of this year, the fourth consecutive quarterly outflow. The industry has seen a string of firms shut funds or return investor capital including Highbridge Capital Management and Duane Park Capital Management."
Source: Bloomberg
HFR itself points to the total number of launches in Q1 2019 being higher than in Q4 2018. The below chart from Bloomberg illustrates this and also suggests a degree of 'rotation' in the industry. The 'churn' in and out of different funds is partly explained by more popular strategies still finding enough backers to justify coming to the market, whilst those that are out-of-favour continue to fall away.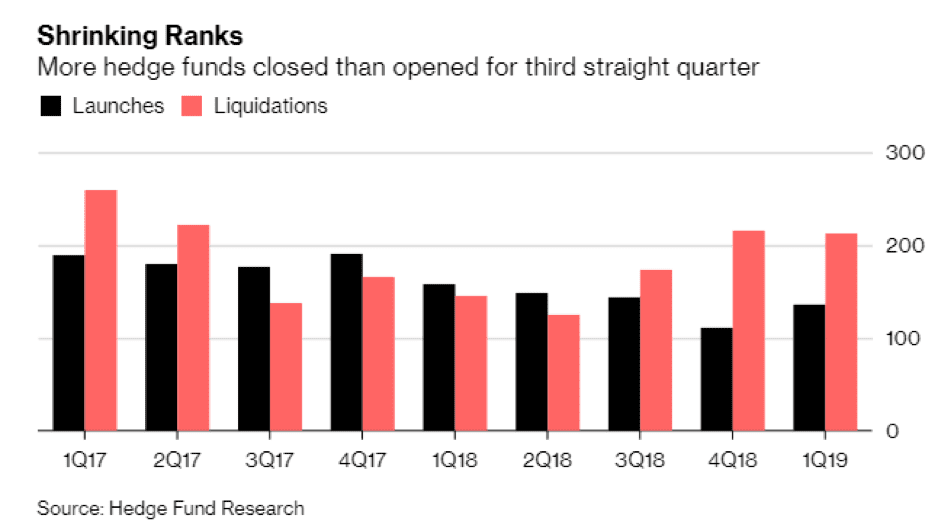 Funds launched in Q1 2019 typically charged lower management fees (down 10 basis points to 1.19%) and higher performance fees (18.79% rather than the 17.9%) than the funds launching in 2018. This suggests that those funds that did launch are being backed by investors that are looking for alpha rather than a safe-haven for their capital. The fee structure moving towards a more aggressive risk return ratio tallies with reports that blockchain and cryptocurrency based strategies are well represented among the recent launches.
The hedge fund industry is facing two particularly tough challenges.
The first is the relative performance of the sector compared to the major global indices. Returns through Q1 2019 were +3% for hedge funds and +13.7% for the S&P 500 (source: Bloomberg). Part of the underperformance is explained by the inherent characteristics of hedge funds, which are traditionally regarded as a way to make returns, or minimise losses, regardless of whether the markets are going up or down. By being able to short-sell, they can for example profit from falling markets in a way that a traditional buy-and-hold investor cannot. As the Q1 performance indicates, holding these short positions as an insurance policy creates a drag on performance when markets go up in anything that looks like a straight line – which they have done since 2009.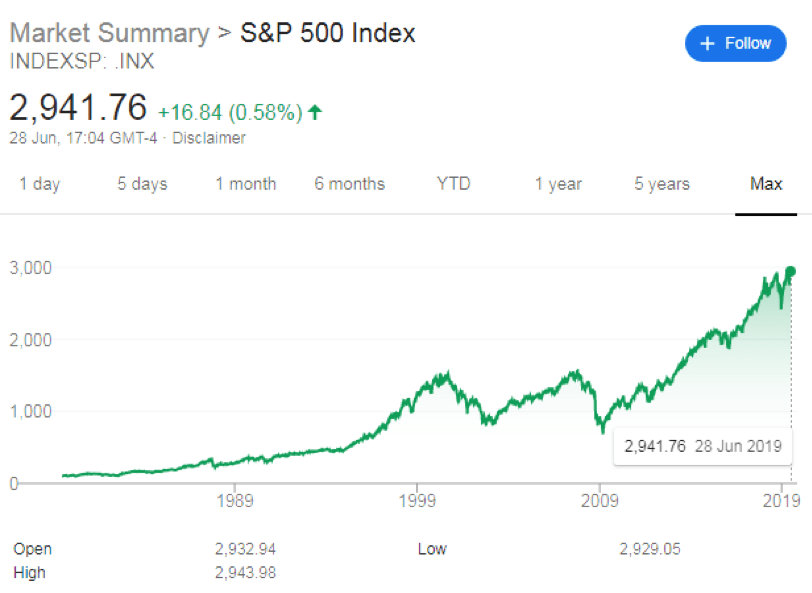 The second major challenge facing the hedge fund industry is that it is a sector that is maturing. In the last 10 years in particular, the amount of Assets Under Management (AUM) needed to make a fund economically viable has increased substantially. This is partly due to the completely understandable imposition of a stricter regulatory framework following the financial crash of 2008. This framework brings with it additional overheads, which act as a drag on performance, particularly for those funds with smaller AUM. Whereas a top manager might have once been able to launch a fund with $30m AUM, the minimum now is mooted by some to be as high as $250m. The higher barriers to entry can benefit those funds that are already up and running but the absence of challengers could lead to the sector losing some of its appeal. If hedge funds are not 'disruptors' using new and exciting techniques to make their investors' money, then there will be continued pressure for hedge funds to lower their fees to be more in-line with the rest of the 'traditional' investment industry.
Kenneth J. Heinz, President of HFR gave this analysis of the capital flows taking place in the industry:
"Powerful risk-on sentiment drove performance and new launch trends across hedge fund, risk premia, risk parity and blockchain exposures through early 2019, though trade-related risks have tempered gains into the second quarter. New fund launches have seen increases in launch size, with investor emphasis on liquidity, low fees and innovative applications of ESG and Diversity concepts."
 Source: Hedge Fund Research
Current reports are that marketing and sales teams at hedge funds spend as much time trying to dissuade existing investors from redeeming as they do trying to encourage new investors to subscribe. The most recent HFR report doesn't necessarily herald a new dawn for the sector, which instead appears to be trading sideways.
There is some rotation into higher risk strategies proving that some investors are looking beyond the stories of the current bull-run tiring. Those investors that are holding positions in market neutral strategies will be hoping the insurance policy is effective, should the markets crash. They may be feeling that given the under performance of their investment, they had may as well hold on and wait for the next market correction.
Hedge fund administrator SS&C GlobeOp adds some support to the claim that the majority of hedge fund investors are sitting tight. Bill Stone, chairman and chief executive officer, SS&C Technologies, reports:
"SS&C GlobeOp's Forward Redemption Indicator of 3.81% for June 2019 reflects lower redemptions compared to 4.17% reported for the same period a year ago for June 2018… This marks the third consecutive month of improved year-over-year readings for redemption notices, indicating strong investor confidence in hedge fund managers' ability to provide attractive risk-adjusted returns in the face of highly volatile markets."
Source: Hedgeweek