People's Bank of China – to launch its own digital currency
Karl Macku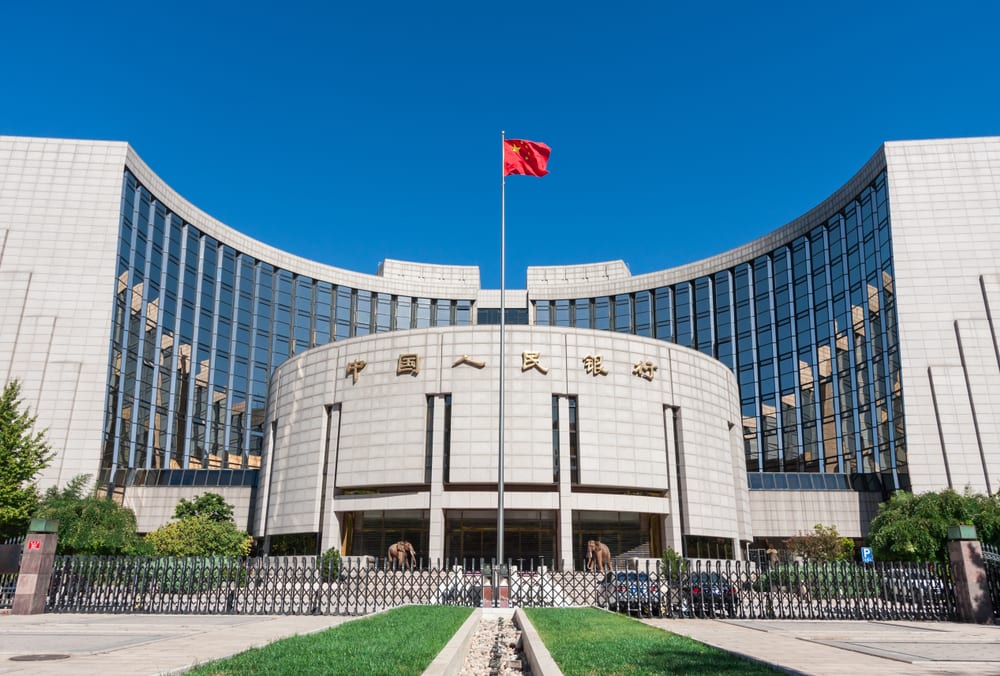 People's Bank of China is 'close' to launching its own digital currency
Support from a central bank would fast-track the progress of any cryptocurrency
Little is known about the exact structure
Heralded by PBOC as a substitute for cash
More swerve balls from People's Bank of China (PBOC) as the world appears fixated on its daily yuan-USD pegging
An official at the People's Bank of China (PBOC) has said the central bank is 'close' to launching its own digital currency.
"Mu Changchun, deputy director of the PBOC's payments department, said the new currency would be able to comply with all current Chinese laws on money laundering and fraud."
Source: The Telegraph
Bitcoin and other alt-coins have demonstrated their ability to move towards mainstream acceptance, and Facebook is making progress towards launching its payment system libra; but having a state-sponsored cryptocurrency would be something of a game-changer. The reputational and regulatory barriers that other cryptos and libra face would not apply, at least not in China.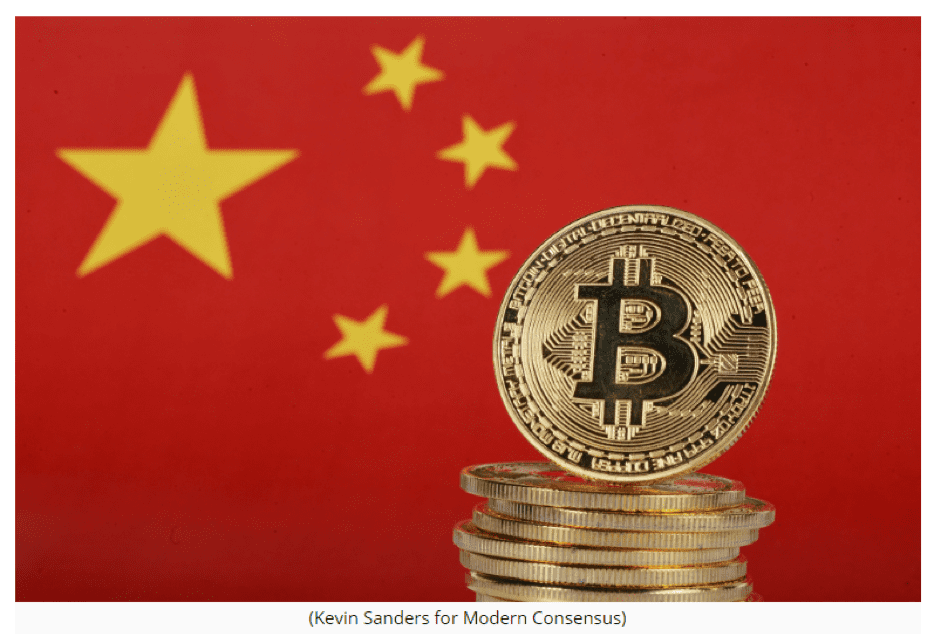 China would be the first major economy to launch a state-backed digital coin. Those countries that have tried before, having largely done so out of desperation, and include countries such as Venezuela, which launched the petro. The sense of panic that surrounded the petro meant it was always going to struggle to develop the trust required to become a means of payment. China by contrast has been working behind the scenes on its project for several years. This week the state has confirmed it is close to having the technology in place to ensure its digital yuan ticks all the regulatory boxes. The measured approach by the Chinese administration gives its version a better chance of success but doesn't remove the risk it poses to established global monetary systems or rival payment systems.
How it works
The Chinese authorities are keeping their cards close to their chest, so efforts to gain an understanding of the new 'currency' involve a degree of reverse engineering.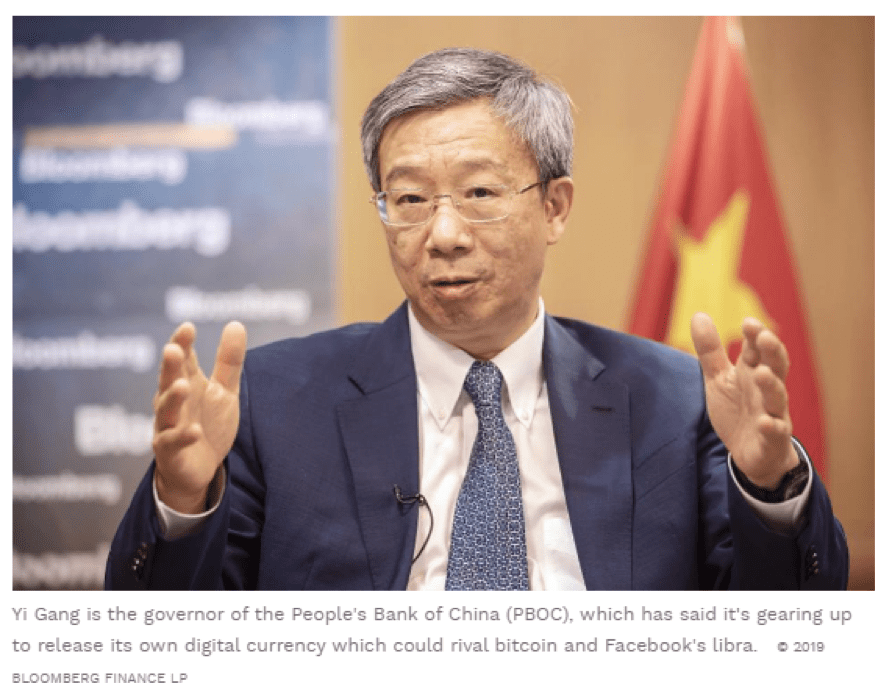 A large number of patents have been filed by the PBOC and suggest there will be a digital currency – a wallet through which users can store and transact in an 'end-to-end' fashion.
Industry site CoinDesk has studied the patents to a granular level and reports:
"At the latest count, there have been 52 patents filed under the name of the Digital Currency Research Lab of the PBOC… The patents indicate the wallet would store a digital currency issued by the central bank or any authorised central entity that is encrypted like a cryptocurrency with private keys, offers multi-signature security and is held by users in a decentralised way."
Source: CoinDesk
Is it a cryptocurrency?
To established crypto investors, the Chinese plan has one big draw-back, it's not decentralised. Cryptos such as bitcoin were developed around the principle that the accounting structure is managed using block-chain. The approach of using 'open-source' style technology ensures no single authority has control of the payments system and this is, for many, part of the core appeal.
The issue is that extensive acceptance of cryptocurrencies requires bodies such as central banks, to accept the crytpos as they are, and this goes against the banker's hard-coded propensity to regulate.
Libra
Establishing the nature of the new digital yuan, or at least its intended purpose can also be done by benchmarking it to Facebook's libra.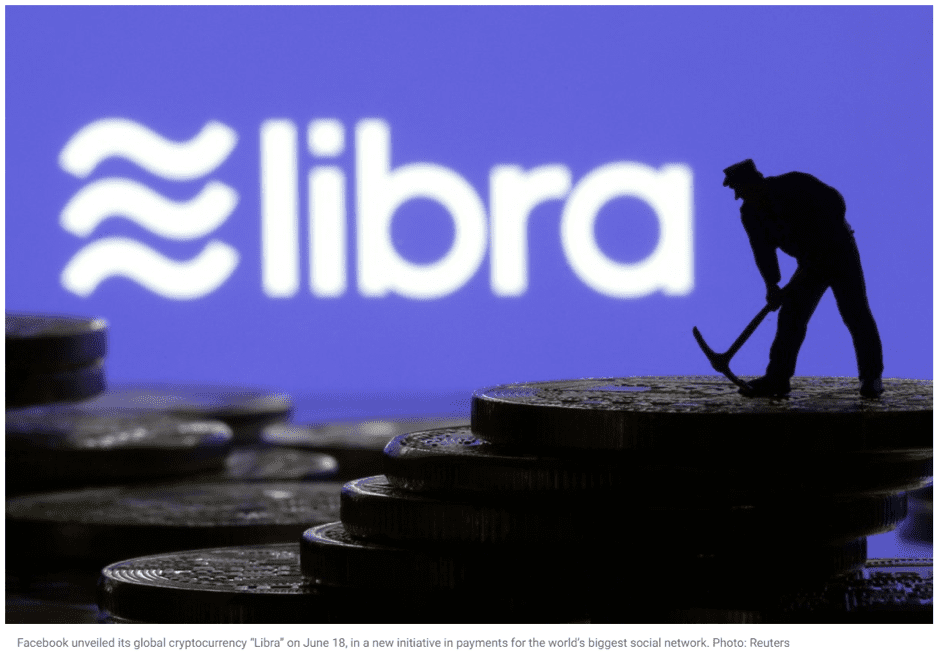 One month ago, Zhou Xiaochuan, former governor of the PBOC, said that Facebook libra poses a threat to payments systems and national currencies. Authorities in the US and Europe are also sharing concerns that the payment system might not comply with the regulatory conditions that would be required of it.

Whilst libra is currently bogged down in a regulatory swamp, the possibility of it progressing to 'go live' still exists and its gradual move towards the release will be part of the reason the PBOC has gone public about its own project. CoinDesk analyst Daniel Palmer considers to what extent the PBOC timing is influenced by Facebook's libra project:
"While that (PBOC) work has been ongoing for at least several years, there have been no signs of an impending launch… If libra goes ahead, despite all the regulatory issues it's currently facing, that may be set to change."
Source: CoinDesk
Digital aims
Whilst it appears the crypto-yuan will be different in many respects to Facebook's libra, the social media giant has demonstrated that there is potential for a 'strong' global cryptocurrency that can be exchanged for fiat currencies. A payment method such as libra could help developing countries improve their payment systems, but from a central banker perspective, the issue is one of control. As Zhou, said:
"Libra has introduced a concept that will impact the traditional cross-border business and payment system."
 Source: CoinDesk
It would appear the PBOC are suggesting the idea of such a payment system is a good one; it's just that theirs would be the best format to adopt. This would co-incidentally also deliver a range of benefits to the Chinese central bank and its economy.
In his weekend comments, Mu Changchun reiterated that the PBOC's digital currency would be a substitute for M0 (coins and notes in circulation), not M2 (bank deposits). The digital currency could therefore boost circulation of the yuan, including internationally, he added. The suggestion appears to be that non-specified 'commercial entities', which might include Alibaba and Tencent could be licensed to issue digital yuan.
Facebook share price
The Chinese yuan would appear to represent competition for Facebook's libra rather than purer forms of crypto. Lisa Ellis, analyst and partner at MoffettNathanson, spoke with CNBC and gave Facebook's libra only 20% chance of success.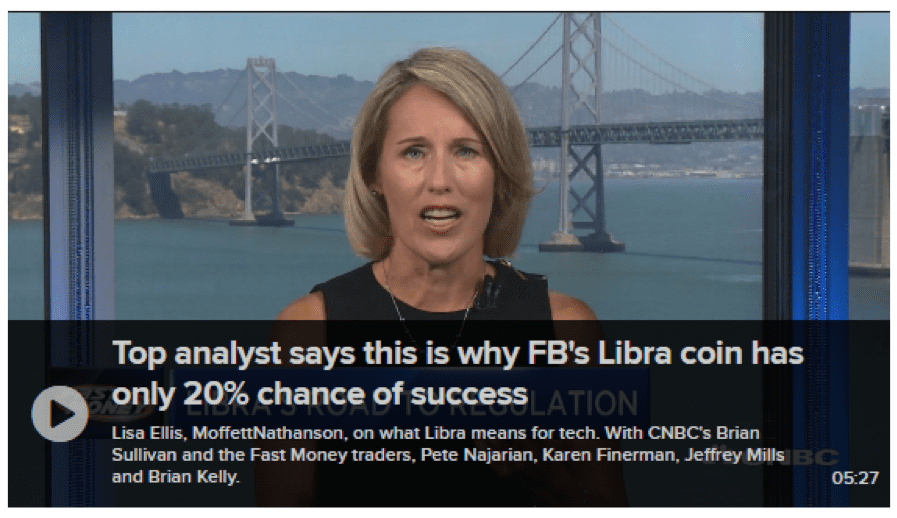 Her analysis defined 'success' more in terms of being 'live' and operationally proficient – not necessarily being profitable. Not only are there low odds of just getting to the market, but when Libra gets there, it might be competing in the same sector as the central bank of China.
Facebook/BTC – One year price comparison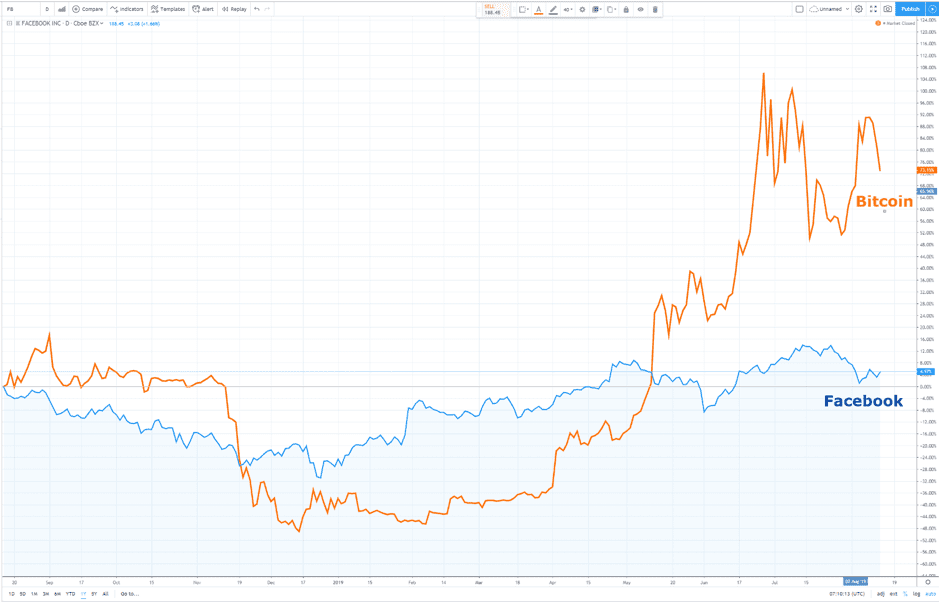 The libra project catches headlines but is something of a break-away from the core social media business. Libra still only employs a handful of employees who are looking for ways to develop a regulatory acceptable product, which leverages off the strong global brand of the parent company.
The above graph shows how BTC and Facebook prices remain uncorrelated. Facebook is many things, but it is not (yet) a crypto currency platform. The news out of China this week makes it less likely investors will see such a metamorphosis of Facebook's core business streams.