The big one – this week's events have brought the US Fed's policy on interest rates to the fore
Christian Habeck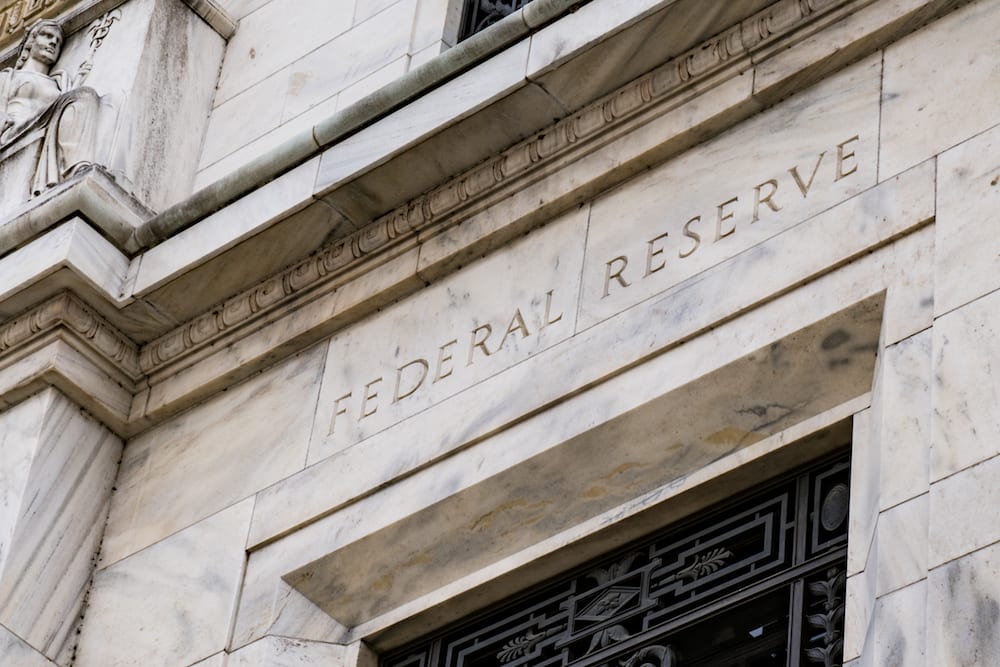 Currency wars break out. Chinese yuan pegged by PBOC at under $7.00
Dollar strength leads to calls for Fed to apply a much more dovish policy
Likelihood of Fed cuts in September currently priced at 78%
US economy maintains relatively good health
Two historical precedents exist for Fed cuts to calm the financial markets
CME analyst report asks: 'Will a rate cut boost equities, defer any recession?'
The quiet before the storm
 The Federal Open Market Committee (FOMC) last met on Wednesday 31st July. After announcing the first interest rate cut for many years, the members of the FOMC gave guidance that future policy would be following a data-driven approach. Anticipating time to consider how its 25 basis point cut panned out and to deliberate over incoming economic reports, it disbanded. Its plan to base monetary policy on jobs numbers, price indices, transport data and yield curves lasted only one weekend.
On Monday 5th August, financial markets experienced a significant sell off. The decision by the People's Bank of China (POBC) to mark the Chinese Yuan at a low rate to the US dollar spooked the equity markets. The Nasdaq index fell 2.67% and the FTSE 100 fell 2.4% as a currency war broke out.
President pumps up the volume
President Trump, who had called for a 50 basis point cut in rates at July's meeting, took to Twitter.
The Fed must make "bigger and faster" interest rate cuts, he noted. President Trump added, that the Fed as an institution is "too proud to admit their mistake" of hiking interest rates too aggressively over the past couple of years. (Source: Reuters)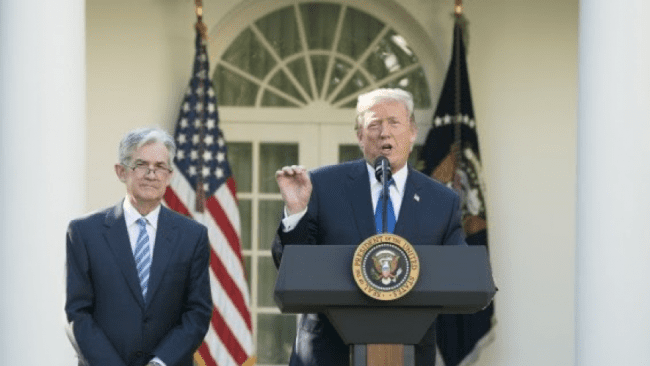 Fast Forward
Fast forward three days and a group of smaller economies have shown the initiative that President Trump wanted the US Fed to show. Central banks of India, Thailand and New Zealand have all cut interest rates. The Reserve Bank of New Zealand took its base rate down to an all-time low of 1% by trimming an unexpected 50 basis points off their rates. This pre-emptive 'silver bullet' approach is what the president had very vocally requested in the run up to the July meeting. Other central banks including the European Central Bank and Reserve Bank of Australia appear poised to in turn match any rate cut the Fed lays on the table.

September
Those with risk in the market are likely to see P&L volatility pick up as the September meeting approaches. Many may be already watching the CME Fed Watch tool and even the countdown clock.

The CME tool currently calculates the likelihood of a 25 basis point cut to be 78.8% at September's FOMC meeting. Reflecting the appetite for more aggressive policy, it reports a 21.8% chance of a 50 basis point cut being produced.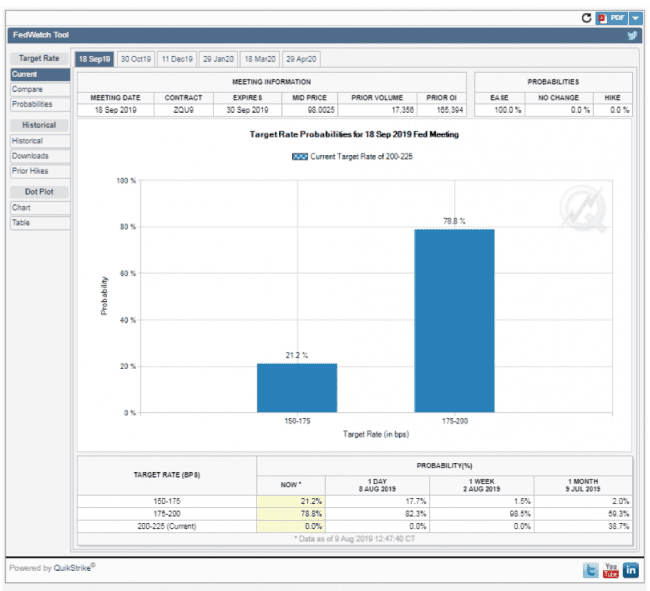 ING Bank is one agent that has reconsidered the likelihood of a rate cut coming in September. This week it revised its forecast:
"President Trump and the Fed – we've changed our view… we think it looks increasingly likely that the Fed will step in with two 25bp cuts in September and December."
Source: ING
This is a move away from the assumption that rates would be held at current levels in September.
There is a lot of noise in the markets. Independent traders, or those looking to manage their investment portfolios, would be excused for feeling exposed to the ever-changing landscape. Transparent advisers are the best advisers and the candid admission from ING should be celebrated.
"We simply do not have the visibility on the outlook for trade policy to give us much confidence in our forecasts when President Trump appears to over-rule his trade negotiation team on a whim."
Source: ING
The next round of US-China trade talks is due to take place in September. At present, both parties are stating a willingness to sit at the table, but any progress over and above that looks unlikely. PBOC policy on yuan overnight pegging will therefore join Iranian sanctions, Brexit and a range of other geo-political triggers ready to impact the market at any time.

Rewind
Erik Norland, executive director and senior economist of CME Group, is responsible for generating economic analysis on global financial markets by identifying emerging trends, evaluating economic factors and forecasting their impact.
He's provided an analysis that considers the current situation within a broader historical context. Those facing frequent 1–2% changes in the value of their portfolios may benefit from considering a longer-term view.
The standout feature of July's rate cut and any cuts between now and the end of the year is they are being made during a period of economic expansion. There are two precedents of rate cuts being made to stabilise the financial markets rather than tackle a contraction in the actual economy.
The US economy is currently enjoying its longest expansion on record, unemployment is at only 3.7% and retail sales continue to grow. There are also many calls that 'this time it's different' but the studies Norland draws from in 1987 and 1998 are interesting reference points.
'Will a rate cut boost equities, defer any recession?'
 Study A – 1987
Stock markets had risen 300% from their 1982 lows
Inflation was 4%
Significant stock market corrections:
Autumn 1987- 36%
19th October 1987 – one day drop -36%
US Fed made 75bps cut over the year because of markets
No immediate recession – Fed cuts accelerated growth and financial markets rebounded
1989 – economy and financial markets performance is 'OK' but yield curve inverts
Fed adopts hawkish policy – by mid-1990 the US is finally into a recession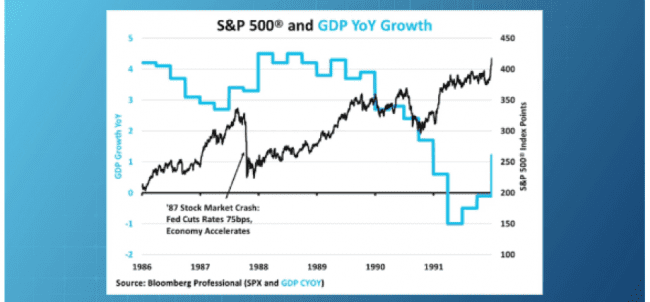 Study B – 1998
4% annual growth
Financial, not economic downturn
Asian and Rouble crisis impacted the credit markets and Long Term Capital Management imploded
US Fed made 75bps cut over the year
Support for financial markets led to the dot com boom
Fed adopts hawkish policy mid 1999 – by 2001 the US is finally into a recession
Middle 99 hiking rates end of 2000
2000 – economy and financial markets performance is "OK" but yield curve inverts
2001 finally into a recession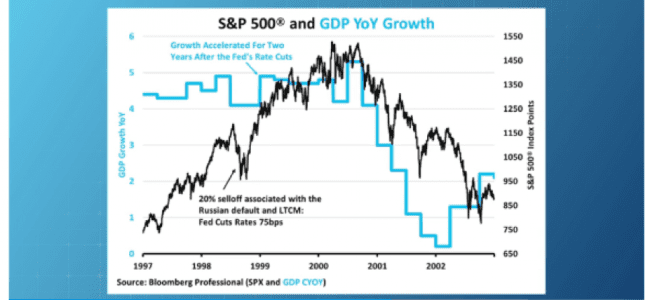 Those looking for similarities between then and now will find that the following note from ING covers the subject of bond yield curves:
"The ever flattening yield curve is also adding to a sense of nervousness. All nine recessions since 1955 were preceded by an inverted yield curve and we are there already on the 3M-10Y and only 8bp away on the 2-10Y."
Source: ING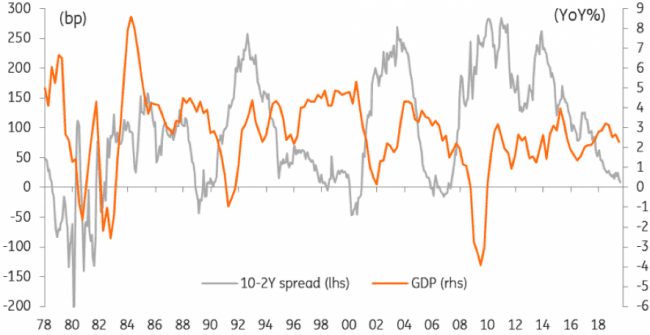 Timing
Considering the long-term view might help traders manage the short term volatility. As with every trade, the key determinant of success is timing. One key take-away is that in both instances the trigger for the recession was the subsequent rate hike by the Fed. The time lag between hike and recession differs, but President Trump can take comfort that any hikes that could occur in 2020 would likely take effect after the presidential elections of that year.