The summer break is still on ice
Given current market uncertainty, the relatively low number of data releases could have more impact than normal
Market volatility has picked up
Index CBOE VIX at 18.47
With increasing global growth worries and ongoing trade tensions, this week might be an important one
The CBOE VIX Index has lived up to its name as the 'fear index' and over the last few weeks picked up in response to the growing unease within the markets. It's trading below the 15 price level in July marked some of the most content market conditions for some time. The equity bull-run appeared impossible to derail.
CBOE Index – Three month price chart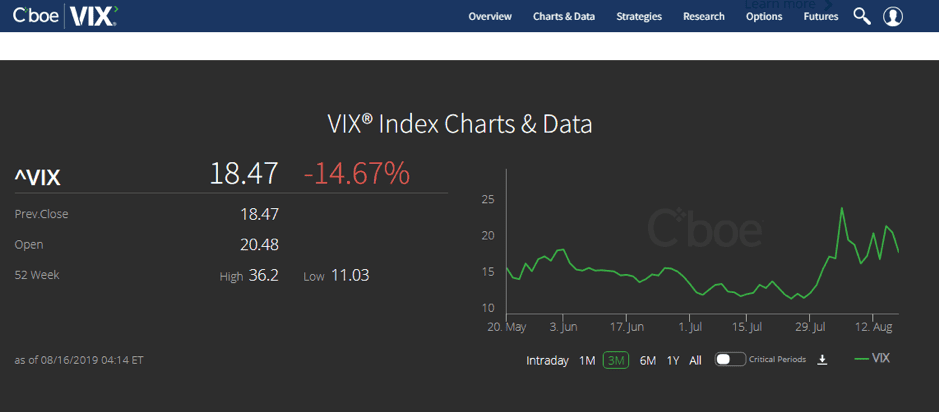 The 12 month price chart gives a reminder of market sentiment during Q4 of last year. The VIX printed above 30 within the last year, which goes to show that the current price of 18.47 might well represent a pick-up from low levels but that the VIX can go much higher.
CBOE Index – 12 month price chart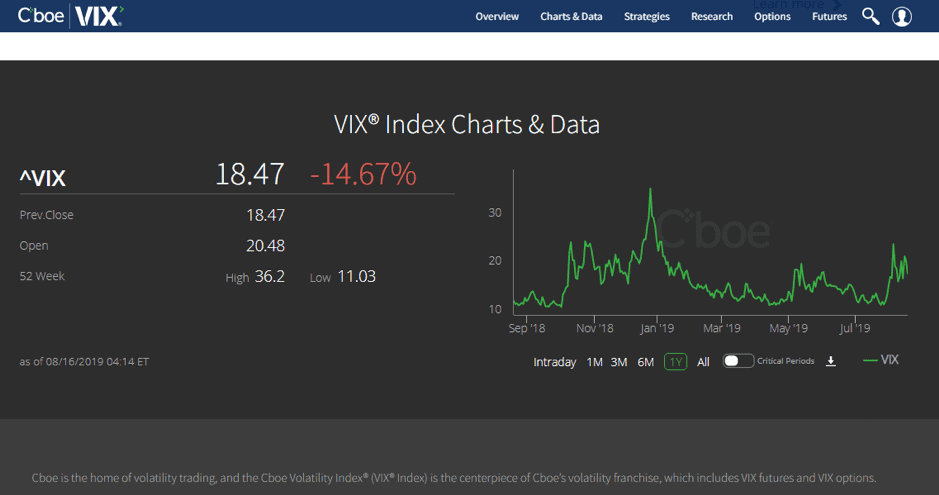 The VIX chart back to the 1990s shows how, in the grand scheme of things, with so many risk factors at play, that the markets may still be showing complacency and really be believing that 'this time it's different'.
CBOE Index – All dates – price chart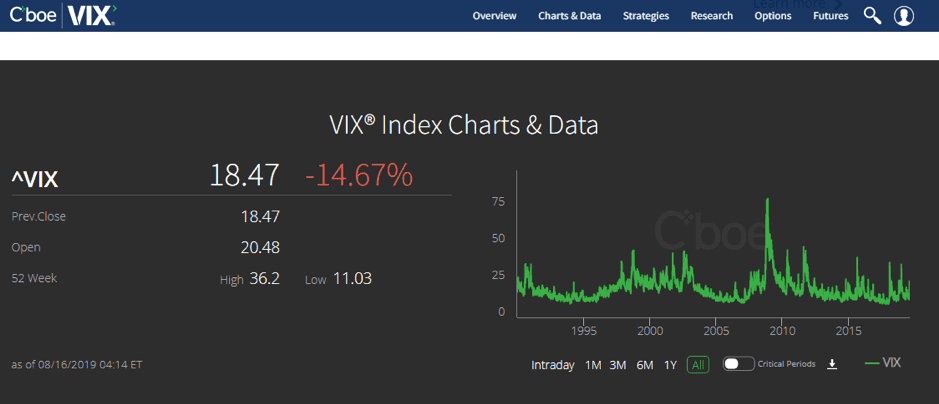 Underlying threats
The list of data releases scheduled for this week would normally be of little concern. In other years it would set an agenda for a sideways trading mid-August market.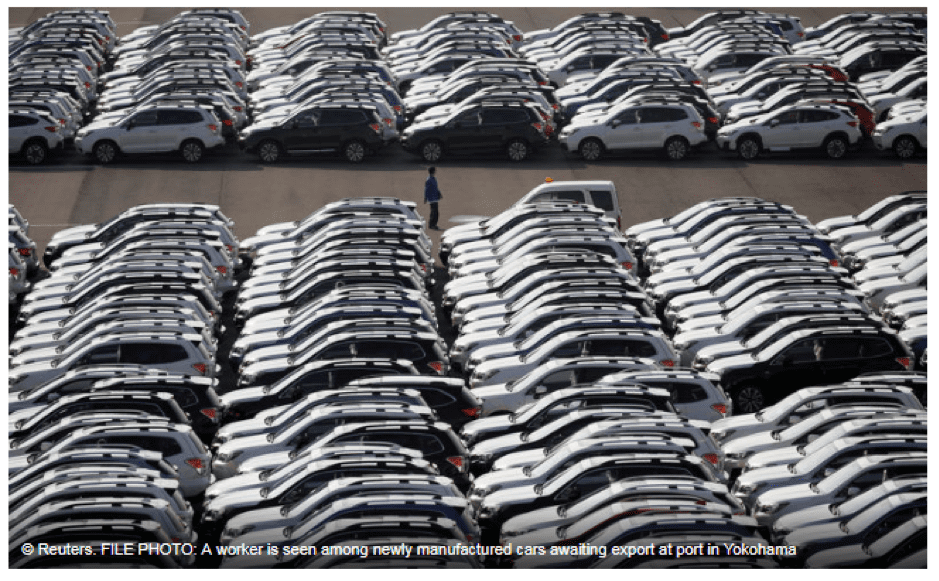 Two big issues loom over the market this summer, which means there will be closer inspection of the items outlined by ING in its 'Next week's Key events' research note.
The first major risk factor is the US-China trade war. Tweeted comments from President Trump, which were transmitted at the end of last week, caused equity markets to rally by more than 1%. They can send markets tumbling with similar ease.
The second shadow over the markets is cast by a combination of bond yields, interest rates and liquidity levels – in other words, the legacy issues relating to quantitative easing. The inversion of US treasury yields is seen as a significant and reliable leading indicator of an economic recession. Analysts were last week quick to point out the moment when interest rates on some long-dated US government bonds fall below the level for short-term debt. A vicious circle has been started, with the inversion partly a result of the recent financial market volatility and partly a cause of it.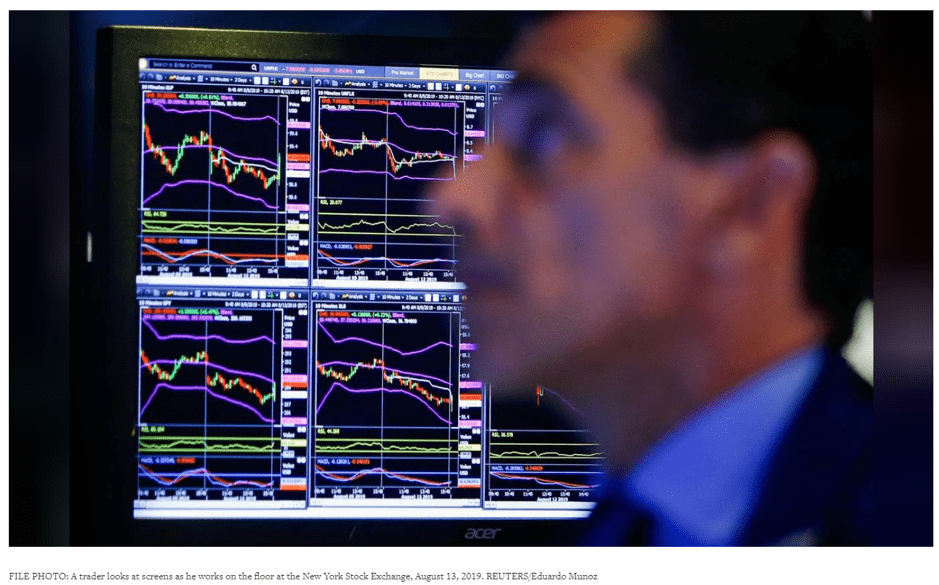 Developed markets' economic calendar
US Fed minutes will be released on 21st August and will offer an insight into central bank policy.
Pointing to the escalating conflict between Fed Reserve chairman Jerome Powell and President Trump, Powell's predecessor, Janet Yellen, has announced her support for Powell:
"I would do the same thing that Chair Powell has indicated," she said. "Chair Powell has said that he would not be willing to resign if he were asked to. I would certainly insist, as Chair Powell has, that I would serve my term out."
Source: Fox Business
The history books are on the side of proponents of central bank independence. Yellen continued:
"Independence is something that central banks around the entire world have been granted by their legislatures because it's widely appreciated that economic performance is best when the central bank is allowed to act independently."
Source: Fox Business
But that doesn't mean the president doesn't want support from the Fed as he goes into battle with China over trade, tariffs and currency manipulation.
"I think he's made clear in various interviews and tweets that he doesn't believe that the Fed should be independent and extolled the situation he sees in China and other countries where central banks are not independent," Yellen said.
Source: Fox Business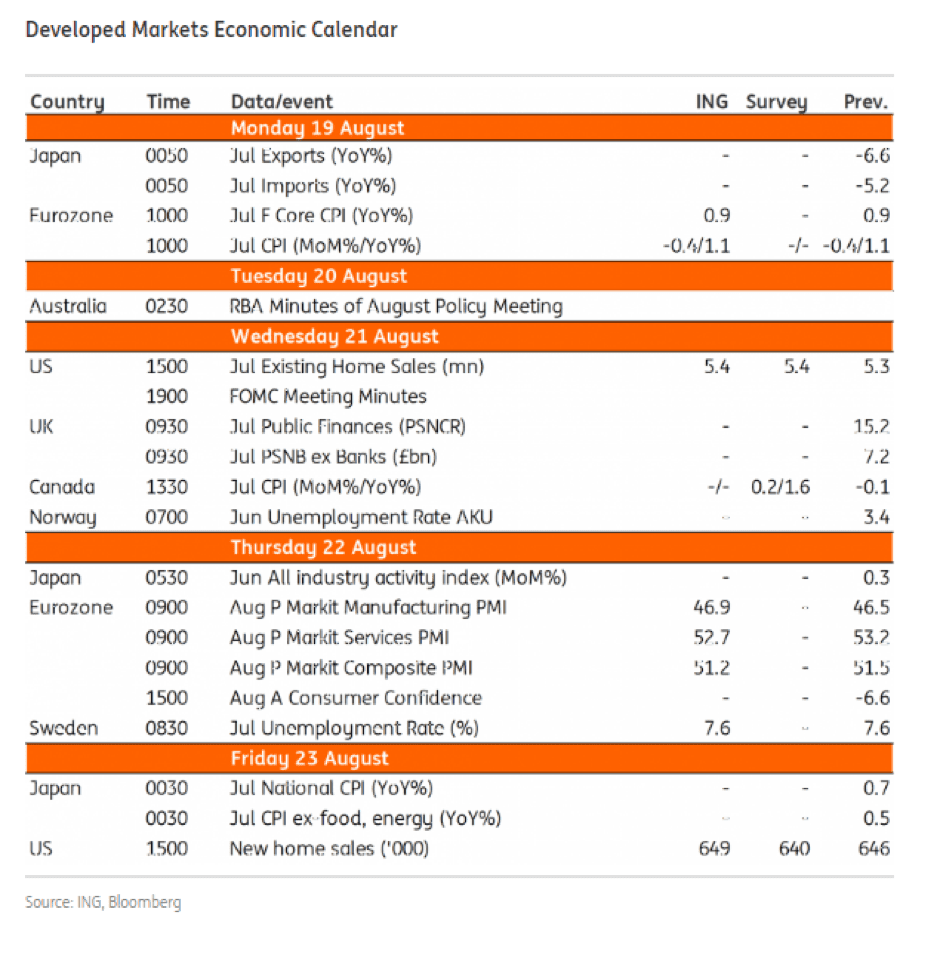 US existing home sales (due Wednesday) and new homes sales (due Friday) both offer an insight into the health, or otherwise, of the most important consumer base in the world.
The potential for curve-balls increases between 22–24th August when the Fed Reserve meets for its Jackson Hole off-sitter. Jerome Powell will be speaking at the Fed's symposium and it's highly likely that the president will be offering his input via Twitter.
Asian economic calendar
Bank Indonesia gives its rate decision on Thursday 22nd. The underlying data suggests no change at this meeting, but ING analysts leave some room for relaxation between now and the end of the year.
Thailand reports growth on Monday 19th and Singapore reports its CPI on Friday. The item likely to generate most coverage is the Hong Kong July CPI data due for release on Tuesday. The political turmoil there and the downgrade of forecast growth makes any data release more significant.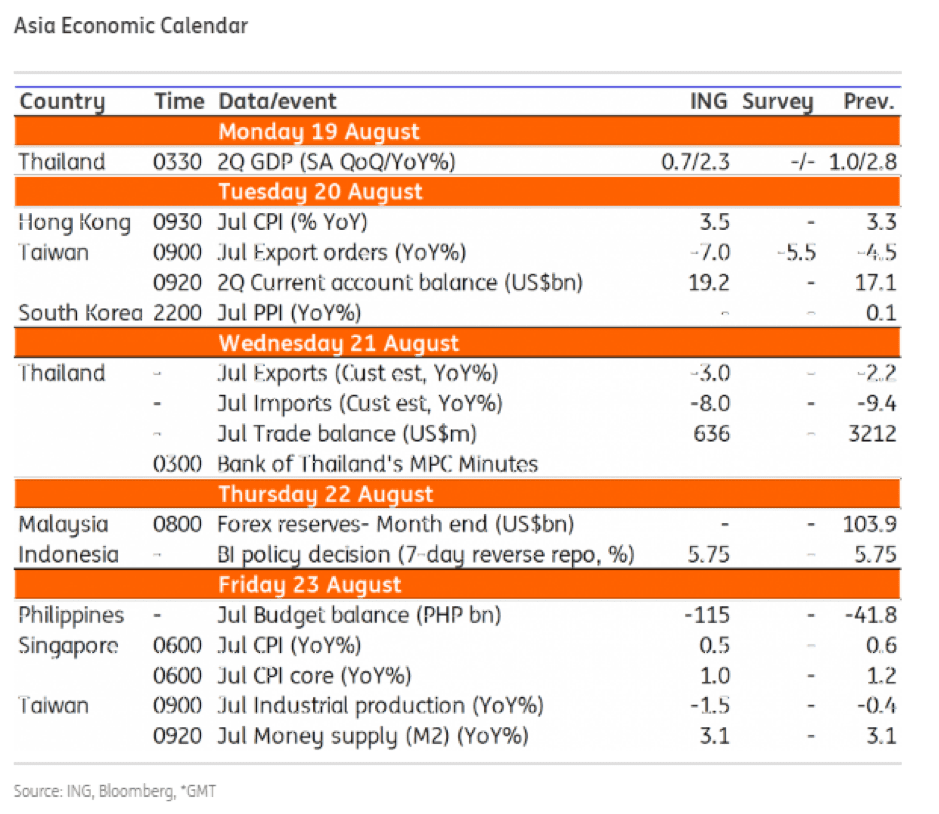 On the streets on Sunday, hundreds of thousands of anti-government protesters rallied peacefully and demonstrated that the movement still has broad-based support. Marches were held in sometimes torrential rain but were attended in such numbers that major thoroughfares were overtaken by the demonstrators.
A move away from violence softens the tone but doesn't solve the problem for the HK and Chinese authorities.
EMEA and Latam economic calendar
Poland reports Industrial output on Weds 21st. Following weak June data, anything other than a rebound will cause jitters. The June data was passed off as being weather-related (June's heatwave) and July has been clear of such obstacles.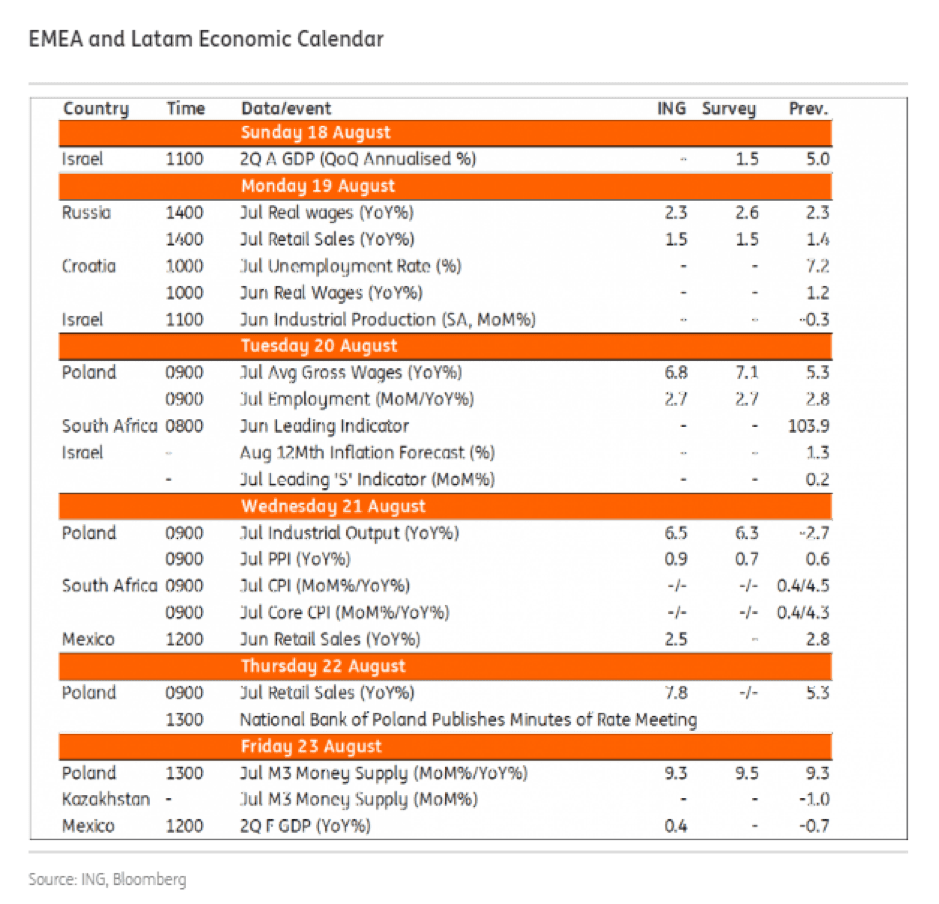 Gold – the week ahead
In light of gold's role as the global reserve currency, its price movements through the week will offer an indication of market sentiment. With interest rate news possibly due to leak from the Jackson Hole Symposium, its likely gold will trade sideways through the first part of the week but maybe see increased volatility after Wednesday.
Gold futures in the week beginning 12th August tested the $1,500 price level and still trade higher – COMEX Gold Futures closed the week at $1,523. There is still a question in the market about whether profit taking will see prices retreat, but every day that gold stays above $1,500 is a pointer to future strength.
COMEX Gold Futures – GC1! – Five day price chart