The week ahead – less significant diarised news but a range of risk events possible
Nigel Frith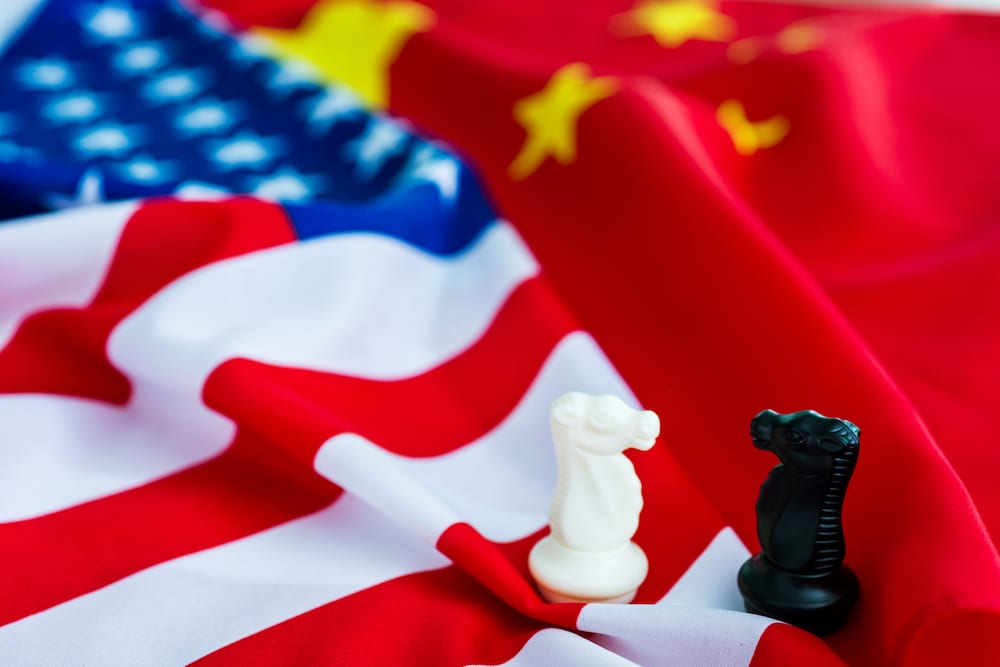 US-China trade wars continue to overshadow the markets
Currencies, bonds and equity markets signal a shift to defensive positions
China trade data to be released Thursday
Trump-Powell spat likely to rumble on
GBP unlikely to find too many reasons to reverse its downwards trend
The week ending 2 August saw Apple Inc announce its earnings, the US Fed announce a 25 basis point cut in interest rates, US-China trade talks held in Shanghai and the monthly non-farm payroll figures released. Diarised news flow for the week starting 5 August is less pronounced but it doesn't necessarily look like too many are expecting slow summer markets. What data releases there are will be studied with interest as economies and markets might be at something of a fork in the road.
Commenting on market weakness, Ray Attrill, head of Forex strategy at National Australia Bank in Sydney said:
"Everything is selling off right now… We have no reason to expect any cessation in selling unless we see any strong action to defend any CNY or CNH weakness."
 Source: Reuters
US-China trade
The Shanghai trade talks of last week followed a now familiar pattern. A build up featuring combative posturing by Trump and Xi Jinping was followed by lame-duck talks. The stalemate announcement was then met with further confrontation and additional sanctions. Whether there is now an established pattern or not is hard to gauge. Is it a case of better the devil you know or being stuck in a rut? Either way, the absence of a resolution is continuing to drag on the global economy. Julian Evans-Pritchard, senior China economist at Capital Economics, wrote in a note:
"The (People's Bank of China) has allowed the renminbi to fall to its weakest level in a decade in response to trade tensions."
Source: CNBC
Global equity markets ended the week in the red, benchmark bond yields have inverted and USDJPY is off its recent highs against the yen. These are all signals of a rotation into more defensive assets.
USDJPY – Five year price chart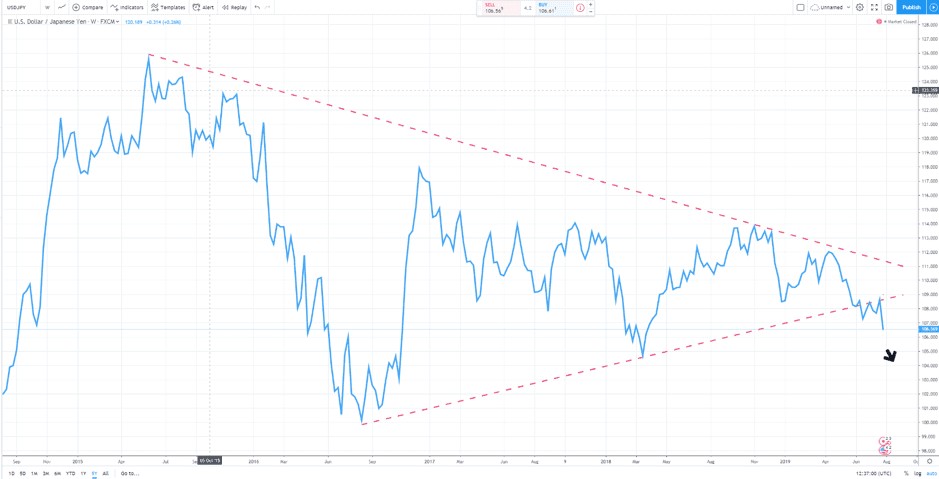 China releases trade data on Thursday. Whilst the reliability of Chinese figures can be called into question, it will offer some kind of an insight into the situation.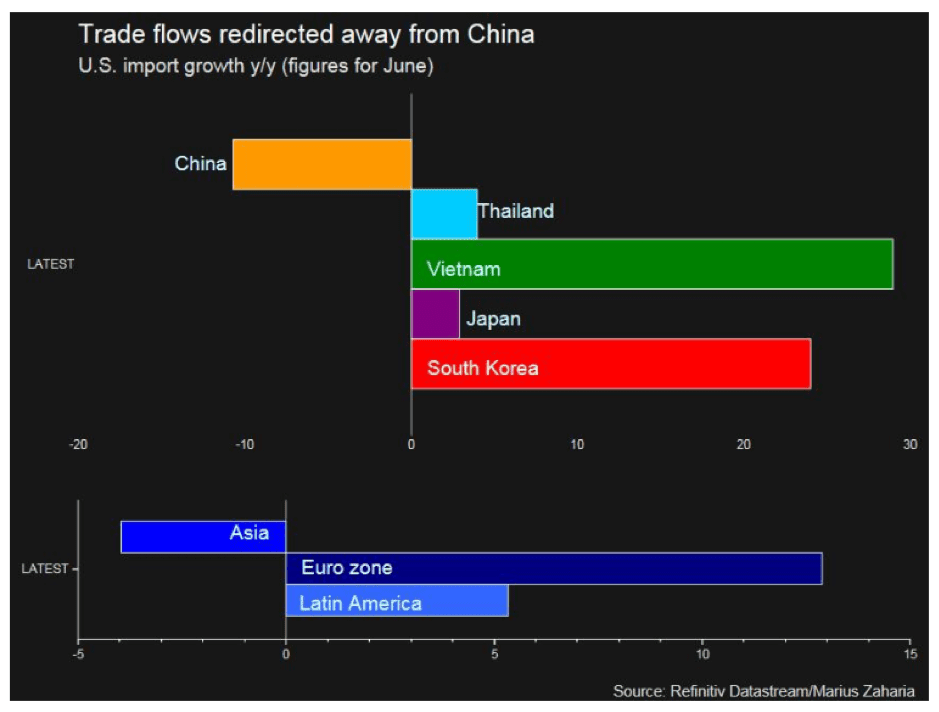 The country's trade surplus with the US is currently on an upward trend but domestic growth and investment is down, which could drag the trade numbers down.
Bond sales
The US Treasury Department is looking to sell $38bn of three-year notes, $27bn of 10-year notes and $19 billion of 30-year bonds between 6 August and 8 August.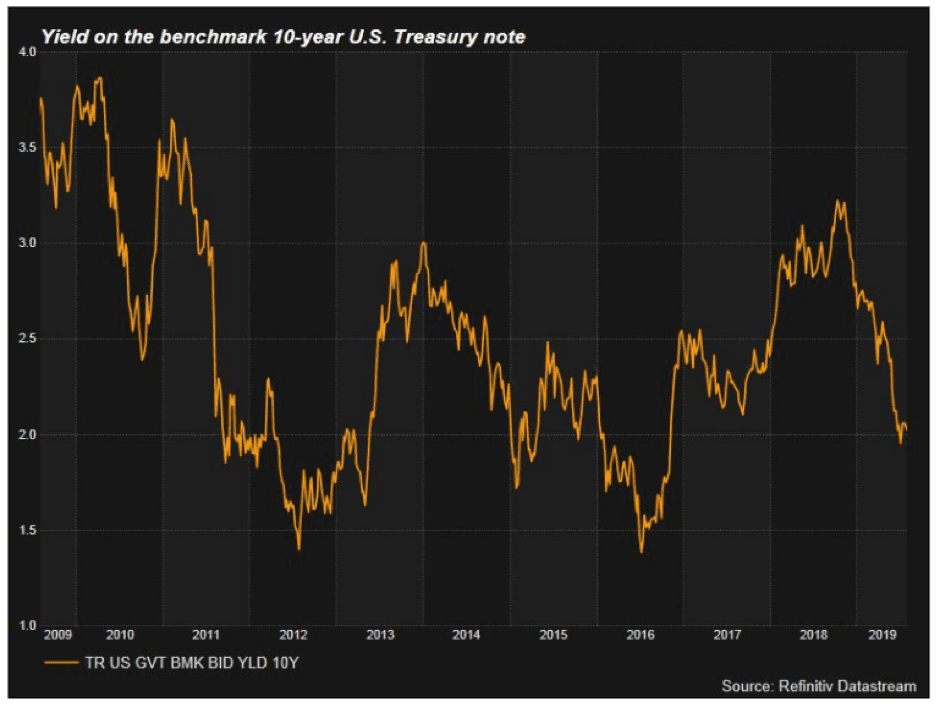 Demand for US Treasuries has been particularly strong recently and this $84bn of new debt looks set to be snapped up. The combination of geo-pol uncertainty and the Fed lowering rates should be more than enough to get the sale over the line. Anything other than that would catapult fixed income news out of the 'boring but important' section of the week's calendar.
Global rates
The central banks of Norway, New Zealand, Australia, India, the Philippines and Thailand will all hold interest rate meetings during the week starting 5 August.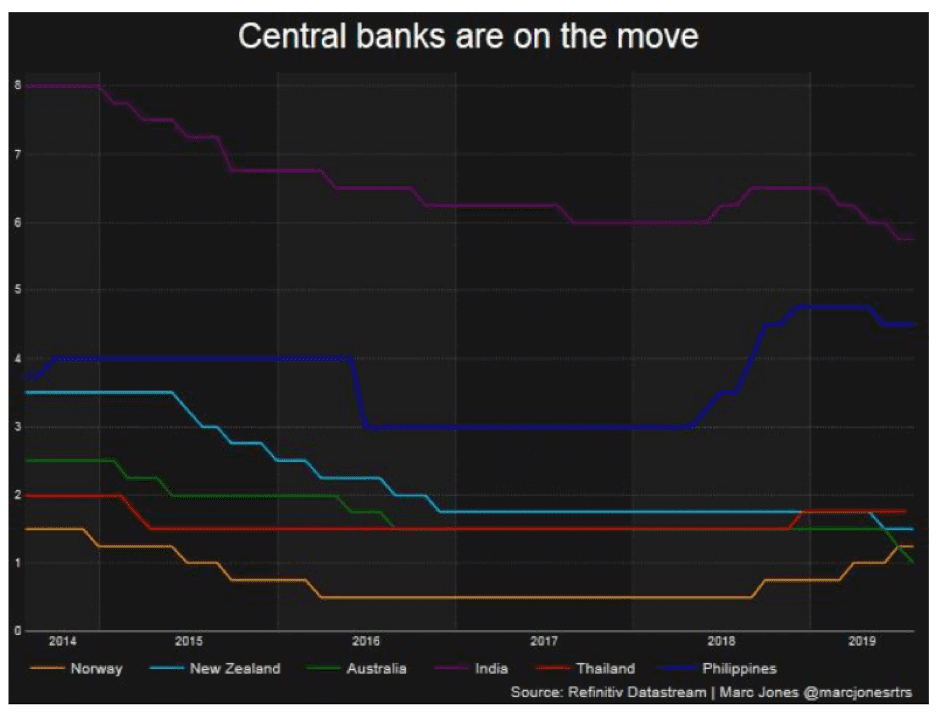 All of these countries, apart from Norway, have reasons based on their own domestic situations to follow the US Fed and cut rates. Australia would be implementing a third cut in a row and the Reserve Bank of Australia may hold off just to keep some of its powder dry. The Eurozone, Switzerland and Japan have all demonstrated the increasing ineffectiveness of interest rate policy when rates near zero.
Eurozone
Europe probably sees the most significant round of data releases in the coming week.
German industrial output numbers are due Tuesday and will be met with some trepidation. Some recent manufacturing data has been dreadful and show contractions in that area on a scale not seen for many years.
Consumer spending data has generally been more positive of late, or has at least offered some explanation for which sector of the economy is propping things up.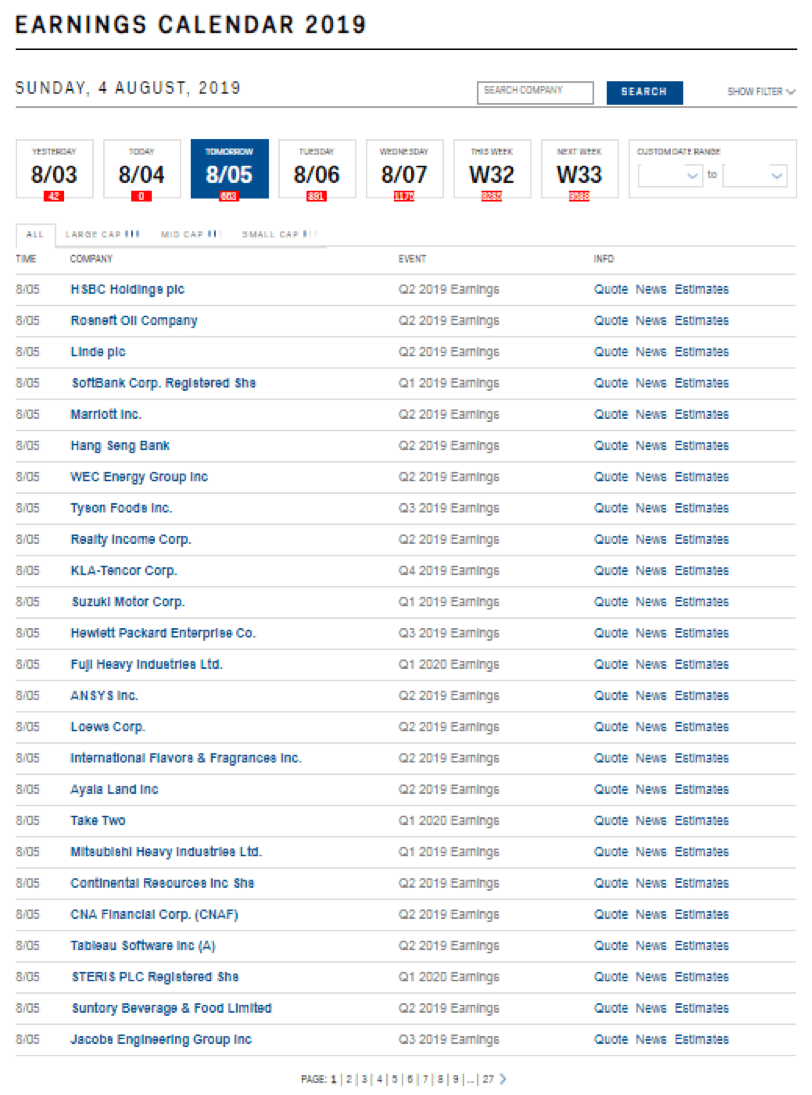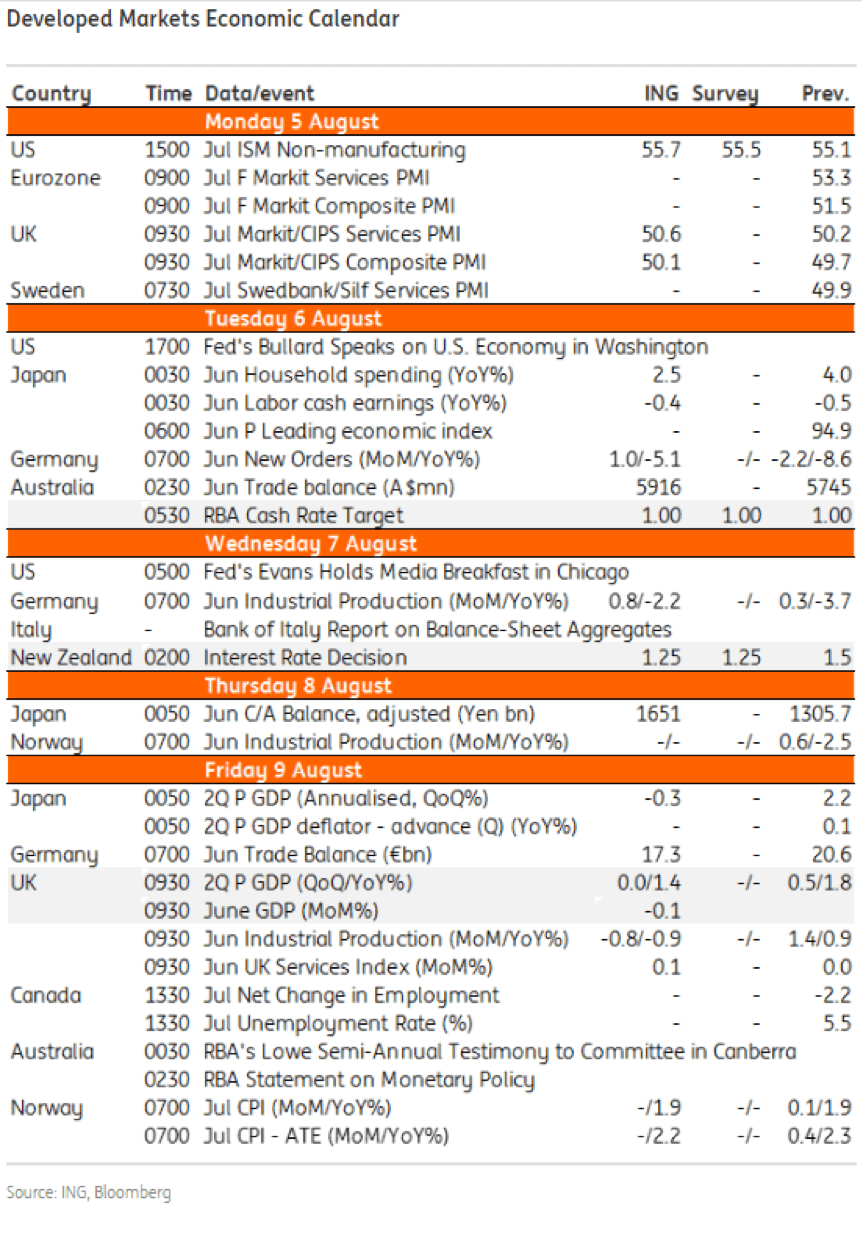 Earnings season continues and firms making announcements this week include HSBC Holdings PLC, which will be reporting its Q2 earnings on 5th August. An insight into other areas of the global economy will come on 7th August when tech/IPO barometer Lyft reports, as does Porsche.
UK
The UK is set to release its Q2 GDP figures on Friday 9th August. Forecasting this number is a tough call due to the amount of stockpiling that took place in Q1 in anticipation of the UK leaving the European Union on 31st March. GDP is expected to flat-line or even be down on the previous quarter as firms worked through the inventories they had built up. The year-on year data might be more insightful. Taking the noise of Brexit stockpiling will make it easier to analyse the figures, which analysts expect to be continuing a downwards trend. The UK is also set to release its industrial production and retail sales figures.
Although the Bank of England is not due to report, it is possible governor Mark Carney will share some thoughts on the numbers. ING reported on 2nd August that it doesn't see Carney making any further changes to the UK interest rate levels this year. Even if this does turn out to be the case, it's unlikely the governor will pass an opportunity to pass comment of some sort as he has shown a strong disposition to engage in the Brexit debate.
GBPUSD – 1 month chart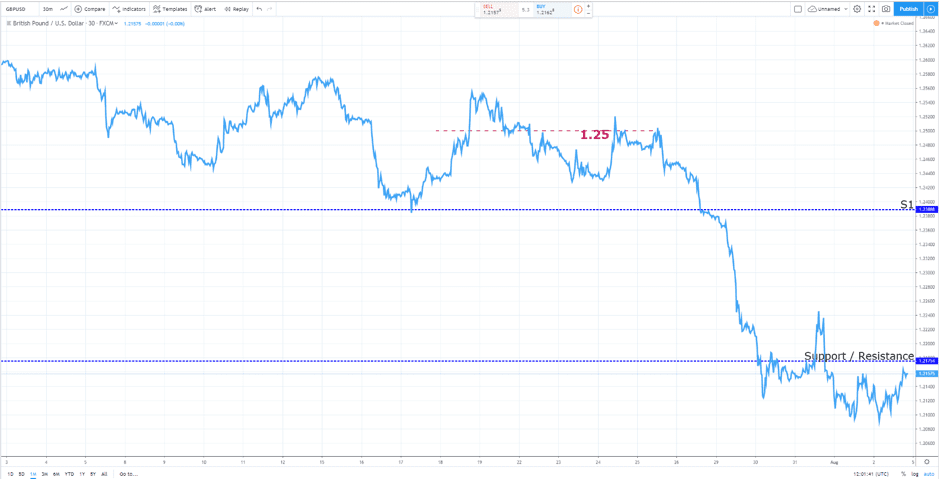 GBPUSD – Daily Technicals: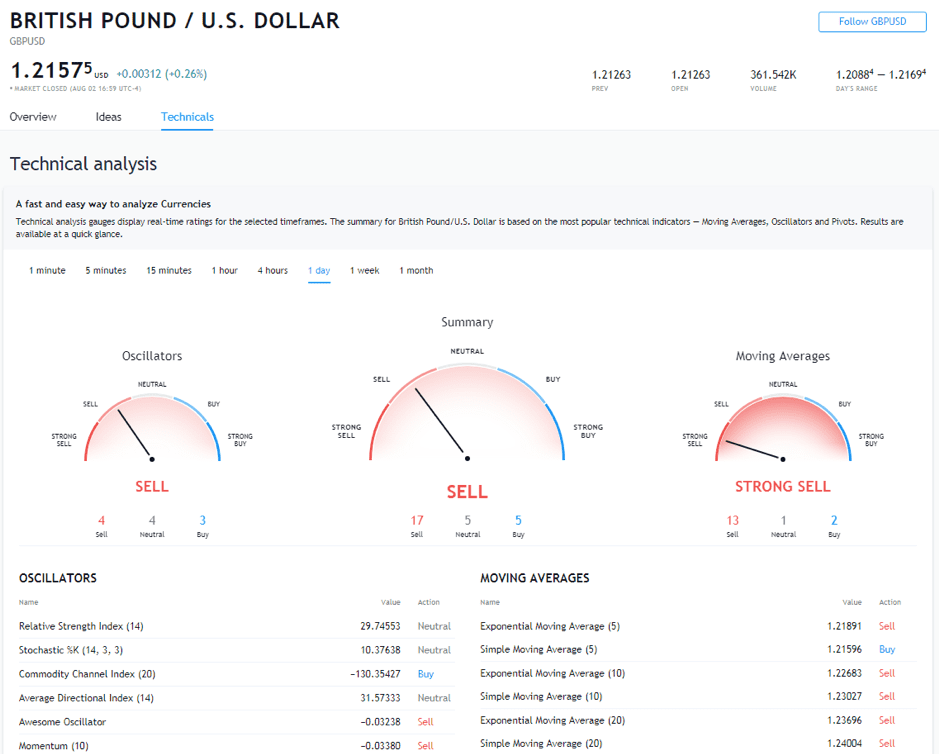 None of the above news items stand out as possible catalysts for the pound to strengthen. As recently as 25th July, GBPUSD was trading above 1.25. But week ending, it closed below 1.22 at 1.2157. There are some data reports that put the UK in a relatively strong position to the Eurozone; inward investment into the UK is holding up, unemployment levels are at record lows and wage inflation is finally picking up. However, the market has a bearish take on the situation. The momentum in the GBPUSD currency pair is to the downside and could have some more road to travel.