Trumpian tweets send bitcoin (BTC) price into freefall – "I'm not a fan" says Donald
Nigel Frith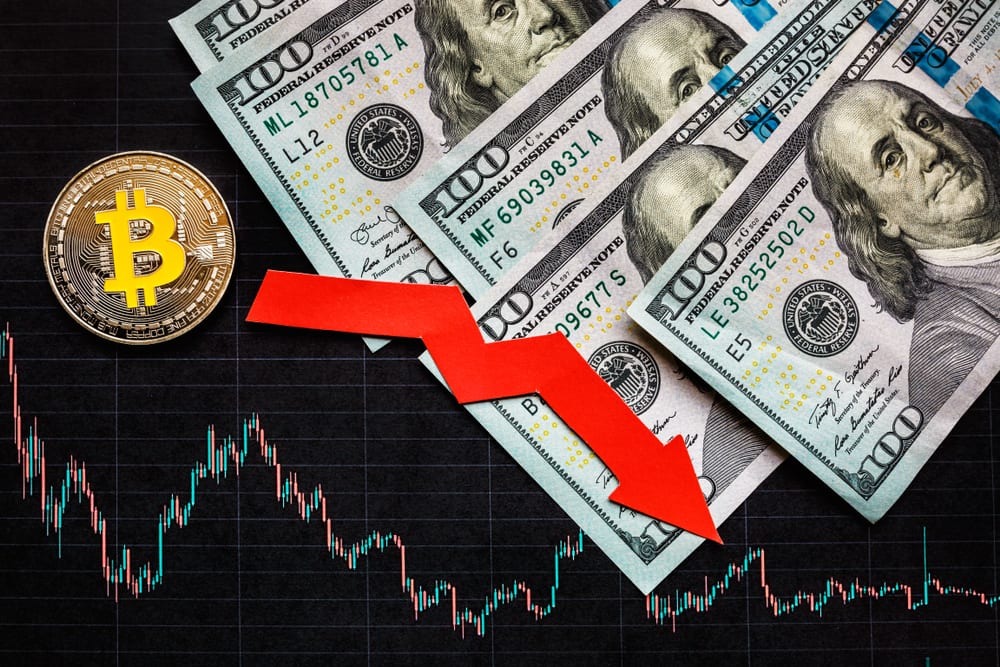 Bitcoin (BTC) and other cryptocurrencies see prices fall in response to presidential opposition to digital currencies.
Bitcoin price falls $1,000 in one hour and tests $11,000 support level.
Bitcoin price moves through a range of key technical support levels.
Facebook's libra project faces increased regulatory challenges.
French finance minister, Bruno Le Maire, and Bank of England governor, Mark Carney, speak out against libra.
Dovish interest rate policy from central banks adds to crypto pain.
President Trump's use of new media sources, especially Twitter, has been something of a game-changer for the US political landscape. Preferring to administer policy in messages of 280 characters or less has not restricted the president from getting his message across. Yesterday he shared his thoughts on the crypto currencies bitcoin and libra, his comments having significant impact on market prices.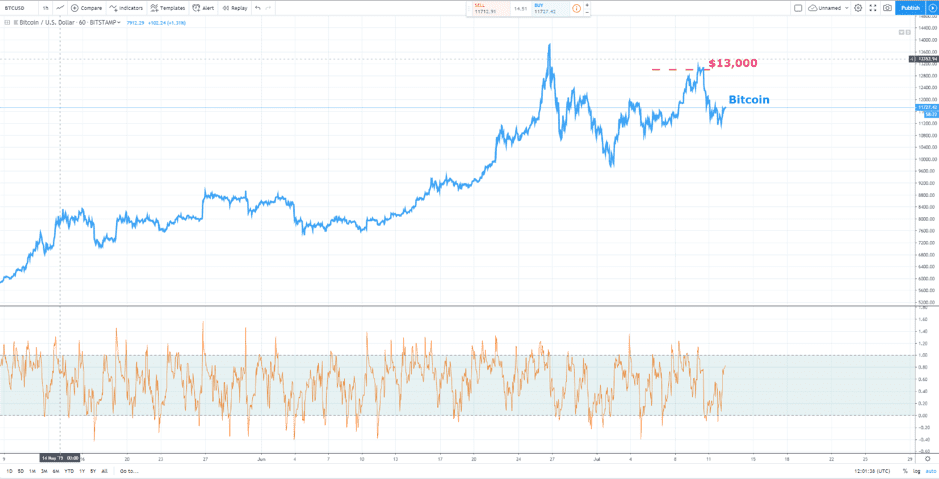 The sell-off in bitcoin came at a time when a host of market analysts interpreted the bull break-out to be strong enough to go on and test all-time highs. As is always the case, the price moves that go against the consensus can be the most powerful and the speed of the fall in price will have caught out many holding BTC positions.
The price slump, which started around 14.00 UTC on 10thJuly, saw price move through a lot of technical support levels, suggesting that stop losses were hit, and then hit again.
Prior to the price slump, the specialist site FXStreet reported the support levels as:
$12,900 – the upper line of 1-day Bollinger Band, the middle line of 15-min Bollinger Band, a host of short-term SMA levels
$12,400 – 23.6% Fibonacci retracement monthly
$12,250 – Pivot Point 1-day Support 1
$11,400 – 38.2% Fibonacci retracement monthly
At time of writing, bitcoin is trading at $11,704 with its week-to-date day low being $10,968.
The dip through the psychologically $11,000 level lasted less than 10 minutes but would have been just enough to trigger a range of stop losses set in that area. Bad news for those who got stopped out, but traders that manage to hold on to long positions might take comfort that it looks like the $11,000 support was tested but held. The $11,400 level has also been re-crossed with the price now at $11,481 but the other key levels: $12,000, $12,250, $12,400 and $12,900 are now points of resistance rather than support.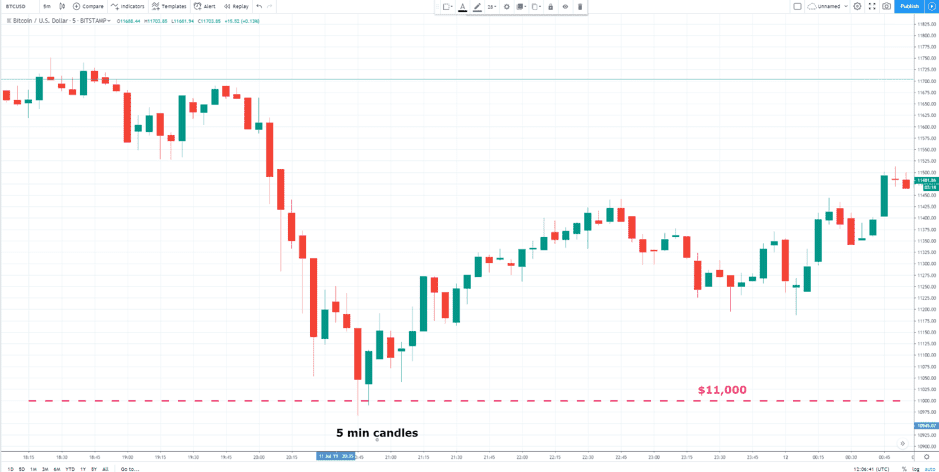 Given the partisan nature of bitcoin bulls there is quite a lot of interest from dip-buyers. Omkar Godbole gave his view to CoinDesk:
"Bitcoin's bounce from the support of the 10-candle moving average (MA) on the three-day chart may have opened the doors for a retest of recent highs above $13,000. The MA has consistently reversed pullbacks since February."
Source: CoinDesk
Godbole picks out the $11,167 support level as key, if that is broken then he sees price moving down to $10,769.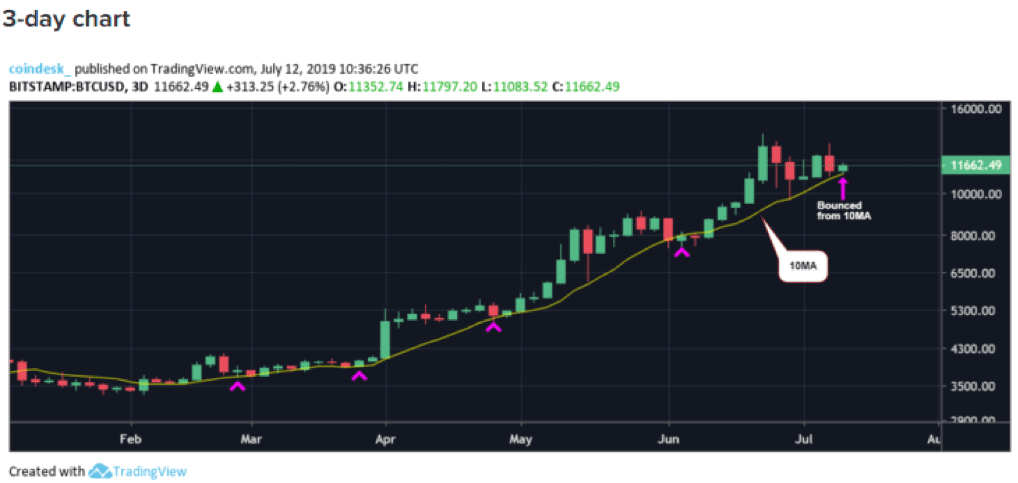 Twitter Storm
The view of the US president on the cryptocurrencies was widely shared on Thursday. Unsurprisingly, he took sides with the national currency. Not least because the influence he has over such a useful policy tool would be challenged by the emergence of a crypto alternative:
"I am not a fan of Bitcoin and other Cryptocurrencies, which are not money, and whose value is highly volatile and based on thin air."
Source: Twitter
The president also gave his thoughts on libra:
"Facebook Libra's 'virtual currency' will have little standing or dependability."
Source: Twitter
Trump actually spoke from pretty solid ground when he claimed the US economy as a whole benefits from the position of the US dollar as the global base currency:
"We have only one real currency in the USA, and it is stronger than ever, both dependable and reliable. It is by far the most dominant currency anywhere in the World, and it will always stay that way. It is called the United States Dollar!"
Source: Twitter
So the gloves are off! The increased price volatility of BTC over the last few days may signify the new normal. Any route into the mainstream is going to have to work its way past agents with vested interests in keeping cryptos out.
Facebook 
President Trump's messages on the subject of all things crypto included his thoughts on Facebook's intention to launch its own 'currency'. The president made it very clear to them that if they wanted to enter the banking business, they would have to comply with national and international legislation, and regulation. A view echoed by other central bankers.
Facebook's weekly price chart shows the tech stock was much more resilient to the president's comments than the cryptocurrencies were. This is partly explained by the comments this week by Jerome Powell that hinted at dovish interest rate policy from the US Federal Reserve. Facebook, in line with the rest of the equity market rallied on this news. It's also partly explained by the fact that the libra project only recently launched and has support from companies like Visa, Mastercard, Uber, Lyft, PayPal, Coinbase and others.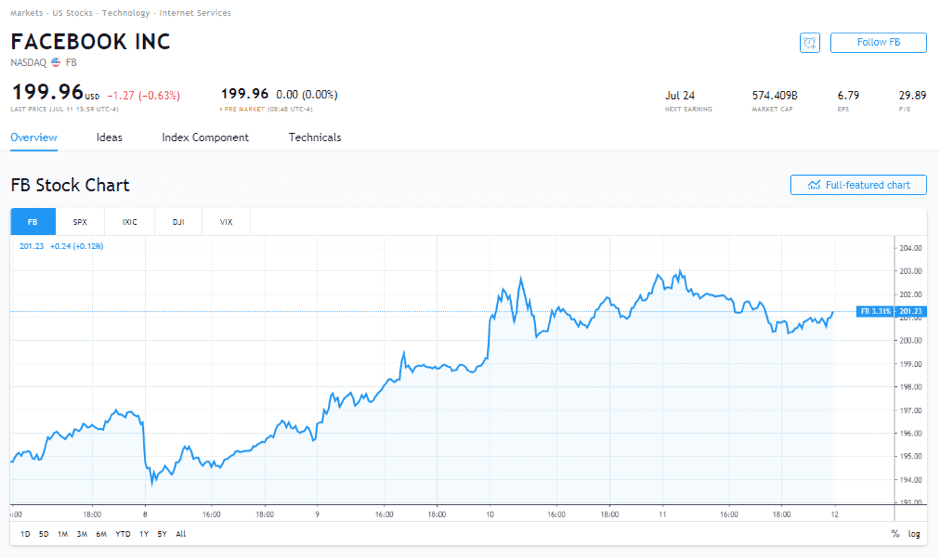 Some analysts refer to cryptos as an alternative to gold. The five day chart below shows that gold, as one might expect given the news from the Fed, had a down week, but nothing on the scale of bitcoin.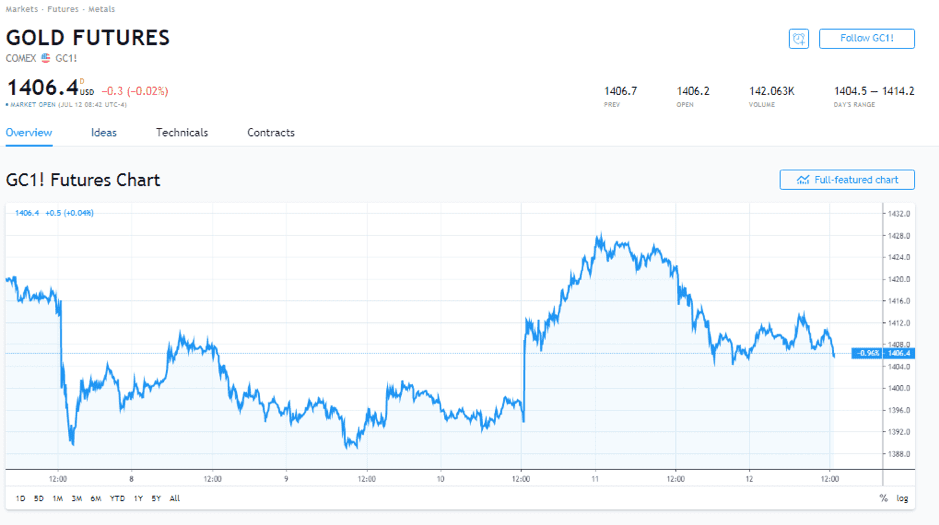 Altcoins
With market volatility picking up and the crypto market receiving a shake-down from the bears, it's a good time to check the BTC/altcoin spread.
Ethereum has not responded as well to the latest BTC rally as it did to those started on 15th December and 14th May.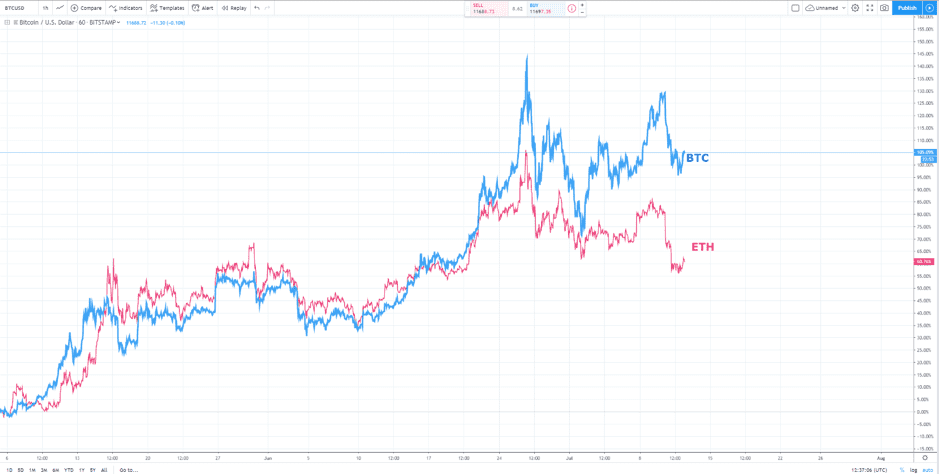 FXStreet analysts think this might be about to change.
"The chart suggests there is a high probability that it can occur in the coming days.
The pair is trading at 0.02367 and support at 0.023 appears to be working well, keeping buyers interested at quite high levels.
Above the current price, the first resistance level is at 0.0268 (price congestion resistance), then the second at 0.0275 (price congestion resistance and EMA50) and the third one at 0.0292 (price congestion resistance and SMA100).
Below the current price, the first level of support is at 0.0229 (price congestion support), then the second at 0.020 (price congestion support) and the third one at 0.0158 (double price congestion support)."
Source: FXStreet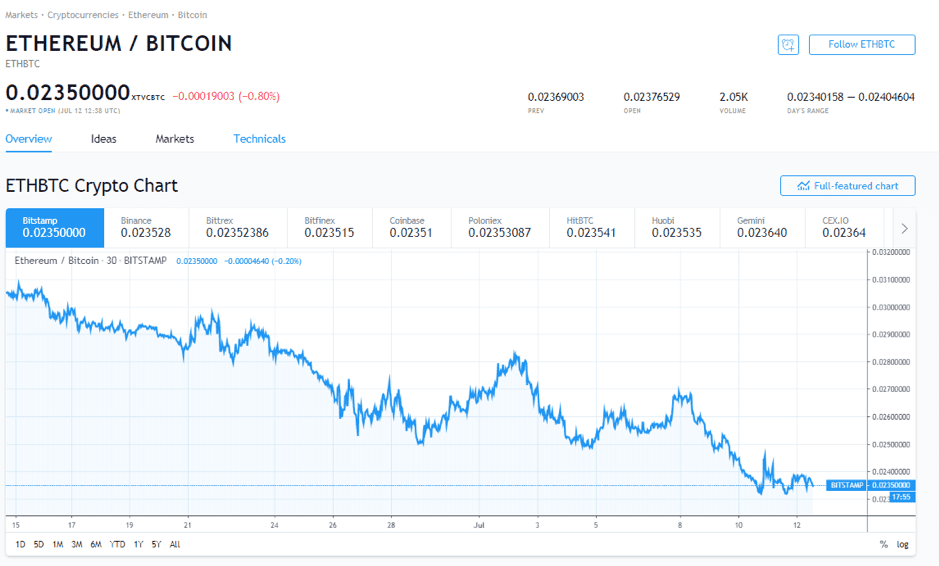 Current prices across the exchanges are: