Yuan Love – Wall Street's new obsession
Joe Hatch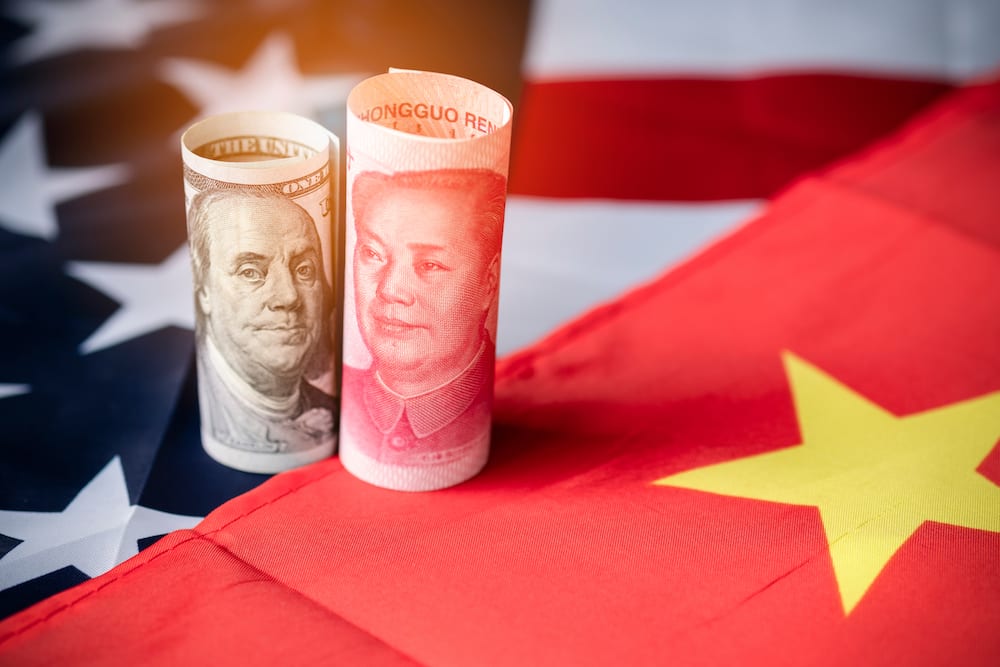 People's Bank of China will continue to fix yuan Forex levels at 9pm (Eastern Time)
USDCNY is now being set at levels that mean a weaker yuan
Mid-point of target range predicted by Reuters to be 6.9994 on Weds 7th August
More geo-pol high jinks for the markets as traders now wait on a daily basis to see if expectation and reality equate
Daily 'fixing' is a new and significant variable for markets to consider
The People's Bank of China (PBOC) has long fixed the conversion rate between Chinese yuan and the US dollar. People's Bank of China Governor, Yi Gang, speaking on 5th August still insists that China does "not engage in competitive devaluation." (Source: CNBC) The harsh reality, however, is that the activity has always gone on but was ignored because the chosen level was the 'least bad' level for the parties concerned.
Markets were caught out on Monday when China flexed its muscles and reminded everyone that the chosen rate is set at the discretion of the PBOC. If it wants to weaponise its currency and cause a global sell off, it can. Whether it will continue to do so is at present the most important question in the market.
The PBOC on Sunday 4th August let the onshore yuan weaken to its lowest level against the dollar in more than 10 years. The Dow Jones Industrial Average index (DJIA) and S&P 500 plunged 2.9% and 2.98% respectively on Monday, while the even more China-sensitive Nasdaq index corrected by 3.5%.
Overnight on Monday, China set the yuan's midpoint at 6.9683 per US dollar – a figure that turned out to be stronger than a Reuters estimate of 6.9736. On Tuesday, all three US markets therefore bounced back to some extent. The DJIA and S&P 500 gained 1.1% and 1.2% respectively, the Nasdaq Composite gained 1.4%.
If this keeps up it could be a very long summer for traders. Keith Lerner, chief market strategist at SunTrust Private Wealth said:
"The new thing people will look at every night is seeing what the fixing of the yuan is at 9pm ET… That's going to drive sentiment from day to day along with headlines coming out of China. People are going to, no pun intended, be fixating on that combination every day."
Source: CNBC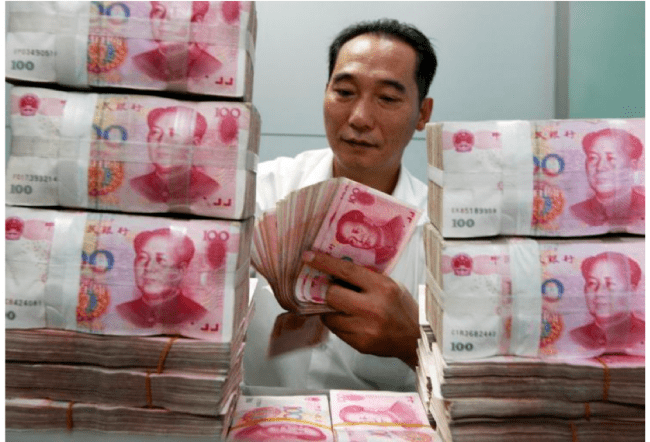 The 'additional 10%' tariffs that President Trump announced last week, which will come into force on 1st September, apply in the main to Chinese-made consumer goods such as iPhones. The Chinese retaliation to not buy US agricultural goods was across the board. These now appear the policy tools of a former era. Analysts who have to date measured volumes of goods entering and leaving US ports to establish the nature of trade now have a fast-track daily measure of US-China sentiment. A daily updated barometer of just how bad the trade war is.
Gregory Faranello, head of US rates at AmeriVet Securities said:
"The currency, on a short-term basis, will be a pivot factor in terms of what the market will watch for short-term direction."
Source: CNBC
The Chinese administration won't mind being in the box seat. In fact, being a more centrally-commanded economy, it will come as second nature for the PBOC to be leading rather than following market moves. The demonstrative shift in political power towards the PBOC is the reason for the markets falling away to such an extent. The new market regime, where US traders wait to see what the PBOC does with mid-rates brings with it opportunities for those in the know to benefit from market reactions. For every winner there is a loser and western asset managers and traders are aware they're lined up to be 'the last to know'.
Short term pain? 
One approach is to consider the actions of the Chinese administration as reactionary, short-term and demonstrative. The timing of the PBOC's move ties in with the recent US-China trade talks in Shanghai breaking down. S&P Global Ratings said in a report published Wednesday 7th August.
"The timing of the move beyond 7.00 is clearly not a coincidence and may have a political dimension… While the timing may raise concerns that big currency policy changes are afoot, so far, we have not seen any evidence that the overall policy framework has changed."
Source: CNBC
The fact that China has shown what it can do doesn't give many clues as to whether it necessarily wants to repeat the experience.
Market reaction
Given the uncertainty about what indicators to base trading decisions on, Asian markets were unsurprisingly 'mixed' in early trading Wednesday. Japan's Nikkei was down -0.33%, Hong Kong's Hang Seng Index retreated 0.07% and the Shanghai Composite index was up +0.15%. Stephen Innes, managing partner at VM Markets in Singapore said:
"Markets have gone full circle again hoping for the best while preparing for the worst where even the tiniest gestures could see investors could respond more positively than warranted given how emotionally invested market participants are."
Source: MarketWatch
News reports led with news that China's central bank 'has moved to ease fears of a full-blown currency war' but the Forex markets give some insight into how investors are adjusting their positions.
Forex – USDCNY
The Forex markets were also less volatile. Price action for USDCNY had shown to have taken a shift to a new level but is now trading a more sideways pattern.
USDCNY – Five day price chart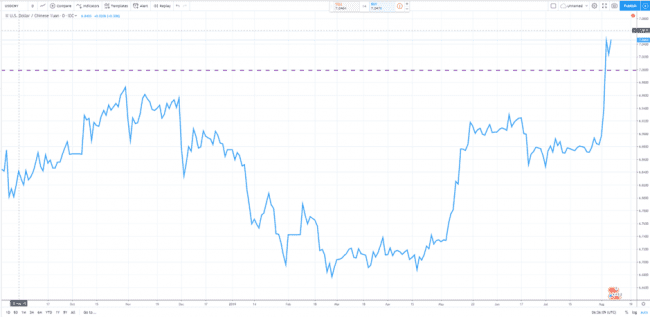 USDCNY – One day price chart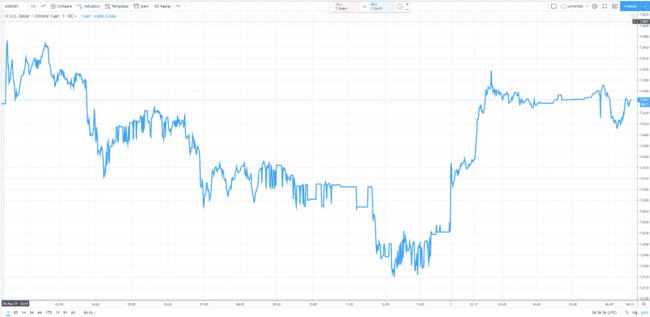 USDCNY – One day technicals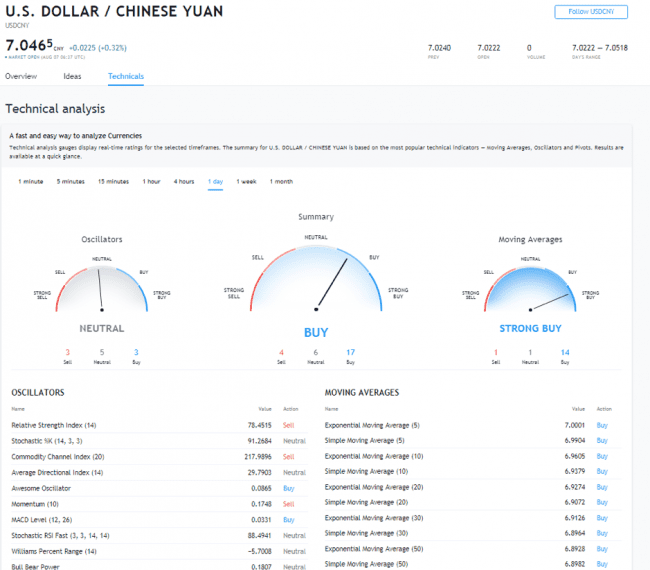 Forex – USDJPY
Dollar-yen prices are also trading within a wedge pattern – having also shifted to a new level. Showing a degree of uncertainty about what the next move might be is one thing, but as the wedge pattern illustrates, there is likely to be a move in the very near future.
USDJPY – Near term trigger five day (wedge pattern forming)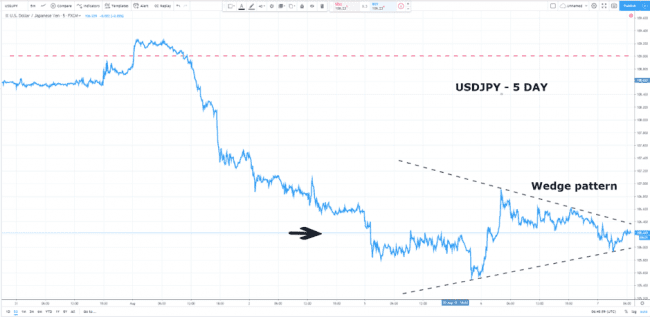 USDJPY – One day (wedge pattern forming)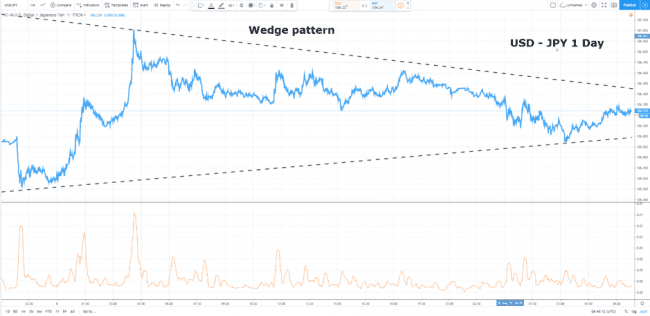 In a wider historical context, a mid-week impasse in the first week of August might look to be confirmation of sleep summer markets. Unfortunately for those with too much risk on their book, they are probably more accurately better described as 'rabbits caught in headlights'.