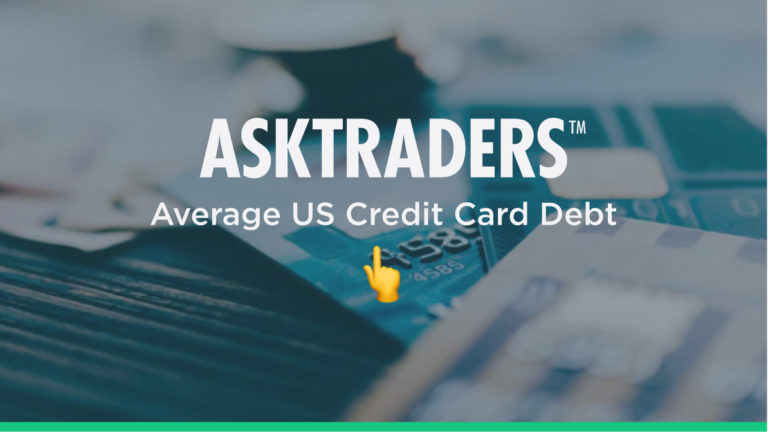 America's love affair with credit cards is as strong as ever. According to the New York Federal Reserve, there are now 459,000,000 credit cards in circulation.
There was a temporary lull in debt growth in the years following the Great Financial Crisis. But recent data shows that total US Credit card debt has risen for nine consecutive years.
The statistics relating to the subject are an analyst's dream. They offer an insight into the granular detail of spending habits. The US consumer is closely monitored as they have played a big part in propping up the US and global economies.
The link between credit card debt statistics and economic trends makes some of the credit card statistics hair-raising. They also shine a light on which way the market might be heading.
Overall US Credit Card Debt
Top 5 Credit Card Debt Statistics — Editor's Choice
The average US credit card debt balance is $6,194
Analysis of US census bureau and federal reserve data shows US credit card debt hit $930bn in Q4 2019
9% of US households carry some kind of credit card debt
Total Outstanding U.S. consumer debt is $14.1tn, up 19% since 2009
Payment delinquency rates have declined by 39% in the last decade
Average Credit Card Debt by Year
Spending around the holiday season still makes Q4 the time of year when average household credit card debt spikes upwards. The Q1 2020 fall in spending has been attributed by some to be down to the COVID-19 lockdown. However, the adjustment appears to be part of a well-established pattern — that of Q1 debt-hangovers being a long-term phenomenon.
Source: Seeking Alpha.
The US's outstanding credit card and other types of revolving debt have jumped almost 20% from a decade ago.
Source: USA Today.
Credit Card Debt in the US from Q1 2014 to Q1 2020 ($ billions)
Average Credit Card Debt by Age
There are plenty of interesting credit card debt facts, one of which is that credit card debt peaks in the 45–55-year age bracket. This tallies with that age group finding themselves at a time in their life when they have higher incomes — and outgoings.
Younger and older Americans find themselves unwilling or unable to take on the same amount of debt due to restrictions on their income.
Credit Card Debt in the US by age
Average Credit Card Debt by State
Variations in credit card debt levels across the different states are significant and follow regional stereotypes.
The perception of inhabitants of the Mid-West as being frugal is backed up by the data supplied by Experian. Iowa is the state with the lowest average credit card balance ($4,744). Wisconsin ($4,908) and Mississippi ($5,134) coming second and third, respectively.
A more relaxed approach to credit card debt is taken in the coastal states. Alaska tops the table with the average debt per person there totalling $8,515. This figure is some way ahead of the pack. Some attribute it to the Permanent Fund Dividend Pay-out influencing spending habits and higher living costs due to the state's remote location. In New Jersey, the credit card debt is average is $7,084 and in Connecticut it's $7,082.
Source: Experian.
Average Credit Card Debt by Income
Credit card companies are now legally obliged to factor in your income as well as your credit rating when deciding spending limits. The lower the income, the lower the limit. One legacy of this not always being the case is that those with an income between $10,000 and $24,999 have average credit card debt of $6,219.
The Credit Card Accountability, Responsibility and Disclosure Act (also known as the CARD Act) of 2009 signalled this was one way to remove some of the 'wild west' feel of some credit card operators.
This has resulted in national credit card debt levels broadly corresponding to income. The column below shows debt in excess of $10,000 for non-earners being something of a statistical anomaly, which captures both the super-rich and super-poor.
Source: Forbes.
Credit Card Debt vs. Other Kinds of Debts
Credit card debt in the US is growing by about 4.9% per year, but other forms of debt, particularly student and auto loans, are growing at a faster rate. Student loans increased by 6% in 2019.
Much of the credit card debt has subsided due to the regulatory restrictions included in the CARD Act. As of 2016, credit card debt accounted for 6% of the total US debt mountain.
Housing debt has decreased as a percentage of total debt since 2008. Mortgages still make up the bulk of the debt total, at 67%, as of 2016.
The decade long bull market of the 2010s also played a role. With the US economy and its citizens facing renewed financial pressures, the credit card data will be eagerly monitored.
Credit cards provide a convenient means for users to load up on short-term debt. An uptick in the proportion of credit card debts in the total number of (long-term) loans could be a leading indicator of economic turmoil coming down the line.
Source: New York Property Report.
US Total Debt — by Composition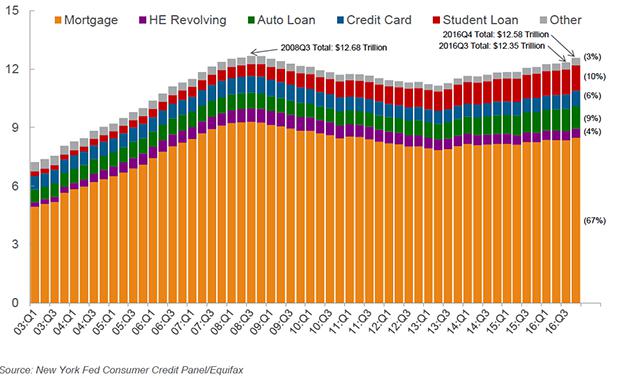 History of Credit Card Debt in the US
The Diners Club card, which is widely held to be the first charge card, had 20,000 cardholders in 1951. Each one of them used a cardboard card to carry out transactions.
American Express led the way into 'revolving debt' when it brought the first plastic card to the market in 1959. By 1965, the US had fully embraced 'fantastic plastic' and more than one million American Express cards were in use at 85,000 merchants — foreign and domestic.
Today, it's certainly possible that Americans signing up to credit card agreements for the first time may never need to use a physical credit card. The convenience of 'tap-and-go' card payment apps embedded in smartphones has opened the door to the next chapter in card use.
US Credit Card Debt – per household ($)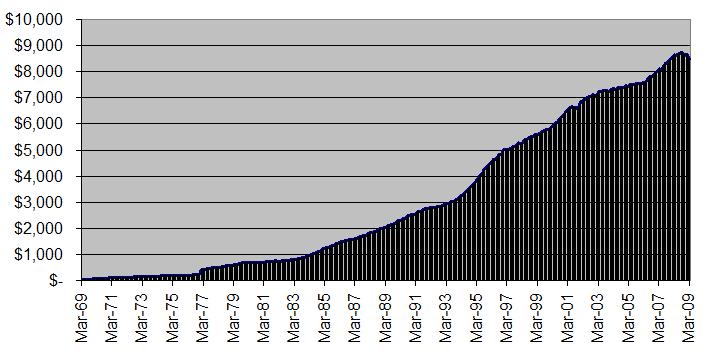 Why So Many Americans Have Credit Card Debt
Credit cards have always been an attractive proposition. They offer significant advantages over all other forms of money. They're pocket-sized, portable, continue to become more secure and have no intrinsic value in themselves. Then there is the added advantage of buying you time to pay your bill.
The fees associated with running a debt balance have also become more widely accepted. There are also a lot of other forms of debt that typical Americans manage — tuition loans, mortgages and car loans to name just three. Debt has become part of the American dream.
A recent study suggests that a move towards a cashless society will drive down the average transaction size. An increase in transactional volumes doesn't necessarily imply an increase in average debt per household, but there is little reason to think that it won't.
Sources