Good Day traders. Another week is coming to an end, but before the weekend starts, I would like to show you my analysis on the AUD/USD currency pair.
Daily Timeframe
On my daily chart (above), it is clear to see that AUD/USD has been trending downwards since the high back in January 2018. There seem to be two different channels that worked well at containing price thus far. 
My purple channel was drawn using the two upper purple arrows, after which I anchored the lower channel line to the low back in January this year. 
Then, I used a blue channel that was drawn at a flatter angle using the two upper blue arrows and then anchoring the lower channel line to the CLOSING price of the January 2019 low.
Using these two channels shows that price found support after breaking the January low, right where the lower blue channel line and the center channel line of my purple channel crossed, on the 7th of August this year. 
4-Hour Timeframe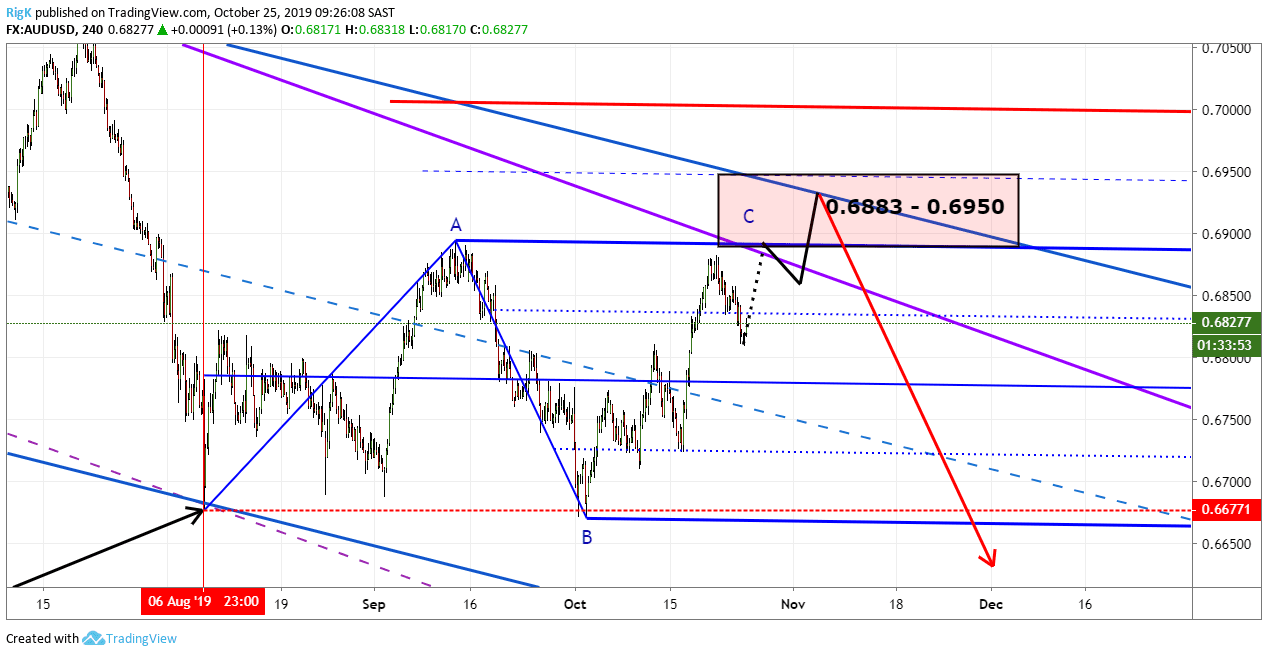 Since the larger market structure defines a downward trend, then I have to assume that price is currently correcting higher. I will not attempt to try and come up with some definite corrective pattern identification, but what I like to do is use my pitchfork to guide me into an area where this potential correction could end. 
If price can, therefore, trade higher again and move into the 0.6883 – 0.6950 price zone, then I will be interested in shorting this pair. Note that price has not yet broken above the peak that I labeled as A and that both my blue and purple channel lines are not too far above the current price. 
Conclusion:
A test of either of my channel lines, in conjunction with one of my pitchfork median lines, together with momentum divergence will be the ideal signal that it's time to short AUD/USD. Price may even drop from here, at which stage I might attempt a lower entry but if the market follows my analysis and I wait patiently, then I will be ready to execute my plan. 
Until next time, have a great weekend. 
Regards
Richard Krugel