Good day traders! With all the panic selling in the major indices and especially Crude Oil, it certainly makes it difficult to be a trader at the moment but sometimes it helps to take a step back and to view the markets from a "bigger" perspective timeframe like the monthly.
With increased volatility and panic selloffs come other trading opportunities and the AUD/USD might be one of them.
The AUD/USD currency pair is currently trading at very important long-term support levels from a market geometry perspective. Price has just reached the lower red warning line of a pitchfork and nearly reached a Babson action/reaction line (purple lines), with a 0.786% Fib retracement and the 2008/2009 lows residing below those lines.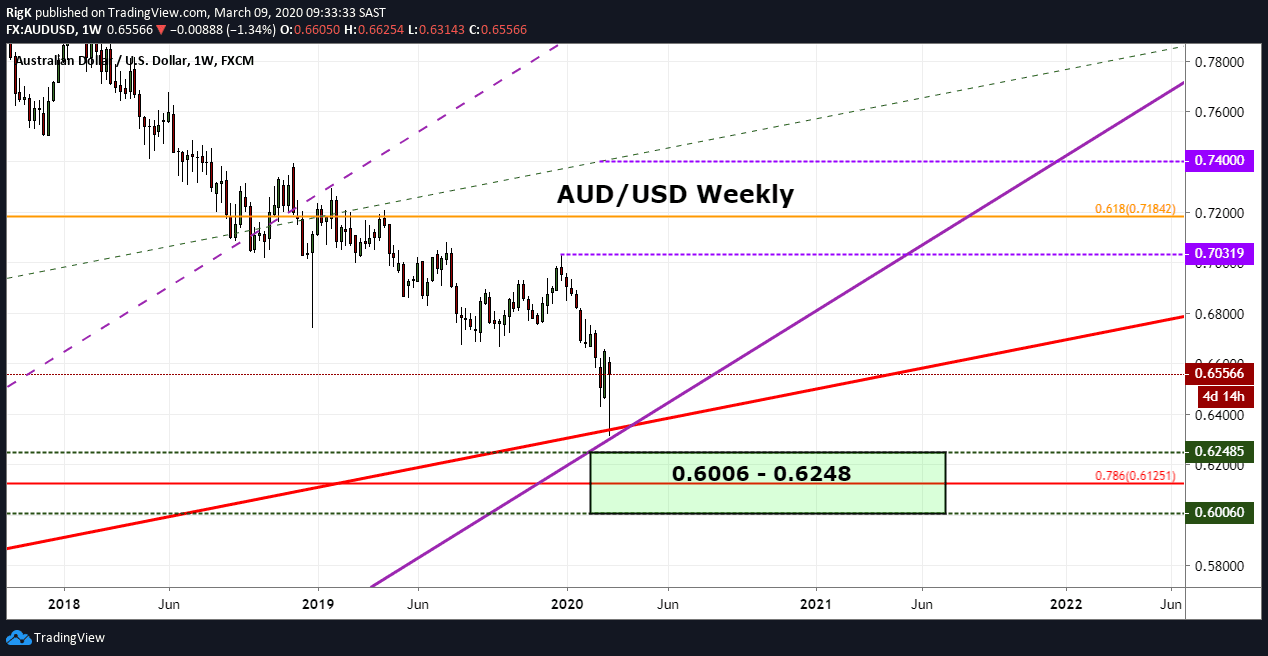 AUD/USD might have already put in an important low, with a corrective bounce to follow, or could still test the 2008/2009 lows which lie between 0.6006 – 0.6248.
The first opportunity to go long AUD/USD might present itself if this week's candlestick leaves behind a long wick but ideally, I would like to then enter after a higher low. Alternatively, price could still enter my support zone before a larger bounce takes place, but the first shot at a long might not be too far away. 
More updates to follow. 
Bias: Bullish after a potential higher low on the weekly timeframe
Potential Support: Now, or between 0.6006 – 0.6248
Potential Targets: 0.7031 and 0.7400
Until next time, have a great day!
Richard Krugel