Hello traders! I think we had reached a critical time in the Bitcoin phase. We haven't even begun to see the consequences of the current global economic crisis. It seems that it has initiated the transformation to a completely digital era and here comes the Bitcoin. This is new "money", a completely "digital money" which was launched straight after the 2008 recession.
Perhaps it was launched for a reason? And perhaps it is not a coincidence that it was launched straight after 2008? If so, someone realized the need for the "new money" and immediately took action.
Bitcoin has survived major turmoils and it is still there. It has grown and matured while getting a widely used currency around the world. However, saying that it is being used globally would be wrong since it's just at the beginning of its' global financial journey. Currently, Bitcoin might be in the phase where it only starts to get mass adoption and this could result in the most dramatic bull run in Financial history.
Now let's have a look a the BTC/USDT monthly chart below. We can see that the Bitcoin price is currently trading right at the uptrend trendline. It is also forming a bull flag pattern, which is an extremely bullish signal. But at the same time, the price must break above the downtrend trendline of the channel in order to confirm the bullish scenario.
Nevertheless, we can see that 361.8% Fibonacci retracement support has been rejected cleanly at the $3800 area. Perhaps this was the bottom from which price will start moving up and only up.
There is a very interesting price target which is based near the $140k area. It corresponds with the Fibonacci cycles as well as the uptrend trendline of the ascending channel. Based on such an analysis, we can see that price could reached over $140,000 before the end of 2020.
If we look at the lower timeframe, specifically on a daily chart, we could be witnessing the end of the correctional phase for the Bitcoin. This could have been an ABC correction, which has actually just ended. You might ask, why it has ended. The answer is the rejection of the 8/1 Gann Fan trendline, where Daily close failed to break below it. In fact, the closing price was right that the Gann Fan trendline.
To summarise, as long as BTC/USDT price remains above $3800, the bull will continue to dominate and potentially push the price to new all-time highs. It is hard to predict where this bull run will end, but it will be very interesting to watch this spectacular growth, should that be the case.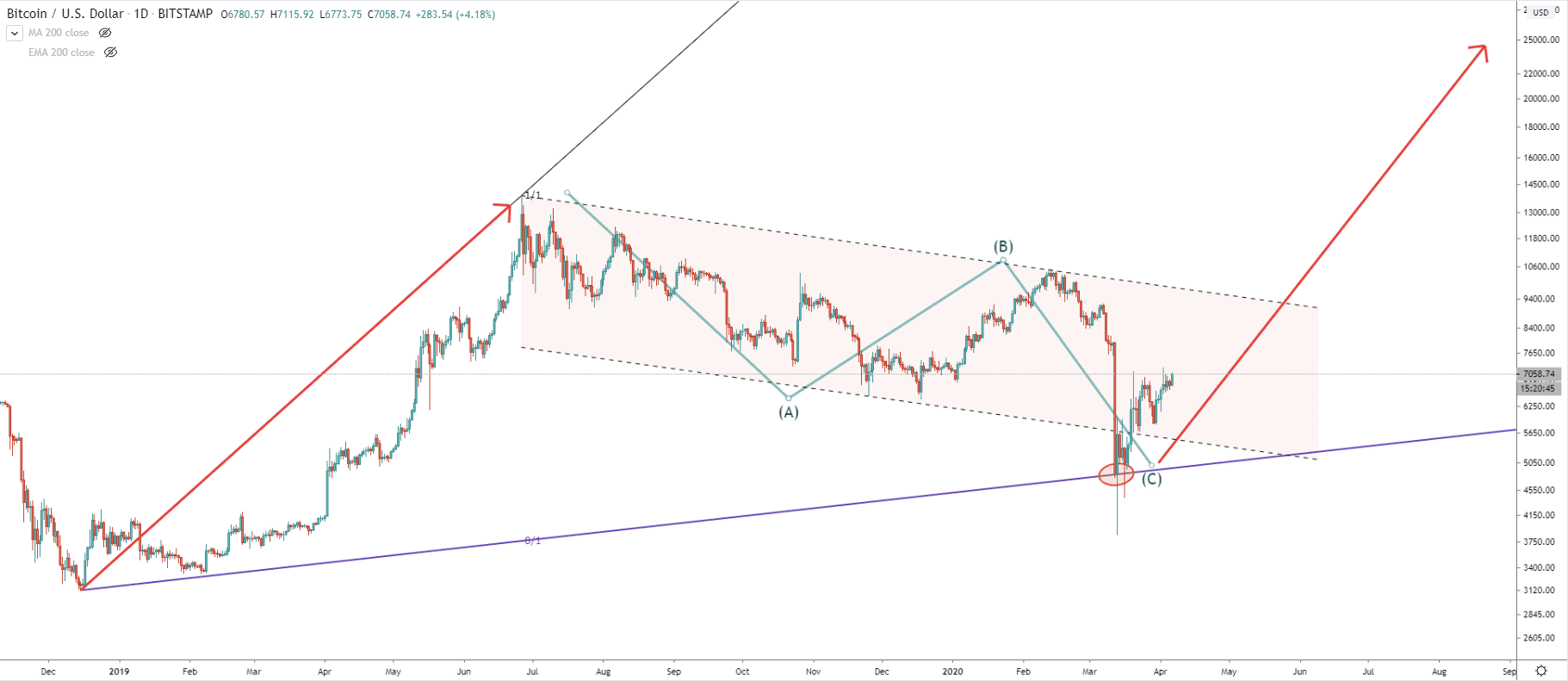 Bias: Strongly bullish while above $3800
Potential Support Zone: $4800 – 5800
Potential Targets: $40000, $140000
Have a profitable trading!