Hello traders! In today's analysis, we will look at the EOS coin, which is ranked #9 by the Coin Market Cap. The total capitalization of EOS is currently $2,429,091,814, and this could grow by 3 times in the coming future.
Below is the EOS/USDT Daily chart, where we have applied the Fibonacci retracement indicator to the trend up through December 2019 – May 2019. What we can see is that price is rejecting 88.6% Fibonacci support although still hasn't produced a new higher high. Also, the middle trendline of the descending channel has been broken, which gives some bullish hope in the coming days. As long as the $2.34 support is holding we can expect EOS/USDT to move up and test 61.8% Fibs at $4. This target corresponds to the upper trendline of the descending channel and is likely to play a key role in further price development.
If this resistance is broken, EOS is likely to confirm the beginning of a long term uptrend. In this case, the next upside target is seen at 23.6% Fibs which is precisely $7 mark. This is an extremely strong psychological resistance that must be watched very closely for either rejection or a breakout.
On the 6-hour chart, price broke above the downtrend trendline, although afterwards failed to break above the 200 Exponential Moving Averages. This makes $2.825 a key resistance level in the short term. For now, price seem to be stuck between $2.3 support and $2.8 resistance areas. Daily break and close above the $2.825 resistance could be the long-awaited confirmation of the uptrend. When/if this occurs, the uptrend is likely to accelerate and we might see strong exponential growth on EOS/USDT.
The final upside target at $7 corresponds with two Fibonacci retracement levels. First is the 23.6% as per the daily chart. The second is the 961.8% Fibs applied to the corrective wave down after the breakout of the downtrend trendline. This emphasizes the importance of the $7 level, which is not only a technical but also a strong psychological level of resistance.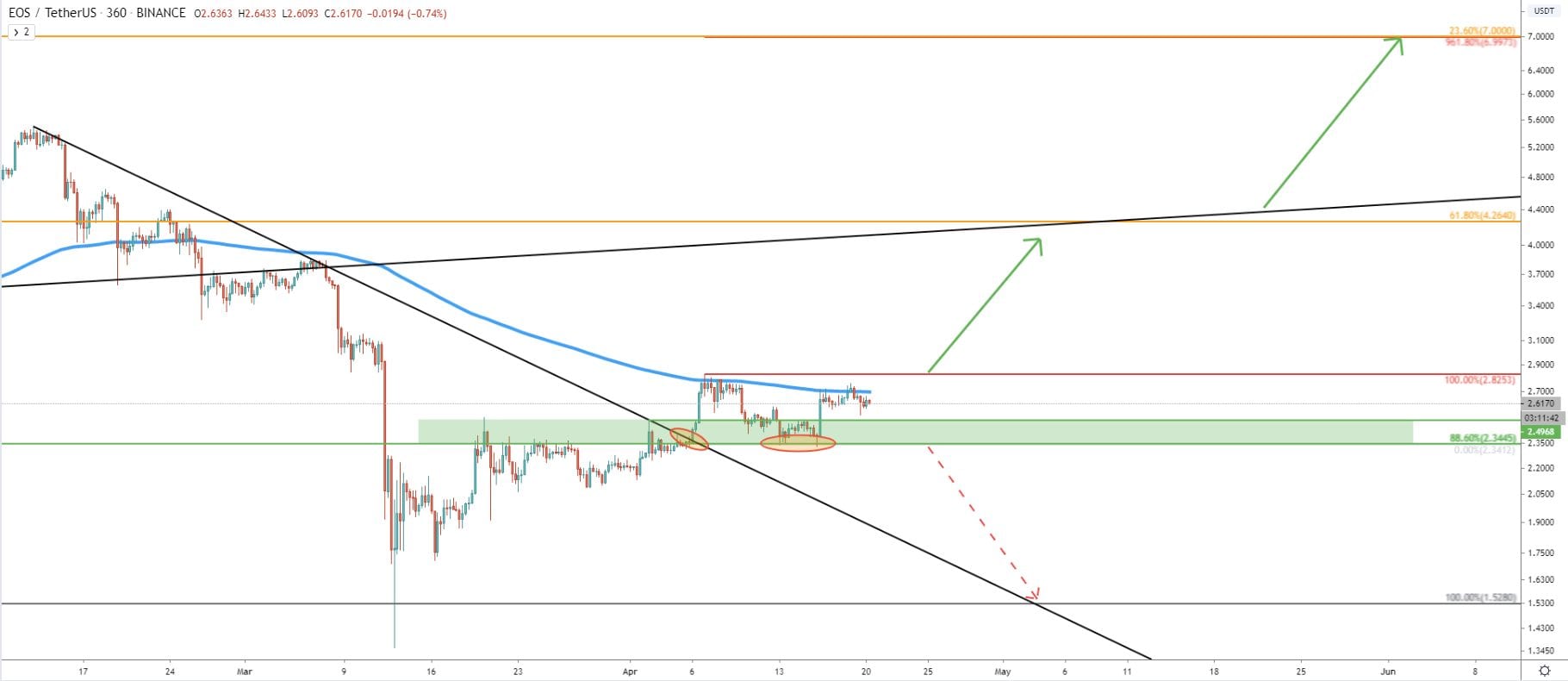 Bias: Bullish while above 2.34
Potential Support Zone: 2.5 – 2.6
Potential Targets: 4.26, 7.00
Have a profitable trading!