Monday, what a beautiful day to start over. If you lost money last week, forget about it. Today you should free your mind and concentrate you technicals and long/short scenarios.
Market Comments:
Its 7AM in NY and Europe does not show big momentum continuation so let us check the numbers. (https://money.cnn.com/data/world_markets/europe/)
Fundamentally we are not waiting for any big events this week, just make sure you know about the FED Meeting Minutes and the Options Expiration on Thursday.
S&P500 Futures have reacted to the resistance at 3127 mark. Consider last week high and low as reference points. If ES prices are kept on last weeks highs, we are still in a bullish territory, if we have a day close below last week high, things might become short term bearish. Its all about If – > Then for a trader so don't predict the market, read it and act accordingly.

Trade Ideas:
I still hold my thesis that DAX could be a play to the downside once we have some selling pressure coming. Its in a small range for quite a while and showing relative weakness. Other incides are either speculative like FTSE100 or are much stronger to All Time Highs like CAC40. I do see a potential double top on daily within a few days distance and also a rising wedge that is read as a bearish signal.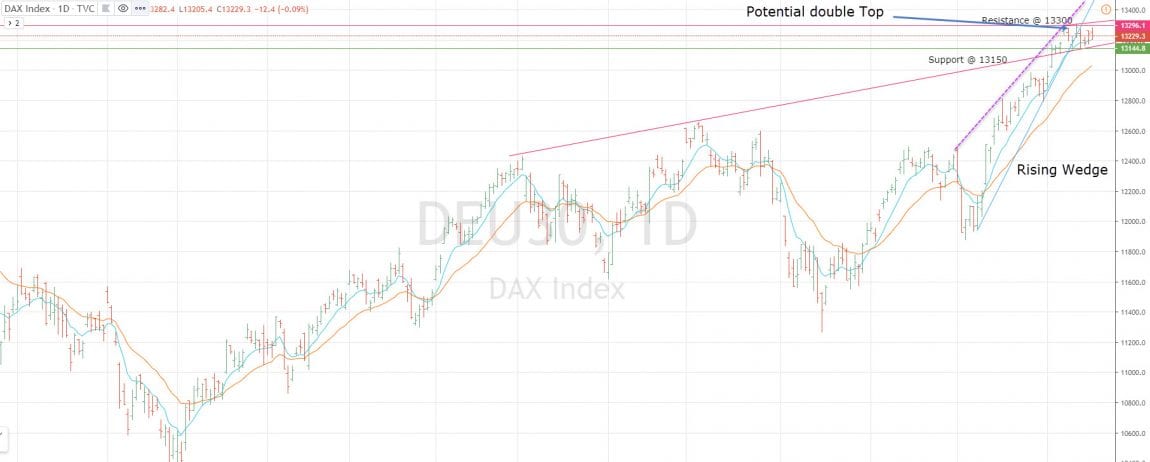 Don't blindly short here, wait till we see a catalyst that moves the balance to the bear side.
For those of you who are trading US equities, we are having chart request sessions, Monday to Thursday 12pm-2pm time in our real time chatroom.
Join our Telegram Chatroom to ask me questions| https://t.me/asktraders
 Remember:
Never chase a trade once it's too extended from the entry zone.
Never risk more than 1% of equity per trade.
Happy Trading!
@Trader521