Thursday and Europe is feeling some pressure. SP500 futures hit new highs surpassing 3300 mark and looks like its not the end. We have some economical news coming at 8:30am NY time and ECB president Lagarde Speaks at 6pm London time. Asia is mixed with Hang Seng and Nikkei green but Shanghai Composite in Red. Trade Deal sign has been absorbed. Lets take a look at the charts.
US Market Comments:
S&P Futures pushed higher to 3300+ and set a local high at 3308. Currently this is the short-term resistance. Next resistance 313-316 area. Sentiment remains extremely bullish. Supports at 3295 area for local intra-day and another major supports at 3287ish area along with the channel trend line. No reason to short here although some high beta names need a few days of rest.
S&P Futures: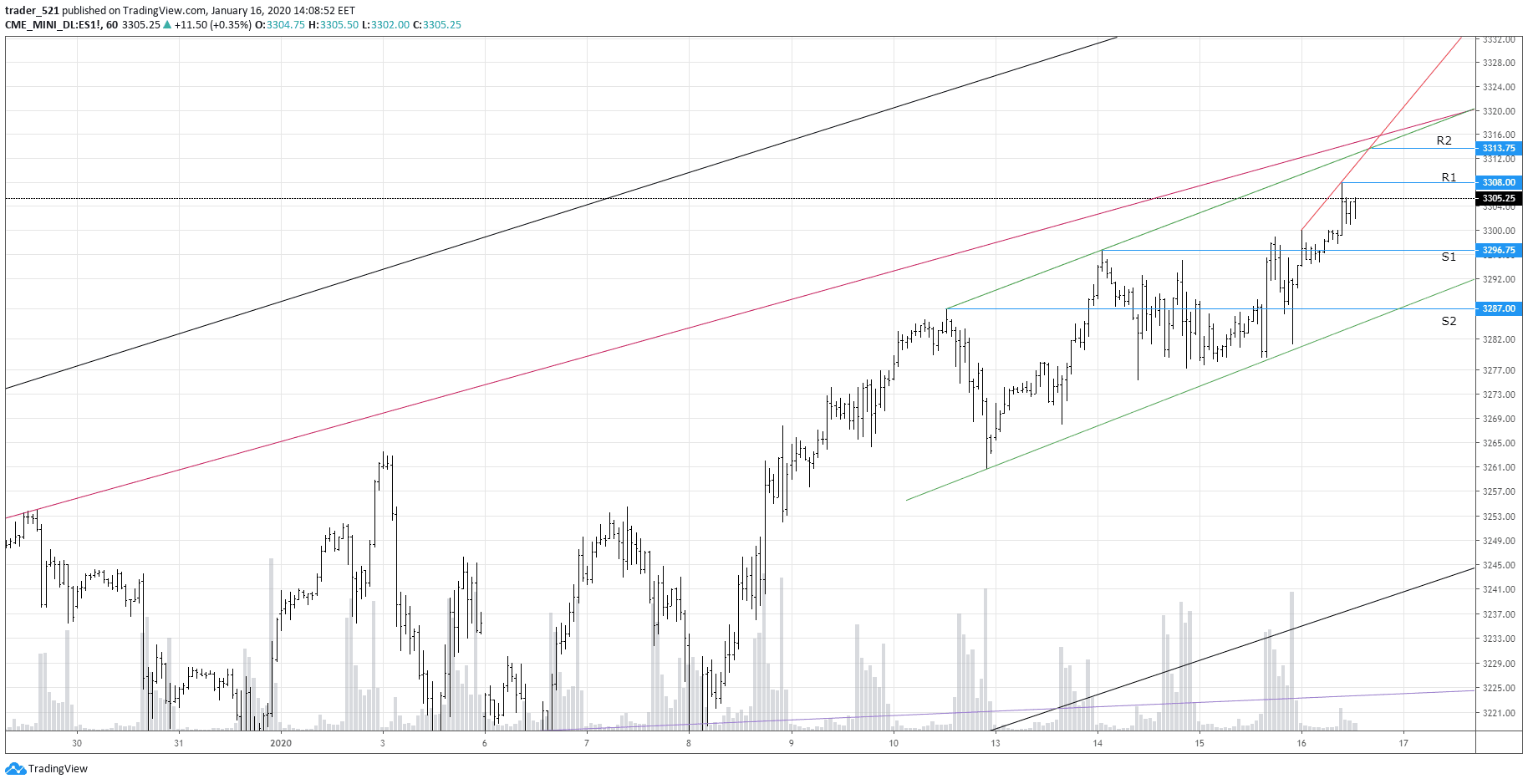 FTSE does not show signs of strength for now and is still ranging after the December rally. The long-term trend line remains valid. Now we should see if the price reacts to the blue resistance/support. Remember, no position is also a position.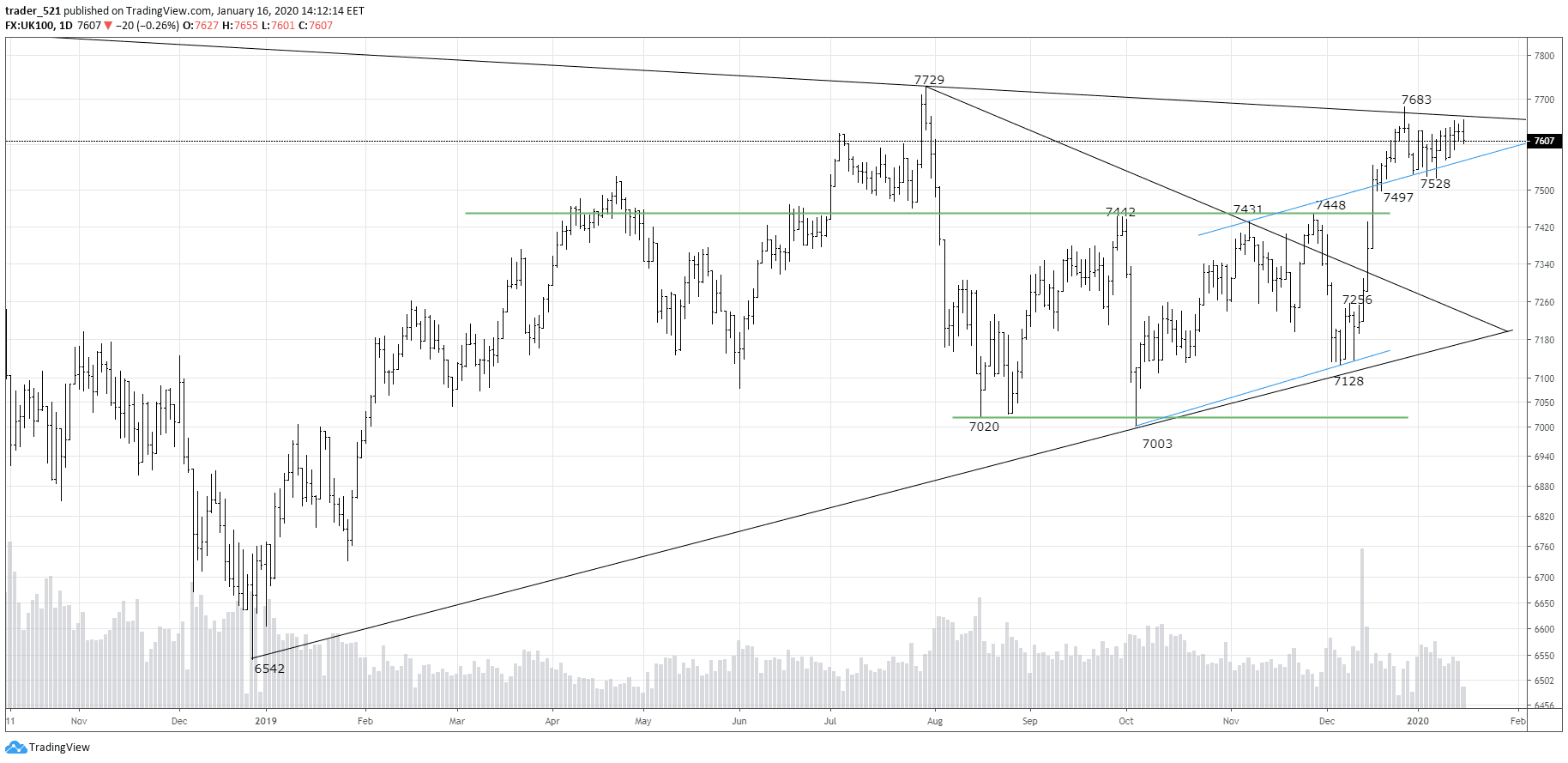 DAX is showing weakness. It tried pushing higher through the local pivot of 13487.9 but failed. Retraced aggressively to yesterday lows and now looks more bearish. No clear setup now, ranging.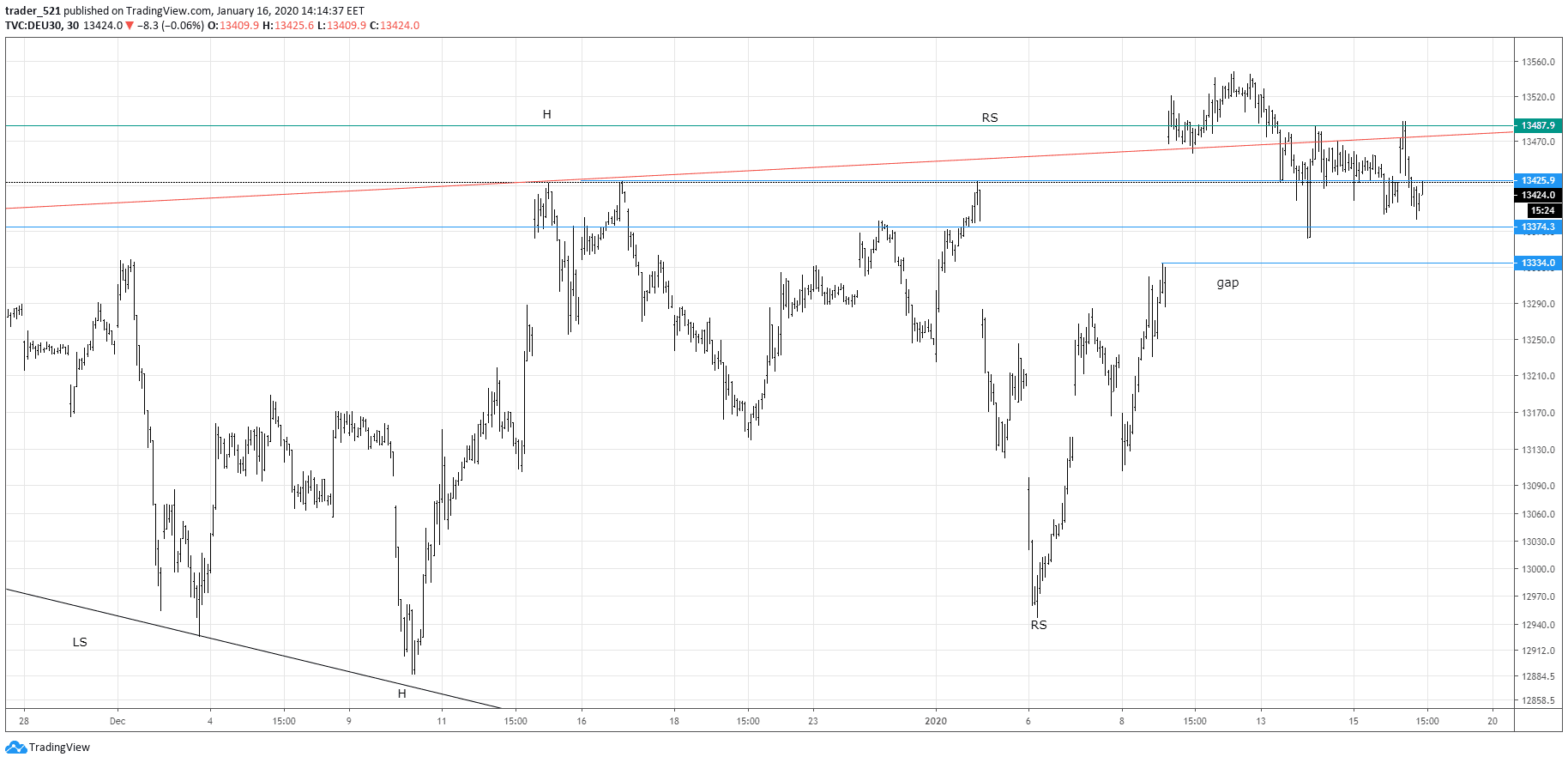 GC (Gold futures) looking well and bounced off the previous fib levels of support. Currently if shows strength and is rising with SPX futures. Potentially that might signify a higher rate of uncertainty of investors as we see higher prices in the US equity markets. Gold is used for portfolio hedging and reading both instruments (ES and GC) could give you an edge.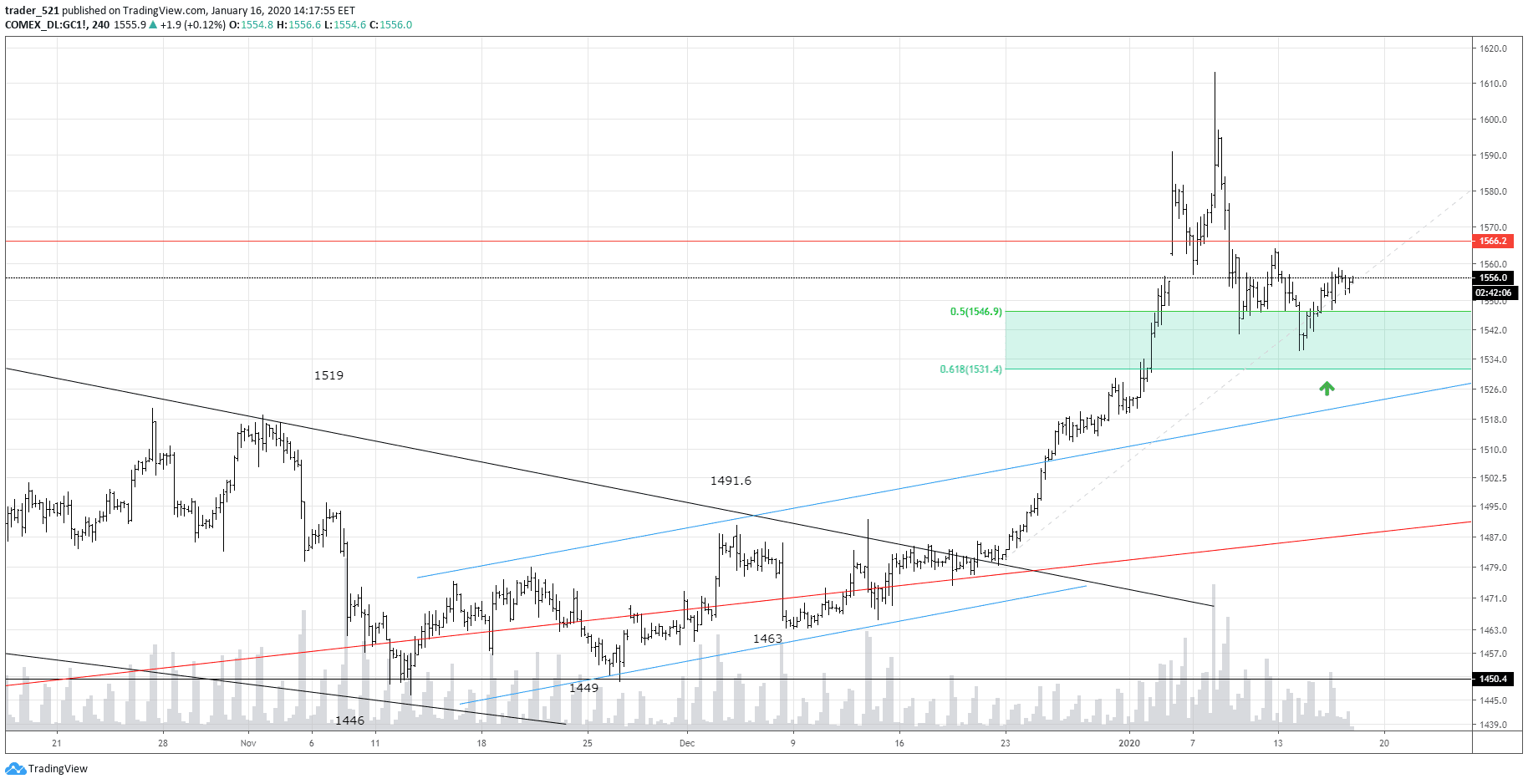 CL (Crude Light Sweet) failed the support trendline and stopped some of us. That is normal behaviour once you follow a well designed plan. Our next support area where longs would make sense is near the 56.00. Remember that we don't blindly buy there, we wait for a price reaction and use lower timeframes to confirm the trade via a short term trigger. Now we just set alerts and wait.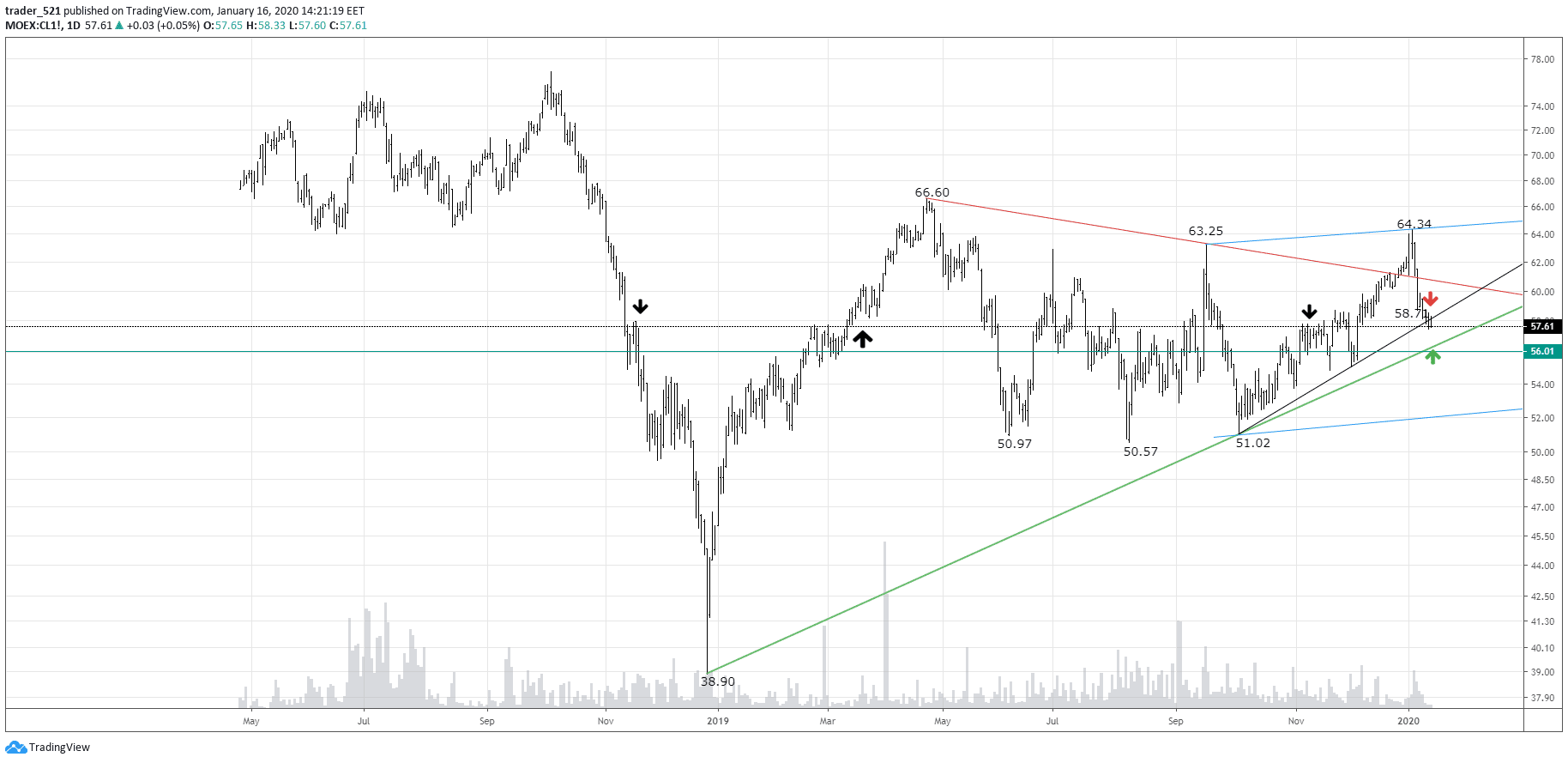 Join our Telegram Chatroom to ask me questions| https://t.me/asktraders
 Remember:
Never chase a trade once it's too extended from the entry zone.
Never risk more than 1% of equity per trade.
Happy Trading!
@Trader521