Wednesday, almost 8am in NY and we are seeing green arrows around the world. China/US trade optimism gives some steam into the markets and we continue to hold Long Only positions. There are Pending Home Sales and Oil Inventories at 10am NY time that might shake a bit the tree. Lets dig more into the charts.
(https://money.cnn.com/data/world_markets/europe/)
US Market Comments:
The trend continues with major indices showing slow steady growth. Only $IWM took a small break after new local highs yesterday. $SMH and $IBB also closed with a light drop yesterday. No reason to short but do cover some of the positions into the new highs in order to be able to buy the corrections.
S&P500 Futures finally hit 3150s and now retraced a little bit. Local supports at 3132s and resistance for now remains 3150. As tomorrow is Thanksgivings and many traders a taking a long weekend, I do not expect much happening today after the lunch. I'll stay light and monitor my positions currently being invested just under 50%.

FTSE going higher and optimism rises. I still don't think it's a clean trend-line breakout but its not about what you think, but about how the market reacts. I don't see any reasons to trigger mid-term buys on the FTSE and I just leave it for now. Levels to maintain focus remain the same. 7400-7450 range

DAX remains in the range and might between 13300 and 13050s. Its near ATH and doesn't look bad. I would not initiate longs here but definitely there is no reason to short. Wait for the levels to start pushing the price or a technical pattern to appear.

GC (Gold futures) bounce off 1450s and might be a local double bottom with some buyers coming in. There is a short term falling wedge on H4 charts that is also visible on Daily if you look closer. Id like to see more reasons for the trade to confirm and considering we are in the upcoming holidays with a long weekend to go, just watch the price.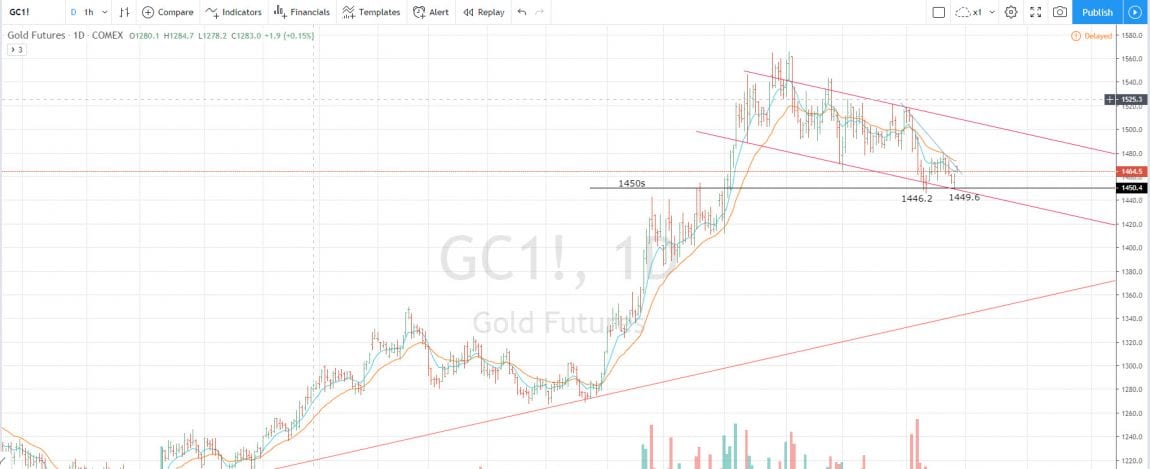 Join our Telegram Chatroom to ask me questions| https://t.me/asktraders
 Remember:
Never chase a trade once it's too extended from the entry zone.
Never risk more than 1% of equity per trade.
Happy Trading!
@Trader521