Its ninth of December and the markets are flattish after a great run on Friday. We had very positive news on US Jobs and now looks like the participants are digesting the ranges. We are waiting for the FED on Wednesday this week and there are some news on Thursday as well. We believe that the markets will be slowly drifting before the interest rate announcement and might slide a little.
(https://money.cnn.com/data/world_markets/europe/)
US Market Comments:
The US markets have continued their rise after good job report on Friday. At the moment we are trading in the upper range of the Friday move. For short term traders 3132.50 should hold in order for the price to be able to attack the highs at 3158. If Friday move gets sold at a quick pace 3117 is the level to consider. I would expect a sideways action for a few sessions with last week range being tested before the last few weeks of the year. Friday highs at 3151.
S&P Futures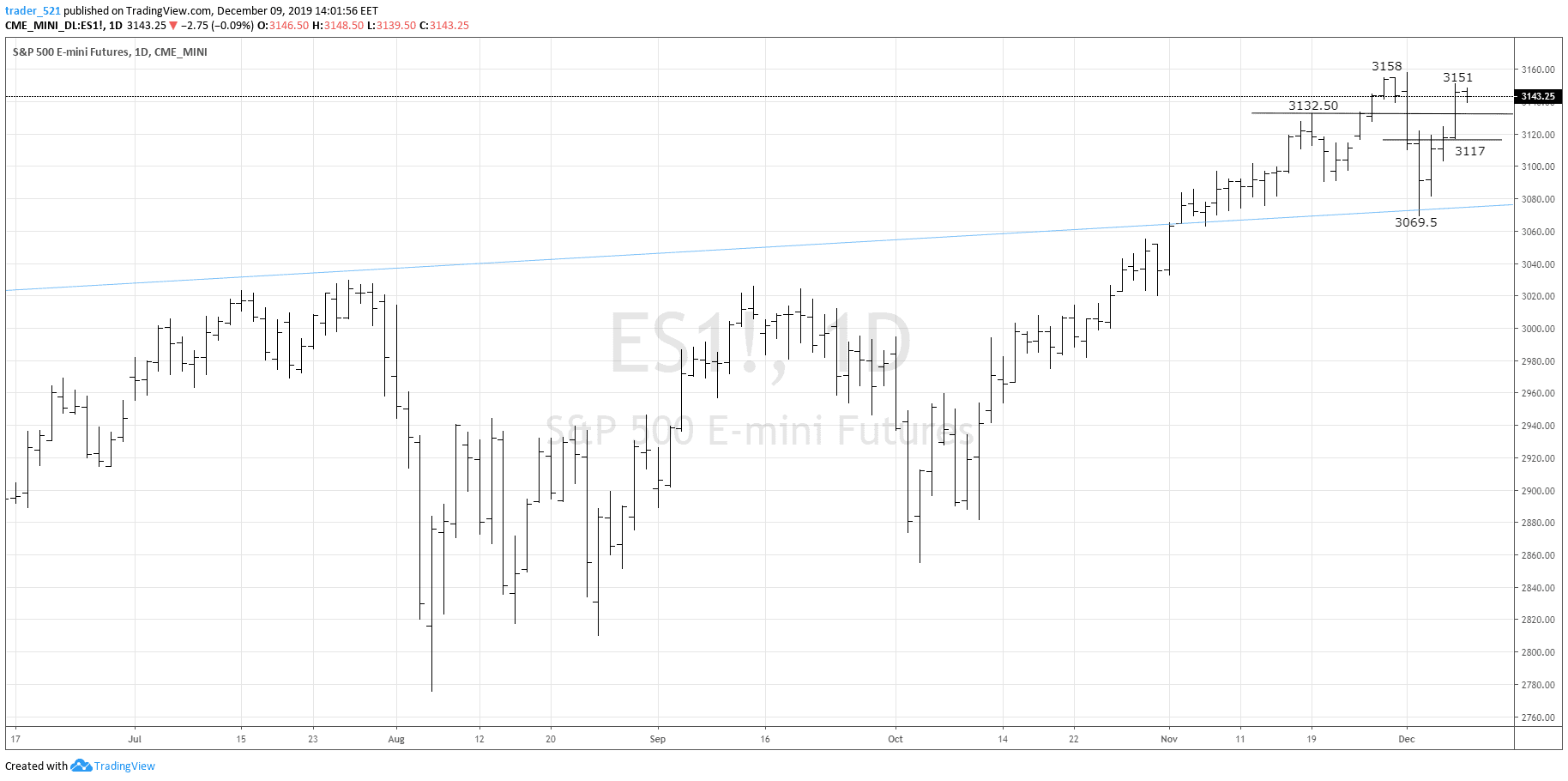 FTSE held the 7150 with a nice move higher with the US market. Now it's a local support zone. I do see no setup at the current levels but stay aware of the 7100-7150 area in case we reach it in the next 3-4 sessions. We will have to watch closely the action in that area as it might signify a bullish or a bearish one and we're here not to predict, but to observe and react.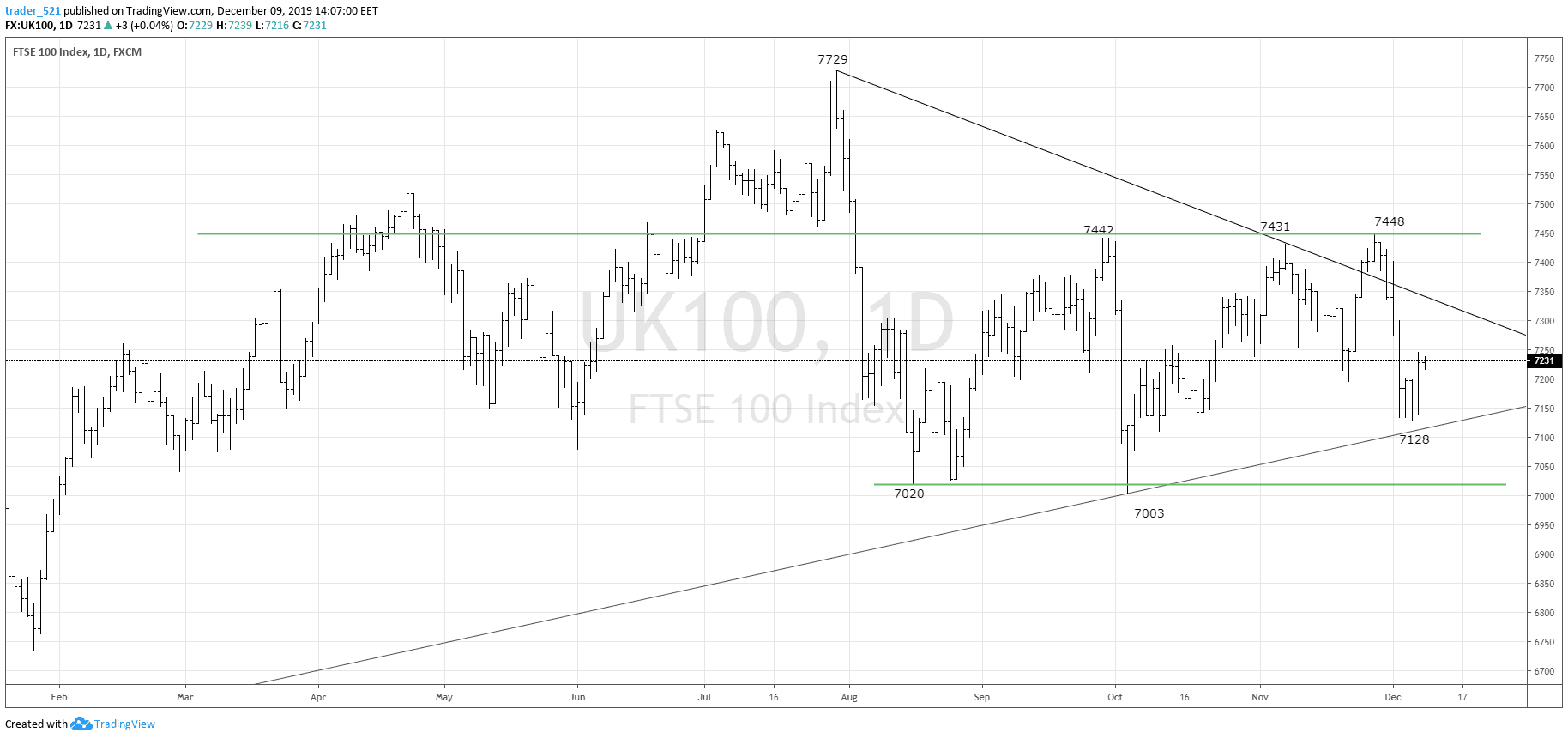 DAX remains in a tighter range and closed as an inside bar on Friday. Currently It has tested Friday highs a pulled back a little. We are seeing a trend line forming on it, lets see if we get a third touch of it and if buyers will step in. In the case bull react, there might be a long setup Watch 13040-13050 for clues.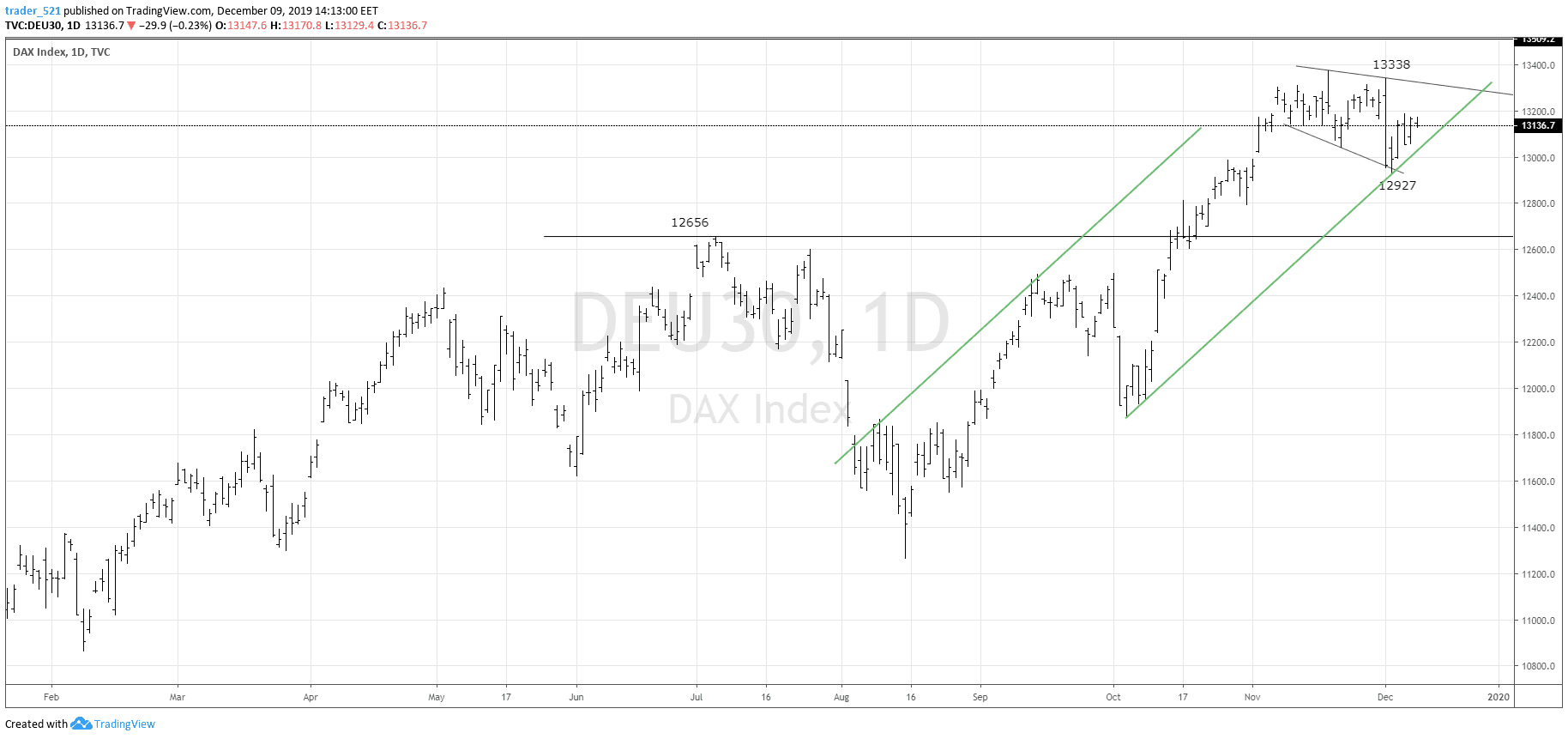 GC (Gold futures) got sold on the SPX move higher. That's why we're always reminding to use stops and don't chase the trade if you missed the exact entries. That will help you stay in the game long enough to make $. Currently 1460 is a point of reference along with the trendline that is holding for now. Id consider 1450-1460 as an area to look for a bullish reaction.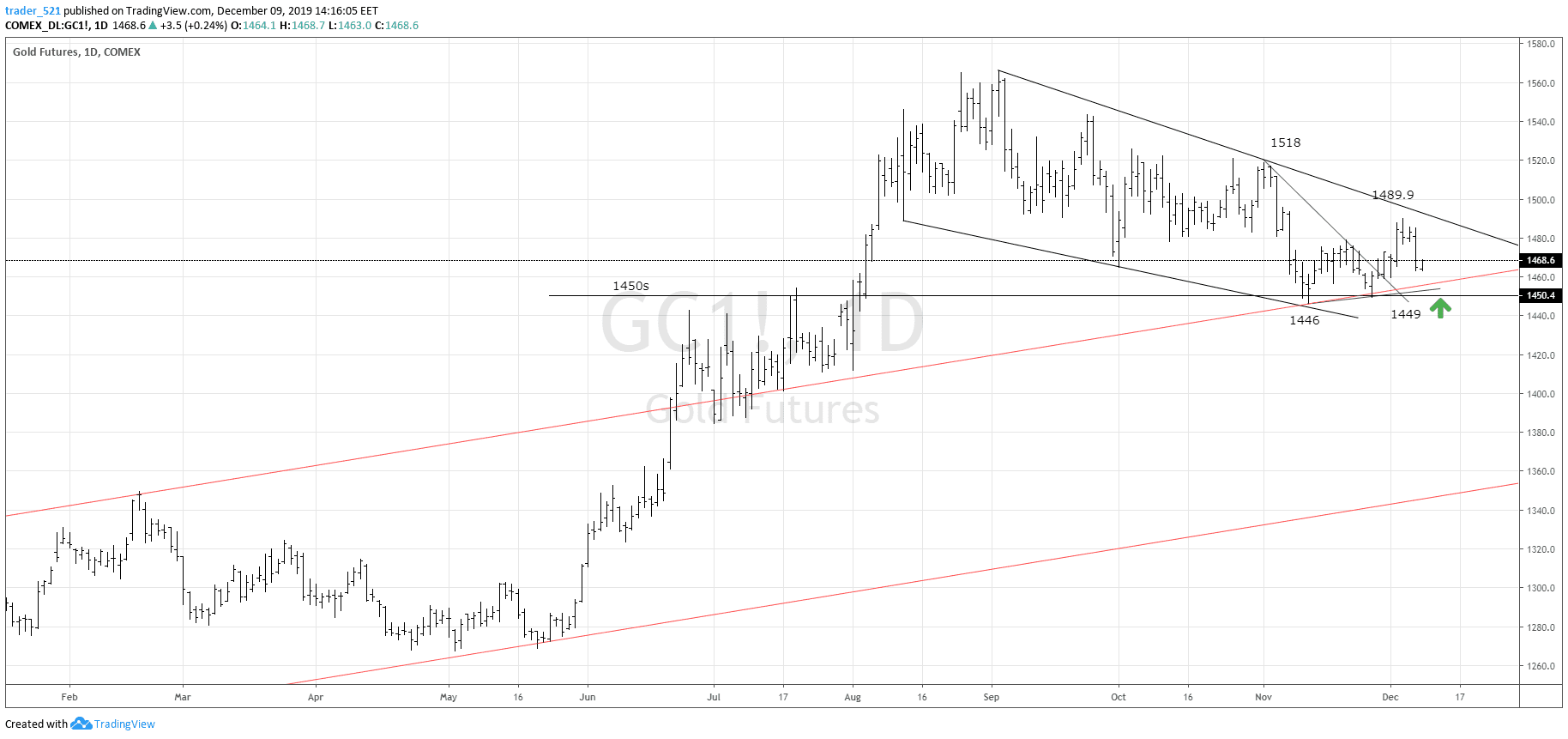 CL (Crude Light Sweet) had a reaction towards the 60 level having a high at 59.82 on Friday and almost hitting the resistance line of the up-trending small channel is has been for two months. Hard to trade  it now and patience is key here. I don't see any specific technical setups here so I will just keep an eye on it for this week. Supports near 56.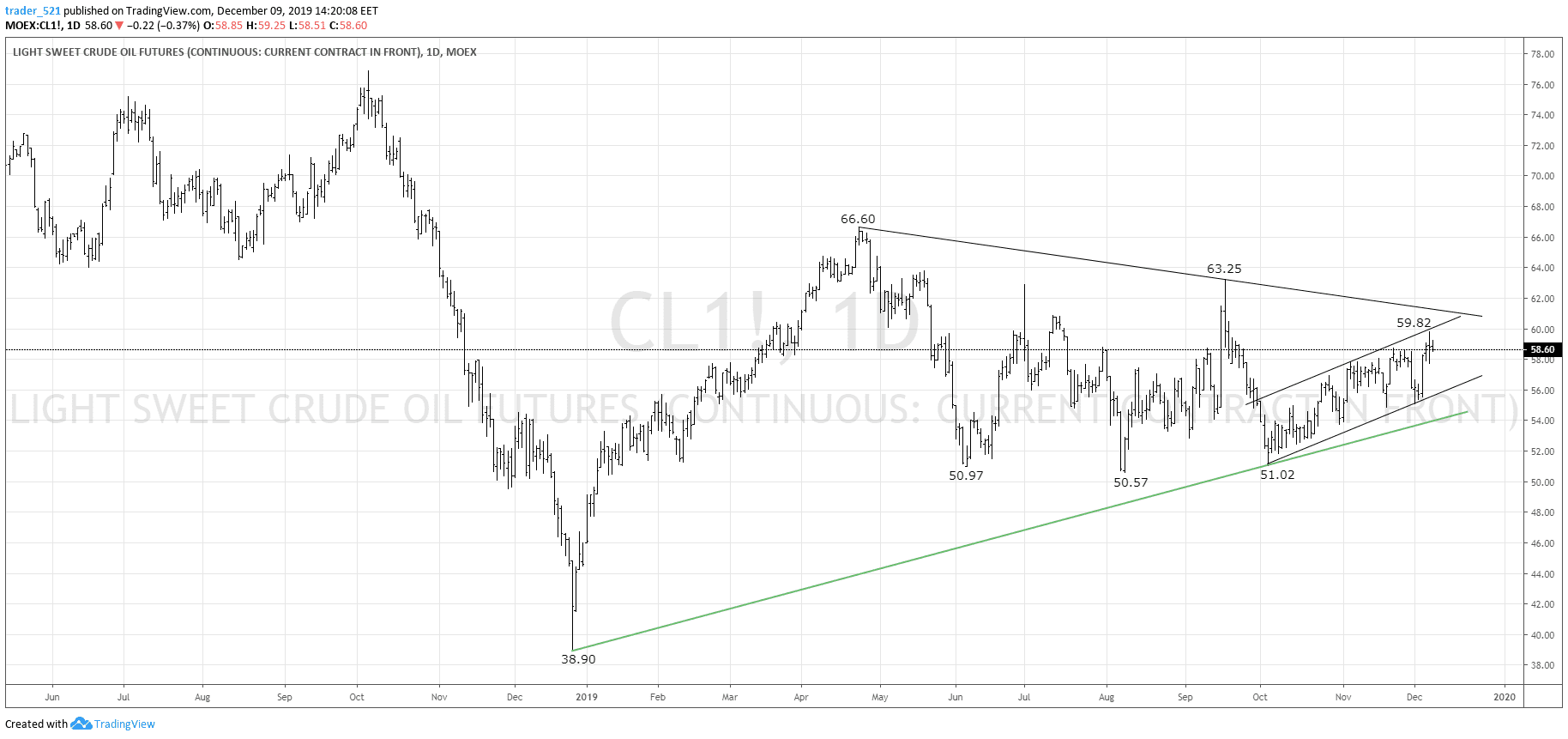 Join our Telegram Chatroom to ask me questions| https://t.me/asktraders
 Remember:
Never chase a trade once it's too extended from the entry zone.
Never risk more than 1% of equity per trade.
Happy Trading!
@Trader521