Its Wednesday and we are getting closer to the Holiday season. The traders optimism was as its peak for the past 48 hrs and it didn't take too long for the market to show a short term top, at least for now.
Market Comments:
Its 7-30 AM in NY and European bears are coming in with FTSE leading the drop. S&P Futures is also feeling the pressure so lets look at the charts.
(https://money.cnn.com/data/world_markets/europe/)
FTSE being the weakest of all the indices has perfectly tapped the resistance. Once we started dropping in the major indices, it had a nice momentum move into the downside. Notice how Fundamental political instability can align up with the charts and trends.

Trade Missed

DAX tried braking to the upside as we've notice yesterday but got sold into the close. It opened today lower and tried holding the 21 EMA. Currently the balance shifted to the Sell side. We have two levels of resistance that you can note. R1 = 13200 and R2 = 13300. Conditions to the short side start to align and you can watch it closer.

The trade could be considered.
S&P500 Futures higher during the European session. There is no reason to short. If you have longs, you might cover some into the move.

The trade could be considered
GC (Gold futures) broke 1475ish so if you are in from lower prices or just entered, adjust your size to the stop at 1450s so you don't risk more than 1% of your account. Make sure you can split the position in tiers and use one tier as a less risky with a stop at 1455ish. Note that the momentum move should start within next one or two sessions and we we slide back to 1450s, the trade might be cancelled. Stay tuned and follow the spot market Hourly or 30min charts for additional clues.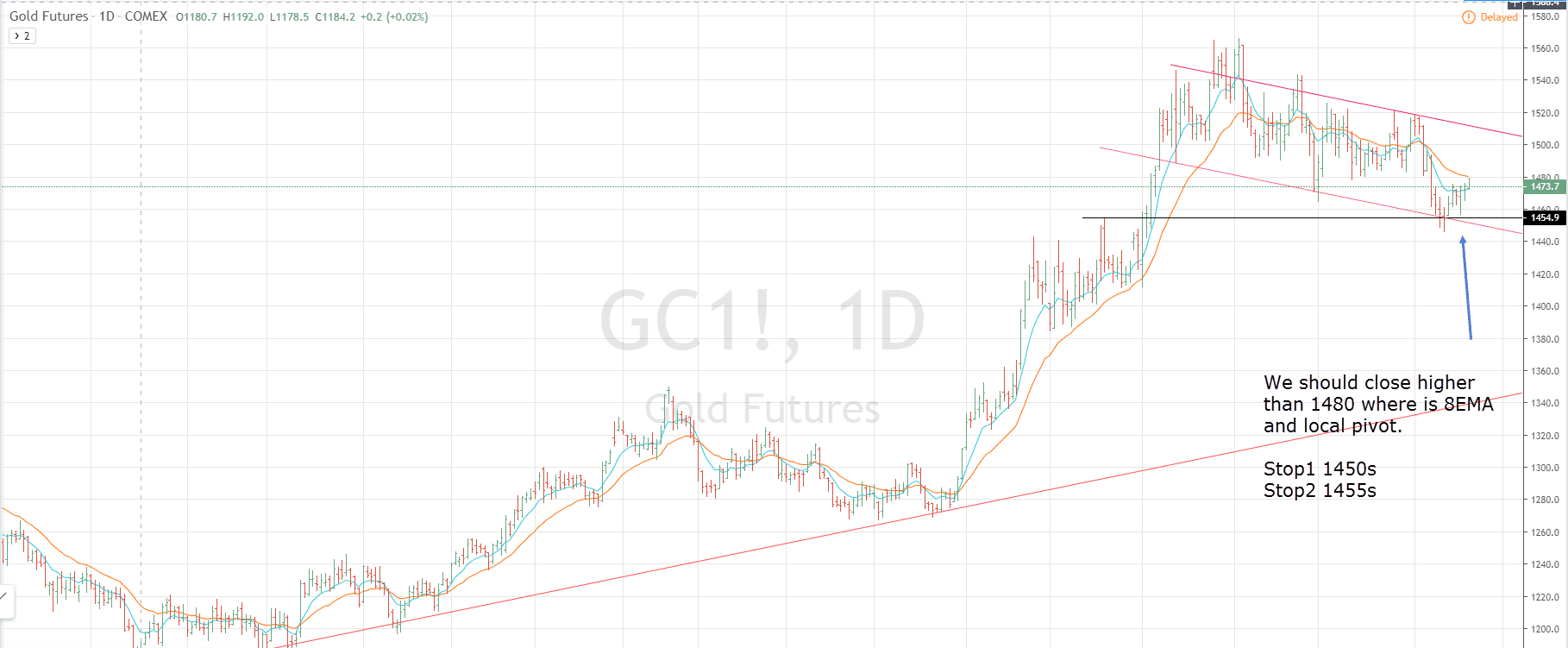 Trade to be actively managed.
For those of you who are trading US equities, we are having chart request sessions, Monday to Thursday 12pm-2pm time in our real time chatroom.
Join our Telegram Chatroom to ask me questions| https://t.me/asktraders
 Remember:
Never chase a trade once it's too extended from the entry zone.
Never risk more than 1% of equity per trade.
Happy Trading!
@Trader521