Hello traders! In today's article, I'd like to bring your attention to Zcash coin. What is very unique about it, is that it seems to be the only "true privacy coin" in the entire crypto space. While there are many other privacy-oriented coins, like Monero, Dash, PivX, Zcash has its' unique privacy features and is considered by many as one of the most secure coins in terms of privacy.
Many consider Bitcoin to be completely anonymous and to some degree they are right. However, current tracking algorithms can trace anyone wigh great accuracy and those who are interested in spying on you can get all the crypto-related financial information about you.
As a solution to that, Zcash was introduced. Due to its' unique privacy features, it is considered one of the most private cryptocurrencies out there. Zcash could be compared to an "offshore" currency and this is the beauty of it. Imagin the entire offshore banking sector and the money flow around it. The grey financial industry is much larger than the public one, and therefore will be in great demand. If Zcash will be able to put itself as the "offshore coin" the growth potential becomes simply enormous.
Now lets' get to the charts. Below is the ZEC/USD pair on the weekly chart. We can see that 88.6% Fibonacci retracement at $27 was actually rejected. Yes, price produced the spike below but failed to provide a clean break lower. Next, a very important factor is the break and closes above the 50 Exponential Moving Average and the downtrend trendline. And finally, RSI oscillator showing bullish divergence, suggesting a long term trend reversal or at the very least a strong corrective move to the upside.
The key resistance area seems to be located between $800 and $1000, which is a strong psychological resistance.
Moving on to the lower timeframe. The 4-hour chart shows that ZEC/USD broke above the triangle pattern after which broke above the downtrend trendline as well as 200 EMA. This is an extremely bullish signal for Zcash and from now on we can see a very strong and consistent uptrend.
It doesn't seem like the price will get below $18 every again, but like anything in trading, expect the unexpected and trade safe!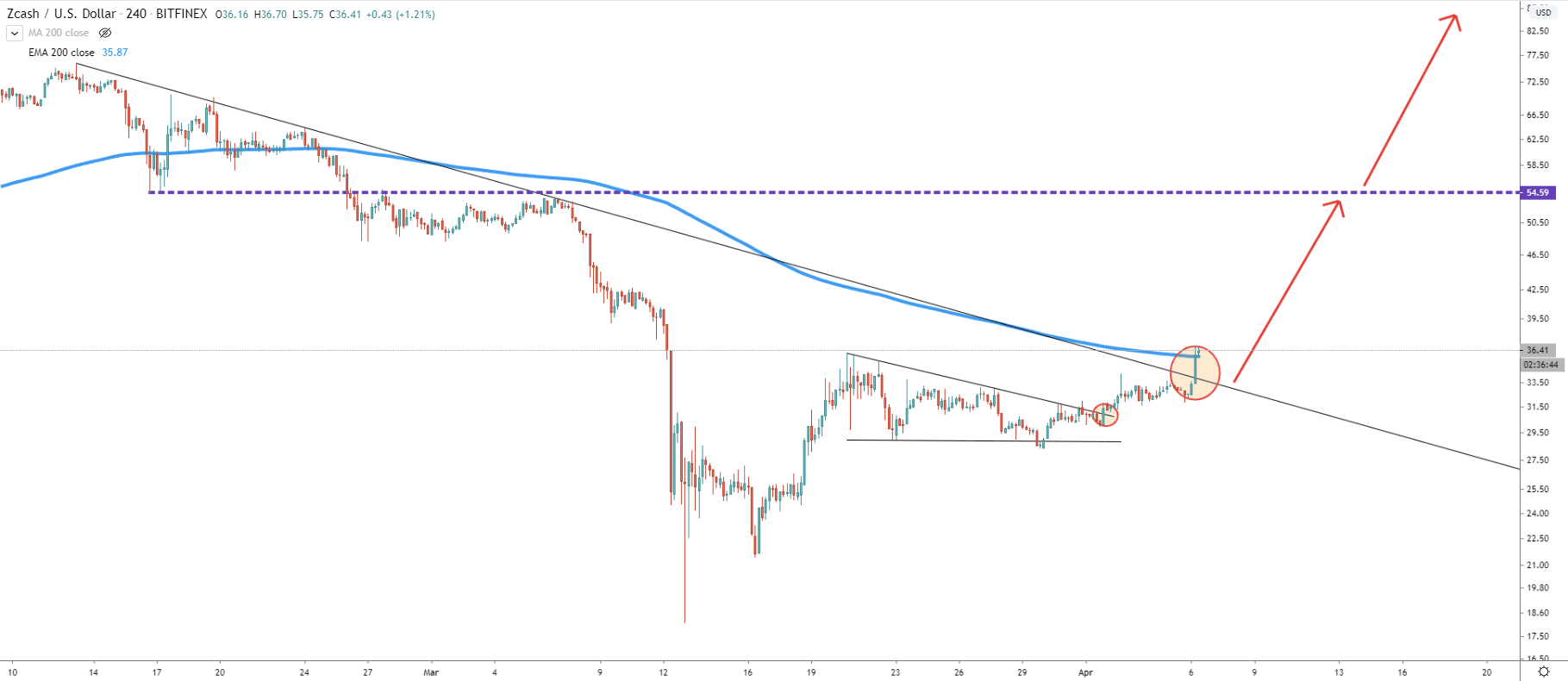 Bias: Strongly bullish while above $28
Potential Support Zone: $28 – 32
Potential Targets: $1000
Have a profitable trading!