The HP Inc (NYSE: HPQ) share price fell 5.4% after releasing its earnings for the second quarter of its 2023 fiscal year. The company revealed that its revenues fell 21.7% to $12.9 billion, compared to $16.5 billion in a similar period last year.
---
YOUR CAPITAL IS AT RISK. 81% OF RETAIL CFD ACCOUNTS LOSE MONEY.
---
The tech company noted that its operating margins fell to 5.9% from 7.8% in the previous period. The company generated net cash from operating activities of $0.6 billion and free cash flows of $0.5 billion, marking a $0.1 billion improvement in each case.
Top Broker Recommendation
The company spun off from the industry giant HP Inc's consumer division, gets less attention than its enterprise sibling, HPE's share price. Still, it is a leading player in the personal computing space, where its laptops and desktop PCs compete with those from other leading tech companies such as Apple Inc and Lenovo.
HPQ shares edged lower, driven by the lower revenues recorded by the company, as competition in the personal computing industry heats up, forcing the company to innovate and develop new laptop models to remain competitive in its key markets and territories.
The company's second-quarter GAAP diluted net EPS was $1.07, up from $0.94in the previous year and above the company's former outlook of $0.40 to $0.50. The Q2 non-GAAP diluted net EPS was $0.80, marking a decline from the $1.08 recorded in a similar period last year, but was within the firm's outlook of $0.73 to $0.83.
HPQ's non-GAAP net earnings and diluted net EPs exclude after-tax adjustments of $(269) million, or $(0.27) per diluted share, which were costs associated with restructuring, divestiture and acquisition charges and amortisation of intangible assets.
Enrique Lores, HP's President and CEO, said: "Our disciplined execution and strong innovation in a tough macro environment allowed us to deliver non-GAAP EPS at the high end of our target in Q2. We are well-positioned to win in our markets and drive long-term sustainable growth as we make continued progress against our Future Ready plan."
*This is not investment advice.
HPQ share price.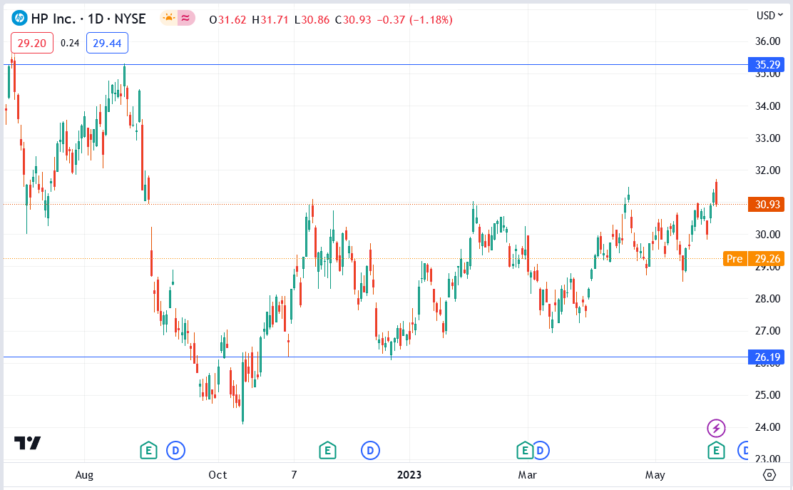 The HOQ share price was trading down 5.40% at $29.26 from Tuesday's closing price of $30.93.
---
YOUR CAPITAL IS AT RISK. 81% OF RETAIL CFD ACCOUNTS LOSE MONEY.
---