The Scottish Mortgage Investment Trust PLC (LON: SMT) share price fell after releasing its final results for the year ended 31 March 2023. The company revealed that it ended the year trading at a 17.8% discount to the net asset value (NAV) of its borrowings at fair value, rising to 19.7% compared to the NAV of its borrowings at book value.
---
YOUR CAPITAL IS AT RISK. 81% OF RETAIL CFD ACCOUNTS LOSE MONEY.
---
The fund's share price was also trading at a 33.5% discount to the net asset value of its holdings, representing a significant departure from past trends where the company's share price was trading at a premium to the net asset value of its holdings. The fund also traded at a 0.9% discount to its benchmark index.
Top Broker Recommendation
The fund managers reiterated their confidence in SMT's long-term future as a company that provides long-term capital to innovative companies transforming industries and leading in their respective categories.
SMT reminded investors that Moderna remains its largest holding as its COVID-19 vaccines continue to protect the world from the coronavirus pandemic. The company also counts MercadoLibre, Latin America's most popular e-commerce website, as one of its portfolio companies.
The fund also revealed that it has an extensive portfolio of private companies it invests in, including Zipline, which started out delivering food in Rwanda and is now expanding its operations in the United States.
SMT clarified that it does not invest in startups and is not a venture capital firm. Instead, it invests in mature late-stage companies that have figured out their business operations and are growing or expanding their operations quickly.
The fund has invested in private companies since 2012 and intends to keep doing so, given the significant number of opportunities in the private markets. The company has also invested in UPSIDE Foods, which is revolutionising food as a leading cultivated meat company in the United States.
Five companies comprise almost 50 per cent of SMT's private company portfolio. These firms performed much better than their public peers as they raised money at higher valuations last year.
SMt shares tarded sideways on the news since investors were already familiar with the data.
*This is not investment advice.
Scottish Mortgage (SMT) share price.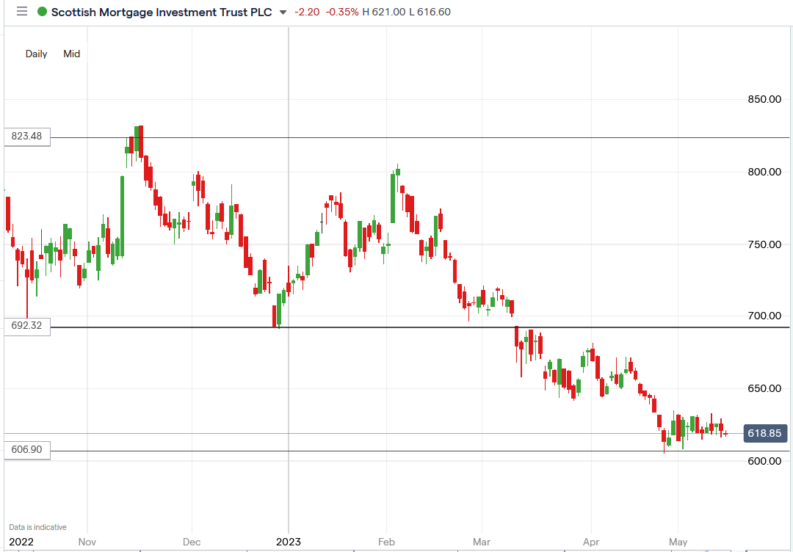 The Scottish Mortgage share price edged 0.73% lower to trade at 616.55p, from Tuesday's closing price of 621.10p.
---
YOUR CAPITAL IS AT RISK. 81% OF RETAIL CFD ACCOUNTS LOSE MONEY.
---