E*TRADE prides itself on being a pioneering broker in the world of online trading. In the early 1980s, an inventor and a physicist created a method for retail investors to place trades online, leading to the birth of E*TRADE. The first online trade from the broker took place in 1983, well before many people were even aware of the internet.
This E*TRADE review lets clients know that the current headquarters of the broker is in New York City, and it has an additional 30 branches spread throughout the United States for retail clients. The brokerage firm has approximately 4,300 employees. You can also find E*TRADE listed on the NASDAQ index.
E*TRADE Review Navigation
#

Forex
| | | | |
| --- | --- | --- | --- |
| Min Deposit | App Support | Max Leverage | Trading Fees |
| $100 | Good | 1:10 | Low |
To appeal to a range of clients, E*TRADE offers some access to currencies. This E*TRADE forex review lets readers know that these offerings are part of the broker's future offerings instead of traditional currency pairs.
Futures are available for nine currencies, each with clearly defined tick sizes and tick values, as well as trading hours. You can review E*TRADE forex offerings yourself on the Futures page of the website.
Those disappointed by the availability of offerings in an E*TRADE forex review can find other methods of investing in the USD, including bonds and CDs.
#1

Stocks
| | | | |
| --- | --- | --- | --- |
| Min Deposit | App Support | Max Leverage | Trading Fees |
| $100 | Good | 1:1 | Mid |
As you review E*TRADE asset offerings, you will notice that stocks are one of the major highlights. Via stocks, E*TRADE provides clients with access to short- and long-term investing strategies and the ability to generate additional income via dividends.
When trading stocks, E*TRADE clients have access to free analyses and screeners to help with the decision-making process. The broker also offers $0 commissions per trade.
#2

ETF
| | | | |
| --- | --- | --- | --- |
| Min Deposit | App Support | Max Leverage | Trading Fees |
| $100 | 9000 | 1:1 | Low |
Another notable asset class to mention in this E*TRADE review is ETFs. These offer diversification and convenience at a relatively low cost, with the ability to trade 24/5 on many of them. ETFs still offer the flexibility associated with stocks, due to their ability to be bought or sold quickly.
Trading ETFs with E*TRADE gives you access to very low fees, with $0 commissions. Additionally, the broker prides itself on offering every single ETF that is sold. The broker has a convenient ETF screener to help you choose which one to invest in. There are also prebuilt portfolios featuring leading ETFs to make this type of investment easier.
Those who prefer mutual funds also have access to that type of asset via the broker, something our E*TRADE review appreciates. There are more than 9,000 mutual funds available, as well as more than 4,400 no-transaction-fee, no-load mutual funds.
#3

Futures
| | | | |
| --- | --- | --- | --- |
| Min Deposit | App Support | Max Leverage | Trading Fees |
| $100 | Good | 1:1 | Mid |
This E*TRADE U.S. review lets readers know that the broker offers futures as another investment tool, which are accessible via brokerage accounts as well as certain IRA accounts. There are no day trading rules on this type of trading.
Clients can trade futures on the CFE, ICE US, and CME. There is access to Micro E-mini contracts and support from futures specialists that are licensed. This E*TRADE review appreciates that the price per contract on futures as well as options on futures is just $1.50, except with Bitcoin futures. We also appreciate the 24/6 market access.
Futures are available for equity indices, energy, interest rates, metals, grains, softs, livestock, FX, and Bitcoin. As you review E*TRADE futures, keep in mind that you need to contact customer service to get access to futures options.
#4

Crypto
| | | | |
| --- | --- | --- | --- |
| Min Deposit | App Support | Max Leverage | Trading Fees |
| $1 | Many | 1:1 | High |
You will not much detail in an E*TRADE cryptocurrency review since the broker does not offer cryptocurrencies in the traditional sense.
Instead of offering direct cryptocurrency trading or trading of cryptocurrency CFDs, it only offers a very limited selection of futures. This E*TRADE cryptocurrency review lets traders know that the only option for trading cryptocurrencies via the broker is Bitcoin futures. At the time of writing, this instrument has a tick size of 5 with a tick value of $25. Our E*TRADE cryptocurrency review team would also like to remind traders that Bitcoin futures are a particularly risky investment, something E*TRADE also notes on the relevant page of its website.
#5

Options
| | | | |
| --- | --- | --- | --- |
| Min Deposit | App Support | Max Leverage | Trading Fees |
| $100 | Good | 1:1 | High |
One of the many types of assets worth outlining in this E*TRADE review is options. The broker prides itself on offering intuitive tools and access to options specialists.
The trading fees for options on E*TRADE are on the low side of average, with $1.50 futures options per contract and just $0.50 index and equity options for each contract if you place at least 30 stock, options, or ETFs trades quarterly. Otherwise, the price only increases to $0.65, which is about average. The $0 base for index and equity options additionally pushes E*TRADE pricing toward the lower end of the spectrum.
Our E*TRADE review team also appreciates the broker's Dime Buyback Program. This program lets traders close short options that are priced at $0.10 or less without a contract fee.
#6

Robo Advisor
| | | | |
| --- | --- | --- | --- |
| Min Deposit | App Support | Max Leverage | Trading Fees |
| $500 | 9000 | 1:1 | Mid |
This E*TRADE review lets potential clients know that the broker offers a robo advisor via its Core Portfolios.
The robo advisor provides clients with access to a professionally managed portfolio that features the leading ETFs. Each portfolio is crafted to meet your unique goals, with the ETFs selected based on expert research and analysis. Clients answer a few simple questions, and based on that information, E*TRADE suggests a Core Portfolio for them.
Core Portfolios cost 0.30 percent annually, without any transaction fees or commissions.
What did our traders think after reviewing the key criteria?
E*TRADE Fees
Our E*TRADE U.S. review found that the broker tends to offer low fees to clients. We also appreciate that the pricing is highly transparent, so there are no surprises.
Stocks, options, and ETFs cost $0. Options contracts cost just $0.65 or $0.50 with more than 30 quarterly trades. Futures contracts are just $1.50, and bonds are $1. The Dime Buyback Program for short options is also a nice touch for no contract fee.
Our E*TRADE review team does caution readers that broker-assisted trades add $25 to the cost and over-the-counter stock trades are a bit more expensive, either $6.95 or $4.95, depending on whether you have at least 30 quarterly trades.
There are also fees for returned checks, reorganizations, and restricted securities custody, among other fees that most clients are unlikely to come across. The Pricing page details all of the E*TRADE fees clearly.
Account Types
As you review E*TRADE's U.S. account types, you are almost guaranteed to find the one that fits your needs.
Brokerage accounts include the standard investing and trading account for access to stocks, mutual funds, options, bonds, and ETFs. There are also Coverdell ESAs for tax-free withdrawals for educational expenses and Custodial Accounts for minors.
In terms of retirement accounts, E*TRADE offers Rollover IRAs, Roth IRAs, Traditional IRAs, Beneficiary IRAs, E*TRADE Complete IRAs (for those over 59.5 years old), and IRAs for Minors. There are also small business retirement accounts, including Individual and Roth Individual 401(k)s, SIMPLE IRAs, SEP IRAs, Profit-Sharing Plans, and Investment-Only Accounts.
Those in search of personalized investments from E*TRADE can open a Core Portfolio for automated investing with at least $500. Blend Portfolios are professionally managed and have a $25,000 minimum. Dedicated Portfolios require at least $150,000 and are custom-built and professionally managed. Fixed Income Portfolios require at least $250,000 and feature investment-grade bonds.
Finally, E*TRADE offers bank accounts, including the Premium Savings Account, which delivers 1.75 percent APY. Other bank accounts include Max-Rate Checking, E*TRADE Checking, and an E*TRADE Line of Credit.
Platforms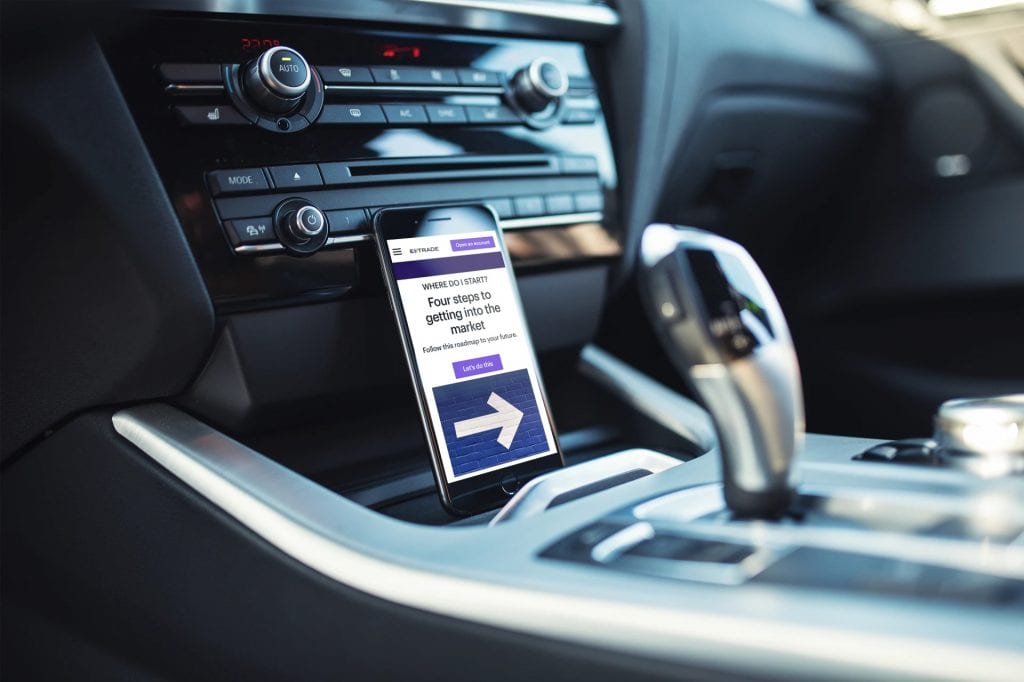 If you review U.S. platforms on E*TRADE, you will find the features and compatibility that you want. There are multiple platforms to choose from, each with its own strengths.
Power E*TRADE is the broker's platform that features intuitive tools for futures, options, and stock trading. It includes charting tools that can automatically populate the charts with education and technical analysis patterns. It also has advanced historical and intraday charts with more than 30 drawing tools and 100 studies in addition to numerous chart types. There are also plenty of risk analysis tools.
Clients can also use E*TRADE, which is the broker's web trader and was the first platform the broker offered for online investing. It includes independent analyses and research, charts, news, and quotes. It also has investment tools and learning resources.
Those on mobile devices can use either the Power E*TRADE app or the E*TRADE app for the mobile-optimized versions of those two platforms.
Usability
Most people who review E*TRADE's website will find it very intuitive to use, as is the broker's platform. The main navigation bar and bottom navigation bar make it easy to find all the information you need. There is also a convenient search bar at the top of the page for those times you are not sure where to look.
Customer Support
E*TRADE clients typically praise the broker's customer support. The Contact Us page provides all the information you need to contact support via live chat, over the phone, via email, or in person at one of the branches. There is also an FAQ page that is well-organized and features yet another set of convenient links to the phone and live chat contact methods.
Payment Methods
This E*TRADE review appreciates that the broker offers multiple methods of funding your account.
Electronic Money Transfer
Clients can use the Transfer Money service for transfers that typically process within three business days.
Bank Wire Transfer
Bank wire transfers offer security and quick processing.
Checks
Clients can also deposit via a check.
Transferring Accounts
E*TRADE supports full or partial transfers from accounts at other firms.
Best Offers
This E*TRADE U.S. review found that the broker excels when it comes to additional offerings, especially educational materials. The education homepage has separate tabs for Investing Basics, Advanced Trading, Tax Planning, Retirement Planning, and Events. There is also an extensive library with articles and other content on a full spectrum of topics, including specific assets, getting started, and techniques. Most of the library focuses on beginner resources, although there are some for advanced traders mixed in.
Regulation & Deposit Protection
E*TRADE is a member of the FINRA/SIPC, which means that clients receive protection from those regulatory bodies, including FDIC Insurance. Additionally, it indicates that the broker must meet specific requirements, such as keeping client funds separate from company funds. The broker also has a fraud protection policy where clients have $0 liability for unauthorized account use, the ability to use a Digital Security ID, alerts, and other security measures.
Awards
Over the years, many E*TRADE reviews have honored the broker with awards. One of the more recent accolades is the "Best Brokerage for Options Trading" in the 2019 Global Fintech Awards from Benzinga. Other recent honors include "Best Robo-Advisor for Beginners" from Investopedia's Best Robo-Advisors for 2019 awards and being a finalist for the InvestmentNews 2019 Excellence in Diversity and Inclusion Awards. E*TRADE was also named one of the "Best Places to Work for LGBTQ Equality" with a top 100 percent score from the Human Rights Campaign's Corporate Equality Index.