Wealthsimple has only existed for several years, as it was founded in 2014. However, the company has created quite a lot of buzz in that short period of time. Wealthsimple is a Canadian online management service that aims to target millennials specifically. The platform is a robo-advisor that also allows for access to human advisors, and also offers investing for those who want to be more socially conscious.
As of May 2019, Wealthsimple enjoys over $4 billion (CAD) in assets under management (AUM). The vast majority of the company is actually owned by Power Corporation of Canada, a multinational conglomerate with interests in many countries all over the world. Even though the company is headquartered in Toronto, it has offices based in global financial hubs like New York and London.
WealthSimple Review Navigation
#

Wealthsimple ETF Review
| | | | |
| --- | --- | --- | --- |
| Min Deposit | App Support | Max Leverage | Trading Fees |
| $1 | 10 | 1:1 | Low |
Wealthsimple focuses on ETFs. This means that investors can trade US stocks, mid-cap value stocks, small-cap value stocks, foreign stocks, and emerging market stocks. The following bonds are also available: municipal bonds, US inflation protected bonds, USD Govt and Corporate IG bonds, as well as High Yield bonds.
The slogan of Wealthsimple is "investing on autopilot", which means that it might not be the right choice for someone who wants to actively invest or daytrade, for example. The idea here is that investors could begin building wealth over time. The platform also offers a completely free portfolio review service where the platform will examine your accounts and associated fees.
There is also another aspect in which Wealthsimple is very different, which might be why the company has been so successful in such a short time. This Wealthsimple review found that Wealthsimple is actually conscious of Sharia law. While this might not appeal to non-Muslim traders or investors, the truth is that there are billions of Muslims in the world that may appreciate this feature.
Are you a socially conscious investor? Wealthsimple is happy to cater to your needs, and offers you the opportunity to "invest in a better world." For example, this might include companies with low carbon emissions or those that offer more gender diversity.
The "halal investing portfolio" shows that Wealthsimple is willing to go the extra mile when it comes to convenience. It offers investments that follow Islamic investing principles and beliefs.
Of course, the access to human financial advisors is a huge plus for some. There are many robo-advisors out there, but actually being able to speak to financial experts might be a feature that appeals to many investors. After all, this service is often quite expensive on its own.
Wealthsimple does not allow users to trade or invest in cryptocurrencies.
What did our traders think after reviewing the key criteria?
Wealthsimple Fees
Wealthsimple offers low fees for trading, although it might not be for you if you are interested in trading non-traditional assets. However, the management fees are quite high. If you are interested in a platform where you can invest a significant amount of money, learn as you invest, and have access to financial advisors – Wealthsimple is for you. However, it might not be your choice if you are looking for the best "deal" on fees. The platform also offers automatic rebalancing and tax loss harvesting.
The education that the platform provides is great, but it lacks research tools. The customer support is pretty solid, but there isn't much in the way of non-traditional assets. This Wealthsimple review finds the platform easy to use and offering significant value, even with the negatives.
Wealthsimple Fees
If you are a fan of robo-advisors because you love low fees – this Wealthsimple review will show you that you might have a real issue here. Wealthsimple, quite plainly, has much more expensive fees than many competing platforms. Specifically, the platform charges .4% fees on balances under $99,000. The fee rises once you invest over $100,000 – when it switches to .5%.
Wealthsimple does have plenty else to offer. However, if you are focused on making sure that you have the lowest fee, there's a good chance that you will be passing up Wealthsimple for one of its alternatives.
Account Types
Wealthsimple has plenty of options for different investors/traders which is refreshing. This Wealthsimple review found it refreshing that the average millennial could use the platform to invest their latest paycheck or their entire life savings, and there are options for both kinds of traders. No matter what account you choose – you will be able to set up a personalized portfolio and have access to expert financial advice.
Basic Account
This account is for those who want to invest $0 to $100,000. One great feature is that it offers dividend reinvesting, which isn't the case for many other robo-advisors. Of course, you have a personalized portfolio and access to financial advice. This Wealthsimple review finds that with the low fees, this account is well worth the money.
Black Account
It probably isn't surprising to find that if you invest over $100k in your Wealthsimple account, you are rewarded with lower fees. However, this Wealthsimple review found that the Black Account also offers VIP airport lounge access. This might be quite a deal for executives or individuals who travel constantly, even if it might not be directly related to investing or trading.
Generation Account
Wealthsimple even offers a generation account with a $500k minimum which is meant to build generational wealth. This Wealthsimple review finds that this feature is also interesting, and appeals to those with a certain amount of liquid cash or may be close to retiring. With a generation account, you have access to a dedicated team of advisors and are offered in-depth financial planning on a new level.
Platforms:
Wealthsimple offers WealthSimple Trade, which allows investors to buy and sell thousands of stocks and ETFs. This is provided commission-free, which is obviously a huge positive aspect of the platform. Stocks and ETFs from both U.S. and Canada exchanges are available.
Website:
There is plenty of white space, and the text is large and clear. The tab at the top explains more information about the company and their background, while the main page offers more information about specific services and features. It is easy to use and navigate, but there is no clear FAQ or help section immediately visible.
Mobile App:
The app is very easy to use, although this Wealthsimple review found that it isn't really possible to browse the app. The app immediately asks for personal information in order to get started, rather than offering information. While this might be a bit intimidating, the app overall is extremely easy to use. Wealthsimple boasts an average score of 4.5/5 out of over 600 reviews.
Usability:
This Wealthsimple review found that the usability of the website and app are truly incredible, and both use a white/gold theme. However, it should be noted that finding the help/support sections are tough, which is the reason that the platform did not obtain a perfect score.
Customer Support:
There are many money management platforms out there that are efficient and have many features, but are lacking when it comes to customer service. This is often a deal-breaker for many people. This Wealthsimple review found that while the customer support isn't perfect, it is pretty solid overall. However, there is no live chat option for those who want immediate service.
Another unfortunate truth is that there is no clear way to find help from the main website. Wealthsimple offers some contact information for a Relationship Management team, which is available on Monday through Thursday from 9 AM to 8 PM EST. These are extended hours, which is more convenient than much of Wealthsimple's competition. They can also be contacted on Friday from 9:30- 5:30 EST.
Investors can also e-mail [email protected] and call 1-855-782-3559. This Wealthsimple review found one huge plus with customer support – Wealthsimple usually responds within 24 hours.
Payment Methods
This Wealthsimple review found that the platform supports various ways to fund an account, which is a huge "plus".
Electronic Fund Transfer: This is often the most common way to fund an account and usually takes 1 to 3 days.
Transfer From Another Investment Account: You can actually transfer an account (such as an IRA) to WealthSimple. However, this method does take about 7 days.
Rollover: If you have an employer-sponsored plan, Wealthsimple can support your IRA and/or 401K.
Automatic recurring deposits: For active investors, recurring deposits are available, and are quite convenient.
Best Offers
In this Wealthsimple review, we were blown away by the amount of educational resources at Wealthsimple. This might be one of the reasons that the platform appeals to younger investors, because they go out of their way to educate and inform users in a way that the competition often does not.
Wealthsimple might not offer any crypto investing options, but there are numerous articles about cryptocurrency, regulations, and the cryptocurrency markets in general. This is rare for many robo-advisor platforms to offer content about services that they do not provide, and it's quite convenient for those who are eager to learn more about finance in general.
The platform even offers an "Investing Master Class", and other educational resources, as well.
Additional Offers
Trader Rating: 4.5/5
In this Wealthsimple review, you might be turned off by the fact that the fees are higher than usual. However, there are promotions and offers that you can take advantage of. If you invest more than $100 with Wealthsimple, you might be eligible for a $50 bonus. While it might not be much, it is worth noting.
If you are looking to invest $10,000 or less, you might find it worth it to become a client of Wealthsimple – where you can get your money managed for free for 12 months! If you aren't a fan of fees, this might be a smart promotion to utilize.
Regulation and Deposit Protection
Every investor wants to have some kind of peace of mind and know that their hard-earned money is protected. This Wealthsimple review finds that Wealthsimple protects funds through the Canadian Deposit Insurance Corporation (CDIC). This corporation is similar to the Securities Investor Protection Corporation, that regulates the liquidation of member broker-dealers.
Wealthsimple protects you with $1,000,000 CDIC Insurance coverage. As for data security, the platform operates using 128bit SSL technology. In short, your personal information should be safe and secure with Wealthsimple.
Awards
It might not surprise you to find that WealthSimple has won various awards as a platform. For example, the company was honored as the best financial services website at the Webby Awards, which honors "excellence on the Internet". Wealthsimple won these awards in both the years 2016 and 2017.
Wealthsimple was also awarded the Product Of The Year award. This was awarded by Product Hunt Toronto. The prime minister of Canada, Justin Trudeau, has also openly praised the company.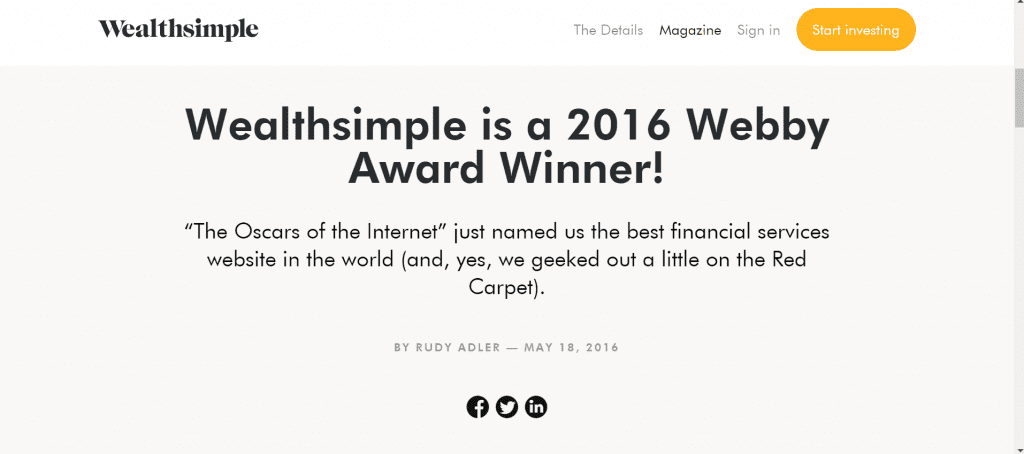 Wealthsimple was also named as one of the companies in the Fintech 100 – which is an annual list of the best fintech companies in the world.