Forex.com was founded in 1999 and is part of GAIN Capital Holdings. The company is one of the largest retail online forex brokers and also provides a wide range of Contract for Difference (CFD) opportunities. Traders and investors can access over 180 global markets that include cryptocurrencies, currency pairs, commodities, shares and indices. Forex.com is regulated in many important financial jurisdictions, including in Australia, the US, UK, Japan and Canada. With three trading platforms available as well as mobile trading, the company is well placed to provide a wide range of tools for forex crypto trading.
Highlights
Trade cryptos to major currencies
Find CFD opportunities
Use demo account to get acclimated
Access over 180 global markets
2.
of 7 Crypto Broker
Forex.com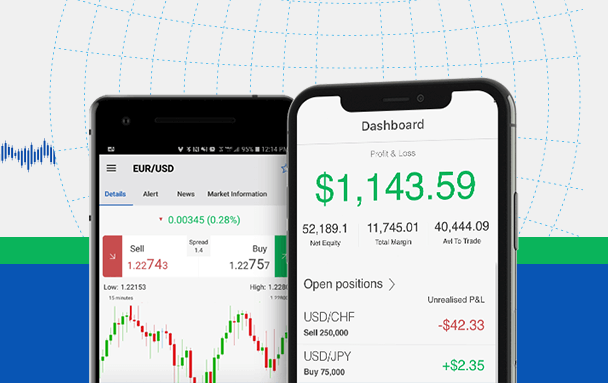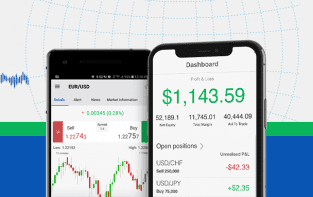 Go to Broker
Risk warning: Capital can be lost. Terms and conditions apply.
Headquarters and regulation
UK (FCA)
Tradable crypto currencies
Bitcoin, Ethereum, Ripple, Bitcoin Cash, Litecoin
Number of crypto currencies
5
Market Model
ECN/Market Maker
Trading platform
MT4, Broker-owned Software
Demo account
Yes, 30 days free
Services & additional benefits
Live
Hotline
E-mail
E-Book
Videos
1. Trading Offer
1.) Crypto Trading Offer – trade a range of cryptocurrencies
Forex.com makes four major cryptocurrencies available for forex crypto trading. Traders are advised in this forex crypto review to carry out their own broker comparison to ensure this broker is suitable for their trading requirements. The company, as a market leader in the world for currency trading, allows you to speculate on the volatility of cryptos without taking ownership of them to take a position without having to put in a significant investment. Traders can hold long or short positions and, if unsure about how this market operates, can open a demo account for 30 days that is completely risk-free, using virtual money to practice trading in what can be a difficult area of the financial markets.
92
Other currency pairs
Number
Bitcoin can be traded against national currencies, specifically the US Dollar, Australian Dollar, Euro and British Pound Sterling. You can speculate on Bitcoin's volatility as to whether it will rise or fall against these major currencies and you can go long on fractional Bitcoin in increments of 0.1. Short or long positions of whole Bitcoin can be held, and you do not have to take ownership.
With Ethereum, Litecoin (the crypto inspired by Bitcoin) and Ripple you can also trade against major world currencies. Trading these offers you the opportunity to broaden your trading options. By using leverage, you can take a position and use less capital.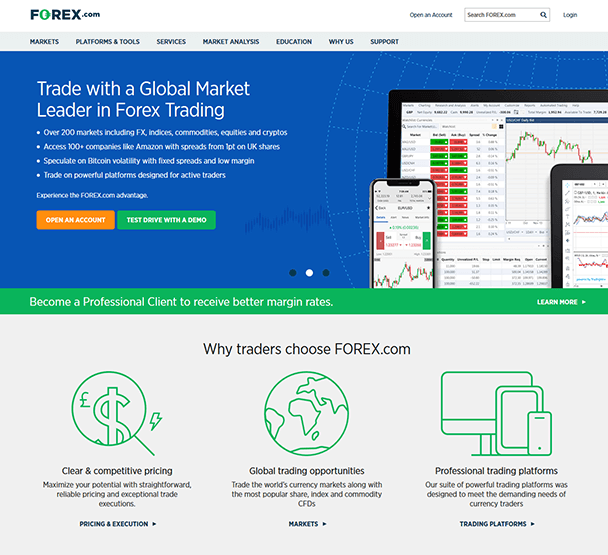 Four major cryptocurrencies available
Demo account available
Short and long positions
Go to Broker
Risk warning: Capital can be lost. Terms and conditions apply.
2. Costs
2.) Crypto trading costs – a range of spreads
Forex.com, as this forex crypto trading review demonstrates, takes its fee from the spread offered in crypto as well as all the other products it offers for trading. No commission is charged on currency trading, but commission is charged when trading shares CFDs. There are Market Information Sheets available for traders using the MetaTrader4 and Forex.com trading platforms so you can examine the full details. This review advises that you carry out a crypto broker comparison to check on fees from other online brokers and find the best crypto broker.
For Bitcoin to US Dollar a spread of 40 is offered, so a bid price of, for example, 3770.8 would have an ask price of 3808.8. Bitcoin Cash to US Dollar has a spread of 15, and Bitcoin to Australian Dollar has a spread of 60. Spreads are similar with Bitcoin to British Pound Sterling, at 50, and to Euro a spread of 60.
ECN/Market Maker
Market Model
If you want to hold a position overnight – a rollover – you will be charged a financing fee, automatically applied to your account every day you hold that open position, including at weekends. You can check what rollover rates are by clicking on the 'i' icon when you access the Advanced Desktop Platform.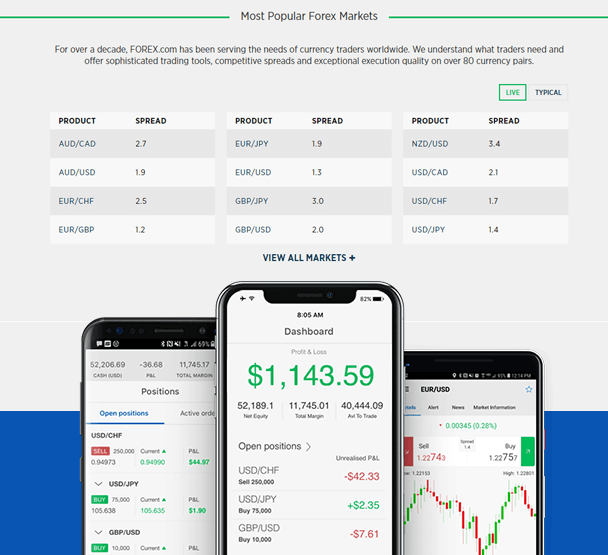 Fees taken from offered spread
Spreads vary depending on crypto to currency
Financing fee charged for rollover
Go to Broker
Risk warning: Capital can be lost. Terms and conditions apply.
3. Account
3.) Accounts
One of the things to note about Forex.com is that there is not a wide range of accounts available for traders. If you are looking for a wider variety, you might wish to look elsewhere for your broker, but this broker does have the advantage of the account structures being straightforward.
The broker's standard trading account will give you tight forex spreads. With automatic price improvement, when the market moves in your favor, savings are passed on automatically. This can provide a good opportunity for you to save and/or make money.
You could open a corporate account in order to access additional offers and benefits. You can also make a joint account application, a partnership account application or apply for a trust account. There are also specific accounts for the MetaTrader4 platform that include all those cited above.
Whatever account you choose to trade with, you will be offered both variable and fixed spreads, and these will depend on the market you want to trade in. Like most other brokers, no commission is payable, though that does not apply to CFD shares trading. Trades are executed extremely quickly. According to the broker's own Execution Scorecards, 99.29 percent of trades are carried out in less than one second.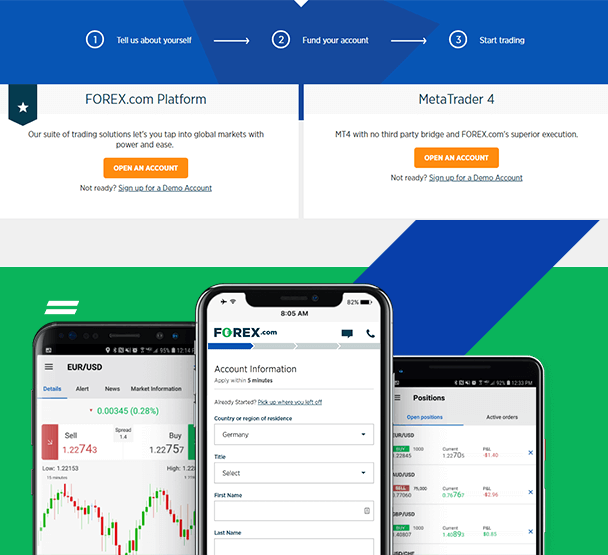 Limited range of accounts
Tight forex spreads
Multiple account types available
Go to Broker
Risk warning: Capital can be lost. Terms and conditions apply.
4. Platform
4.) Crypto Trading Platforms – choices for professionals and beginners
If you are an experienced trader and looking for a specialized platform, then Forex.com, with its own customizable trading platform, may suit your needs. It offers a range of features as well as being fully mobile compatible, operating in five major markets. These markets are currencies, including crypto, metals, commodities, indices and shares. You can trade:
84 currencies
over 220 shares
11 commodities
10 metals
17 equity indices
Using this platform gives you a range of order types, including Limit, stop, market guaranteed stop loss and OCO – one cancels the other. The platform can be customized so that it suits your trading preferences and you will find custom watch lists, price alerts, a development studio and indicator builder. These are not available on the web-trading platform.
The other platform available is MetaTrader4 (MT4), which is a very popular trading platform. It provides a wide range of charting options. Though it is particularly suitable for traders just entering into investing, it is also used by many experienced traders. Technical analysis tools include over 2,000 free custom indicators and 30 built-in ones, and you can pay for another 700 indicators if you choose. The platform enables you to analyze all the markets at many levels of complexity.
There are 24 analytical objects on offer with tools such as lines, chart and shapes to help you forecast future price dynamics.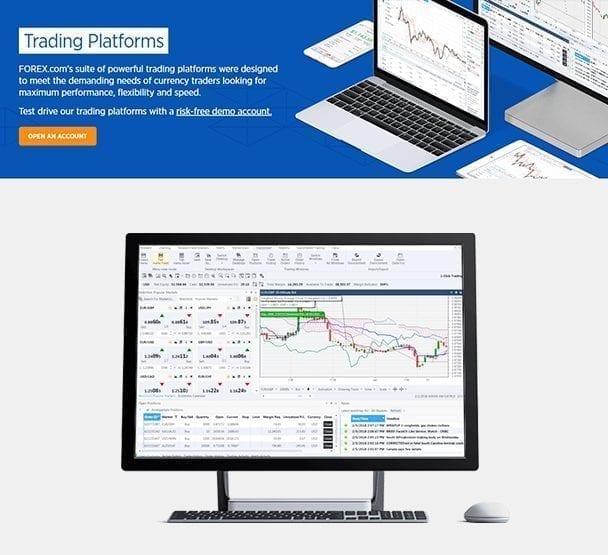 Bespoke customizable platform
Popular MetaTrader4 platform
Mobile trading
Go to Broker
Risk warning: Capital can be lost. Terms and conditions apply.
5. Usability
5.) Usability of website – some information difficult to find
One thing you often find when doing a crypto broker comparison is that their websites don't always provide all the information you want in a way that is easy to find. Instead, their main job is to get you to sign up. In this regard, it seems Forex.com is no different from the others. It's not that you can't find useful information about trading, but some of the key things you want to understand quickly, such as how much it costs to trade and what type of accounts are offered (and what they actually are) can be hard to unravel.
Visually the site is quite easy on the eye, using light orange, green, blue and yellow to highlight important aspects. The menu bar at the top left gives you a wide range of options including Markets, Platforms & Tools, Services, Market Analysis, Education, Why Us and Support. There is lots of information under these headings and there are also options to find out about chatting and calling with two buttons at the bottom.
Information text is mostly gray on a white background and in a decent sized font. Text about the risks of trading CFDs could be a larger font size so it draws the eye more easily, and information about trading concepts are useful.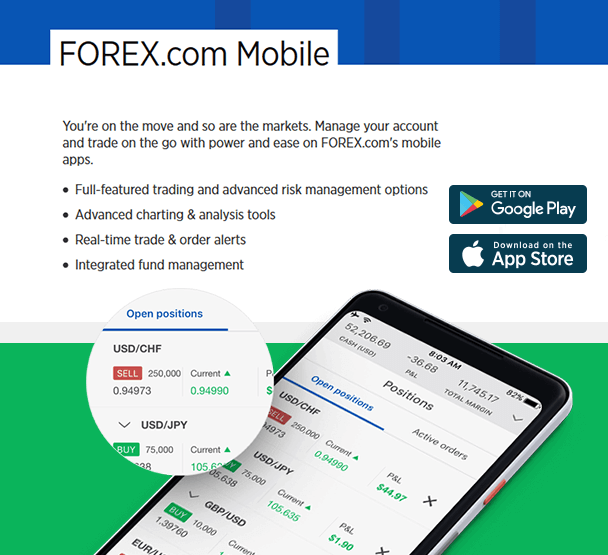 Some information (e.g. re accounts) not very illuminating
Visually easy to read
Good key information on asset classes
Go to Broker
Risk warning: Capital can be lost. Terms and conditions apply.
6. Support
6.) Customer support – chat, phone and email available
Knowing that good customer support is essential to keep clients happy, Forex.com does work hard to provide useful information on its website as well as the ability to interact with customer support staff. Client support is available during market hours during the week and you can phone a toll-free number if needed, a useful tool as it costs you nothing except your time. The broker has a chat facility which can sometimes be helpful in terms of keeping a record of what questions you have asked and what the responses have been. You can also use email for contact, though this review has not tested the speed of response in any of these means of personal communication.
The FAQ section on the website is useful as it answers a range of relatively simple questions for traders who are new to trading the markets. These include:
How to open an account
How much money you need to open an account
How you can fund your account
Retrieving forgotten username and password
How to download the MetaTrader 4 platform
How you can download the desktop platform
Information needed to open an account
Forex.com does not have any local branches that you can visit as everything is done online. This could be a downside for some people. Additionally, if you are hard of hearing, there are no accessible services offered.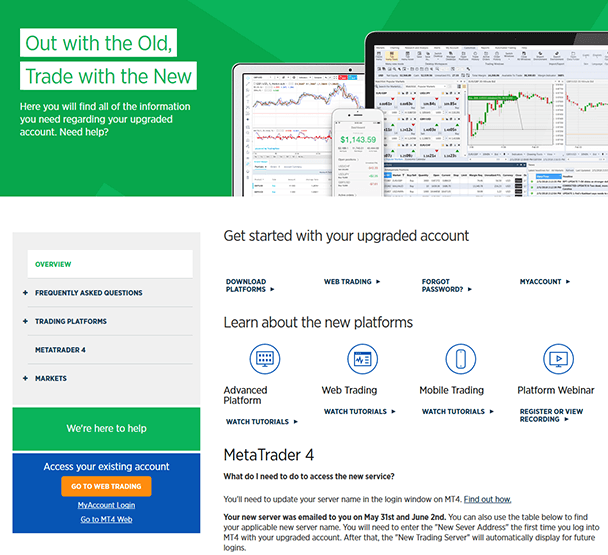 Phone, chat and email available
Helpful range of FAQs
No local branches to visit
Go to Broker
Risk warning: Capital can be lost. Terms and conditions apply.
7. Payment
7.) Methods of payment – card and transfer options available
Funding your account and withdrawing from it is relatively straightforward with Forex.com. Funds can be deposited by credit and debit card and by bank transfer. When you open an account, you visit the funding page to add your specific card or bank transfer details.
When using a debit or credit card, there is a minimum of $13 or the currency equivalent per transaction, with a minimum initial deposit of $65 or currency equivalent. This depends on currency volatility. The maximum you can deposit per transaction is around $25,000 and accepted currencies are USD, EUR, CAD, AUD, CHF, CAD, JPY and GBP. All these transactions will be converted automatically to the base currency of your account and are typically processed within 24 hours. No fees are charged for incoming deposits.
When you use wire transfer there is no minimum or maximum per transaction and the accepted currencies are the same for making card deposits. Processing typically takes one to two business days and there are no charges for incoming wire deposits.
Withdrawals are returned to the originating account. For credit and debit cards, the processing time is typically within 48 hours and you can take out up to $130,000 or currency equivalent in 24 hours with no fees payable. Processing for wire transfers is the same, no fee and an unlimited withdrawal amount.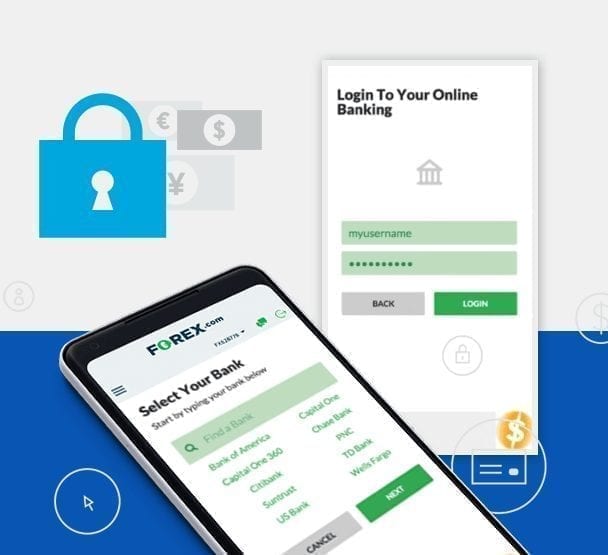 No fees for deposits
No charges for withdrawals
Automatic currency conversion
Go to Broker
Risk warning: Capital can be lost. Terms and conditions apply.
8. Offers
8.) Additional Offers – demo account and education
One of the most important aspects of using any broker is to have good training tools available, and Forex.com scores well on this.
You can open a Demo Account for the opportunity to find your way around the systems and learn how to trade, especially useful if you are a beginner. Effectively it is a way of test-driving your trading strategies with no risk. You have a 30-day period to get experience with the broker's trading platform, after which if you want to continue you will need to open an account with your own funds. You need to remember that a Demo Account mimics the attributes of a "live" account, but there are differences. You are using virtual money allocated by the broker and in this account your open positions will not be closed if your account's margin level drops under the Margin Close Out. This is not the case with a "live" account that could be closed immediately with no notice if you do not have sufficient funds to keep a position open.
Forex.com offers a range of resources to help you build your trading confidence and learn how to trade in different types of market. There are many educational tools and online resources that will teach you the basics of how to create a trading plan and more advanced resources as you become more experienced and want to dig deeper into trading.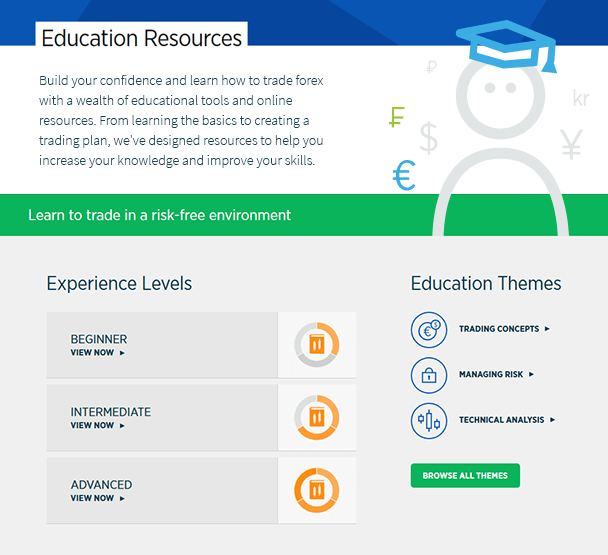 Helpful Demo Account
30-day practice period
Range of educational resources
Go to Broker
Risk warning: Capital can be lost. Terms and conditions apply.
9. Regulation
9.) Regulation and Deposit Protection – client safety
As the parent company of Forex.com, GAIN Capital is regulated in a number of major financial trading countries and is considered to be a legitimate company that has earned the right to be trusted. Serving over 200,000 clients all over the world and with assets close to $1.5 billion, the company provides as safe a haven as possible for traders, bearing in mind that trading is an inherently risky business and there is no substitute for experience. Forex.com has a disclaimer that states: "CFDs are complex instruments and come with a high risk of losing money rapidly due to leverage. 75% of retail investor accounts lose money when trading CFDs with this provider. You should consider whether you understand how CFDs work and whether you can afford to take the high risk of losing your money."
In terms of regulation, the company is regulated by the Financial Services Authority in Japan, the Financial Services Agency in Canada and the same country's Investment Industry Regulatory Organization, as well as the Financial Conduct Authority in the UK, the Securities and Investment Commission in Australia and the US Securities and Exchange Commission.
Customer deposits are kept separate from the company's own operating funds and these deposits are distributed over a global network of custodian banks.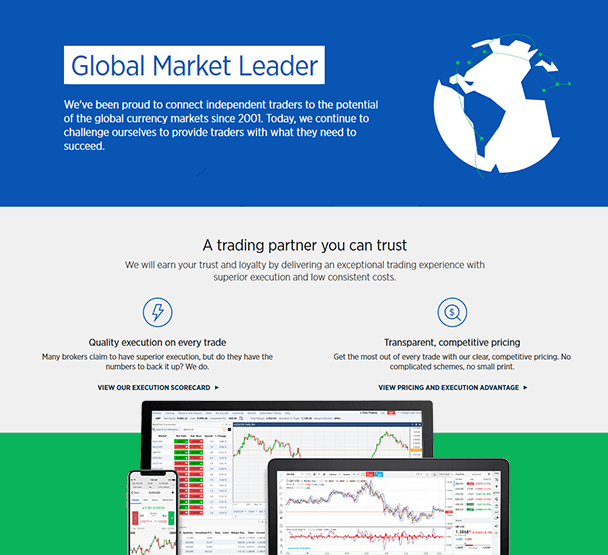 Strong regulation in major countries
Deposits separate from broker operating funds
Warning of trading risks to investors
Go to Broker
Risk warning: Capital can be lost. Terms and conditions apply.
10. Awards
10) Awards
Forex.com has won many awards over the years, beginning with one only two years after its 199 start-up, this being "Best of the Web" From Forbes.com in February 2001. Since then many accolades have rolled in, as have awards for parent company GAIN.
Below is a selection of some of the awards given over the years to Forex.com.
2013: voted Best Forex Broker by the readers of the Fincial Times in the UK and by the Investors Chronicle for the '13 Investment Awards. The company was also awarded Best Forex Broker in the USA 2013 at Moscow's ForexExpo Awards. 2012: Readers of Shares Magazine voted Forex.com Best FX Broker at the Shares Award of 2012. In the same year its strength in the Middle East was recognised by awards for Best Arabic FX Platform, Best Middle East support and Best Arabic FX Platform. Another award that year was at the UK Forex Awards where the company was voted Best Forex Retail Trading Platform. Other awards Include Best Online FX Provider Money AM in 2011 and FT Investors Chronicle Best Forex Platform in the 2010 Investment Awards, voted by readers of Investors Chronicle and Financial Times.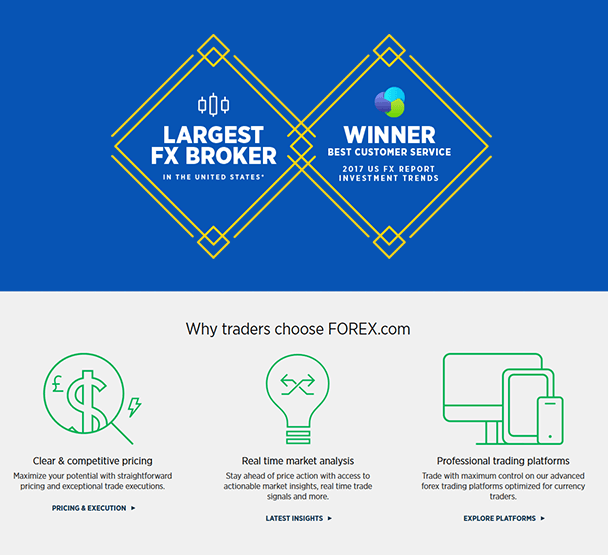 Award-winning company
Strong presence in the UK
Accolades from the Middle East
Go to Broker
Risk warning: Capital can be lost. Terms and conditions apply.
Conclusion – a strong, safe company
As a highly regulated brokerage, Forex.com is considered to be a high-quality broker by many experts in the field. It offers a wide range of asset classes for trading and is known especially for its foreign currency exchange spreads and the number of pairs that can be accessed by traders. Traders interested in cryptocurrencies have opportunities to trade the major ones – Bitcoin, Ethereum, and Litecoin – against major world currencies that include the US Dollar, Euro and British Pound Sterling.
Forex.com features its own bespoke trading platform that allows experienced traders to have access to many analytical tools and very fast trade executions. This broker also has a web trading platform and offers well-liked MataTrader4. Mobile trading is available for both iOS and Android devices, so traders can work wherever they are and whenever markets are open. Education and research resources are there for beginners as well as intermediate and experienced traders.
Suitable for all levels of skill
Good choice of platforms
Quality customer service
Rapid trades execution
Small range of accounts
Some website information hard to find
Test result
Broker

Go to Broker
Risk warning: Capital can be lost. Terms and conditions apply.