Introduction: a tried & tested broker
For more than 40 years, TD Ameritrade has been helping clients pursue their financial goals. In 2017, the firm received the prestigious Barron's award for No.1 Best Broker for Long-Term Investing Purposes. With a range of retirement tools and resources, TD Ameritrade offers both financial guidance and trading platforms. TD Ameritrade's investment options cover the full spectrum of financial instruments, including bonds, certificates of deposit, equities, forex trading, mutual funds and options. The company has no hidden fees or other charges – everything is priced at a flat-rate commission fee of $6.95 for equity trading.
Highlights
Soon single system - crypto spot & futures
Quality customer service 24/7
Wide range flexible accounts
Award winning broker for platforms, more
3.
of 7 Crypto Broker
TD Ameritrade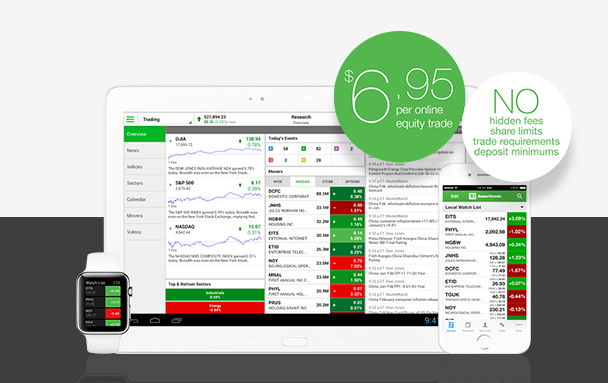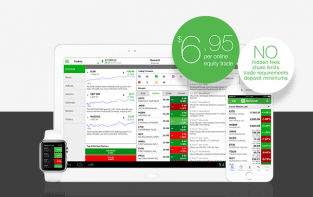 Go to Broker
Risk warning: Capital can be lost. Terms and conditions apply.
Headquarters and regulation
Nebraska, USA (SIPC)
Tradable crypto currencies
Bitcoin
Number of crypto currencies
1
Trading platform
Broker-owned Software
Demo account
Yes, unlimited available
Services & additional benefits
Live
Hotline
E-mail
E-Book
Videos
1. Trading Offer
1.) Crypto Trading offer: new development in the pipeline
TD Ameritrade crypto trading is one of many financial instruments offered by the firm. TD Ameritrade likes to approach new developments with an open mind, and cryptocurrency trading is no exception. The TD Ameritrade Holding Corporation decided to invest in ErisX, an innovative company that plans to offer traders access to cryptocurrency spot contracts, as well as futures contracts, on a single exchange.
77
Other currency pairs
Number
Working together, teams from the two companies are planning to launch their new cryptocurrency trading systems as soon as development processes have been completed and fully tested. The product will then need to obtain regulatory approval before being released.
Currently, qualified clients can trade bitcoin futures at TD Ameritrade. Bitcoin is a digital currency, created or mined when people solve complex math puzzles online. They are then stored in a digital wallet that exists in the cloud or on the user's computer device. To qualify for trading bitcoin with TD Ameritrade, you first need to open a TD Ameritrade account.
The specific qualifications and permissions required on your account for Cboe (Chicago board options exchange) Futures Exchange, LLC (CFE) bitcoin futures trading (/XBT)SM, include having a minimum of $25,000 in your account and being approved for futures trading. Once you are approved to trade futures, you will still need access to /XBT to add bitcoin trading to your account.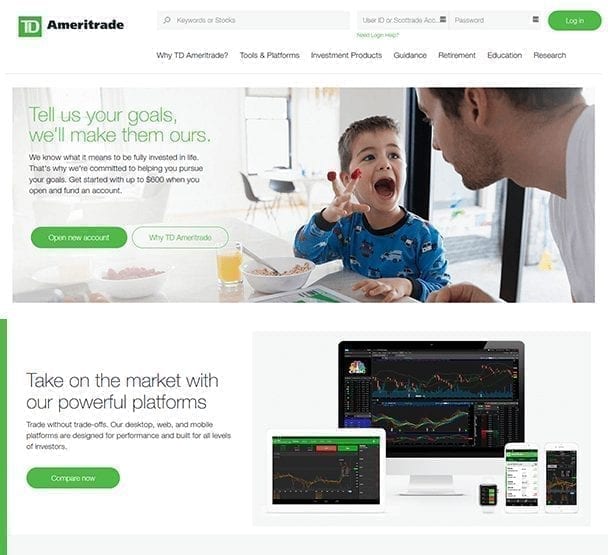 Bitcoin futures trading available
New development – trade different crypto contracts on one platform
TD Ameritrade teamed with ErisX for added technological innovation
Go to Broker
Risk warning: Capital can be lost. Terms and conditions apply.
2. Costs
2.) Crypto trading costs: sweet and simple pricing
TD Ameritrade fares well in any broker comparison because its pricing structure is simple and advantageous to clients. Apart from becoming qualified for trading bitcoin futures, there is no minimum amount required in an account and there is free use of trading platforms. There no trades minimum, simply a single fee of $6.95 per online trade. This applies to the stocks that are traded, including ETFs, options, futures, mutual funds, forex currency, and fixed income offerings. The only exception is that investors must hold any of the broker's nearly 300 commission-free ETFs for at least 30 days or a fee of $19.99 applies.
Any TD Ameritrade crypto review will mention and highlight this competitive pricing structure. In addition, the company has bonuses and other offers available from time to time. One bonus is linked to how much an investor deposits. If this is $3,000 or more, they are entitled to trade free for 60 days, getting up to $600. Should your deposit exceed $25,000 or more, you can receive an additional bonus of $100 and should you deposit in excess of $100,000, the additional bonus rises to $300. Finally, at the top end of the bonus scheme, a deposit of more than $250,000 earns you the additional bonus totaling $600.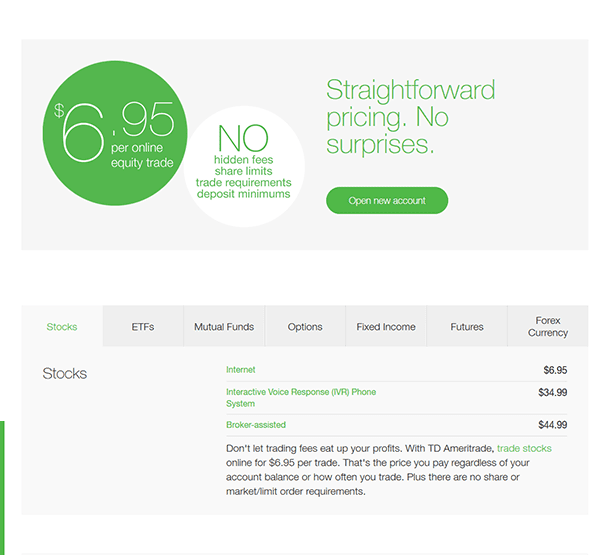 Flat rate commission fee for all stock trades
Among the top eight brokers identified by forex.com
Generous bonuses in return for minimum deposits
Go to Broker
Risk warning: Capital can be lost. Terms and conditions apply.
3. Account
3.) Accounts: aiming to meet every possible need
TD Ameritrade offers several different types of accounts, depending on investors' preferences. As you would expect, there is a Standard Account and a Retirement Account. Clients can also choose Margin Trading Accounts and Managed Portfolios, and finally, there are Education Accounts and Specialty Accounts. The way to select the most appropriate account is to consider the aims of each.
Standard: Individual accounts, tenants in common, joint tenants with rights of survivorship, community property, tenants by the entireties, conservatorship or guardianship.
Retirement: Very flexible, including options for IRAs (traditional, Roth, rollover, SEP IRAs) simple IRA, pension, profit plan or solo 401(k) for small businesses.
Margin trading: Forex traders enjoy margin trading accounts with a wide range of options and impressive return on investment potential on the initial investment.
Managed portfolios: A suite of managed portfolios is offered through TD Ameritrade Investment Management, LLC. They are designed to help clients pursue their financial goals as these grow and change.
Education: For clients wishing to benefit from savings on tax while seeking an education. Coverdell Education Savings Accounts, Custodial Uniform Gift to Minors Act/Uniform Transfer to Minors Act and 529 savings accounts.
One of the important attributes of TD Ameritrade is the broker's ability to listen to what its clients want and respond accordingly, thereby ensuring that choosing the right account is easy.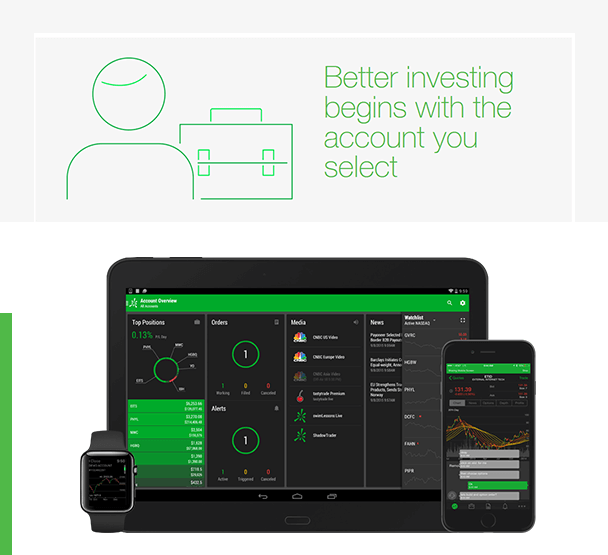 Great range of accounts from which to choose
Built-in flexibility as goals change
Specialty accounts for small operations
Go to Broker
Risk warning: Capital can be lost. Terms and conditions apply.
4. Platform
4.) Crypto Trading Platforms: good, better, best
Several trading platforms are available at TD Ameritrade, including Web Platform, thinkorswim, and Mobile. Each of these is developed to a high level and have plenty of research and analysis tools, however, there are some important differences which can affect how they are used.
The Web Platform is web or browser-based only and is aimed at experienced investors. Here clients enjoy a personalized workspace with plenty of resources, trading tools, and alerts. The Web Platform, which has won awards for the best web platform, offers all the same benefits as the thinkorswim trading platform, apart from streaming market commentary. This means it uses a calendar, each list, and Gainskeeper to make sure users are informed. This automatically tracks capital gains and losses using a capital gains calculator.
Generally regarded as the most sophisticated platform available from TD Ameritrade, the thinkorswim platform has a large number of analysis and research tools. These include strategy execution, backtesting, conditional orders, level 2 quotes, simulated trading, streaming CNBC and Dow Jones news and visual position profit/loss analysis. With thinkorswim, investors have access to heat maps for options and markets, community trading and top-quality third-party research.
The Mobile Platform is designed for mobile investors, particularly those navigating the Forex markets,  and features all the same benefits as thinkorswim apart from screeners.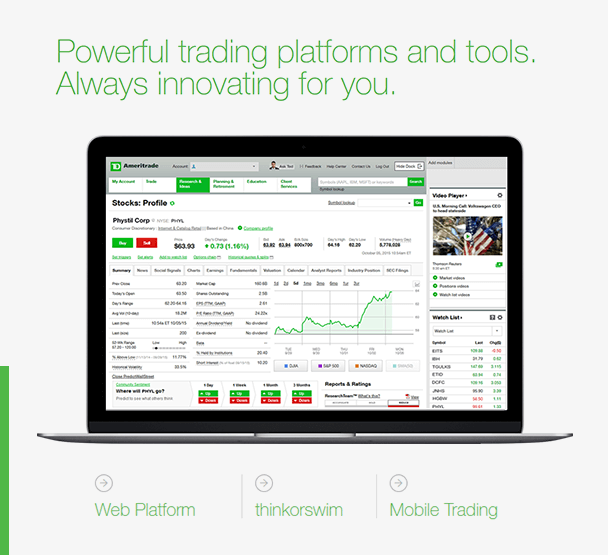 Good choice of platforms available
Plentiful research resources
Mobile software of admirable quality
Go to Broker
Risk warning: Capital can be lost. Terms and conditions apply.
5. Usability
5.) Usability of the Website: smooth, efficient and investor-friendly
The website at TD Ameritrade is easy to use and the layout across the site is clear and accessible. The Homepage can take you directly to your area of interest, such as research, education or platforms, and you can also browse using a search facility.
Once you navigate away from Home, a useful menu button appears at the top right of the screen. This enables you to select more detailed criteria. For example, 'Investment Products' leads to a list that allows visitors to access their area of interest whether that is Forex, say, or Cryptocurrency Trading.
If you choose Cryptocurrency Trading, you will be taken to a dedicated page that explains what is available at TD Ameritrade and also tells you about the company's plans for the future, in respect to crypto trading. You will find a selection of helpful FAQs and additional links to useful articles about different aspects of trading crypto. This is a good example of why TD Ameritrade is considered to have one of the best crypto broker websites in the business – all relevant resources and information are gathered in on place.
Certainly, everything is clearly laid out for investors and traders to follow. The site uses a lot of white space, some grayscale backgrounds, and text in green or black.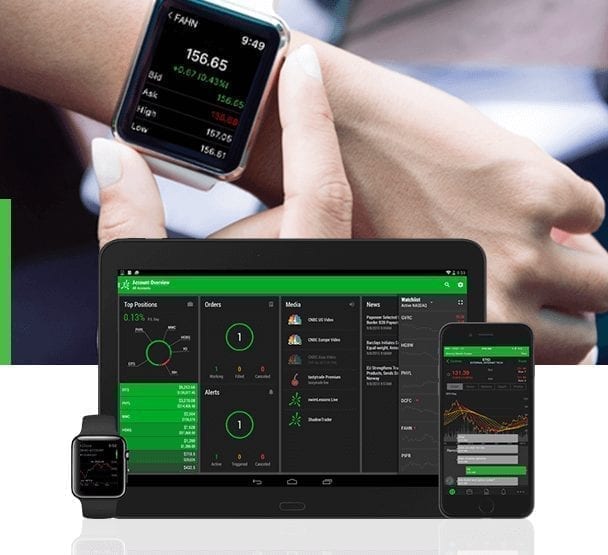 Information is grouped logistically and easy to find
The interface is smooth to operate and clutter-free
Practical information and contact details on every page
Go to Broker
Risk warning: Capital can be lost. Terms and conditions apply.
6. Support
6.) Customer Support
When you consult an online crypto broker comparison, you will expect it to have a useful section about customer service. After all, a broker's ability to respond quickly and efficiently can have a significant impact on clients. Examining TD Ameritrade's customer support, it's clear that options for easy contact are good. These include email, telephone, fax and live chat on the website. Telephone and email contact is in place 24/7.
There are also more than 360 branches nationwide, so a face-to-face meeting is also possible. There are additional features offered with some of these services, with support for hearing-impaired people, specialist retirement consultants, and international support also available. TD Ameritrade caters for Spanish speakers as well as those with other international languages and social media users can make contact via Facebook messenger as well as their text messaging service.
Several reviews of customer support service indicate that this is excellent, with some comparisons placing TD Ameritrade at the top of their list for telephone support in particular. Scores reflect fast connection times, professionalism of company representatives and how well they handle specific issues or resolve problems.
Among many other awards, TD Ameritrade has won first place for customer service and really does seem to represent a leading light in this area.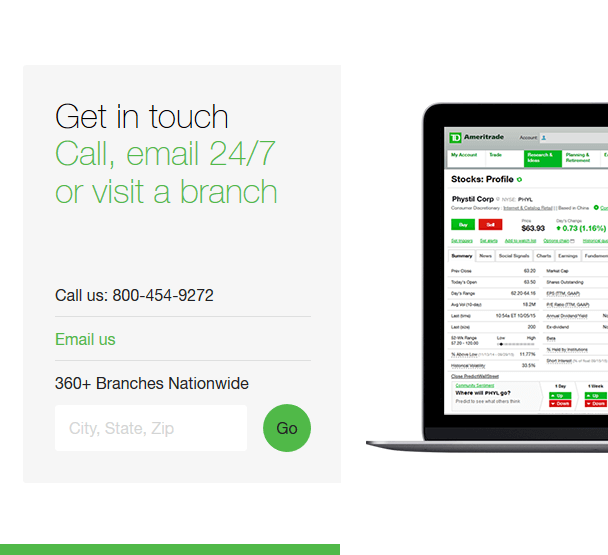 Good options for contact around the clock
Fast and professional response to queries
Award-winning customer service
Go to Broker
Risk warning: Capital can be lost. Terms and conditions apply.
7. Payment
7.) Methods of Payment
TD Ameritrade offers a variety of ways to fund an account so that clients can quickly start TD Ameritrade crypto trading, for example. Whether depositing money, rolling over an old 401k, or transferring money from another brokerage firm, there is likely to be a method to suit all tastes.
When potential clients have selected a way to fund from the drop-down menu they are navigated to a section providing further detail on that particular choice. There are five main ways to fund a TD Ameritrade account.
Electronic Bank Deposit (ACH)
Wire Transfer
Check – by mail or by mobile
External securities transfer
Physical securities certificate
Most people make a deposit into their TD Ameritrade account from their bank account using electronic bank deposit. This is a quick and free method and particularly popular. You can also transfer funds using a wire transfer.
Checks can be mailed and must be mailed if they total more than $10,000, or you can take a picture of your check for a smaller amount and send it to TD Ameritrade via the company's mobile app.
Other options include transferring ETFs, stocks, options and other assets from another firm or depositing physical stock certificates in your name into an individual TD Ameritrade account.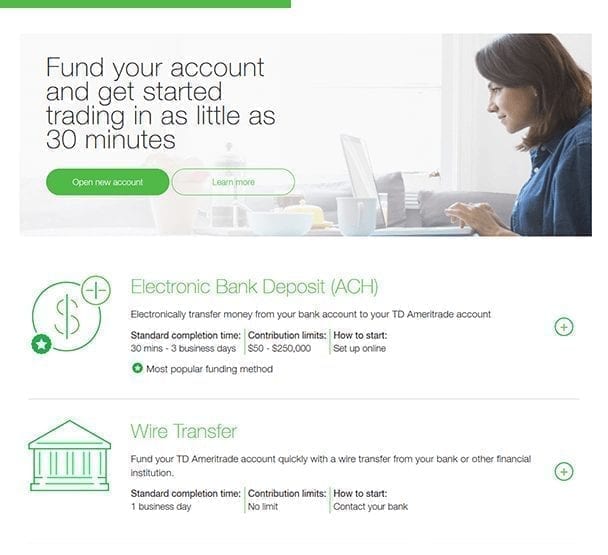 Electronic, mobile and regular mail deposits accepted
Stocks and other assets can be transferred
Funds from another brokerage permitted
Go to Broker
Risk warning: Capital can be lost. Terms and conditions apply.
8. Offers
8.) Additional Offers
Like many brokers, TD Ameritrade has a number of extra offers and facilities it makes available to clients. One of the most interesting is Ticker Tape, described as combining detailed information and expert analysis that results in unique insights into all aspects of investing with TD Ameritrade – whether you're planning for retirement fund purposes or embarking on TD Ameritrade crypto trading.
The Ticker Tape is also described by the firm as a resource "where investors and traders go to design intuitive and thoughtful strategies." It provides market analysis and trend reports using the most recent information plus insights provided by in-house experts at TD Ameritrade as well as knowledgeable opinions from third-party professionals.
TD Ameritrade offers access to a practice trading platform (demo) that uses historical and current market data, as well as to social sentiment tools that measure social media trends with charting indicators. The firm offers more than 400,000 economic indicators that clients can search and chart.
When it comes to opportunities to learn, the company's education section is packed full of opportunities. As well as timely articles and videos, TD Ameritrade promotes an 'immersive curriculum' with webcasts and engaging live events. These resources are available to users of all platforms including desktop and mobile. The firm also streams programming from their media affiliate, TD Ameritrade Network.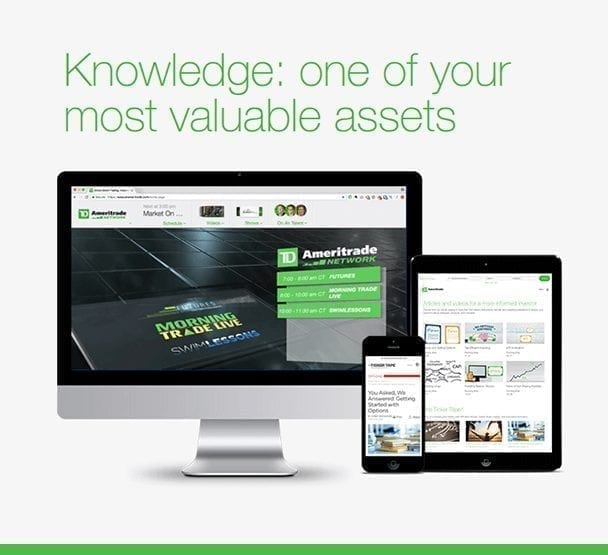 Ticker Tape insights
Practice trading platform
Extensive education resources
Go to Broker
Risk warning: Capital can be lost. Terms and conditions apply.
9. Regulation
9.) Regulation: at the highest level
The TD in the company name stands for Toronto-Dominion Bank, which is the owner of TD Ameritrade. The bank was established on February 1, 1955 through the merger of the Bank of Toronto and The Dominion Bank.
By 2017 TD Bank Group was acknowledged as the largest bank in Canada by total assets, the second largest by market capitalization. It was one of the top 10 banks in North America and the 26th largest bank in the world. Such huge financial institutions are subject to scrutiny by both regulators and also by governments.
There are fewer banks in Canada than in the United States and they are differently regulated, having a closer relationship with regulators and tending to work more co-operatively with them. In the U.S., banking is regulated at both the federal and state level. In Canada, banking is regulated at the federal and provincial level.
The result is that regulation is far from streamlined, having said which it is in the banks' interest to be fully compliant with all requirements at every level of administration.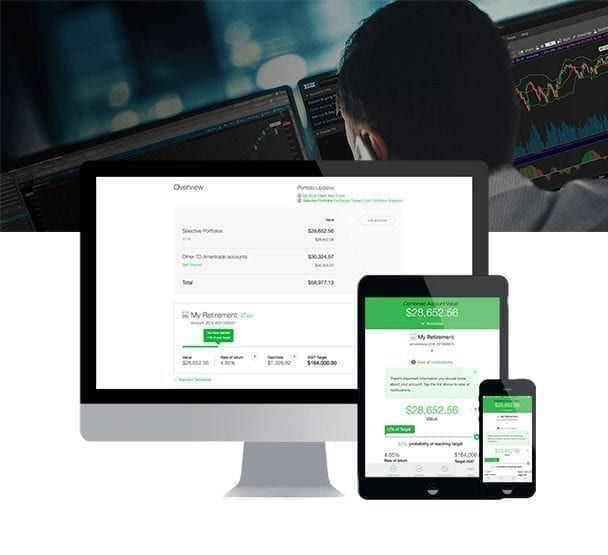 TD Ameritrade is owned by the largest bank in Canada
Bank of Toronto co-operates with regulators
Government scrutiny at all times.
Go to Broker
Risk warning: Capital can be lost. Terms and conditions apply.
10. Awards
10.) Awards: consistently plentiful
In 2018 the firm received the prestigious Barron's award for No.1 Best Broker for Long-Term Investing. The company's provision for Novices, and website usability were also applauded. TD Ameritrade has ranked among the best for:
Frequent Traders (8 years in a row)
In-Person Service (7 years in a row)
Investor Education (2 years in a row)
Mobile (4 years in a row)
Option Traders (8 years in a row)
Research Amenities (4 years in a row)
Trading Experience & Technology (3 years in a row).
Among many other awards, including for its trading platforms, TD Ameritrade has won first place for customer service and really does seem to represent a leading light in this area.
Last year also saw TD Ameritrade ranked as the Best Online Broker in the Kiplinger's Personal Finance Best Online Brokers review which said that the service "distinguishes itself with its commitment to investor education." Contributing to the ranking were impressive 5-star scores for Research, Tools, and User Experience as well as 4.5 stars for its Mobile App and 4 stars for its Advisory Services.
TD Ameritrade also received 5 stars in StockBrokers.com's 2018 Online Broker Review and was rated as the best in nine different categories including customer service, phone support, platform and tools, education, broker innovation and its trader community. For most of these categories, they've been ranked as best in class for several years in a row.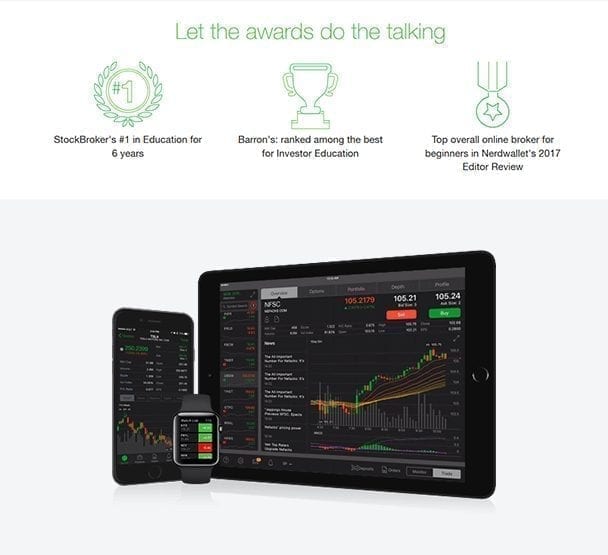 All-round award winner in many areas
Prestigious reputation
Consistently excellent performance.
Go to Broker
Risk warning: Capital can be lost. Terms and conditions apply.
Conclusion: Is TD Ameritrade the all-singing, all-dancing broker of all time?
There is no doubt that TD Ameritrade is looking towards a very exciting future given the innovative new ways of trading crypto it is pioneering with partner ErisX. The progress on the new system will be watched with much interest and the launch will be highly anticipated.
In terms of costs, the firm's flat rate commission fee for all stock trades means its pricing is simple to understand, although some reviewers have said this is slightly on the high side for certain sorts of trades. Nevertheless, TD Ameritrade has a wide range of accounts with built-in flexibility and added specialty accounts, which are appreciated and generally highly praised. Additionally, there are plenty of ways to fund an account and to make withdrawals.
With an easy-to-use website and award-winning platforms, TD Ameritrade is regarded as being at the forefront of the industry. Most, if not all brokers offer demo accounts or practice trading, as does TD Ameritrade, however, the unique Ticker Tape resources promoted by the company are not really emulated elsewhere, and this does give TD Ameritrade an edge over the competition.
Award winners for platforms, customer service, education resources and apps
Innovative technological development for crypto trading
Plenty of accounts from which to choose
Deposits and withdrawals are quick and easy
Flat rate commission fee of $6.95 has been considered a little high in some cases
Investors must hold any of the broker's nearly 300 commission-free ETFs for at least 30 days or a fee of $19.99 applies.
Test result
Broker

Go to Broker
Risk warning: Capital can be lost. Terms and conditions apply.