The Betterment ETF broker was founded by Jon Stein in 2008 with the goal of becoming the foremost investment platform worldwide in terms of ease of use. All of the portfolios on this platform have been built by professionals and there is no way for you to build your own. As they are very focused on creating a personalised experience, no two investors are really going to have the same type of combination of investments. Betterment is an ideal combination between being an automated vehicle for investing while still getting the efficiency and tech features which are associated with robo-advisors.
Highlights
Individualised approach
Competitive fees
Quality mix of products
Automatic rebalancing
5.
of 14 ETF Broker
Betterment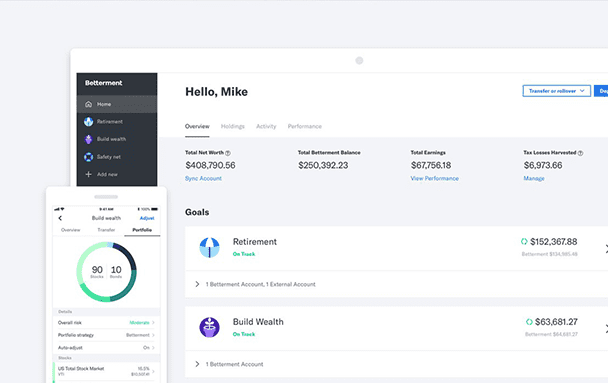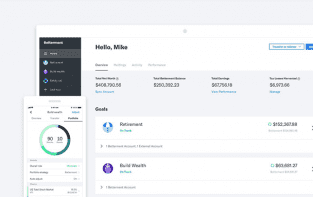 Go to TD Ameritrade
Risk warning: Capital can be lost. Terms and conditions apply.
Headquarters and regulation
USA (FINRA/SIPC)
Number of ETFs with discount
0
Services & additional benefits
Live
Hotline
E-mail
1. Trading Offer
1.) ETF Trading Offer: No DIY Option
With this Betterment ETF broker, you have two options when it comes to managing your portfolios. Therefore, the setup of pricing is very straightforward. The Betterment Digital account option has been its go to account over the years. There is no minimum account size required and there is a fee of 0.25% of your assets on a yearly basis that are being managed. You are able to utilise the messaging service that is part of the app to communicate with their team of financial advisors. The Betterment Premium account option allows you to have as much phone time with the financial advisors as you wish. You will pay a fee of 0.4% annually on the managed assets and there is a minimum required account total of $100,000 in place.
0
ETFs with discount
Number
Due to the management policy at Betterment, there are two main ways in which a given portfolio strategy is structured. They look at fund selection and asset allocation first and foremost. Using this acquired information, they will then see which ETFs suit your portfolio needs the best. This is not a one-size fits all strategy, they work on a customer by customer basis. There are ETFs from as many as a dozen different assets classes used as part of the process.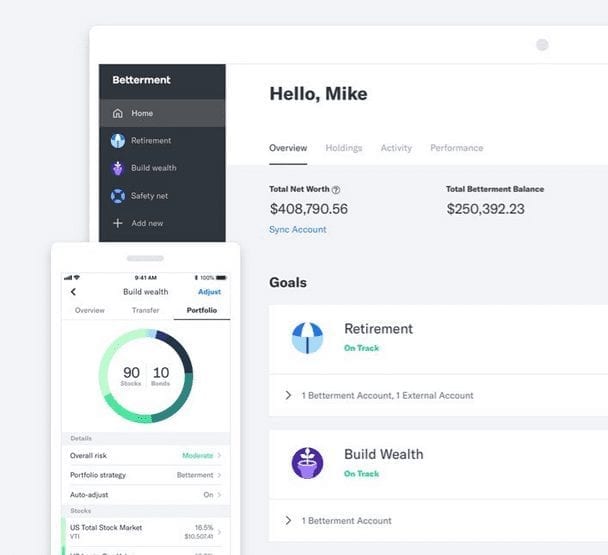 Two account types
Competitive fees
12 ETF asset classes
Go to TD Ameritrade
Risk warning: Capital can be lost. Terms and conditions apply.
2. Costs
2.) Exchanges and Trading Centres : No Direct Indexing
As part of the Betterment ETF offering, unlike a lot of other ETF exchanges, there is no direct indexing available. This is not very typical for a robo advisor. Instead, their taxable accounts can be tax-loss harvested on their platform. A lot of people will be disappointed that there is no direct indexing tool available which is an option on many of their competitor's premium account types. Direct indexing allows a person to purchase the individual securities that are part of a given index instead of having to buy the ETF itself that tracks the index. This means that if one particular security is performing poorly that it can be cut loose rather than having it drag down your investment as it remains as part of an ETF. This could be a way that you can save significant sums over the course of time.
0
International
Trading venues
There is a tax coordinated portfolio offered now by Betterment since 2016. This allows investments that are tax efficient to be placed into a taxable account and investments which contain heavier tax burdens can be put into an account that is tax advantaged. As part of this, Betterment makes the claim that the after tax returns each year through this tax coordinated portfolio can rise by about 0.48% on average. However, this can only be utilised by those people who have retirement accounts that are both tax-advantaged and taxable.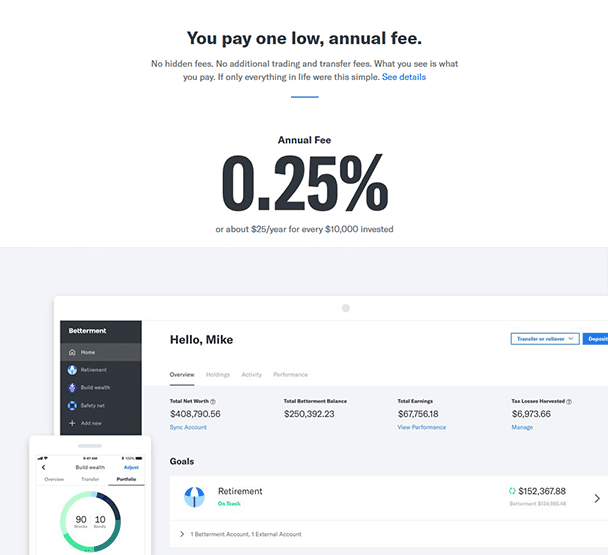 Tax-coordinated portfolio options
No direct indexing
Tax considerations
Go to TD Ameritrade
Risk warning: Capital can be lost. Terms and conditions apply.
3. Account
3.) Trading Conditions : Competitive Fees
There's an annual charge of 0.25% of the funds managed for those with the Betterment digital account. This charge is 0.4% for those who have a Betterment Premium account. There is no fee associated with the transferring of funds or for the closing of your account. There are lower fees in place for those who have an account that is worth more than $2 million. For those Betterment Digital account holders, this fee is 0.15% and for the Premium account holders it is 0.3%. Compared with a lot of their competitors, the 0.25% management fee is inexpensive. There are also the free consultations available with the financial advisors that help to lessen this charge.
There is a Betterment Smart Saver account that can be a good choice for people who simply have most of their savings sitting in a current account that earns miniscule interest. This Smart Saver account will put your money into a bond portfolio that is of a low risk and their planned expected return sits around the 2% mark. You want to stay up to date with the best savings rates on the market in case the situation changes. You also need to note that all of the money you have placed in the Smart Saver account at Betterment is not insured by the FDIC, which means that there is no guarantee on the return and the rates may change over time, just like the market does.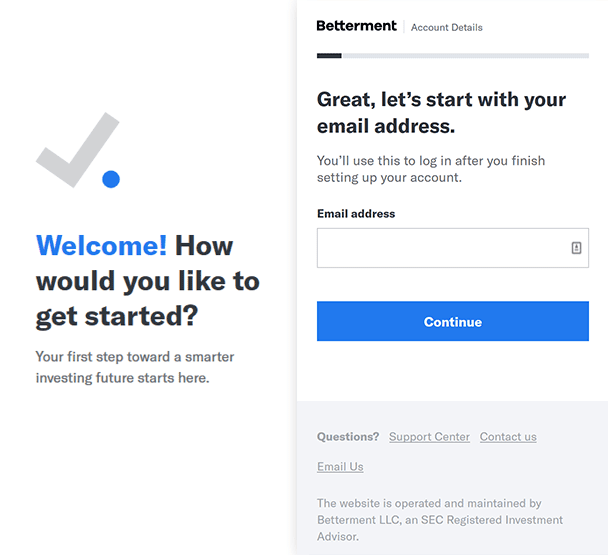 SmartSaver option
Inexpensive annual management fees
Financial advisors on hand to talk with
Go to TD Ameritrade
Risk warning: Capital can be lost. Terms and conditions apply.
4. Platform
4.) Trading Platform : Easy to Use and Tweak
Betterment is not a do it yourself platform that is going to provide you with a multitude of different options to choose from. While the web interface is very easy to use and everything is clearly laid out, there are not any charts that can be customised or the likes of indicators, fundamental data, back testing or any other similar types of tools. What you are able to do is quickly see the general performance levels of your account and see how well you have been making progress towards your defined goals. You are able to tweak the variables such as risk tolerance, timeline, income and the status of your taxes by going to your profile settings.
This means that your portfolio can be changed to align with your changing goals and needs. There is also an interesting feature that allows you to quickly make donations to charity and you can quickly pull up different types of tax forms as needed and make ultra-fast deposits or withdrawals. Betterment covers most of the bases for people who prefer a hands-off approach and do not want to be inundated with lots of data. If you are more of an analytical person who enjoys using different tools to analyse performance levels, then this may not be the broker for you when you complete your broker comparison process.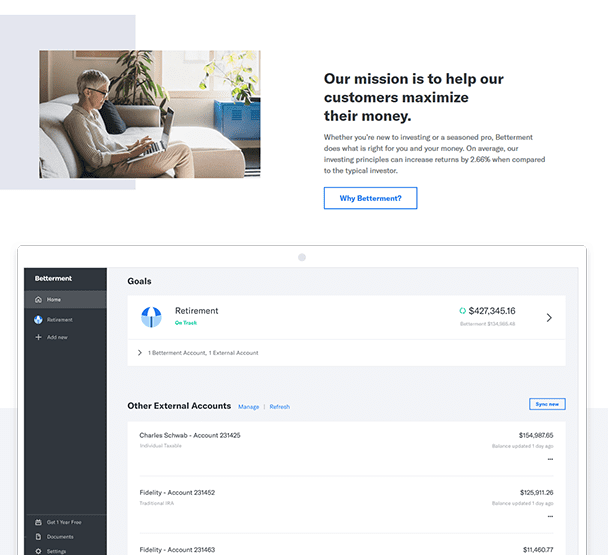 Not a DIY platform
Lack of analytical tools
Myriad of side features to help efficient platform use
Go to TD Ameritrade
Risk warning: Capital can be lost. Terms and conditions apply.
5. Usability
5.) Usability of the Website : Clear & Concise Design and Usability
The blue, white and black colour scheme is very easy on the eyes and the text really pops out, making it easy to read. The Betterment website is very user-friendly and easy to navigate. Everything is clearly laid out, so even those people who are not very tech-savvy will be able to see what sort of progress they are making and in what areas they need to improve. In their footer on every page, Betterment details the various licences that they hold and discuss what regulators they are overseen by. They also provide clear-cut information as to what exactly they do and help you to understand any risks that may be involved during the process.
Each of their services is well labelled and has its own section so you will only have to look at the content that is going to be beneficial for your specific needs. They even have a myriad of resources which will help you understand what sections you need to be looking at before signing up for an account. Overall, everything is very well laid out and you will be hard pressed to find a broker that has a more clear and concise website than the folks at Betterment through your ETF broker comparison efforts.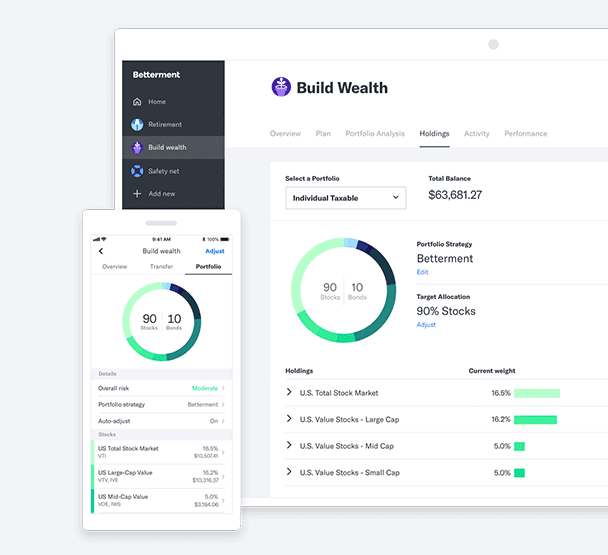 Good colour scheme
Easy to navigate
Clear-cut and concise sections
Go to TD Ameritrade
Risk warning: Capital can be lost. Terms and conditions apply.
6. Support
6.) Customer Support : Available 7 days a week
In terms of customer support, Betterment provides support by phone Monday to Friday between 9am and 6pm Eastern time. On Saturday and Sunday their phone hours are between 11am and 6pm Eastern time. They also have a live chat feature which allows you to instantly get in touch with a member of the customer support team. If you prefer to send them an email, you also have the option to do so. As part of the account offering, you are able to get in touch with one of the quality financial advisors at Betterment by using the messaging app that is part of their platform.
If you have a premium account with Betterment, you are able to give these advisors a call for an unlimited amount of time. There is also a comprehensive FAQ section that may have the solution for your issue without actually having to get in touch with a member of the customer support team. If you wish to send a letter to the customer support team, their mailing address is listed on their Contact Us page. Overall, Betterment definitely look after the needs of their customers and are there to help if you ever have any issues or concerns that need to be resolved.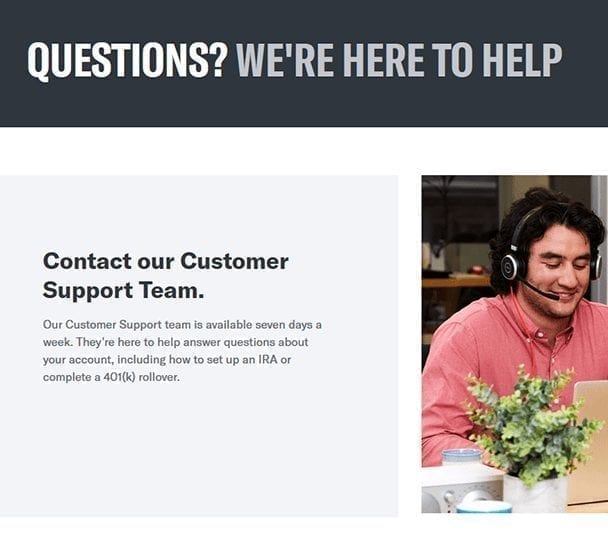 Customer support available 7 days a week
Live chat option available
Comprehensive FAQ section
Go to TD Ameritrade
Risk warning: Capital can be lost. Terms and conditions apply.
7. Payment
7.) Methods of Payment : Only One Option
The only method for depositing is by using an electronic transfer between your Betterment account and your personal checking account. This is done by using the ACH network and there are no personal checks allowed. These forms of ACH transfers are easy to do, cost effective and will keep your funds safe. The reason this method of deposit is preferred is because the likes of checks and wires are slow and the fees can be hefty and add up over time. The same goes for credit and debit cards as banks may take as much as 3% in fees from these transactions which are why Betterment does not accept cards as a payment method.
If a transfer is being made that is worth more than $300,000 there may be special deposit requirements needed to have the money wired in this case. After making your deposit, the funds will be invested in the following one or two days. Funds can be withdrawn from your account whenever you want and there are no added fees that you have to pay. Generally a withdrawal will be processed in 4-5 working days and they will then be present in your bank account. If you have shares in your account when you make a withdrawal, they will be sold and you will then have to deal with the subsequent tax obligations.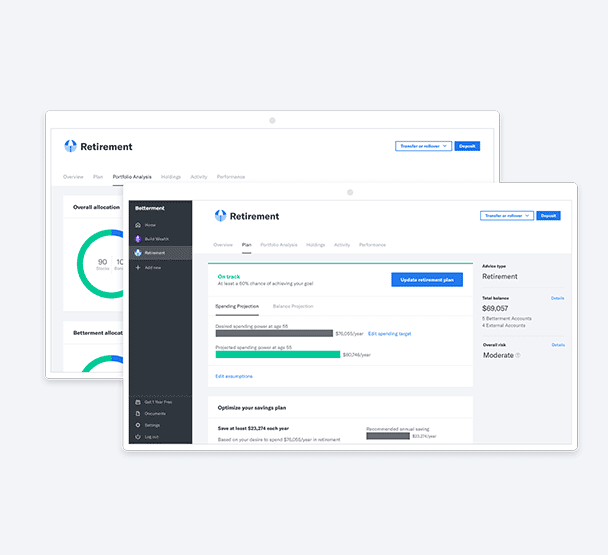 Only one payment option
Safe and secure electronic transfer system
Withdrawals processed in 4-5 working days
Go to TD Ameritrade
Risk warning: Capital can be lost. Terms and conditions apply.
8. Offers
8.) Additional Offers : Regular Promotions
There are a couple of regular promotions that are in operation as part of Betterment's offering. You are able to get as many as 12 months of free management starting off when you first open up an account if you meet certain deposit requirements. If you decide to deposit between $15,000 and $99,999 you will get a single month of management for free. You will get six months for free if you deposit between $100,000 and $249,999 and a deposit of more than $250,000 and you will get the first year of management for free. They also have a referral scheme whereby if you successfully refer one of your friends or acquaintances, you will get a free month of management and the person that you referred will have three months' worth of free management.
As it is not a DIY platform, there is naturally no demo account option for you to try. There is also a limited amount of training available for those who might be new to this sector. There are a number of helpful guides that can walk people through the best way in which they can get started. They can also learn about what their best approach will be when it comes to the variety of options that Betterment offers.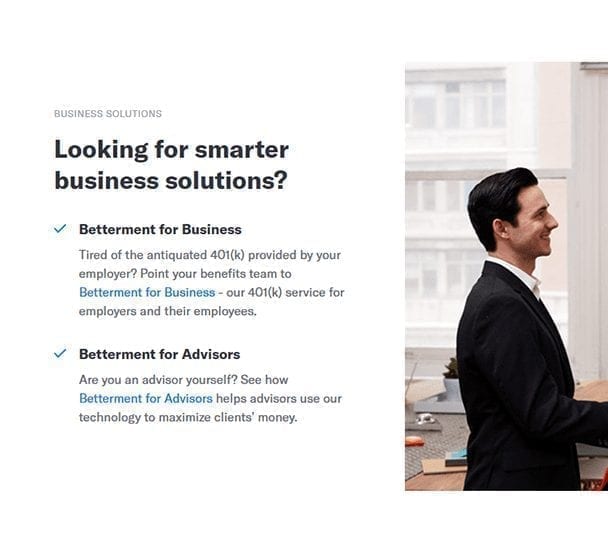 Regular promotions
Referral scheme to get free management months
Discounts depending on deposit size
Go to TD Ameritrade
Risk warning: Capital can be lost. Terms and conditions apply.
9. Regulation
9.) Regulation & Deposit Protection : Strict Regulators
The brokering services that are offered by Betterment are done through Betterment Securities, which is registered with the SEC as a broker-dealer and they are also a member of FINRA/SIPC. The investments that you make with Betterment are not FDIC insured which means that there is no bank guarantee and that your investments may lose value. As you can see, Betterment is bound by strict regulations that have been outlined by the federal government. Their transfer system is safe and sound and the site as a whole takes plenty of precautions to ensure that the sensitive data of their customers is kept private and is not infiltrated.
FINRA/SIPC
Regulatory Authority
As a result of SIPC, all of the securities that are part of your account will be protected to an amount as high as $500,000 in case some sort of nefarious attack takes place and securities did happen to be compromised. In terms of keeping your data safe, none of your credential for third parties that you may use will be stored. They have an independent partner that looks after different aspects of safety, such as the account aggregation process which utilizes the same type of encryption which is used in banks and this maintained both during the transmission phase and when these sums have been stored.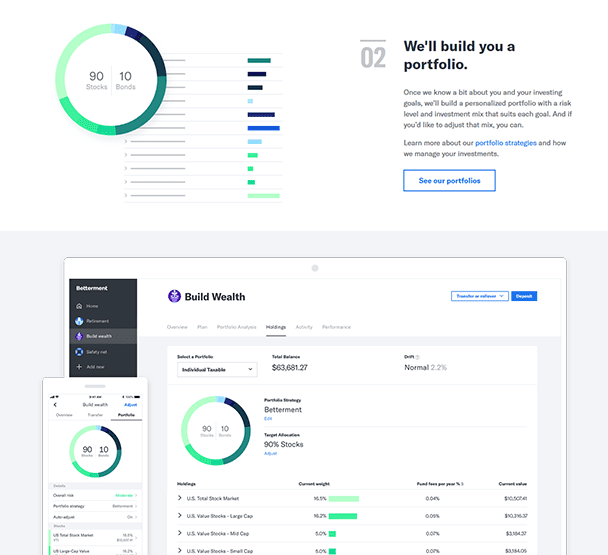 Regulated by the SEC
Member of FINRA/SIPC
Securities protected up to $500,000 per account
Go to TD Ameritrade
Risk warning: Capital can be lost. Terms and conditions apply.
10. Awards
10.) Awards : Numerous Innovative Awards
There have been a few different awards that the Betterment broker platform has garnered in recent years. In 2016, they were won one of the wealth management awards for their 401k retirement plan support services. They go the extra mile to ensure that their customers have all of the advice they could possibly need when it comes to their retirement plans. They also have their own business division called Betterment for Business which helps look after retirement processes from beginning to end, thus taking it off the hands of the businesses which it can often be a headache for.
In 2017, they won an award at the Benzinga Fintech Awards for being the best robo-advisor in the industry. They have also featured in the New York Times, the Wall Street Journal and Forbes over the years and they have won other notable awards such as being part of the CNBC Disruptor 50, FT 300 and being a winner of a Webby award. The awards they have won reflect their goal to put their customers first and also delivering a unique take on the industry which has seen them be a key innovator in the space to date. This has been rewarded handsomely by these various parties.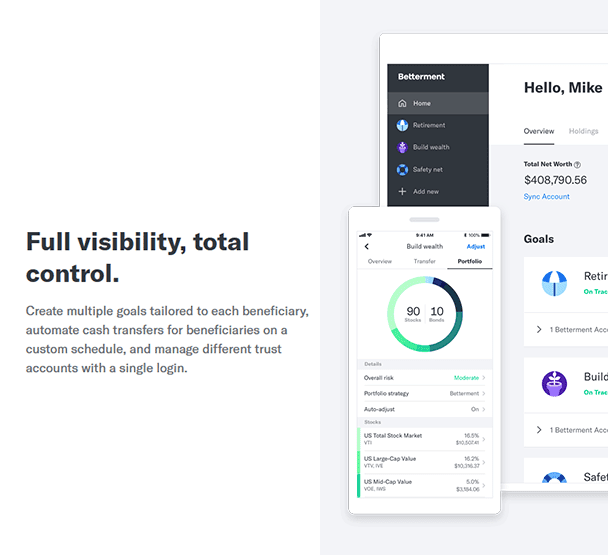 Numerous awards won
Featured in the likes of the New York Times, Forbes and the Wall Street Journal
Webby award winner
Go to TD Ameritrade
Risk warning: Capital can be lost. Terms and conditions apply.
Conclusion: Betterment really cares for their customers
As you can see through this broker comparison review, Betterment really cares for their customers and this is reflected in the attention to detail they take with each individual client, as well as their comprehensive customer support service. There is a lack of tools and analytical features which may be a negative for some people. The site is very easy to use and navigate, which is always a plus and you are able to get in touch with a financial advisor to discuss any issues that you may be experiencing.
Overall, Betterment is an ideal option if you don't have the time or desire to completely direct all of your investments or you want to have some funds managed professionally while you trade with another portion of your funds on another platform. This is certainly a more hands-off option, which has to be considered when you are trying to identify the best ETF broker for your needs. They certainly know what they are doing and their track record over the recent years backs this up.
Competitive fees
Tax efficient
Easy to use platform
Great diversification options
Individualised approachh
No DIY option
Only ETFs available
Test result
Broker

Go to TD Ameritrade
Risk warning: Capital can be lost. Terms and conditions apply.