Firstrade is a no-cost discount broker and one of the pioneers of online trading. The broker offers $0 fees on all stock, mutual fund, ETF and options trades, making it one of the rare brokers that have a commission-free fee structure.
Firstrade has no minimum deposit requirements, and its market research resources have been highly-ranked by major industry publications.
In this review, we'll cover anything you need to know about Firstrade's trade offer, trading platforms, additional services, regulation and more.
Highlights
Commission-free broker – trades from $0
Excellent market research material
No minimum deposit requirement
Accepts foreign investor applications
7.
of 14 ETF Broker
Firstrade

Go to TD Ameritrade
Risk warning: Capital can be lost. Terms and conditions apply.
Headquarters and regulation
New York, USA (FINRA)
Number of ETFs with discount
700+
Services & additional benefits
Live
Hotline
E-mail
1. Trading Offer
1.) ETF Trading Offer: No-Cost Broker Offering Thousands of Trading Instruments
Firstrade is a discount brokerage that offers trading on US-listed and OTC securities at virtually no cost. All securities can be traded at $0 per order, including options. Traders have to pay only for broker-assisted trades, which are charged at $19.95.
The broker offers thousands of securities, including more than 11,000 mutual funds, fixed-income securities, stocks, options and futures to US and foreign investors.
700+
ETFs with discount
Number
Prospective clients can choose from a variety of online trading accounts to meet their investment needs. The full list of accounts available to open with Firstrade is shown below:
Firstrade also provides a monthly list of upcoming IPOs (initial public offerings), including the company and symbol, the expected IPO date, number of shares, and the market it trades. However, the broker generally doesn't accept market orders during the first day the IPO goes public, as the order might be filled at an unfavourable price for the trader.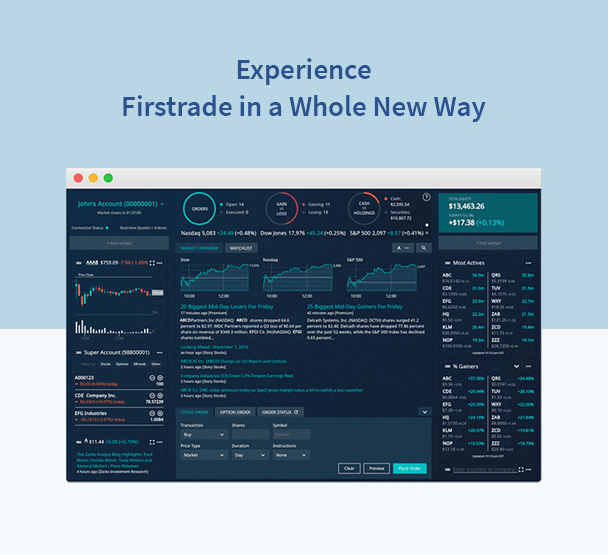 Thousands of US-listed and OTC securities
A variety of trading account on offer
IPO trading
Go to TD Ameritrade
Risk warning: Capital can be lost. Terms and conditions apply.
2. Costs
2.) Exchanges and Trading Centres – Trade Over 11,000 Mutual Funds, Bonds, and Stocks on US Exchanges and the OTC Market
Firstrade offers trading on a variety of investment products traded in the United States. Traders can choose to trade on stocks listed on the NYSE and AMEX, the Nasdaq, or on stocks that are traded over-the-counter such as the OTC Bulletin Board or Pink Sheets. While Firstrade doesn't provide access to foreign markets, traders can still trade a number of foreign securities that are traded on the U.S. over the counter market.
Before cutting their fees, Firstrade offered more than 700 exchange-traded funds in eight classes and three exchanges to be traded commission-free. This ranked Firstrade as the best ETF broker among competitors.
There are over 11,000 US-listed mutual funds on offer, allowing traders to create a professionally managed portfolio with an affordable fee. No matter what sector you're looking for, you'll find the best mutual fund fit for your investment goals.
15+
National
Trading venues
0
International
Trading venues
Fixed-income securities, including U.S. Treasuries and agencies, corporate and municipal bonds and certificates of deposits are also on offer, which allows you to hedge your portfolio and reduce your exposure to equities such as stocks.
Overall, Firstrade offers plenty of investment options for mutual funds and option traders. However, to trade on options, traders need first to complete the broker's Options Application and Agreement.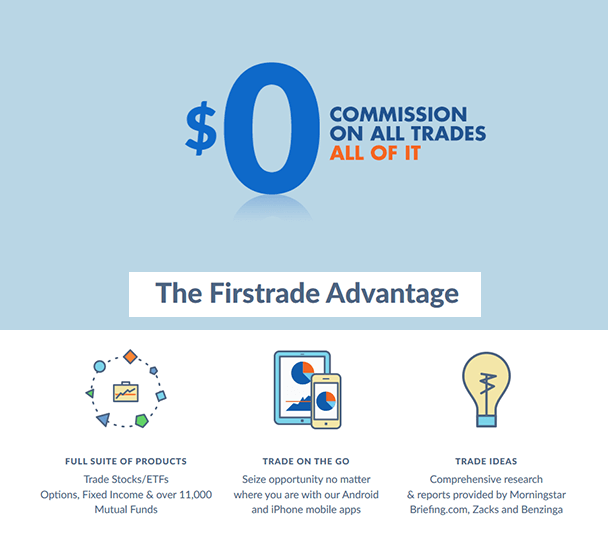 11,000 mutual funds on offer
Access to US-based exchanges and OTC markets
Foreign securities may be traded over-the-counter
Go to TD Ameritrade
Risk warning: Capital can be lost. Terms and conditions apply.
3. Account
3.) Trading Conditions – Commission-Free Trading
Firstrade moved into commission-free trading in August 2018. The broker now offers trading at $0 for all stock, mutual fund, ETF and options trades. Even before the move, Firstrade was extremely competitive, offering trades at $2.95 per order.
Commenting the move into no-cost trading, John Liu, Firstrade's CEO, said that "…the time has come for online brokers to meet the future of investing, it's called wealth management at no cost."
Not available
Saving plans
From
As our broker comparison shows, certain fixed-income products, such as Treasury bills, notes and bonds, municipal bonds and agency bonds are charged on a net-yield basis. Primary market certificates of deposit are charged at $30 per trade, while secondary market CDs are charged on a net-yield basis.
There also remains a fee for broker-assisted orders, which are charged at $19.95 for stocks and ETFs and $19.95 + $0.50 per contract for options.
In addition, redemptions of mutual fund shares held less than 90 days will be subject to a short term redemption fee of $19.95. Also, transaction costs imposed by regulators are passed through to customers, such as the SEC fee of $13.00 for every $1,000,000 in sale proceeds, and the Options Regulatory Fee of $0.0343 per contract for option trades.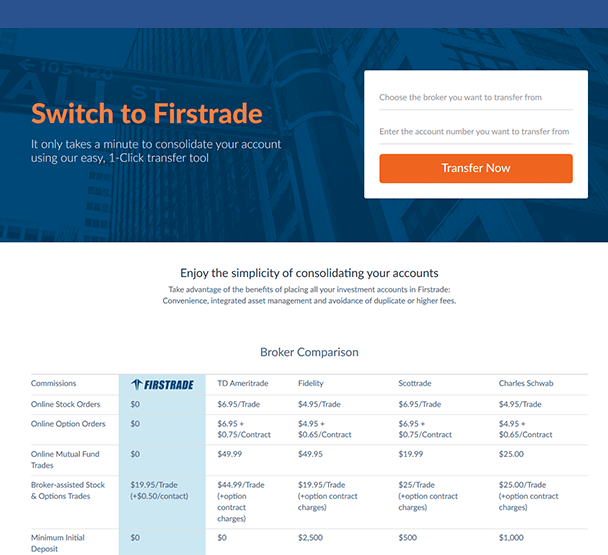 $0 fees for all stock, ETF, mutual fund and option trades
Broker-assisted trade fees start at $19.95
Regulator fees are passed through to customers
Go to TD Ameritrade
Risk warning: Capital can be lost. Terms and conditions apply.
4. Platform
4.) Trading Platform – Easy to Use Without Advanced Features
Firstrade offers a web-based a mobile-based trading platform, called Firstrade Navigator. This is a completely new platform built on HTML5, which makes it fully-customizable and easy to use.
The main interface is divided into three customizable columns, with a crisp a nice-looking chart located in the centre. However, a major drawback is that the chart doesn't offer any drawing tools, so traders will have to reach out to third-party apps to perform even basic technical analysis. Still, there are 58 technical indicators available which can be added to the price-chart.
Another weakness of the platform is that the number of columns in the watchlist is quite limited to the most important data. Nevertheless, just like the mobile app, Firstrade Navigator is extremely easy to use and caters more to beginners in the market than to professional traders.
Unfortunately, to use the Firstrade Navigator, you need to be a Firstrade Premier customer with an account balance of at least $10,000. This is quite a large requirement for the platform, as other competitors offer more advanced trading platforms without limitations.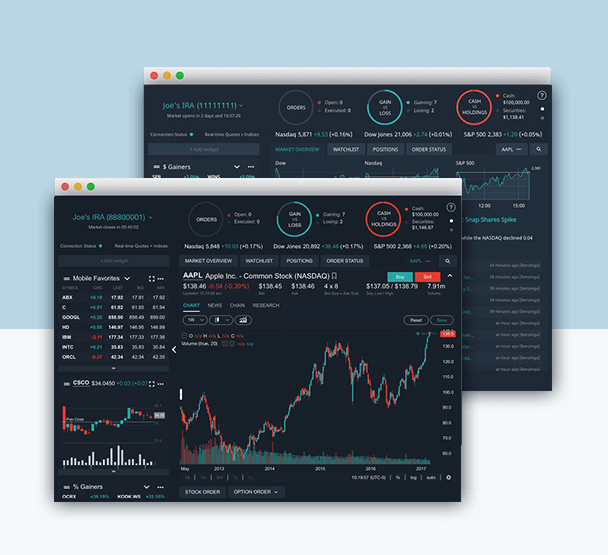 Easy to use mobile and web-based platform
Customizable user interface
Lacks drawing tools
Go to TD Ameritrade
Risk warning: Capital can be lost. Terms and conditions apply.
5. Usability
5.) Usability of the Website – Well-Designed Website with Great FAQ Section
The broker's website is well-designed and easy to navigate through. The main navigation consists of seven tabs: Home, Accounts, Trading, Research & Tools, Retirement, Education and Service. While all top products are well visible, the broker prides the most with its no-cost trade execution which is advertised on many sub-pages.
The website offers a sitemap which can be found at the bottom, categorizing all sub-pages on a single page. Legal information and terms of business can also be easily found at the bottom of the homepage.
The website's design is clean and customers shouldn't have any problems to find what they need. I found the broker's FAQ section to be well put together, covering dozens of questions from account opening to the market holiday structure. Many other brokers could learn from Firstrade how to organize a FAQ section.
There is also a full-translation of the entire website into Chinese, and even certain educational resources are available in Chinese. It would be nice to see the website in even more languages, as the broker accepts customers from around 20 countries around the world. At the time of writing, only English, traditional Chinese and simplified Chinese were available.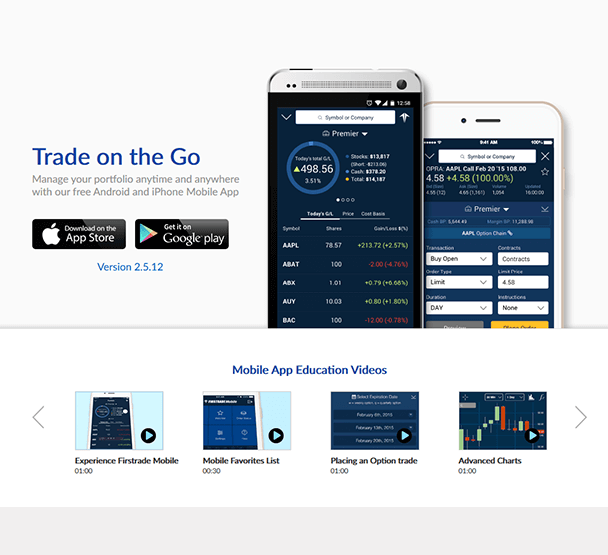 Well-organized and modern website
Full-translated into Chinese
Great FAQ section
Go to TD Ameritrade
Risk warning: Capital can be lost. Terms and conditions apply.
6. Support
6.) Customer Support – Live Chat, Chatbot, Telephone Line and More
Firstrade offers a number of ways to contact their customer support. There is a live chat option, telephone line and e-mail support available. While there is no on-site contact form, the live chat option is a convenient replacement and clients can also find many answers on the broker's FAQ section.
Live chat is available Monday through Friday from 8:00 AM to 6:00 PM ET. There is also a chatbot, called Sammi, which is available 24/7. The chatbot provides answers only to basic questions however.
The Telephone line is open on the same hours as the live chat, with a U.S. toll free number and international number provided on the site. Clients who want to send their forms, agreements and similar documents to the broker can do so using the provided Fax number. To send checks and physical documents, there is also a mail address listed on the broker's contact sub-page.
The broker's customer service is quite professional and provided timely answers to all my inquiries. According to our ETF broker comparison, the connection time to the live chat is relatively short with a maximum waiting time of a few minutes.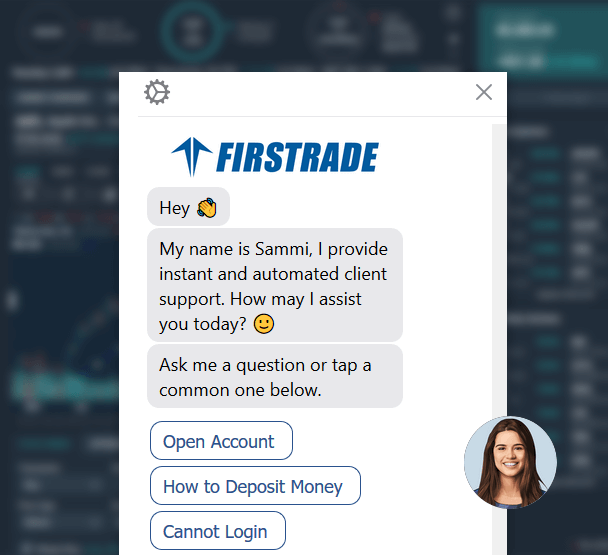 The broker offers email, telephone, live chat and chatbot support
Live chat and telephone are available Monday through Friday, 8:00 AM to 6:00 PM ET
Friendly and professional customer support
Go to TD Ameritrade
Risk warning: Capital can be lost. Terms and conditions apply.
7. Payment
7.) Methods of Payment – Multiple Funding Options and No Minimum Deposit Requirement
Firstrade accepts electronic ACH transfers, checks, wire transfers and account transfers to fund your trading account, ranking it similarly to other brokers in our broker comparison.
To use electronic ACH transfers to fund your account, you'll need to set up an initial ACH profile which may take up to 3 business days. After that, you'll be able to send money electronically from your bank to Firstrade in order to fund your account. Once your funds are transferred, it can take up to 2 business days for them to be credited to your account.
Wire transfers are available immediately upon receipt of the wire. Wire transfers from third-parties are not accepted and will be returned. Clients who want to transfer their existing trading accounts with another broker to Firstrade have to wait around 5-7 business days for the process to complete.
Firstrade also offers a wire fee rebate for deposits that are $25,000 or more. In this case, the broker will rebate wire fees charged up to $25 per wire.
Unlike many other brokers, there is no minimum deposit requirement with Firstrade. You can deposit as much as you want, which makes Firstrade a great choice for beginners to the market.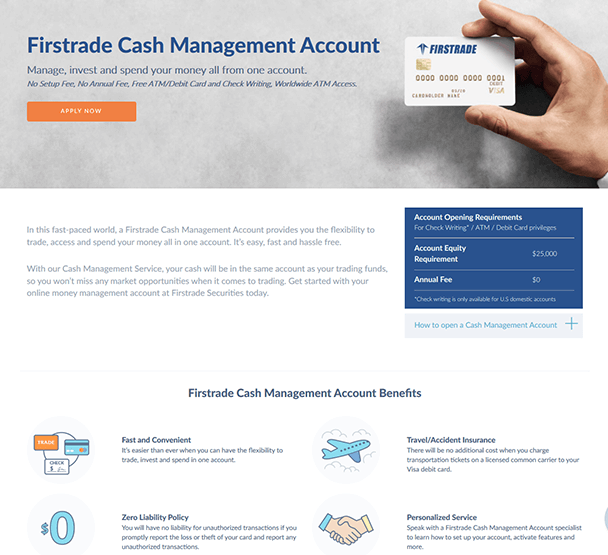 Wire transfers, checks, ACH transfers, accounts transfers
Wire fee rebate for deposits higher than $25,000
No minimum deposit requirement
Go to TD Ameritrade
Risk warning: Capital can be lost. Terms and conditions apply.
8. Offers
8.) Additional Offers – Basic Education Centre, OptionPlay and Promotions
Firstrade offers an Education centre on its website, covering all the basics of investing in stocks, options, ETFs, mutual funds and fixed income securities. There is also an investment glossary with important trading and investment terms. However, the educational resources lack advanced trading techniques and only cover the very basics of investing.
There is also a section with educational videos, but again, the videos cover only the most basic terminology.
In terms of promotions, the broker has a refer-a-friend promotion that credits 50$ to your trading account if you refer a friend to Firstrade who needs to make a minimum deposit of $2,000. Also, if you transfer your account from another brokerage to Firstrade, transferring fees that are imposed by the other broker will be reimbursed by Firstrade.
Firstrade has an excellent research centre providing market analysis from Morningstar, Briefing, Zacks and Benzinga, including detailed fundamental and technical analysis and market news on all major markets.
Option trader will find the broker's OptionPlay tool very helpful. The tool scans for trade ideas on options and presents three tradeable ideas with their respective cost, likelihood and explanation.
Traders can also take advantage of Firstrade's real-time streaming watchlist, which provides key information on symbols in your watchlist such as the spread, bid and ask prices, change, volume and more.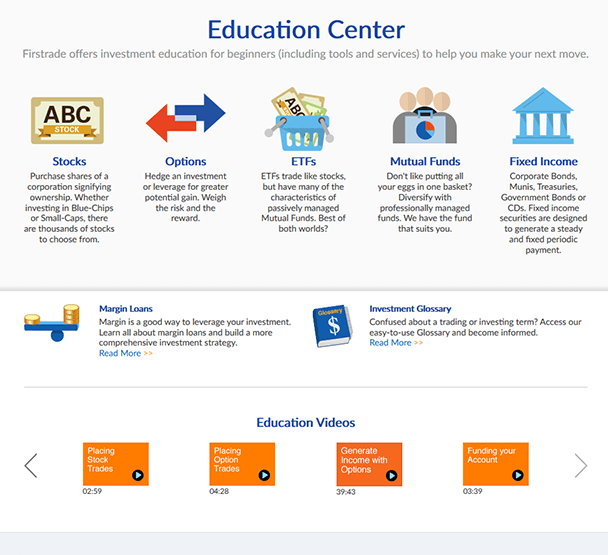 Education centre lacks advanced material
OptionPlay tool for option traders
Powerful Morningstar research
Go to TD Ameritrade
Risk warning: Capital can be lost. Terms and conditions apply.
9. Regulation
9.) Regulation & Deposit Protection – Member of FINRA and SIPC with High Online Security
Firstrade is a member of the Financial Industry Regulatory Authority (FINRA) and the Securities Investors Protection Corporation (SIPC). As a member of SIPC, all securities of clients are protected up to $500,000, including a $250,000 protection for claims on cash.
As our broker comparison shows, Firstrade has an additional insurance policy provided through its clearing firm, Apex. Also known as "excess SIPC", the policy protects customers' securities up to $37.5 million with a $900,000 cash sub-limit, in case SIPC limits are exhausted.
FINRA
Regulatory Authority
Both SIPC and "excess SIPC" don't protect against the declines in the market value of securities.
Firstrade also has account protection policies in place. The broker uses protected servers for data storage, and only authorized employees have access to your account information. The broker's Online Protection Guarantee ensures that, in case of any unauthorized activity in your account, Firstrade will cover 100% of any losses due to that activity.
Firstrade website is hosted on a secure https web protocol, making all data sent through the website encrypted and safe.
Third-party account transfers are rejected under any circumstances, and you need to be of legal age to open an account with Firstrade.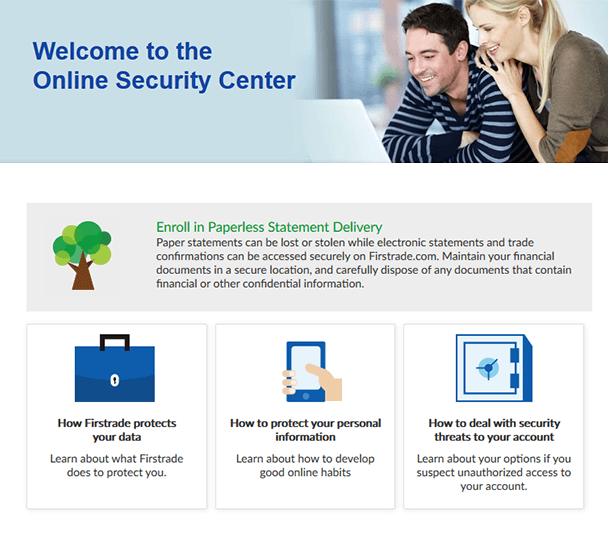 Member of FINRA and SIPC
Online Protection Guarantee
"Excess SIPC" protects up to $900,000 of clash claims
Go to TD Ameritrade
Risk warning: Capital can be lost. Terms and conditions apply.
10. Awards
10.) Awards – 4.5 Stars by StockBrokers.com 2018 Online Broker Review
Over the years, Firstrade has received numerous awards for its brokerage services, commissions and technology. The broker was awarded 4.5 stars out of five by StockBrokers.com 2018 Online Broker Review for the website's ease of use and also received 4.5 stars in the category of commissions and fees. This is "Best in Class" for commissions and fees and ease of use, among 13 other online brokers.
Blain Reinkensmeyer, Head of Broker Research at StockBrokers.com, said that "Overall, Firstrade provides fantastic value with its offering of trader tools compared to its closest deep discount competitors. Investors looking for a low-cost, well balanced, all around easy-to-use broker will find Firstrade a great fit."
In addition, Firstrade was also praised for its market research resources. "As far as research goes, Firstrade offers customers a well-balanced experience, thanks to its use of Morningstar as its primary provider," Reinkensmeyer added.
Other major industry publications, such as Barron's, Forbes and Smart Money, have all rated Firstrade as one of the best discount online brokers available in the market.
However, with platforms and tools receiving only 2 stars, and order execution receiving 1.5 stars, Firstrade wasn't ranked as the best ETF broker on the list.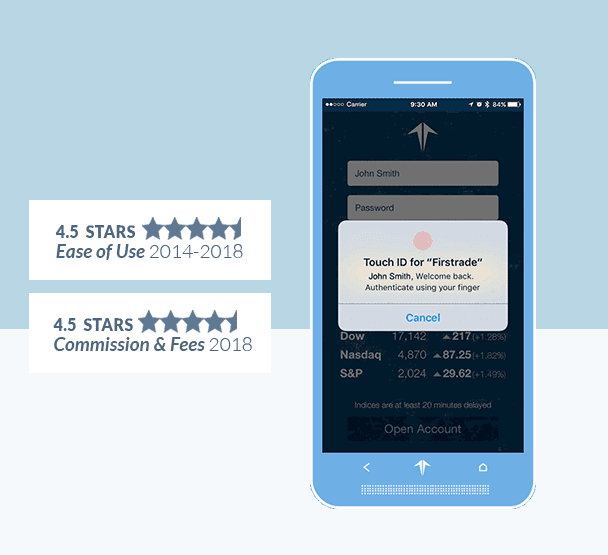 Best in Class for commissions and fees and ease of use
Highly ranked research tools
2 stars for platforms and tools
Go to TD Ameritrade
Risk warning: Capital can be lost. Terms and conditions apply.
Conclusion: Firstrade May Be a Great Broker for Beginner Traders
Firstrade is an online discount broker that offers highly competitive trading conditions. Recently, the broker went completely commission-free and charges no fees on trades at all. There remains a $19.95 fee if you want to place a broker-assisted trade, and regulator fees are passed through to the customers as well.
The broker's trading platform is not the best in the industry. While the design is nice and elements are customizable, the chart doesn't support drawing tools and watchlists lack functionality. The good news is that the broker offers great market research, including reports from Morningstar, Zacks, Briefing and Benzinga. There is also no minimum deposit requirement.
Overall, the broker might be a great choice for beginners to the market who want no-cost trades and no minimum deposit requirements. The research reports may also help to gain experience and learn while trading. Advanced traders will likely be better off with another broker that features better trading platforms.
Commission-Free Trading
Large number of tradeable securities (11.000 mutual funds)
Great research resources
No minimum deposit requirement
Trading platform lacks functionality
Order execution issues
Basic educational resources
Test result
Broker

Go to TD Ameritrade
Risk warning: Capital can be lost. Terms and conditions apply.