Just2Trade is an award-winning discount broker with fees starting as low as $2.50. However, the low cost comprises the user-experience to some extent, as the broker offers only basic market research and analysis and trading platforms without advanced charting tools. The FAQ section of the broker is one of the best-organized in the industry, with dozens of answers to the most common questions. Traders who want a low-cost broker and don't need detailed market research or advanced charting tools may have a great time with Just2Trade.
Highlights
Extremely low-cost execution of trades
User-friendly website
Variety of US & OTC-listed securities
Mobile and web-based trading apps
14.
of 14 ETF Broker
Just2trade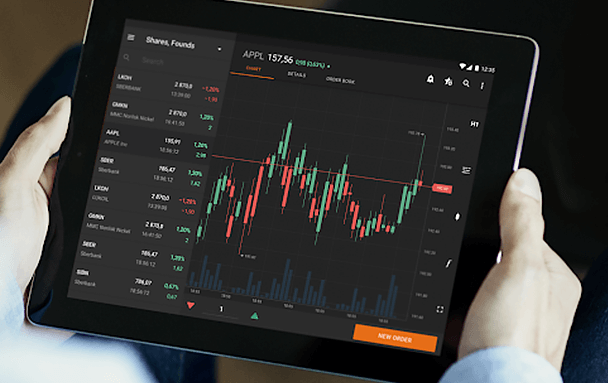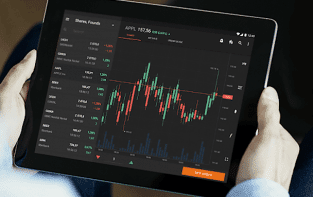 Go to Broker
Risk warning: Capital can be lost. Terms and conditions apply.
Headquarters and regulation
USA (FINRA/SIPC)
Number of ETFs with discount
0
Services & additional benefits
Live
Hotline
E-mail
1. Trading Offer
1.) ETF Trading Offer : Just2Trade Offers a Variety of Trading Accounts with Low Cost Trade Execution
Just2Trade is a discount broker that relies on extremely low fees to attract customers. In turn, customers have to give up on a lot of advanced features that are standard with other brokers.
Just2Trade offers trading on stocks, options, mutual funds, futures, and ETFs on US exchanges. Over the counter markets are also supported. This means that traders can also trade on foreign stocks, given they're listed on an over the counter market in the United States.
The broker offers a variety of trading accounts, including individual accounts, custodial, traditional IRA, rollover accounts, corporate accounts, partnership accounts and trust accounts. The broker's website doesn't list corporate custody accounts among the offered account types.
0
ETFs with discount
Number
Individual accounts are opened online through Just2Trade's registration form and take up to 2 days to be processed and activated.
Just2Trade partnered with Morningstar to provide market news and research for its customers. However, the research is quite basic and traders will likely have to perform research using other resources than Just2Trade. Nevertheless, given the low cost of Just2Trade (fees start as low as $2.50 per trade), the lack of market research should not be an important issue for experienced traders.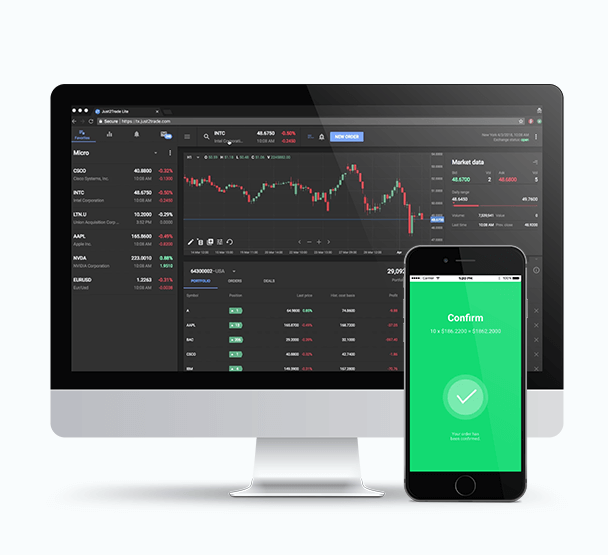 Low-cost discount broker
US-listed and OTC markets supported
Variety of trading accounts on offer
Go to Broker
Risk warning: Capital can be lost. Terms and conditions apply.
2. Costs
2.) Exchanges and Trading Centres – Just2Trade offers stocks, options, ETFs, futures and mutual funds on US-listed exchanges and OTC markets
In this ETF broker comparison, we showed that Just2Trade offers trading on a variety of markets and securities that are listed on US exchanges. Even foreign securities can be traded if they're listed on an OTC market in the United States.
Beside stocks, options, mutual funds and ETFs, the broker also supports trading on preferred stocks and class shares. Traders who want to trade on futures contracts, including foreign futures contracts can do so online or via telephone. If a futures contract is not listed on the broker's trading platform, traders can contact the broker's trading desk and trade via phone. A full list of available future contracts to trade with Just2Trade can be found on the following link: http://futures.gaincapital.com/trading/trading-hours.cfm
0
International
Trading venues
The variety of futures and other securities that can be traded is great for investors who seek to diversify their investments across markets. Day traders can also benefit by looking for trading opportunities in correlated markets, but bear in mind that Just2Trade will automatically flag you as a day trader if you take 3 or more trades daily during 5 consecutive days. In this case, your minimum account requirement rises to $25,000.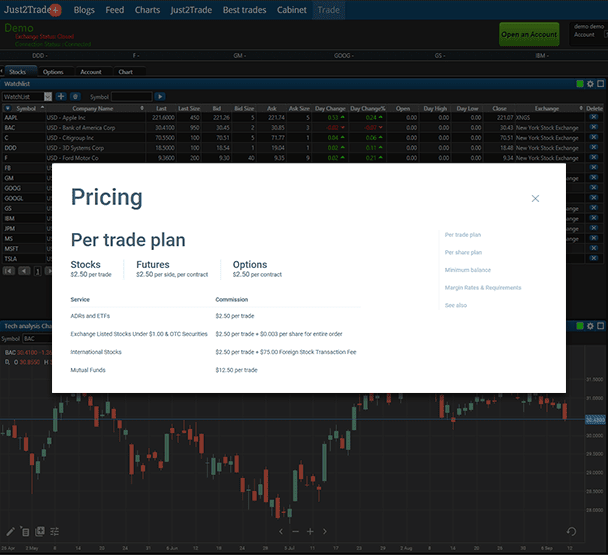 Trades can be placed via telephone
Preferred stocks and class shares supported
Day traders have a minimum account size requirement of $25,000
Go to Broker
Risk warning: Capital can be lost. Terms and conditions apply.
3. Account
3.) Trading Conditions – Just2Trade Offers Very Low Fees Starting at $2.50 Per Trade for Accounts Above $2,500
The fees and commissions structure with Just2Trade is very straightforward and clear. Accounts that have a balance of $2,500 or more pay only $2.50 per trade, making Just2Trade perhaps the best ETF broker for low-cost trades. Accounts with balances between $2,000 and $2,499 pay $4.00 per trade, while accounts that have balances below $2,000 are restricted from trading until the account is funded to above $2,000.
There is also a commission surcharge of $0.003 per share if you place orders on ECN markets, such as the ARCA or NSDQ.
Broker-assisted trades via telephone have commission of $12.50, while ETF trades that are placed over phone are charged $20.00 per ETF.
Similar to other online brokers, Just2Trade charges an additional 50 cents per contract for option traders.
Just like with ECN markets, traders have to add $0.003 per share if they trade over-the-counter securities or Pink Sheet securities.
Just2Trade has fees on the lower side of industry standards, as the broker is focused on providing the most cost-efficient trading among discount brokers. However, the cost-savings reflect on the overall user-experience – trading platforms are not state-of-the-art, market research is only basic and customer support doesn't catch up with other (more expensive) brokers.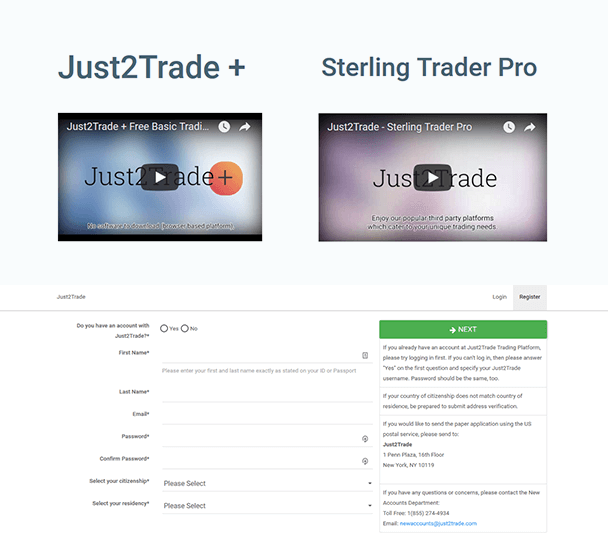 Fees depend on account size
$2.50 per trade for accounts over $2,500, $4.00 per trade for accounts between $2,000 - $2,499
Option traders pay additional $0.50 per contract
Go to Broker
Risk warning: Capital can be lost. Terms and conditions apply.
4. Platform
4.) Trading Platform – Basic Functionalities for Casual Traders
Just2Trade offers a number of trading platforms for stocks, options and futures trading. The trading platform for stock traders comes in the form a web-based platform, mobile app and desktop app and features fully customizable charts, real-time price quotes and around 90 technical indicators. Nevertheless, the platform lacks advanced features and technical tools, which is the cost-saving consequence that I mentioned earlier. Casual traders will likely find all necessary tools they need, and advanced market analysis can surely be performed outside of Just2Trade. To place trades and monitor profits and losses, as well as to perform basic technical analysis, Just2Trade's platform is enough.
The broker's options trading platform is called Just2Trade+ and, just like the stock trading platform, offers a customizable interface, level II market data and access to U.S. exchanges. Just2Trade+ provides a basic option chain and 22 optional columns, but profit and loss charts can't be enlarged and the columns cannot be rearranged. The platform is web-based and can be accessed with any modern web-browser.
Futures traders will spend most of their time on the broker's Sterling Trader Pro platform, OEC trader and CQG Trader. The first one features real-time market analysis combined with advanced charting capabilities and over 60 configurable studies and caters to the advanced traders.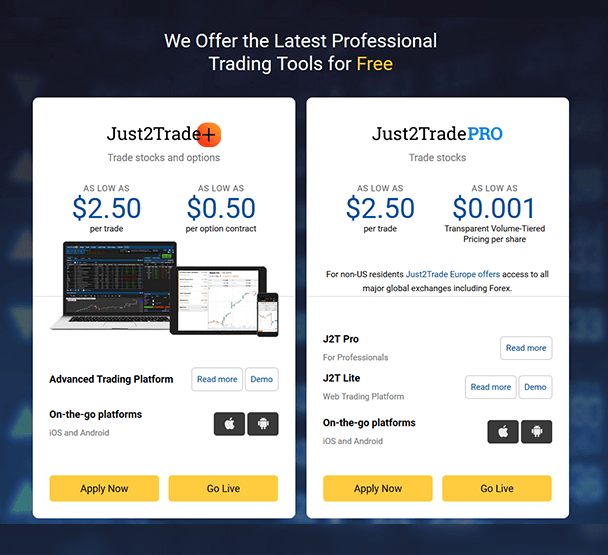 Just2Trade offers trading platforms for stocks, options and futures
Just2Trade+ supports basic option chain and a customizable interface
Third-party trading platforms supported
Go to Broker
Risk warning: Capital can be lost. Terms and conditions apply.
5. Usability
5.) Usability of the Website – Simple Yet Powerful Website Design
Just2Trade's website is fairly simple with a comments section taking up the majority of the homepage. In the comments section, customers can ask any question they like and a member of the Just2Trade team will quickly provide a public answer. This is a quite different concept in a broker comparison to websites of other brokers. The links to pricing, trading platforms, and frequently asked questions are located to the left of the comments section.
The Pricing link provides all necessary information regarding the fees structure of the broker, grouped into a "per trade plan" and "per share plan". The link also provides information on the minimum required balance, and margin rates and requirements.
Trading platforms are clearly separated by the type of security into stocks, options and futures trading platforms, and the FAQ hosts dozens, if not hundreds of already-answered questions, covering everything from accounts to taxes.
The design, although simple, is clearly arranged and customers can find their way to the most important information without any problems. Legal information and terms of business are easy to find and clearly visible by clicking on "Just2Trade Documents & Disclosures" at the bottom of the homepage.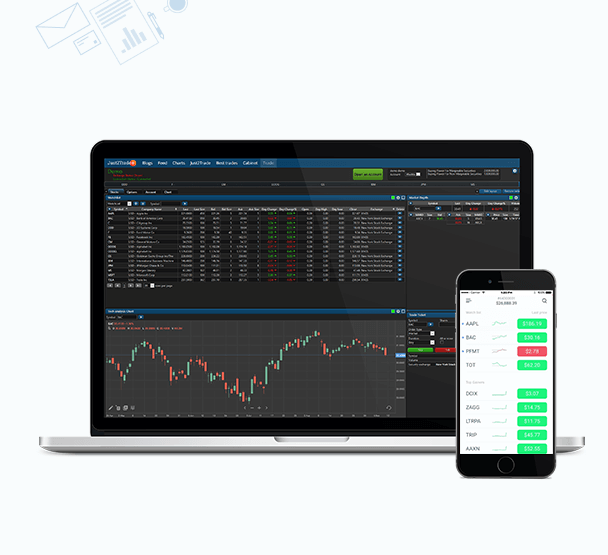 Comments section on homepage
Comprehensive FAQ section
Legal information located at bottom of the homepage
Go to Broker
Risk warning: Capital can be lost. Terms and conditions apply.
6. Support
6.) Customer Support – Comprehensive FAQ Section, Live Chat, e-mail and Telephone Line
The broker's FAQ section aims to answer all commonly asked questions of potential customers. In an ETF broker comparison, Just2Trade's FAQ section is really comprehensive and covers anything that a customer might need before opening an account. Alternatively, if the FAQ section doesn't answer a specific question, the broker offers live chat, e-mail support and a telephone line. However, the contact section is hard to find on the website and most potential customers will therefore have to rely either on the FAQ section or the comments section, which is a minus point for the broker.
The comments section on the homepage can also be used to ask questions directly to a Just2Trade representative. Interestingly, customers can also add attachments and YouTube videos directly to the comments section.
The live chat is integrated with Facebook Messenger and provides prompt replies to any questions. The waiting line shouldn't be an issue, as most customers are connected with an agent in a few minutes at most.
Overall, Just2Trade offers the typical contact methods combined with a comments section that is publicly visible. Since there are hundreds of answers in the FAQ section, covering accounts, futures, funding, order types, fees, IRAs, taxes and more, potential customers may find all necessary information without directly contacting the broker.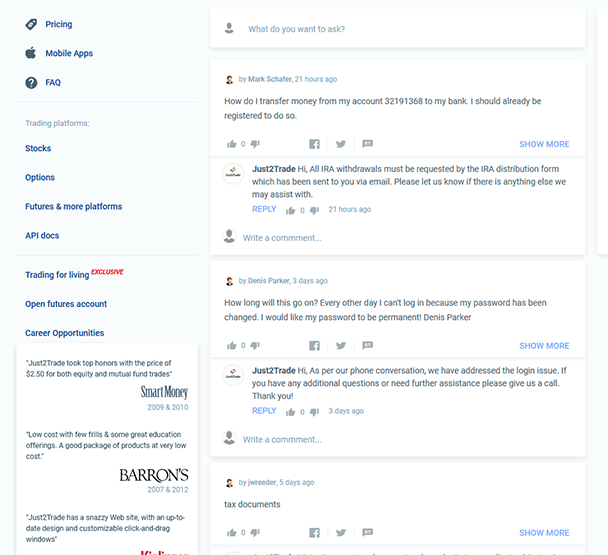 FAQ section primary location for new customers
Alternatively, customers can contact the broker via live chat, e-mail or telephone
Live chat is integrated with Facebook Messenger
Go to Broker
Risk warning: Capital can be lost. Terms and conditions apply.
7. Payment
7.) Methods of Payment – Just2Trade Accepts ACH, Bank Wires and Account Transfers
Just2Trade offers several ways to fund an account, such as wire transfers, ACH electronic transfers and account transfers. Deposits by credit/debit card or PayPal are not accepted.
It takes approximately 5-7 business days to verify a bank account and establish an ACH with Just2Trade. After the verification process is complete, transferring funds via ACH takes another around 2-3 business days before they're credited to the trading account. After an ACH deposit is completed, withdrawals cannot be made in the first 10 business days after the initial deposit. There are no charges involved with an ACH deposit or withdrawal, and the minimum amount for all ACH in/out requests is $100.
Bank wires take up to 24 hours to be credited to a trading account, while foreign bank wires can take up to 48 hours. Just like with ACH transfers, Just2Trade doesn't impose any fees on bank wires.
To begin trading with Just2Trade, your account value must be at least $2,500. This is also the threshold to qualify for the $2.50 per trade fee. If the account size falls between $2,000 and $2,499, the fee increases to $4.00 per trade. Account sizes below $2,000 are prohibited from trading until the equity is raised again.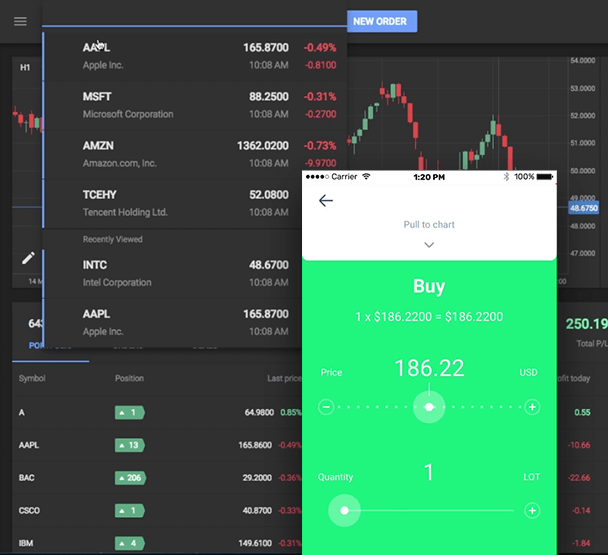 Just2Trade accepts electronic transfers (ACH), bank wires and account transfers
One an ACH is set up, it takes 2-3 business days for funds to be credited to account
No fees on bank wires and ACH for deposits
Go to Broker
Risk warning: Capital can be lost. Terms and conditions apply.
8. Offers
8.) Additional Offers – Research Below Industry Standards
Just2Trade offers a demo account for customers who want to get their feet wet in a risk-free environment before opening a real account. This is a great way to practice trading and get familiar with the broker's various trading platforms before starting to risk real money.
As this ETF broker comparison shows, the market research that the broker provides is very weak when compared to other competitors. Just2Trade relies on Morningstar for market news and analysis, but most of the information are already available on Morningstar's website for free. Still, the available data sets include fundamental data of a company, recent news, balance sheets, income statements, earnings analysis and cash flow statements. For the casual trader, this might be enough information to conduct some basic fundamental analysis of a stock.
It's no wonder that Just2Trade offers only basic research, as the broker provides trading services at half the cost compared to other discount brokers. Customers that choose Just2Trade will have to rely on third-party analysis outside of Just2Trade.
While Just2Trade hosts regular webinars, the content is mostly focused on their trading platforms and doesn't provide much information on trading strategies and topics. Again, traders need to study on their own if they want to cover advanced trading concepts.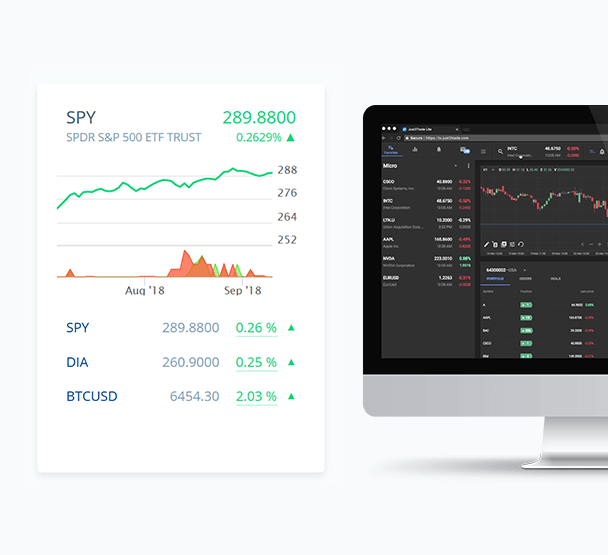 Basic Morningstar research provided
Traders should do their own research outside of Just2Trade
Webinars don't provide real trading education
Go to Broker
Risk warning: Capital can be lost. Terms and conditions apply.
9. Regulation
9.) Regulation & Deposit Protection – Customer Accounts Are Protected by SIPC
Just2Trade is a member of FINRA, NFA and the Securities Investor Protection Corporation (SIPC), which protects up to $500,000 of funds and securities. SIPC doesn't protect against regular market movements and declines in the market value of securities. As a firm regulated by FINRA, Just2Trade has to abide by strict industry standards that ask for regular reporting, an experienced management team and certain capital requirements among others. Just2Trade was acquired by WhoTrades, Inc, in 2015 – a company that has been in good standing with both SEC and the FINRA.
The broker's website uses a secure https:// protocol that ensures that all information sent through the website is encrypted and safe. The website's certificate is used to ensure the identity of a remote computer and to prove a visitor's identity to a remote computer, establishing a secure connection between your web-browser and Just2Trade's servers.
FINRA/SIPC
Regulatory Authority
In order to open a trading account with Just2Trade, customers need to be of legal age and have a bank account in their own name. The broker doesn't accept transfers from third-party accounts, neither for funding nor for withdrawing of funds, which adds to the security of trading accounts.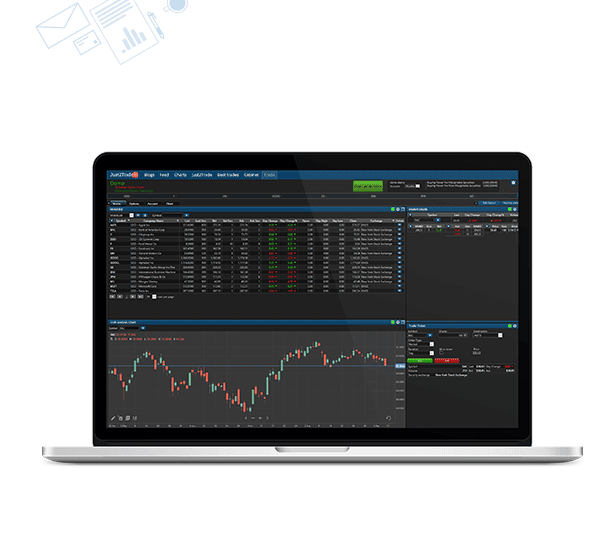 FINRA, NFA and SIPC member
Up of $500,000 of funds and securities protected by SIPC
Transfers from third-party accounts not accepted
Go to Broker
Risk warning: Capital can be lost. Terms and conditions apply.
10. Awards
10.) Awards – Just2Trade Has Been Awarded for its Low-Cost Trades
Just2Trade has received a number of awards so far, mainly for it low cost brokerage services. Just2Trade made it on the list of Kiplinger's Best Online Brokers for 2012. Kiplinger picked Just2Trade as "Best for Traders" for its low-cost trades of just $2.50, noting that the broker is bare-bones without much access to outside research and analysis. Kiplinger also noted that there are no account-maintenance or inactivity fees imposed by the broker.
SmartMoney's review of discount brokers awarded Just2Trade as best in the Commissions & Fees category, giving 2 stars out of 5 for mutual funds & investment products, 2 stars for banking services, 4 stars for trading tools, 3 stars for research and 2 stars for customer service. Just2Trade was given the 11th place out of 16 discount brokers.
Barron's also praised Just2Trade for its "low, low costs with few frills", noting that the broker offers some great education resources for such a low cost, such as the Recognia technical analysis system.
As can be seen from the received awards, Just2Trade's main selling point is the extremely low-cost of trades which is almost half the amount that other discount brokers charge per trade.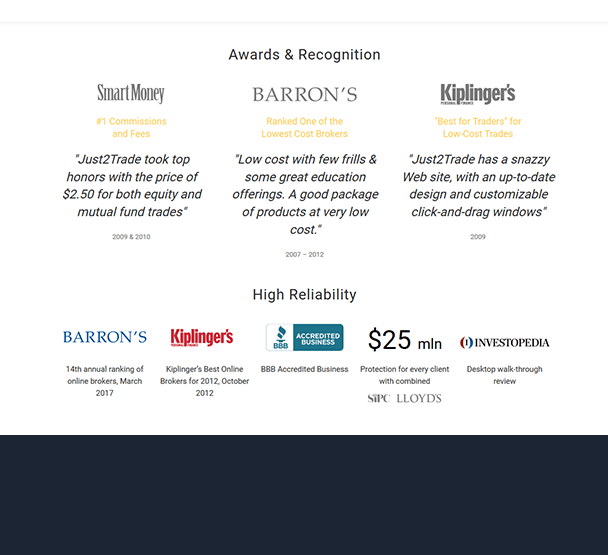 "Best for Traders" award by Kiplinger
Best in the Commissions & Fees category by SmartMoney
Low-cost trades main selling point of the broker
Go to Broker
Risk warning: Capital can be lost. Terms and conditions apply.
Conclusion: Just2Trade Best for Low-Cost Trades
In this broker comparison, we stated that Just2Trade is an award-winning low cost broker with rates that start as low as $2.50 per trade, which makes it the best ETF broker for low-cost trades. For accounts between $2,000 and $2,499, the fees rise to $4.00. The broker is bare-bones and caters to traders who can make their own analysis from third-party resources and don't want to rely on Just2Trade's research.
Trading platforms are quite basic and most of the advanced trading tools are not available. The broker's in-house developed trading platforms are mostly web-based, and their mobile apps offer only the most basic functionality of placing and managing trades with basic price-charts.
While the broker offers e-mail, live chat and telephone support, the FAQ section will likely answer most of the common questions to potential customers. In addition, the comments section on the homepage can be used to directly interact with a Just2Trade representative.
If trading costs are your main consideration and you're just looking for a ticket window to place your trade, then Just2Trade might be a good choice. All other traders would be better off opening an account with a different broker.
low-cost execution of trades
User-friendly website
Mobile and web-based trading apps
Test result
Broker

Go to Broker
Risk warning: Capital can be lost. Terms and conditions apply.