Robinhood offers a free trading application that stands out from others you will find in an ETF broker comparison due to its no-cost status. Because Robinhood is free, the web-based platform of this broker was only added in late 2017. Overall, Robinhood ETF broker is a good choice for those who frequently trade ETFs, options, or stocks and those who prefer to do trading on a mobile device. The broker has been around since 2013, building up a strong reputation.
Highlights
$0 trades
No-frills platform
Regulated by SEC
Seamless account opening
4.
of 14 ETF Broker
Robinhood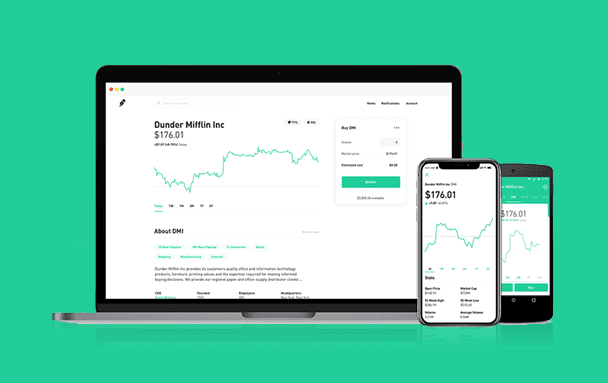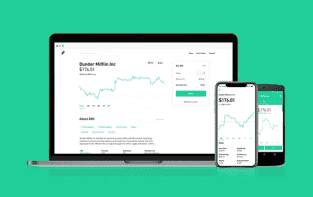 Go to TD Ameritrade
Risk warning: Capital can be lost. Terms and conditions apply.
Headquarters and regulation
USA (FINRA/SIPC)
Number of ETFs with discount
3,000
Services & additional benefits
E-mail
1. Trading Offer
1. ETF Trading Offer: Your Choice of ETFs Without Fees
Robinhood ETF trading includes a wide range of assets, both U.S. exchange-listed ETFs and options contracts for those ETFs. Unfortunately, the broker itself does not list the available ETFs you can trade via the platform, nor does it offer a total number of ETFs on offer. Based on input from Robinhood ETF trading – review 2018 from users and experts, you will find at least several dozen ETFs. However, this figure is likely much higher considering there are about 1,700 ETFs in the U.S. and Robinhood is highly ranked for ETF trading.
3,000
ETFs with discount
Number
Robinhood does not offer custodial accounts, trusts, joint accounts, or IRA products but hopes to in the future. There are three main account types, with Robinhood Instant as the default account. Robinhood Gold increases your available instant deposits and buying power. Robinhood Cash accounts allow for commission-free trades during trading sessions but eliminate access to instant settlements and deposits.
Additionally, there is support for U.S. exchange-listed stocks, options contracts for those stocks, ADRs of more than 250 companies listed globally, and cryptocurrencies. Keep in mind that to keep the platform free from fees, Robinhood does not currently support trading of foreign-domiciled stocks, select OTC equities, tracking stocks, preferred, stocks, mutual funds, fixed-income and bonds trading, or foreign exchanges.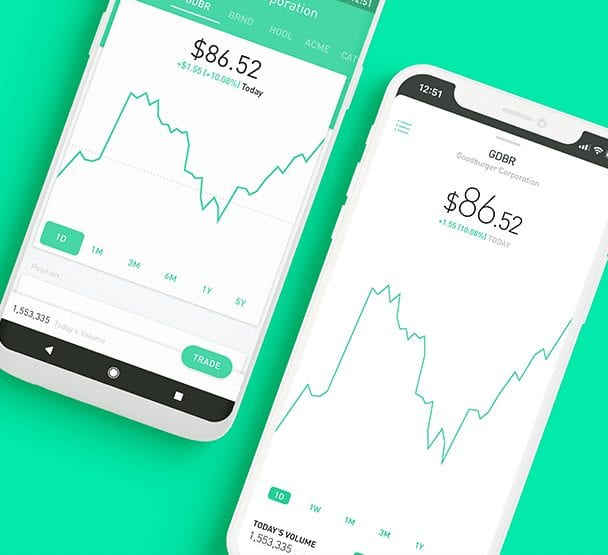 No comprehensive list of ETFs offered by Robinhood
Robinhood also offers stocks, cryptocurrencies, options, and ADRs
Three main account types available
Go to TD Ameritrade
Risk warning: Capital can be lost. Terms and conditions apply.
2. Costs
2. Exchanges and Trading Centers: More than 5,000 Stocks Available
As previously mentioned, Robinhood ETF broker supports American stock exchanges but not international ones. It supports U.S. exchange-listed stocks, but it does not clearly state which U.S. exchanges those stocks can be found on. The implication is that account holders with Robinhood have access to all U.S.-based stock exchanges but have limited access to non-U.S.-based ones. There is, however, support for 250 global stocks that you will not find on the American exchanges in the form of ADRs, American Depository Receipts. There is also support for some stocks that trade on Israeli and Canadian exchanges. Overall, Robinhood supports more than 5,000 stocks, which includes penny stocks.
100
International
Trading venues
Those who prefer other exchanges or trading methods that are not stocks or ETFs will also find stock options and stock index options plus cryptocurrency trading involving Ethereum and Bitcoin. The crypto trading is only available in certain states, however, due to the state-level laws in place across the country.
To maintain its status as a best ETF broker, Robinhood aims to expand its offerings for exchanges, trading centers, and assets. Options trading was added in December 2017 with cryptocurrency support following in February 2018, showing that the broker does work toward expansion.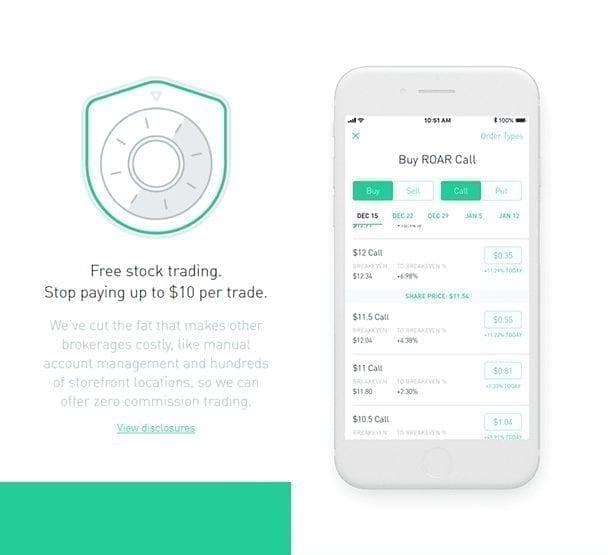 Support for U.S.-based stock exchanges
No support for stocks traded on foreign exchanges, except some Israeli and Canadian ones
Access to 250 global stocks via ADRs
Go to TD Ameritrade
Risk warning: Capital can be lost. Terms and conditions apply.
3. Account
3. Trading Conditions: No Fees from Robinhood
One of the strongest points in any Robinhood ETF trading – review 2018 is the lack of fees from this broker. Robinhood does not charge any fees for maintaining or opening an account. There are no fees from Robinhood for buying stocks or transferring funds, either. Keep in mind, however, that both FINRA and SEC charge small fees for stock sell orders, regardless of brokerage. SEC charges $13 for each $1 million of principal, rounded to the nearest penny. FINRA has a trading activity fee of $0.000119 per share, also rounded to the nearest penny but not to exceed $5.95. Robinhood automatically passes those charges to the regulatory agency.
Options investing with Robinhood is also free, with no monthly fees or fees associated with buying and selling options. Whether you have an Instant account or a Gold account, you can start trading options. There are also no fees for trading ETFs, including all U.S.-listed ETFs. Account holders with Robinhood do not have any fees for ACH transfers or inactivity, but there is a $75 fee for ACAT outgoing transfers.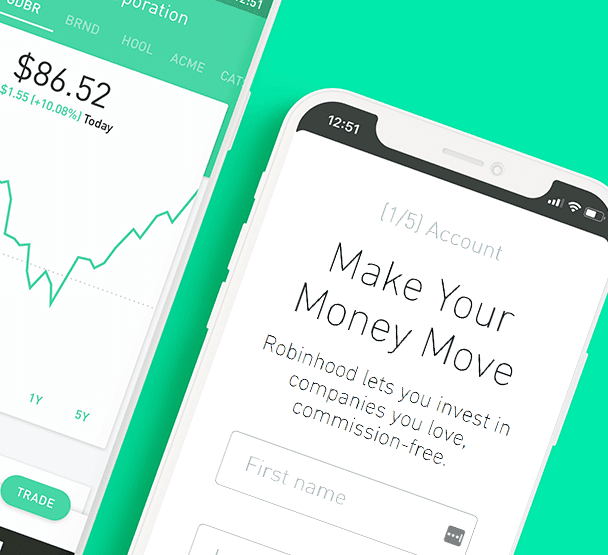 No fees from Robinhood for trading, inactivity, account management, or opening
No fees for ETFs, stocks, or options
SEC and FINRA charge small fees for selling stocks
Go to TD Ameritrade
Risk warning: Capital can be lost. Terms and conditions apply.
4. Platform
4. Trading Platform: Now Offering Mobile App or Web-Based Trading
Robinhood primarily functions as a mobile application for trading. This is the broker's method of keeping costs down to allow for Robinhood ETF choices without fees. Robinhood recently added a web platform in November 2017 due to demand. Robinhood for Web includes the functionality that helps it remain competitive in an ETF broker comparison, while still avoiding thrills to keep costs down. The web application lets you discover stocks via Collections, see the Price Paid for every stock, view stocks that "People Also Bought," and view Analyst Ratings, Earnings, and News and Fundamentals. All those features are slowly being added to the mobile version, as well.
The mobile platform is available for both Android and iOS, although it first launched just on iOS in 2014. That mobile platform is intuitive to use, but it does not have as many features as those in a broker comparison who charge for trades. The application lets you place orders, receive notifications and alerts, and search for stocks, ETFs, and more. It also displays your fee and portfolio reports.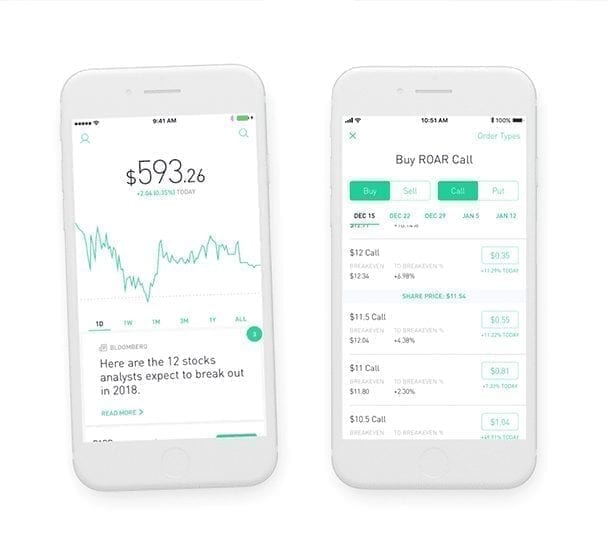 Mobile application available for iOS or Android
Robinhood focuses on mobile application
Web-based trading added in November 2017
Go to TD Ameritrade
Risk warning: Capital can be lost. Terms and conditions apply.
5. Usability
5. Usability of Website: Limited Information on Website, but App Is Highly Usable
Compared to other brokers, the website for Robinhood is a bit lackluster. It has a professional appearance and makes it simple to find the legal information, which is all clearly listed at the bottom of the page. The problem is that finding information regarding Robinhood ETF trading is time-consuming. The basics, such as how to sign up and that there are no fees, are clearly displayed on the homepage.
The homepage only has buttons for an About page, which is identical to the homepage; Careers; and Help. To find answers to nearly any of your questions, including what products Robinhood offers and whether it is totally free, you will need to visit the Help Center. This page does help Robinhood in an ETF broker comparison since there are clear categories and a search bar, so you can easily find information; it just requires several clicks.
The mobile application for Robinhood makes up for the lacks on the website. You can do everything intuitively via the app, including signing up, funding your account, trading, and getting more information. Since most users will spend almost no time on the Robinhood website, the broker prioritized the usability of the app as a way to keep costs low to deliver no fees.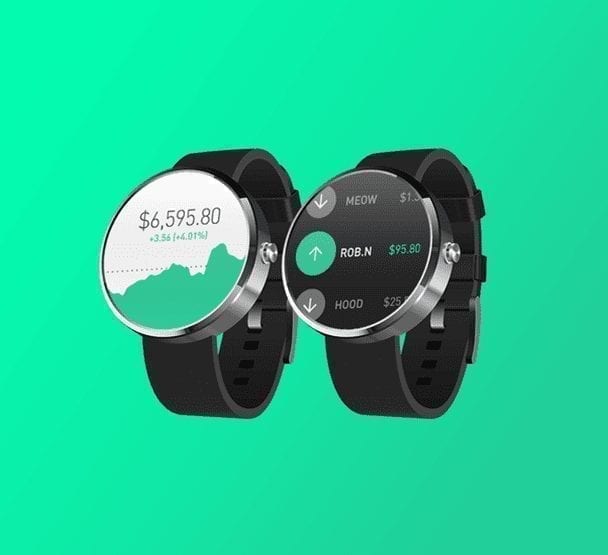 Limited navigation on website
Extensive Help Center on website
Application is highly usable
Go to TD Ameritrade
Risk warning: Capital can be lost. Terms and conditions apply.
6. Support
6. Customer Support: Email and Phone Support Available
Customer support is one area of Robinhood where you get what you pay for. You can easily send an email support request via the mobile application, which is where you are most likely to look at Robinhood ETF anyway. Some clients do report wait times of several days, which is something to keep in mind.
There is conflicting information as to whether Robinhood offers phone support. Some Robinhood ETF trading – review 2018 articles say they do offer it on weekdays between 9 a.m. and 6 p.m. Eastern time. Others say the only method of customer support is via email and that this can be time-consuming. There is also a Robinhood Support Twitter account that offers support on weekdays from 9 a.m. to 5 p.m. Eastern. This Twitter account also posts updates, such as expected service issues.
To beef up the customer support offerings, Robinhood also has a reasonable Help Center on the website, where you will find a range of FAQs. You can either browse the articles or search for the one that addresses your query.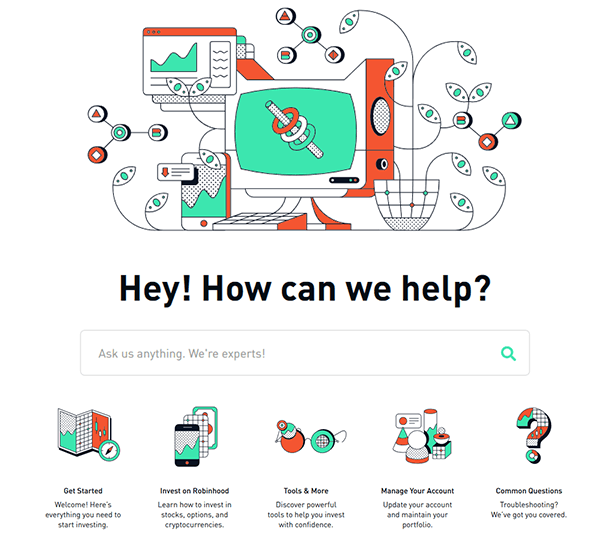 Primary support via email
Phone support may not exist
Reasonable Help Center on website in terms of information at your fingertips
Go to TD Ameritrade
Risk warning: Capital can be lost. Terms and conditions apply.
7. Payment
7. Methods of Payment: No Minimum Deposits
There is no minimum deposit required to start Robinhood ETF trading, which helps the broker appeal to all investors. The primary method of funding your account is by linking a bank account and then completing a transfer. Robinhood suggests linking to a checking account to avoid regulations that can limit monthly transaction limits and to ensure you can use ACH transactions. To fund your Robinhood account, you start by linking your bank via the app. Click on the "Account" icon, then "Banking," "Linked Accounts," and "Add New Account." Find your bank, enter your username and password, and link an account.
If your bank does not appear, click on "More Banks," then type it in. You can click "I don't see my bank" if applicable. Now, you will have to input checking or savings, the routing number, and the account number. To verify any linked bank account, watch for microdeposits and enter the quantities to verify your account.
When you are ready to fund your Robinhood account, go to "Banking" then click "Transfer to Robinhood." Choose the linked account to transfer from, enter the quantity, and continue. There are instant deposits up to $1,000, with larger deposits settling in four or five business days. You can also set up automatic deposits weekly, twice monthly, monthly, or quarterly.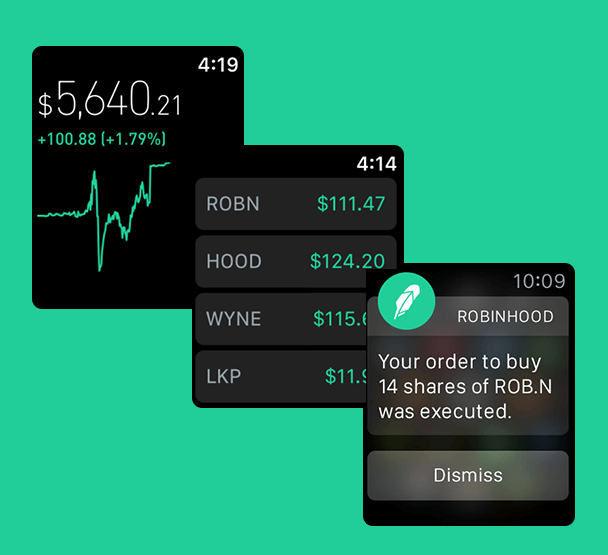 Deposits via linked bank accounts
Simple to link an account via the application
Up to $1,000 in instant deposits
Go to TD Ameritrade
Risk warning: Capital can be lost. Terms and conditions apply.
8. Offers
8. Additional Offers: Transfer Stocks with Ease
Our Robinhood ETF trading – review 2018 appreciates that this broker offers the ability to transfer your stocks to Robinhood. However, you must do a full account transfer, and it must be a U.S. equity-only account that is individual and non-retirement; they must be ACAT transfers. You can do this by going to the "Account" icon, then clicking "Banking" and "Stock Transfer." From there, just follow the directions on the app. There is no fee from Robinhood for inbound transfers. On your first inbound transfer, Robinhood will cover any fees that your previous brokerage charges for this transaction. This process typically takes between five and seven trading days.
To encourage new users, Robinhood offers a referral program where both the person referred and the person who does the referral get a free stock. The stock value can be between $2.50 and $200 and is completely random. It is possible to win as much as $500 in free stocks via referrals.
While most companies you find in an ETF broker comparison offer training materials of some sort, Robinhood does not. The only exception is a basic introduction to trading the various asset types and explanation of terms in the FAQ section. This lack of training materials is a direct result of Robinhood not charging fees; it cannot afford to offer them.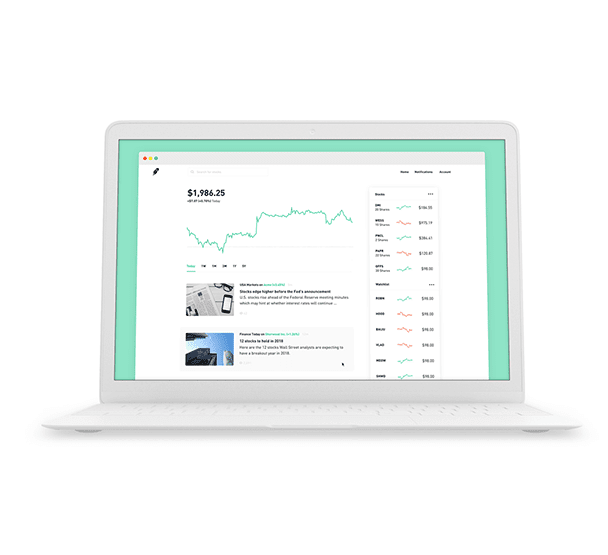 ACAT portfolio transfers possible
Free stocks via referrals
No training
Go to TD Ameritrade
Risk warning: Capital can be lost. Terms and conditions apply.
9. Regulation
9. Regulation & Deposit Protection: Member of SIPC and FINRA
It is important to note that Robinhood actually offers services from two separate entities: Robinhood Financial LLC and Robinhood Crypto LLC. The first has the traditional assets, like options and stocks, while the latter offers cryptocurrency trading. Only Robinhood Financial LLC is a member of FINRA and SIPC with SEC registration. Thanks to SIPC protection, account holders have protection for up to $500,000, including a limit of $250,000 for cash. Because Robinhood Crypto LLC is not a member of SIPC nor FINRA, there is no protection in place for trading cryptocurrencies.
FINRA/SIPC
Regulatory Authority
From the standpoint of transparency, you will not find a banking background for Robinhood ETF, and it is not part of any stock exchange. Generally, experts agree that brokerages with banks as their parent company tend to offer more stability. The lack of listing on a stock exchange also minimizes transparency since Robinhood does not need to publicly release financial statements. It is also worth noting that there is no negative balance protection with Robinhood.
Additionally, Robinhood offers security for your information via industry best practices and high-level security measures. Account passwords are hashed with the BCrypt hashing algorithm, the industry standard. Sensitive details, like social security numbers, are encrypted before storage. Robinhood also uses the Transport Layer Security protocol and never stores online banking credentials.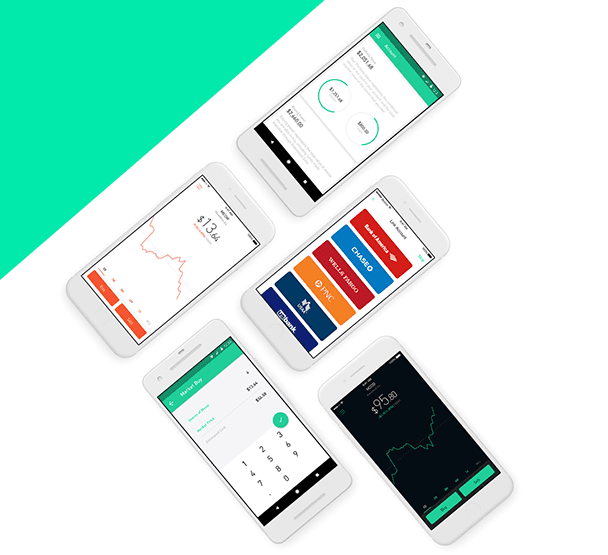 Robinhood Financial LLC is SEC-registered with membership in SIPC and FINRA
No banking background
Security measures in place to protect data
Go to TD Ameritrade
Risk warning: Capital can be lost. Terms and conditions apply.
10. Awards
10. Awards: Winner of Several Honors
In an odd move for Robinhood ETF trading, the broker does not keep a list of its awards on the website or anywhere easily accessible. However, it has mentioned some of its honors via the company blog. At the very end of 2017, the company won a spot on the list of Best Places to Work in 2018 from Glassdoor Employee's Choice Awards. The broker feels that creating a welcoming place to work is a key part of their goal of delivering financial choices to all Americans. Additionally, Robinhood ranked number 26 on that year's list of Glassdoor's evaluated companies with a rating of 4.8/5.
Going back further, Robinhood has also earned honors for its mobile applications. In May 2016, the Android platform earned the 2016 Google Play Award for Best Use of Material Design. Despite the Android application only launching in August 2015, Robinhood was also one of the Best Apps of 2015 on Google Play.
Those who account for the fact that Robinhood is free to use will give it a strong score, with NerdWallet rating the broker with a 5/0. Those who look at the features overall without accounting for the low cost tend to rate it a bit lower, with StockBrokers.com giving Robinhood 2.5 out of 5 stars.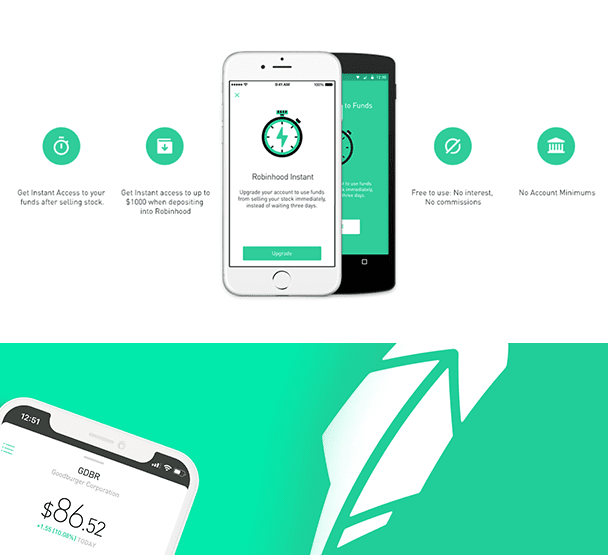 Awards for employee atmosphere and working conditions
Awards for Android application
Receives mixed ratings from experts
Go to TD Ameritrade
Risk warning: Capital can be lost. Terms and conditions apply.
Conclusion: Is Robinhood a Good ETF Broker?
Robinhood is a unique broker due to its ability to offer no commissions or fees. The lack of minimum account balance helps it appeal to beginners while everyone will appreciate the lack of fees, which can add up over time, particularly for regular traders. Our Robinhood ETF trading – review 2018 feels that this is a particularly good broker for beginners who are looking for a low-cost or free brokerage. Advanced traders will likely want to look somewhere else since there are no advanced research tools available and few "frills" that you would find on competitors. This is the trade-off for the lack of fees from Robinhood, but many will consider the platform to be worth it. Before signing up with Robinhood, you should confirm that it offers enough to satisfy your requirements and that you can handle the moderate level of customer support. While advanced traders may be disappointed with Robinhood, beginners and anyone looking to save money on trading fees will strongly appreciate it.
No commissions
No minimum account balance
Mobile applications
Intuitive interface
Quick and easy account opening
No training
Not as many assets as some competitors
No retirement accounts
Lackluster customer support
Test result
Broker

Go to TD Ameritrade
Risk warning: Capital can be lost. Terms and conditions apply.