SogoTrade combines low fees and commissions with exceptional customer service. Option traders will find the broker's SogoOptions trading platform extremely useful as it provides a variety of trading tools to successfully trade the options market. Fees start as low as $2.88 for stocks, and option traders pay an additional 50 cents per contract. In addition, the broker's customer service has received numerous awards so far for its professionalism and availability. Check out why SogoTrade may be the best ETF broker in the following lines.
Highlights
Very low trading fees
Customizable and advanced trading platforms
Top-Notch customer support
Award-winning broker
13.
of 14 ETF Broker
SogoTrade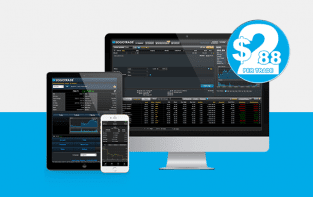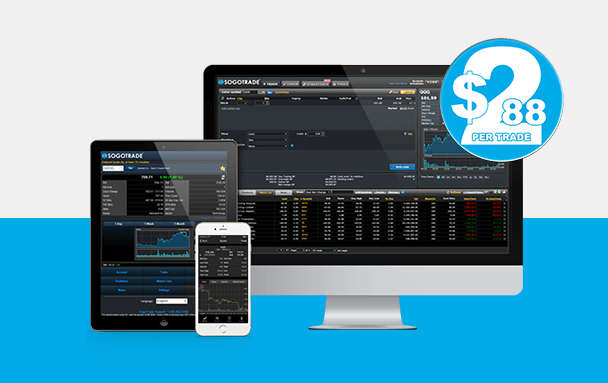 Go to Broker
Risk warning: Capital can be lost. Terms and conditions apply.
Headquarters and regulation
USA (FINRA/SIPC)
Number of ETFs with discount
0
Services & additional benefits
Live
Hotline
E-mail
1. Trading Offer
1.) ETF Trading Offer: Trade International Equities and ETFs with SogoTrade
SogoTrade is a discount-broker that offers trading on low commissions combined with competitive trading tools. SogoTrade was purchased by Coast Investment Associates in 2010, after which the firm changed its name to SogoTrade, Inc. The broker's headquarter is in New York, USA.
While the main focus of SogoTrade remains on options trading, customers can also trade on a variety of US and international stocks and ETFs. However, mutual fund trades cannot be placed online and need to be executed via telephone. Unlike some of SogoTrade's main competitors, the broker doesn't offer commission-free ETFs.
All SogoTrade customers have access to the broker's asset management services, with costs as low as 0.75% and dedicated advisors. The asset management service, called Sogo MarketRiders, offers commission-free trades.
0
ETFs with discount
Number
SogoTrade offers a variety of account types, including individual accounts, joint accounts, business accounts, IRA accounts, Coverdell education saving accounts, UTMA/UGMA accounts and trust accounts. Beside accounts for US-residents, SogoTrade also offers so-called Foreign Accounts, which can be opened by investors who reside outside the US and want to trade the international equity markets. It takes only 5 minutes to complete the online application and 1-2 business days for SogoTrade to fully activate your account.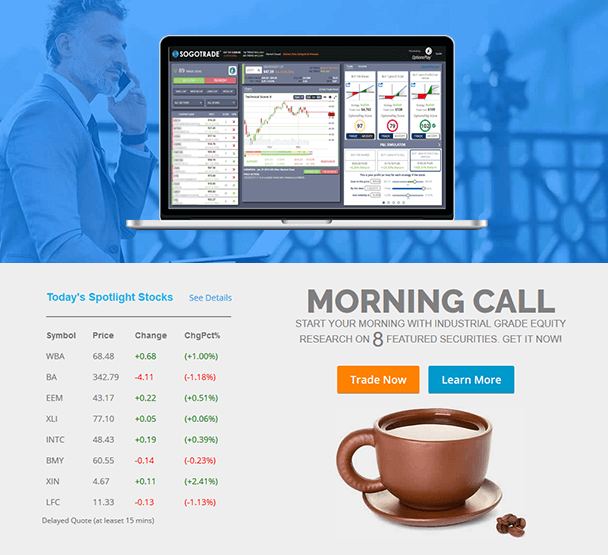 Low commission and competitive trading tools
Focused on options trading
Asset management services available
Go to Broker
Risk warning: Capital can be lost. Terms and conditions apply.
2. Costs
2.) Exchanges and Trading Centres – Trade US-listed and OTC stocks with SogoTrade
SogoTrade offers trading only on US-listed stocks and options and doesn't provide access to foreign exchanges. Still, customers have also access to US stocks on the over-the-counter market, which is a welcoming feature as traders are able to diversify their investment. However, it should be noted that over-the-counter stocks are usually less liquid and more volatile than stocks listed on exchanges, which could lead to larger losses if the investor doesn't perform a sound analysis of these stocks.
The broker is primarily focused on the options market and provides also a complete trading platform for options traders.
Unfortunately, as our broker comparison shows, there are no commission-free ETFs to trade on with SogoTrade and mutual fund trades cannot be executed through the broker's trading platforms, but only via telephone. This may be very inconvenient for traders who are used to online-based execution.
3
National
Trading venues
0
International
Trading venues
The lack of foreign markets is also a major obstacle for international investors, as their entire investment is exposed to the US equity markets only. Foreign markets, including emerging market equities, can provide significant risk diversification and boost total returns during certain market environments. SogoTrade's asset management service is also focused primarily on investments in the US market.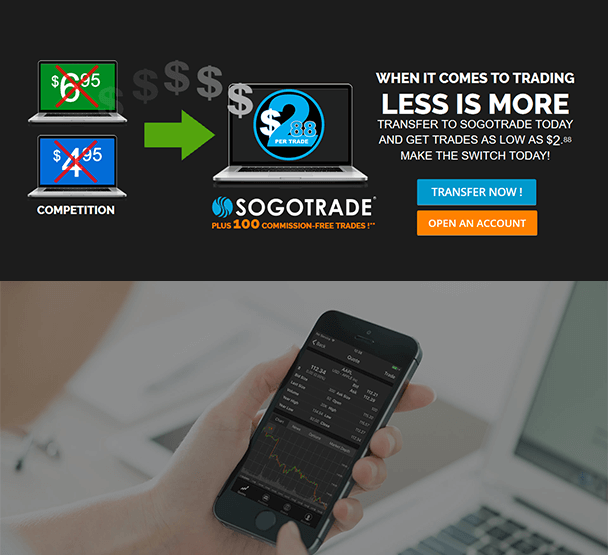 Only US-listed securities supported
No commission-free ETFs
Mutual funds trades can only be placed by telephone
Go to Broker
Risk warning: Capital can be lost. Terms and conditions apply.
3. Account
3.) Trading Conditions – Fees start at $2.88 with SogoTrade
SogoTrade offers a fee structure that depends on the total number of trades that a trader places during a quarter. Active traders who place more than 150 trades per quarter can enjoy a very competitive fee of $2.88 per trade, while traders who trade less than 150 trades/Qtr pay a base rate of $4.88 per trade. The base rate is roughly in line with fees of other discount brokers and SogoTrade's main competitors. SogoTrade also offers prepaid packages of 20 and 50 trades with a life-time of one year. With prepaid packages, fees amount to $2.88 per trade for the 50-shares package and $3.88 for the 20-shares packages.
Traders can also place broker-assisted trades for a base rate of $25, independent of the number of traded shares. The fee structure on option trades is similar to that on shares. Traders who place more than 150 trades per quarter pay a fee of $2.88 per trade, while traders who trade less than 150 trades per quarter pay the regular fee of $4.88 per trade. However, there's an additional fee of $0.50 per each options contract, independent on the number of quarterly trades that a trader executes.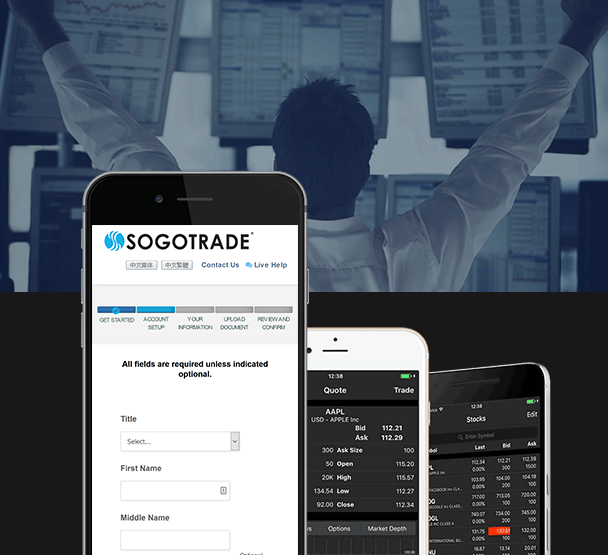 Fees start at $2.88, but only for active traders (+150 trades/quarter)
Prepaid packages available
Broker-assisted trades at $25
Go to Broker
Risk warning: Capital can be lost. Terms and conditions apply.
4. Platform
4.) Trading Platform – SogoTrade Offers a Number of Platforms
SogoTrade offers a number of web-based, desktop-based and mobile-based trading apps, depending on the traded market and the features that a trader needs.
The basic web-based platform is called SogoOnline. It's essentially an order-entry page where traders can place basic stock and options trades and review open positions.
The more advanced web-based trading platform is called SogoTrader. Unlike SogoOnline, SogoTrade includes price-charts with some basic charting tools, market news, multiple watch lists and volume-data. For traders who deposit more than $100,000, SogoTrade offers its most advanced trading platform called SogoElite. This platform offers a ton of features, including tick-by-tick data and strategy backtesting tools, making it one of the most advanced platforms in our broker comparison.
Option traders will likely spend most of their time on the SogoOptions trading platform. This web-based platform is well-designed and fully-customizable. It is divided into four tabs: trade, chain, strategies and tools. Traders can place put and call trades using various strategies and calculate their profit/loss, check daily high and low prices of options and select the expiry for their trades.
SogoTrade's mobile trading apps, which are available for Android and iOS-based phones and tablets, lack most of the functionalities that can be found on the web- and desktop-based versions.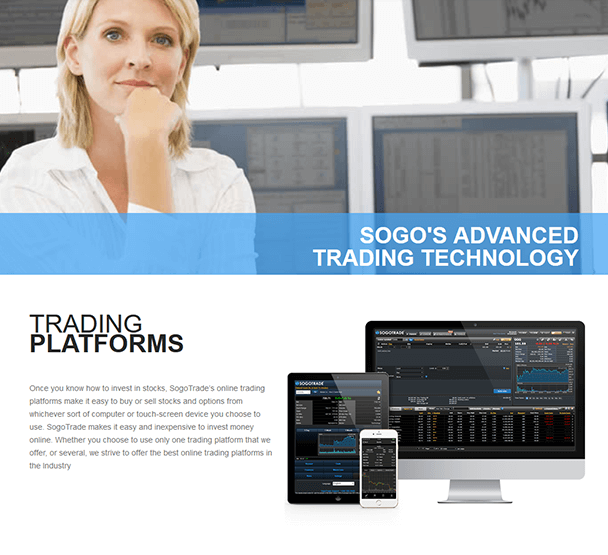 SogoOnline is the most basic platform of the broker
SogoOptions caters to options traders and features advanced tools
SogoElite is the the broker's most advanced platform (requires account sizes above $100,000)
Go to Broker
Risk warning: Capital can be lost. Terms and conditions apply.
5. Usability
5.) Usability of the Website – SogoTrade's Website is Clearly Arranged
SogoTrade uses a well-designed website, with clearly arranged elements and key information available directly on the homepage. The interface is mostly blueish and well put together. However, on certain sub-pages, SogoTrade uses large images which may obstruct other key information that a customer is looking for.
The broker's website has five main tabs: Why SogoTrade, Trading Tools, Options, Trade Ideas and Contact. The "Why SogoTrade" tab provides key information of the broker and even compares certain features with other competitors. If you want to find more information on the various trading platforms on offer, than "Trading Tools" is your resource to go. The "Options" tab is primarily focused on options trading and what SogoTrade has to offer for option traders, while the "Trade Ideas" tab highlights the market reports and analysis that SogoTrade customers have access to.
A list of helpful links can be found at the bottom of each page, including the newsroom, overview of commissions and fees, asset management, account opening procedures, education and research centres, and frequently asked questions, among others.
The broker's top products are also clearly visible on the homepage, with links to trading platforms, information on options trading, structure of fees and contact information. Overall, customers shouldn't have major problems to find what they're looking for, as all sub-pages and links are clearly arranged.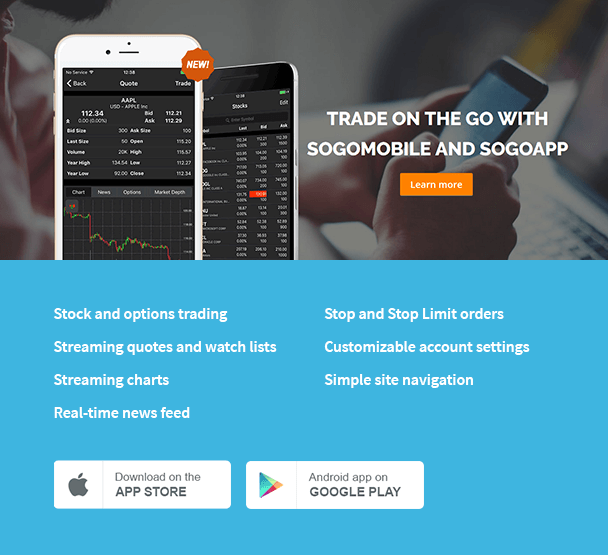 Well-designed and functional website
Quick-links shown below each page
Fees and commissions clearly visible
Go to Broker
Risk warning: Capital can be lost. Terms and conditions apply.
6. Support
6.) Customer Support – Telephone Lines, Live Chat and Email
Beside low trading fees, our ETF broker comparison showed that SogoTrade places great value on top-notch customer support. Customers can contact the broker by e-mail, via telephone (M-F, 7AM-8PM ET) and through a live chat which can be found on the top of the broker's website. Depending on the time you're contacting the broker, there can be a number of customers waiting for the live chat. However, most of the time waiting times are not longer than five minutes. The broker's customer service is available in two languages – English and Chinese.
The telephone line is available Monday through Friday, from 7:00 AM to 8:00 PM ET. You can use the telephone line not only for customer support, but also for placing broker-assisted trades ($25 fee per trade). Mutual funds trades can be placed only via telephone, which may be inconvenient for some customers. The hotline is toll free.
SogoTrade operates a few service centres, including a nationwide English service centre, a nationwide Chinese service centre, East Coast New York and Midwest St.Louis service centres, as well as a general information service centre.
The broker has received a few awards so far for the professionalism and accessibility of its customer service, making it perhaps the best ETF broker among discount brokers in this category.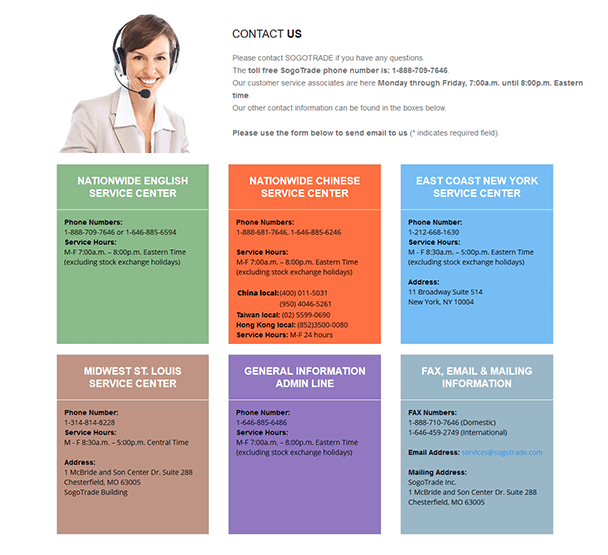 High-quality customer support
English and Chinese support available
Toll-free hotline
Go to Broker
Risk warning: Capital can be lost. Terms and conditions apply.
7. Payment
7.) Methods of Payment – Wires, Electronic Transfers and Checks
SogoTrade offers a few options for account funding and withdrawals. The recommended funding methods are wire deposits, electronic transfers (ACH) and check deposits. While SogoTrade accepts wire deposits free of charge, there can still be wire transfer fees imposed by our financial institution. Once SogoTrade receives the wired funds, they're usually credited to your trading account within one business day.
Electronic transfers (ACH) are also a convenient way to fund a SogoTrade account. To use electronic transfers, you need to verify your bank account with two micro-deposits lower than $1. Once your bank account is verified, you can fund your account electronically online. If the deposit is greater than your existing equity, it can take up to 3 business days for the funds to be credited to your trading account.
The same methods used for account funding are also used for withdrawals. Wire withdrawals have a $25 fee per transaction for domestic wires and a $50 fee per transaction for international wires. These fees will be deducted from the total amount of your withdrawal request.
While there is no minimum deposit and withdrawal limit, you need to take into account the fees that are deducted from the total withdrawal request.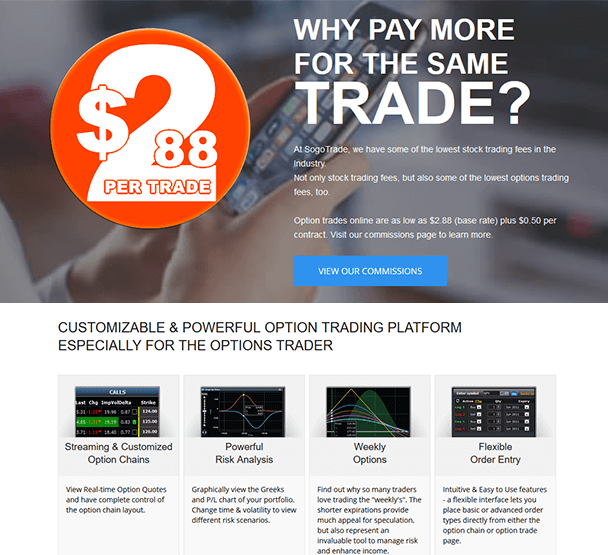 SogoTrade accepts wire deposits, electronic transfers (ACH) and check deposits
Wired funds credited to account within one business day
Wire deposits free of charge; wire withdrawals have a $25 fee ($50 fee for international wire withdrawals)
Go to Broker
Risk warning: Capital can be lost. Terms and conditions apply.
8. Offers
8.) Additional Offers – SogoTrade's Education and Research Centre
SogoTrade offers a complete education centre for its customers. The education centre has six separate sections: The Basics, The Mechanics of the Trade, Selecting a Stock, Option Education, Margin Trading and a Glossary. Each section is further divided into sub-sections.
The Basics section of the education centre covers investing basics, including stock and options basics, investment alternatives such as bonds, ETFs and closed-end funds, as well as basics of risk management. Under Selecting a Stock, you'll find information on how to research a stock investment using technical and fundamental analysis, and how to develop a trading strategy. The Option Education is the most comprehensive section of all, which underlines the broker's focus on options trading.
SogoTrade's Research Centre provides the most important information of an instrument that are used to make a trading decision. Everything from a company's financials and related news to the main competitors can be found here, including price-charts with key price information (daily range, 52wk range, etc), which makes SogoTrade's Research Centre one of the best in our ETF broker comparison.
If you complete an account transfer from another broker to SogoTrade, valued at $10,000 or higher, SogoTrade will reimburse the account transfer fees imposed by the other broker, up to a maximum of $100.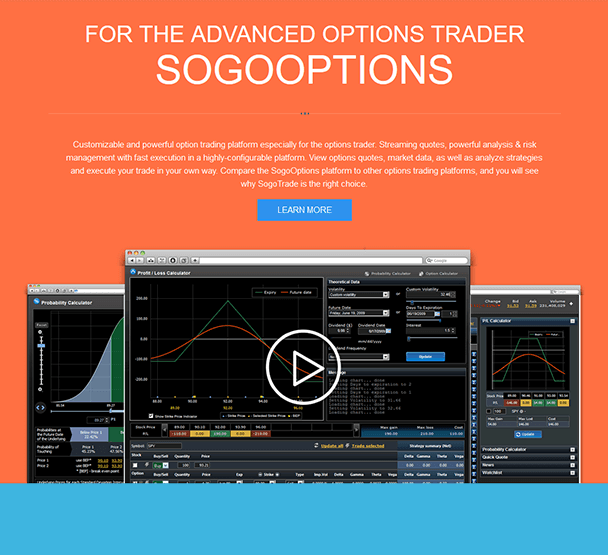 Complete Education and Research Centres
Well-round resources for options traders
Research Centre provides detailed data on stock fundamentals
Go to Broker
Risk warning: Capital can be lost. Terms and conditions apply.
9. Regulation
9.) Regulation & Deposit Protection – SogoTrade is a Member of FINRA and SIPC
SogoTrade is regulated by the FINRA – the Financial Industry Regulatory Authority. The FINRA regulation ensures that all industry standards are upheld and enforced, including management experience, reporting standards and the broker's capital requirements.
SogoTrade is also a member of the Securities Investor Protection Corporation (SIPC), which protects customers' accounts up to $500,000. SIPC does not protect from typical market movements and declines in the market value of securities. SogoTrade's clearing firm Apex has also an insurance policy which protects securities and cash up to an aggregate of $150 million, with a maximum limit per customer of $37.5 million for securities and $900,000 for cash. Just like with the Securities Investor Protection Corporation, the additional insurance policy of Apex doesn't protect against the decline of market values of securities.
SogoTrade's asset management service, Market Riders, Inc, is a separate entity and registered with the Securities and Exchange Commission as an investment adviser.
FINRA/SIPC
Regulatory Authority
SogoTrade's website uses an encrypted https:// protocol with an SSL certificate, which ensures that all information sent through the website is secure. Regarding account opening restrictions, customers need to be of legal age to open a trading account with SogoTrade.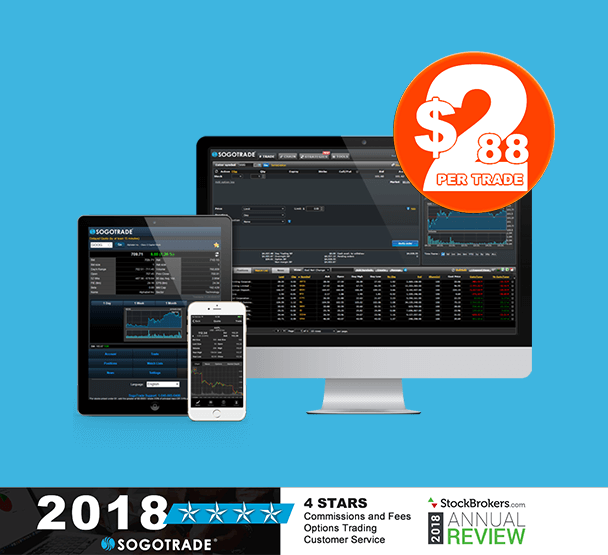 Regulated by FINRA
Member of SIPC – up to $500,000 of cash and securities protected
SogoTrade's asset management service registered with SEC
Go to Broker
Risk warning: Capital can be lost. Terms and conditions apply.
10. Awards
10.) Awards – "Best of Class" for Commissions and Fees
SogoTrade received numerous awards for its brokerage services and customer service. In 2018, StockBrokers.com Annual Review awarded SogoTrade with four stars for its low commissions and fees, options trading and customer service. In 2017, StockBrokers.com Online Broker Review ranked SogoTrade as "Best in Class" among online stock brokers for commissions and fees.
StockBrokers.com reviewed 16 top brokers for commissions and fees, trading platforms and customer service, to name a few. "For phone support, SogoTrade delivers with extremely quick pick-up times. Not once did we have a hold period longer than one minute, with every test seeing a pickup in less than 60 seconds," said Blain Reinkensmeyer, Head of Broker Research at StockBrokers.com.
These results are in line with SogoTrade's focus on low commissions and exceptional customer support. The broker's options trading platform, SogoOptions, also received remarkable 4 out of 5 stars in the review for its customizability and powerful trading tools, noting that the platform will satisfy both casual and advanced options traders.
InvestorMint also awarded SogoTrade 3 stars for their highly-competitive fees and commissions structure. Especially active traders who place more than 150 trades per quarter could benefit from SogoTrade's $2.88 fee per trade.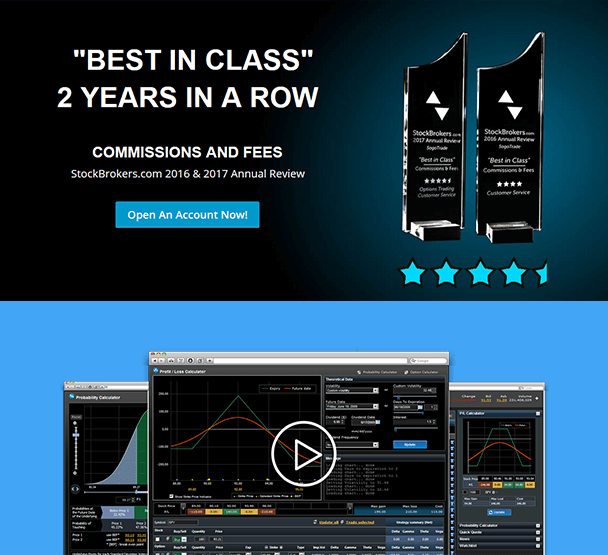 StockBrokers.com awarded SogoTrade "Best in Class" for commissions and fees
InvestorMint awarded 3 stars for SogoTrade's fees and commissions
SogoOptions platform received 4 out of 5 stars for customizability and trading tools
Go to Broker
Risk warning: Capital can be lost. Terms and conditions apply.
Conclusion: Active Traders Could Benefit from SogoTrade
SogoTrade is a discount online stock broker that focuses on low fees and commissions and exceptional customer support. Active traders who place more than 150 trades per quarter pay only $2.88 in fees per trade, while the regular fee amounts to $4.88.
The broker pays special attention to options traders and offers a highly-flexible and powerful options trading platform free of charge. Options traders have also to pay $0.50 per each options contract, in addition to the $2.88 of $4.88 per trade.
While stock traders could also benefit on SogoTrade's fee structure, the charts and tools on stock trading platforms are quite basic in an ETF broker comparison. SogoTrade does offer a more advanced platform, called SogoElite, but the capital requirements are again quite high when compared to their main competitors (SogoTrade asks for a minimum deposit of $100,000 to get access to SogoElite.)
If your main consideration is trading fees and low costs of placing trades, then SogoTrade could be the best ETF broker for you.
Award-winning broker
Top customer service
Very low trading fees
Test result
Broker

Go to Broker
Risk warning: Capital can be lost. Terms and conditions apply.