Wealthfront focuses on passive investments and robo advisors to help young or beginner to intermediate investors save for the future. Wealthfront launched in 2011 and now has assets under management equal to $10.5 billion. Wealthfront ETF broker was created to democratize access to financial advice that is sophisticated, using software to do so. The broker also clearly outlines its methodology in a series of whitepapers readily available on its website. This is a serious broker which is suitable for beginners and expert investors.
Highlights
$5,000 in free management
Support for 529 plans
Tax-loss harvesting program
Allows for a passive investment approach
1.
of 14 ETF Broker
Wealthfront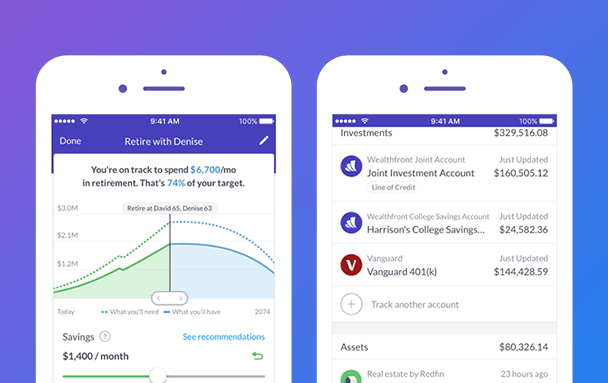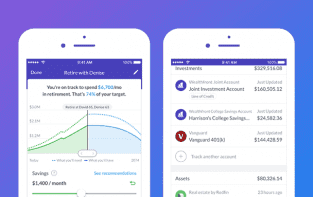 Go to TD Ameritrade
Risk warning: Capital can be lost. Terms and conditions apply.
Headquarters and regulation
USA (FINRA/SIPC)
Number of ETFs with discount
Services & additional benefits
Hotline
E-mail
1. Trading Offer
1. ETF Trading Offer: Ranking Over 1,400 to Choose the Best Ones
There is full transparency regarding Wealthfront ETF recommendations in the FAQ section. Wealthfront regularly surveys the more than 1,400 ETFs available, ranking them for various asset classes based on factors like client-focused securities lending policies, liquidity, minimal tracking error, and low expense ratios. Based on that information, it recommends primary (initial) ETFs and secondary ETFs in nine different asset classes. You can always view the current recommendations, including the vendor, underlying index, and expense ratio.
It is important to note that because Wealthfront follows the Modern Portfolio methodology, it feels that an ETF that is best for an asset class will be ideal for all clients. This means it does not make individual ETF recommendations to clients.
ETFs can be part of one of several Wealthfront accounts. Overall, the account types include personal investment accounts, joint accounts, trust accounts, Roth IRAs, traditional IRAs, IRA transfers, Simplified Employee Pension IRAs, 401(k) rollovers, and 529 college savings plan accounts. The accounts are designed to help clients plan for retirement, a home, college, or travel or to invest savings.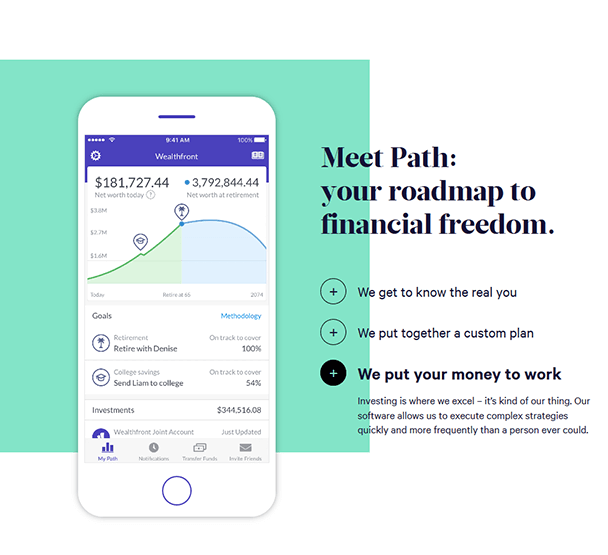 Wealthfront analyzes over 1,400 ETFs
Provides recommendations for primary and secondary ETFs in nine asset classes
Offers nine account types
Go to TD Ameritrade
Risk warning: Capital can be lost. Terms and conditions apply.
2. Costs
2. Exchanges and Trading Centers: Mostly U.S. Trading Centers
Most of the assets that Wealthfront manages for its clients will be ETFs from the United States, although there are some exceptions. As mentioned, the ETFs are divided into asset classes with primary and secondary recommendations within each. One of those recommended asset classes is foreign stocks, which obviously takes advantage of trading centers of a more global nature. In the case of larger accounts, Wealthfront ETF trading will be supplemented with some stocks, once again with a focus on those in the U.S.
Keep in mind that due to the nature of Wealthfront, this is a best ETF broker that manages trades for you automatically. Individual account holders do not control their investments, only their risk level and deposits.
0
International
Trading venues
An important note about the various Wealthfront investments is that all taxable accounts include daily tax-loss harvesting. This involves selling investments with declines in value, replacing them with alternatives that have high correlations. Since you sell an investment at a loss, you can deduct it from the taxable income, which lowers your tax burden. Since Wealthfront replaces it with a highly correlated investment, your return and risk remain about the same. Clients with over $100,000 in their taxable account can get stock-level tax-loss harvesting, which is similar and relies on creating a personalized index portfolio for harvesting losses of individual stocks.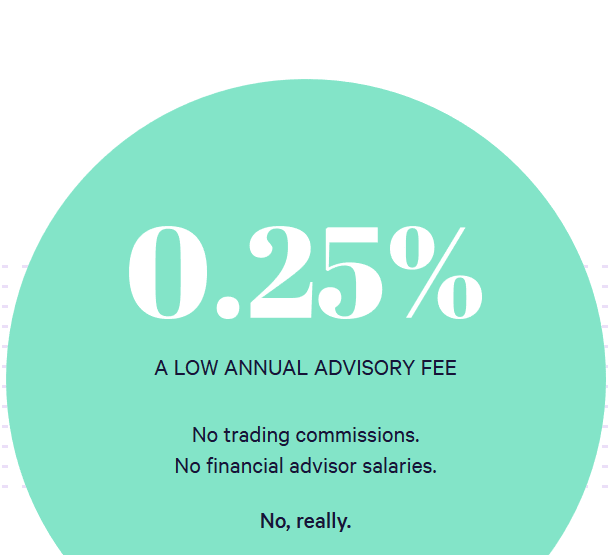 Mostly U.S.-based trading centers
Inclusion of foreign stocks as an asset class
Daily tax-loss harvesting
Go to TD Ameritrade
Risk warning: Capital can be lost. Terms and conditions apply.
3. Account
3. Trading Conditions: Affordable Fees
In an ETF broker comparison, Wealthfront ETF stands out with its competitive pricing. Many competitors charge varying advisory fees based on the size of the account. Instead of doing this, our Wealthfront ETF trading – review 2018 points out that this broker charges all clients the same advisory fee of 0.25 percent. This is just one-quarter of the average for the industry. Wealthfront decided not to lower the fee for larger accounts because those big accounts receive a greater value for the same fee since a larger account has greater capabilities. Fees are charged monthly, and you can view sample calculations in the Wealthfront Help Center.
You will not find any fees from Wealthfront for opening your account, closing your account, withdrawing funds, trading or commissions, or transferring your account. Accounts that have investments in the Wealthfront Risk Parity Fund have an additional expense ratio of 0.25 percent, paid to Wealthfront. That fee only applies to the portion of your portfolio invested in that particular fund, which is never more than 20 percent of the portfolio. There are also special fees for a 529 account, which can be between 0.42 percent and 0.46 percent annually. This comes from the 0.25 percent advisory fee, the Program Administration Fee, and the underlying ETF expenses.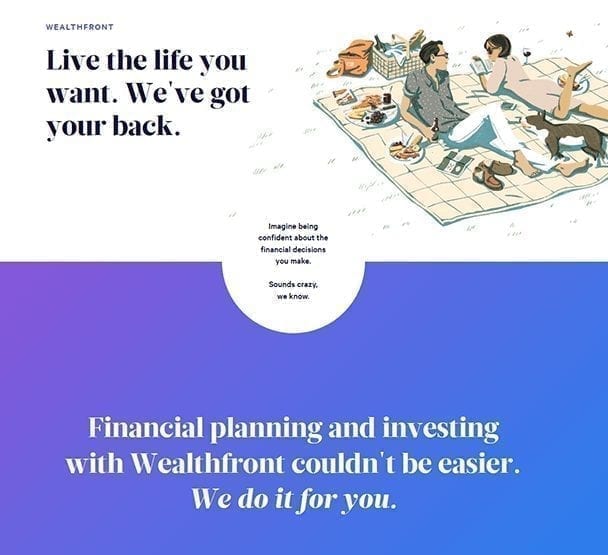 Advisory fee of 0.25 percent charged monthly
No fees for account opening or closing
Additional fees in certain situations, such as Wealthfront Risk Parity Fund investments and 529 accounts
Go to TD Ameritrade
Risk warning: Capital can be lost. Terms and conditions apply.
4. Platform
4. Trading Platform: Available for Web or Mobile
Because Wealthfront offers passive and robo trading instead of traditional methods, the platform is a bit different than those you will find in an ETF broker comparison. Clients do not need to access as many features as they would if they were responsible for active trading. Even so, Wealthfront ETF broker has a highly usable platform with information that is easy to find. You can access your account on the website or via the mobile app.
The mobile application from Wealthfront is available on both iOS and Android. It includes Path, the platform's automated financial planning and investment solution, which you set up to configure your account. The application and website also include access to PassivePlus, the Wealthfront suite of investment features that maximize returns without an increase in risk or fees. It includes tax-loss harvesting, stock-level tax-loss harvesting, and Smart Beta.
Via the platform, you can view your current net worth, the amount you should have at retirement, your investments, and your goals, such as when you want to retire. The platform also lets you view today's return and all-time returns, including both time-weighted and money-weighted. View detailed breakdowns of how you are working toward goals, such as retirement or sending your children to college. You can also adjust your savings plan.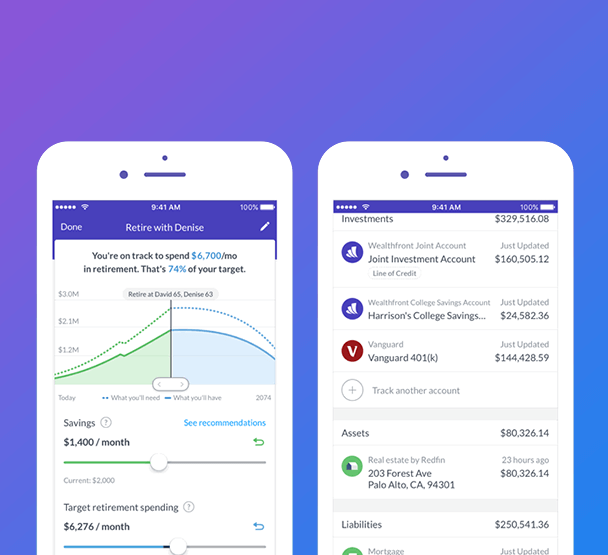 Mobile application available for Android and iOS
Account access via Wealthfront website
Platform lets you track savings, investments, goals, and more
Go to TD Ameritrade
Risk warning: Capital can be lost. Terms and conditions apply.
5. Usability
5. Usability of the Website: Easy-to-Find Information
Our Wealthfront ETF trading – review 2020 feels that the website has a professional yet fun image. The use of pictures throughout helps illustrate some of the uses of Wealthfront and better appeal to younger demographics.  Perhaps this also goes to explain why this broker is suitable for all levels of investor from beginner to expert. The website is also well-laid-out with the information in logical spots. You can find the relevant legal information at the bottom of any page on the website. In the top-right corner of any page, you can either log into your account or set up an account quickly.
The main navigation bar features an "Offerings" drop-down menu that clearly lists the various products that Wealthfront has on offer. You can either view a specific product or goal or look at the overview. Other main navigation tabs include "Philosophy," "Expertise," and "Origin," so you can get to know Wealthfront. Scrolling down to the bottom of the page but right above legal information gives you more clear navigation options, including "Careers," "Legal," "Methodology," "Contact," "Help Center," "Press," and "Blog." The Help Center is detailed with FAQs in various categories, as well as a search bar and featured questions.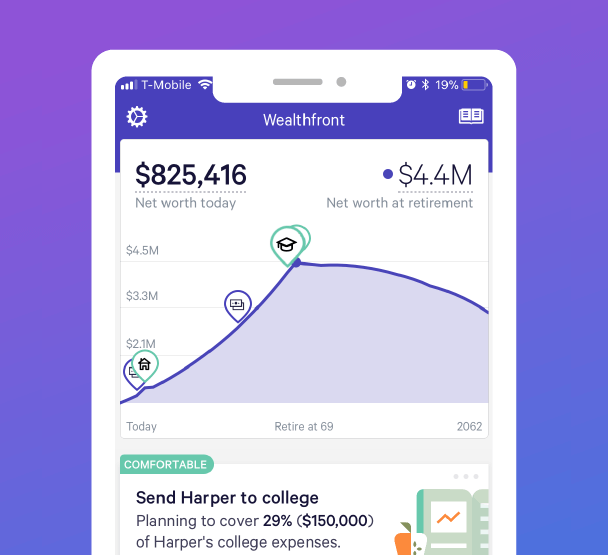 Clean and professional website
Intuitive navigation
Easy-to-find legal information
Go to TD Ameritrade
Risk warning: Capital can be lost. Terms and conditions apply.
6. Support
6. Customer Support: Help Center and More
The primary method of client support from Wealthfront ETF broker is the Help Center. You should find answers to the most common questions there, preventing the need to contact support for an answer. Because Wealthfront manages your account for you, it is less likely that you will need to contact it than others in a broker comparison. Even so, it has a simple contact form for you to reach Wealthfront via email. Choose your inquiry, enter your name and email address, put in your phone number, and enter your message.
The same contact page also has a phone number listed if you prefer to contact support in that way. Although Wealthfront's website does not indicate customer service hours, other reviews indicate that phone support is available on weekdays from 11 a.m. to 8 p.m. Eastern time.
Those interested in less traditional support methods can also follow the Wealthfront social media pages. Those do direct clients to email Wealthfront support with questions, but they also occasionally give quick responses to questions. You will also find useful information on the Wealthfront social media pages.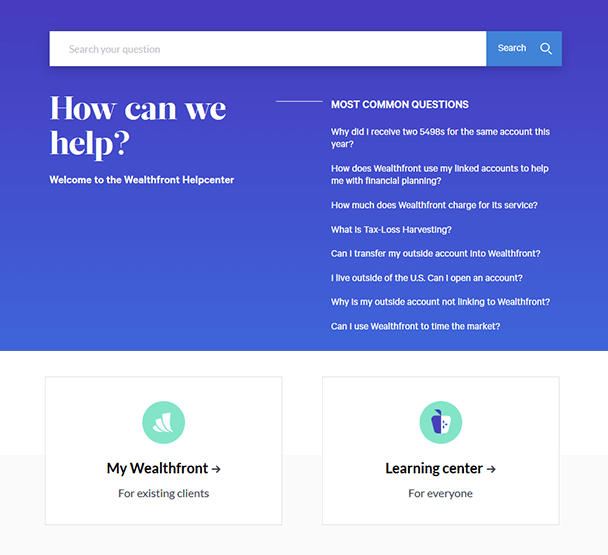 Extensive Help Center to answer likely questions
Support via email
Support via phone
Go to TD Ameritrade
Risk warning: Capital can be lost. Terms and conditions apply.
7. Payment
7. Methods of Payment: Several Options Available
To begin trading Wealthfront ETF assets, you first need to fund your account. There is a minimum account deposit of $500 for most accounts, and if you want to take advantage of stock-level tax-loss harvesting, you must have at least $100,000 in your account. There are several options for depositing those funds, including depositing cash via ACH bank transfers. Once you link your bank account to your Wealthfront account, you can do a one-time transfer or set up recurring daily, weekly, biweekly, or monthly deposits, although Wealthfront does not suggest daily deposits. ACH deposits are usually received in one or two business days and are available the following day.
If you opt for a wire deposit, the funds will typically be available the following day. In the case of 529 accounts, it is also possible to fund the account with a check. It is also possible to transfer an account electronically or to roll over a 401(k) or similar employer-sponsored plan into Wealthfront. Check deposits are held for two business days.
Making a deposit via ACH transfers is incredibly simple. Just log into your account and select "Deposit Cash." Bank deposits can be any amount that is at least $100, and it is possible to deposit more than $250,000 into your Wealthfront account. If your bank has the typical ACH limit of $250,000 per day, Wealthfront will divide the deposit.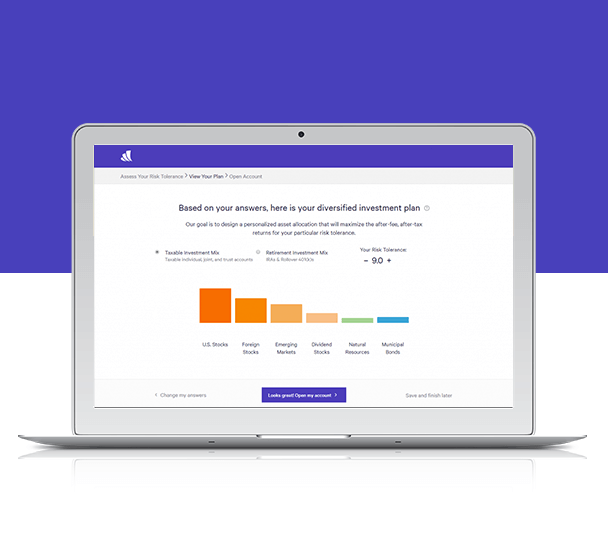 Minimum deposit of $500
ACH transfers are recommended deposit method
Wire transfers available
Go to TD Ameritrade
Risk warning: Capital can be lost. Terms and conditions apply.
8. Offers
8. Additional Offers: Simple to Transfer Portfolio
Those who choose Wealthfront after an ETF broker comparison will find it straightforward to transfer accounts from other brokers to Wealthfront. The only requirement is that the account type you transfer from must match the account type you transfer to. It is possible to transfer personal accounts, joint accounts, trust accounts, traditional IRAs, simplified employee pension IRAs, simple IRAs, rollover IRAs, and Roth IRAs. Additionally, you can transfer your Wealthfront account to another broker without paying a fee; that lack of fee is a strong point in favor of Wealthfront ETF trading since most brokers charge fees in that situation.
In terms of offers, Wealthfront also offers all clients $5,000 of funds without any management fee. Although this is not a demo account, this means that as long as you deposit $500 to $5,000, you can try out Wealthfront without management fees for as long as you want. Additionally, Wealthfront offers a referral bonus of an extra $5,000 managed for free, with no limit to the maximum. As such, those with vast networks could theoretically have a large portfolio on Wealthfront without any management fees.
In terms of training, Wealthfront offers a Learning Center with general information regarding investing and various types of accounts, including IRAs, 401(k)s, and 529 plans.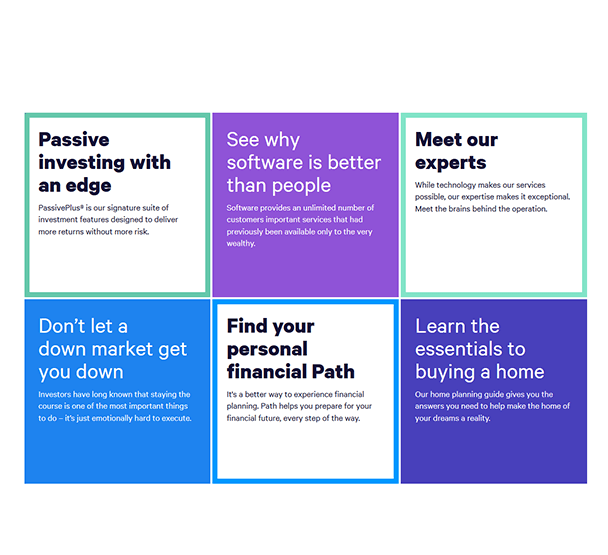 Easy to transfer accounts in and out
$5,000 managed for free
$5,000 more managed for free with each referral
Go to TD Ameritrade
Risk warning: Capital can be lost. Terms and conditions apply.
9. Regulation
9. Regulation & Deposit Protection: Registered with SEC
In terms of security of funds, our Wealthfront ETF trading – review 2018 points out that Wealthfront is registered with the SEC in the form of an investment advisor. Wealthfront Advisers LLC is a wholly owned subsidiary of Wealthfront Corporation, which was previously Wealthfront Inc. Wealthfront Software LLC delivers a financial planning service tool that helps the clients of Wealthfront Advisers.
Trades from Wealthfront are processed by Apex Clearing, which is a member of both FINRA and SIPC. Wealthfront is also protected by SIPC insurance, which covers as much as $500,000 in securities for every type of account held at Wealthfront. Keep in mind that an IRA is different from a taxable account, but various IRAs are one account. The coverage includes up to $250,000 in cash.
FINRA/SIPC
Regulatory Authority
For additional security, all assets are held in RBC custodial accounts. Wealthfront does not hold the funds; it just issues Wealthfront ETF trading instructions against the account. Wealthfront cannot borrow or loan out securities or cash held in your accounts. Finally, Wealthfront will only invest in securities covered by SIPC and registered in street name at DTC (Depository Trust Company). As such, all securities that Wealthfront buys on your behalf are kept separate from Wealthfront assets and have full insurance.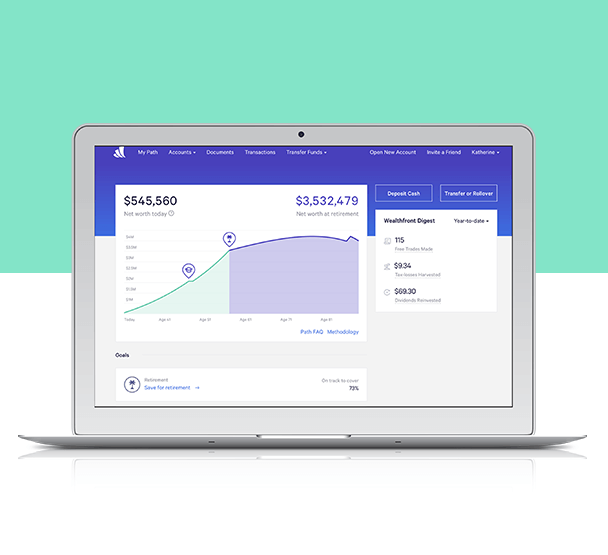 Wealthfront is registered with SEC
Wealthfront accounts insured by SIPC
Assets held in a custodial account
Go to TD Ameritrade
Risk warning: Capital can be lost. Terms and conditions apply.
10. Awards
10. Awards: Experts Have Favorable Opinions
An ETF broker comparison with Wealthfront is somewhat challenging since the website does not list the various awards it has received over the years. A bit of searching only unearthed a single report of an award, although there may be more. In 2014, the company received an honor for Wealthfront ETF strategies. Specifically, Wealthfront was honored as ETF.com's ETF Strategist of the Year. Since ETF.com is regarded as the world leader in exchange-traded funds, this was a significant achievement for the broker.
Another way to get a feel for Wealthfront is by looking at the ratings that objective experts give to the broker. NerdWallet gave Wealthfront 5/5 stars, including 5 stars for the investment expense ratios, account fees, types of accounts supported, tax strategy, and automatic rebalancing. Investor Junkie gave Wealthfront a similarly high rating of 9.5/10, pointing out the free management on $5,000 of account funds. It gave the broker 9/10 for commissions and fees, customer service, and asset allocation, as well as 8.5 for investment options and tools and resources. StockBrokers.com also gave Wealthfront 5/5 stars, including 5 stars for investment approach and platforms and tools.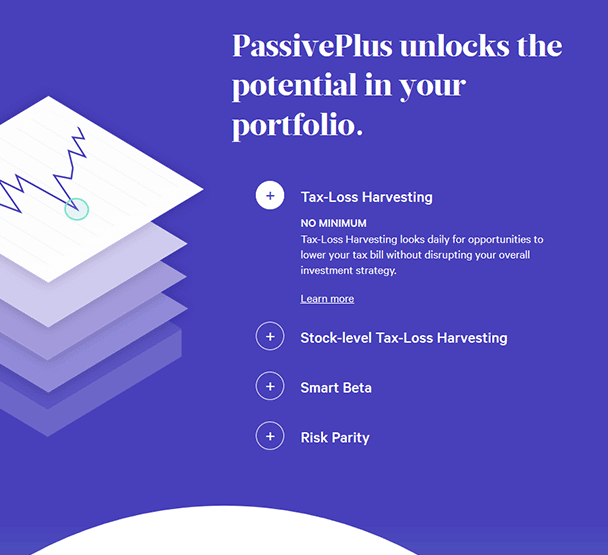 2014 ETF Strategist of the Year
5/5 stars from NerdWallet
9.5/10 from Investor Junkie
Go to TD Ameritrade
Risk warning: Capital can be lost. Terms and conditions apply.
Conclusion: Should You Invest with Wealthfront?
Those who are in search of a robo trading account with a strong reputation should strongly consider Wealthfront. Our Wealthfront ETF trading – review 2018 indicates that this broker has an incredibly good reputation and provides peace of mind via its SEC registration and SIPC insurance. We appreciate that Wealthfront is clear about its methodology, including whitepapers that explain its strategies. The current offer of no management fees on up to $5,000, plus $5,000 more management-fee-free per referral without limit, is a strong point in favor of Wealthfront for those who want to avoid trading fees.
The straightforward and low management fee for quantities over this is a fraction of the typical market commission, and Wealthfront has proven itself to deliver results. The ability to help clients in a range of financial situations with a long list of account types is also a strong point in its favor. The only area where Wealthfront truly falls behind is the fact that it does not purchase fractional shares of ETFs, but most clients will not find this to be significant. Those interested in a robo trading account would likely do well with Wealthfront.
Support for 529 College plans
Tax-Loss Harvesting program
Web or mobile platform
Advisory fee of just 0.25%
No market analysis
Minimum deposit of $500
No fractional ETF shares
Test result
Broker

Go to TD Ameritrade
Risk warning: Capital can be lost. Terms and conditions apply.