Etrade was founded in 1982 and has since established itself as a highly sought-after online broker. It services more than four million customers from around the globe and offers desktop trading and mobile app trading. While ETrade is not the least expensive forex broker in the market, it offers discounts to active traders. This Etrade forex trading review will give you a better idea about the broker and how the platform continues to improve so that traders enjoy a superior customer experience. Etrade offers value to traders, even though it charges a higher fee than its competition.
Highlights
Outstanding mobile apps
High-quality investor education content
56 forex pairs and 77 international markets
Excellent charting through Charting IQ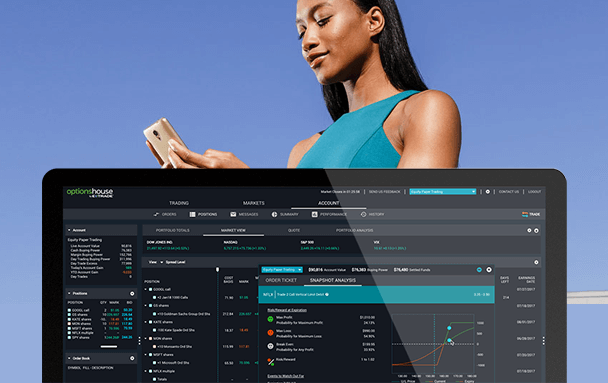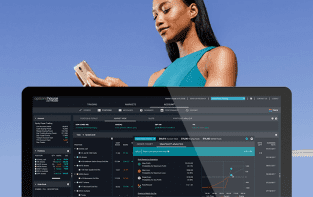 Go to Broker
Risk warning: Capital can be lost. Terms and conditions apply.
Headquarters and regulation
USA (FINRA)
Fees and Spread
Depends on account type
Trading platform
Broker-owned Software
Trade Offering
56 Currencies
Services & additional benefits
Live
Hotline
E-mail
E-Book
Videos
1. Trading Offer
1. Forex Trading Offer: Trading Currency Pairs on Etrade
Etrade offers a wide range of forex currency pairs and forex options. It offers about 56 forex pairs for trading. The platform has established a reputation as the best forex broker, as customers can trade forex pairs and options not just online, but also over the phone and in-person. Etrade has 30 branches that allow forex traders to walk in and speak to a customer service representative, investment professionals and investment advisors on phone or face-to-face. In addition, traders can also trade stocks, options, ETFs, mutual funds, bonds, futures and more to spread their risk and build an investment portfolio based on their short- and long-term investment goals.
It is also possible for investors to trade cryptocurrencies, foreign stocks, and gold. However, if you are interested in these trades you would have to check futures margin requirements for the type of brokerage account that you have. For forex traders, it is important to realize that ETrade does not directly offer forex trades. Forex traders have to trade via FXCM, which functions as their dealer. Etrade is the introducing broker. Traders get maximum leverage of 1:30 and the trades cannot be done via Metatrader. Forex trading can be expensive as the broker levies multiple charges including paper statement fees, account transfer fees, and fund transfer fees.
Tradable:
EUR/USD
USD/JPY
GBP/USD
USD/CHF
AUD/USD
NZD/USD
USD/CAD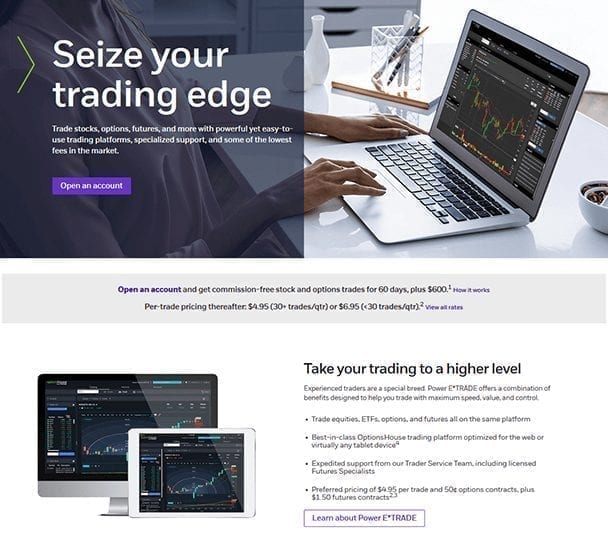 A wide range of forex currency pairs and forex options
Trading available online, in-person and via phone
Other types of trading are possible beyond forex
Go to Broker
Risk warning: Capital can be lost. Terms and conditions apply.
2. Costs
2. Forex Trading Costs: Understanding the Costs Involved
If you do a broker comparison, you will find that ETrade is more expensive than most other forex brokers. However, this has not hindered the platform's popularity. The platform is not ideal for those who are looking at discounted commissions. Nonetheless, the platform is quite user-friendly and offers immediate access to forex trading which helps to offset the high cost of trading. While the platform itself does not provide a lot of information about the transaction costs for forex trading, investors will be happy to learn that ETrade charges zero commission. The costs of the trades are integrated into the spread.
Typically, ETF and stocks have a commission rate of US$6.95 while options have a rate of $6.95 plus an additional fee of US$0.75 per option. If you are worried about the costs, you can opt for the 80 most popular ETFs, which are commission-free, and 1,300 no-load no-fee mutual funds. In addition, forex traders will have to foot a range of administrative fees, like US$25 for bank deposit wire transfer, US$25 for returned cheques, US$25 for insufficient funds transfer, US$2 each month for a paper statement, US$60 for account transfer and US$25 for a partial account transfer. If you place your order through the phone, you will be charged an additional US$25.
User-friendly platform
Charges zero commission
More expensive than many other forex brokers
Go to Broker
Risk warning: Capital can be lost. Terms and conditions apply.
3. Account
3. The Types of Accounts ETrade Offers Forex Brokers
When it comes to accounts, ETrade has a high account minimum when compared to other forex brokers. The minimum deposit it accepts for a forex account is US$2,000 and futures accounts require a minimum funding of US$10,000. However, this ETrade forex trading review finds that the platform offers an impressive range of account options. Investors can opt for joint brokerage accounts and even managed accounts if they like. The minimum requirement for brokerage account is US$500, which is standard. You can fund this account through bank transfer, mail or walking into one of the ETrade offices and making a deposit there.
If you are looking for a different type of account, you would have to upload certain documents for identification and also meet other eligibility criteria. You can get personalized investment accounts on ETrade, but they attract additional fees. These accounts include:
Core Portfolio
Blend Portfolio
Dedicated Portfolio
It is not possible to open a demo account on ETrade for novice traders to get familiar with the platform. This can make it difficult for new traders to practice. There could be logic behind this, as ETrade does not directly offer forex trading. Because Etrade functions as the introducing broker, the company may not find it necessary to provide forex traders with a demo account to practice trading currency pairs and futures.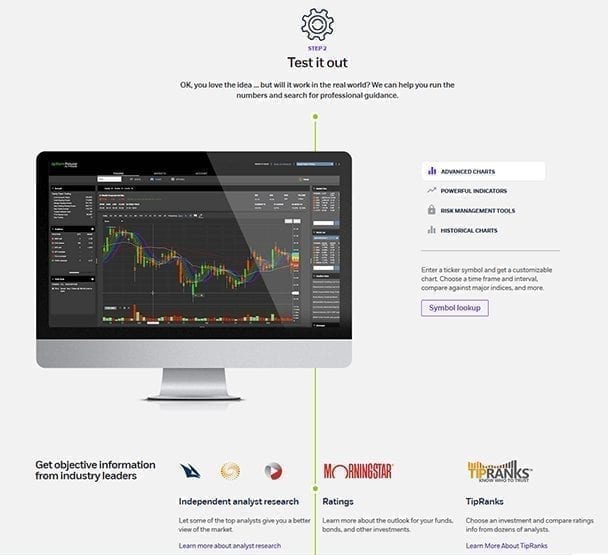 A wide range of account options
High account minimum
No demo account
Go to Broker
Risk warning: Capital can be lost. Terms and conditions apply.
4. Platform
4. Forex Trading Platform and Mobile Trading at ETrade
ETrade forex trading is possible through browser-based ETrade 360, ETrade Pro for PC and Mac, and ETrade Mobile for Android, iPhone, iPad, iWatch, Kindle Fire and Windows phone.
ETrade 360: This is a browser-based platform and hence, it is not necessary to download any application or software to begin trading. The moment you open the platform, you will receive streaming quotes, gain access to your Etrade accounts and be able to trade forex pairs and currencies. The platform offers a number of tools to manage assets, such as portfolio profit and loss and graphical representation of accounts.
ETrade Pro: This is a desktop application designed for both PCs and Macs. It provides access not just to forex pairs and currencies, but to all ETrade's markets and products. Users get access to real-time quotes, charting technology and dedicated support. It is necessary to maintain a minimum balance of US$250,000 in the account. Alternatively, traders will have to execute more than 30 trades each quarter.
ETrade Mobile: ETrade offers mobile trading that allows investors to manage their account, trade and get real-time information from the market. They can also use the mobile app to access CNBC TV, get real-time smart alerts and analyst reports and also view educational videos.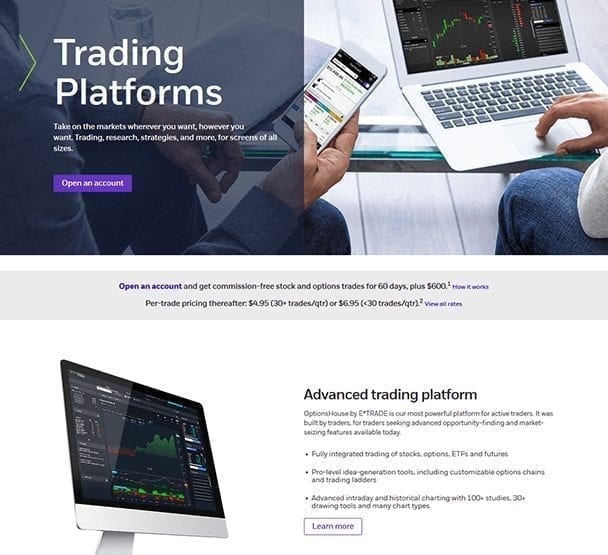 Trading can be done via internet browser and mobile device
Quick and easy access to platforms
Metatrader 4 cannot be used
Go to Broker
Risk warning: Capital can be lost. Terms and conditions apply.
5. Usability
5. Usability of the ETrade Website
One of the most important aspects of any ETrade forex trading review is the usability of the website. In 2016, ETrade adopted the Web Content Accessibility Guidelines Version 2.0 Level AA. The platform has been working to ensure the site conforms to the guidelines. The site is constantly monitored and tested to identify any usability issues and fix them as soon as possible. Because of this, there are no issues with skip links or errors in form fields. The website has a minimalistic design and menu labels are clearly marked so that new visitors will be able to find web pages with ease. However, when it comes to forex investment, the site does not provide information for investors and this can make it difficult for new investors to find their way.
The website is sensibly structured with intuitive navigation. It has an FAQ section that provides details about the company. If visitors have additional questions not answered in the FAQ section, they can easily fill the online form and send it across for a personal response. The main menu options are clearly marked, making it easy for first-time website visitors to find their way around the ETrade website. Even the sub-menu is easy to understand and read. The price is prominently displayed, but not for forex trading. This oversight could put off prospective forex traders, who may feel that ETrade forex trading is not an option.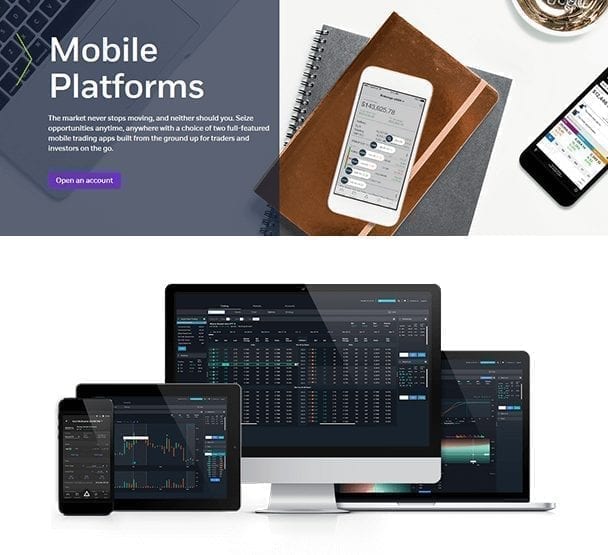 Minimalistic website design
No information provided for new traders
Helpful FAQ section
Go to Broker
Risk warning: Capital can be lost. Terms and conditions apply.
6. Support
6. Superior Customer Support at ETrade
When you do a forex broker comparison, one of the first things you should check is the customer support. It lays the foundation for the experience you will have with the broker. With ETrade, the level of support is impressive and investors will be able to get their doubts cleared and questions answered without any hassle. It offers multilingual phone support 24/5. Alternatively, you can opt for email support and live chat. You will find the latter two quite responsive and will be able to get your queries answered within no time. Even the phone support is good and responsive. The online chat is available 24/7.
Investors living in the US have the option of visiting the 30 branch offices that ETrade has across the country. Here, investors can get the right investment and financial advice from financial consultants face to face. This allows them to make informed investment decisions on ETrade. The phone support is not free, meaning overseas investors like those located in the UK would have to pay for an international call. It is a US-based phone number. So, this option may not be the best way to get in touch with ETrade's customer support.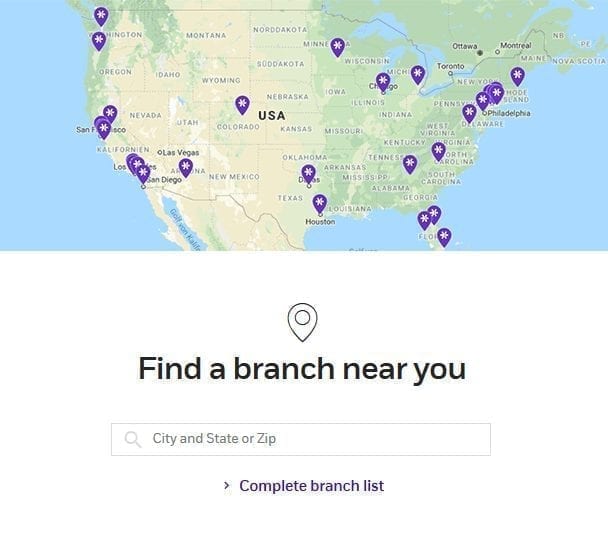 Multilingual phone support available 24/5
Email and live chat support are also possible
30 branch offices in the US
Go to Broker
Risk warning: Capital can be lost. Terms and conditions apply.
7. Payment
7. Methods of Payment and Funding Your Etrade Forex Account
There are a number of ways to fund your ETrade account or to withdraw money from the forex account to your bank account. Trade allows investors to fund their account through electronic money transfer. This can be done through the bank and takes three working days to reflect on the person's account. Other methods of funding the account include cheque, wire transfer or moving an account from another firm to ETrade. The last method of funding the account is meant for US-based investors, particularly those who are saving for retirement. Also, cheque deposits take up to five business days to reflect in a trader's account.
As ETrade is located in the US, it does not allow investors to fund their account with credit cards, as that is against the existing regulations in the country. Your ETrade account will let you know how much is available for withdrawal. It is important to realize that withdrawal time will vary based on the payment method you opt for. Presently, most traders are satisfied with the payment methods that the platform offers, and many feel that with so many different methods of payment, it is easy for international traders to fund their trading account regardless of their location.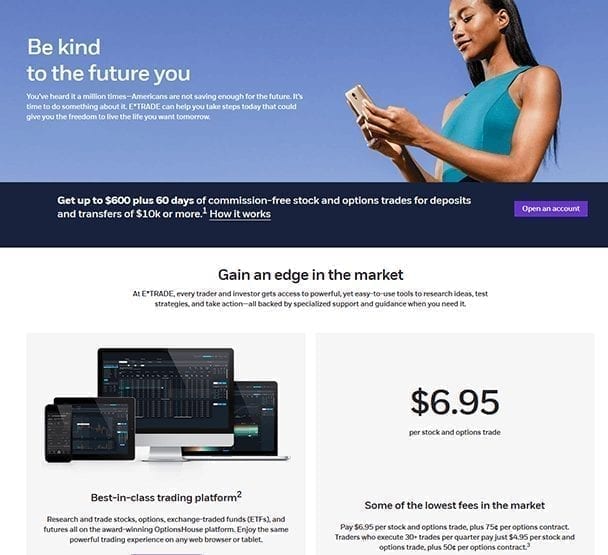 Investors can fund accounts via electronic money transfer
Cheques and wire transfers are also accepted
Accounts cannot be funded with credit cards
Go to Broker
Risk warning: Capital can be lost. Terms and conditions apply.
8. Offers
8. Additional Offers by ETrade
ETrade has comprehensive resources to boost knowledge of traders and investors. This said, a majority of the educational tools and resources to enhance investor knowledge on ETrade are limited to stocks and funds. However, on and off, ETrade offers commentary from its in-house investment analysts. In addition, the site provides investors with equity research reports from the likes of Credit Suisse, Thomson Reuters, S&P Capital IQ, and Marketedge. The platform has tools to screen bonds, stocks, and mutual funds. These allow investors and traders to filter the securities based on their personalized parameters and criteria. Traders and investors also have access to a number of portfolio management tools that help them analyze risk, portfolio diversification, and assess projected income for the collective portfolio.
When it comes to forex trading, ETrade offers traders educational articles, which also cover equities, bonds, portfolio management, retirement planning, tax planning, and asset allocation. There are even courses and live webinars that traders can access. Most of the course modules are marked based on the level of difficulty which means that traders have to choose the course that suits their personal level. One of the drawbacks of ETrade is that it does not offer traders with a demo account. This makes it difficult for new traders to get familiar with the platform and hone their trading skills.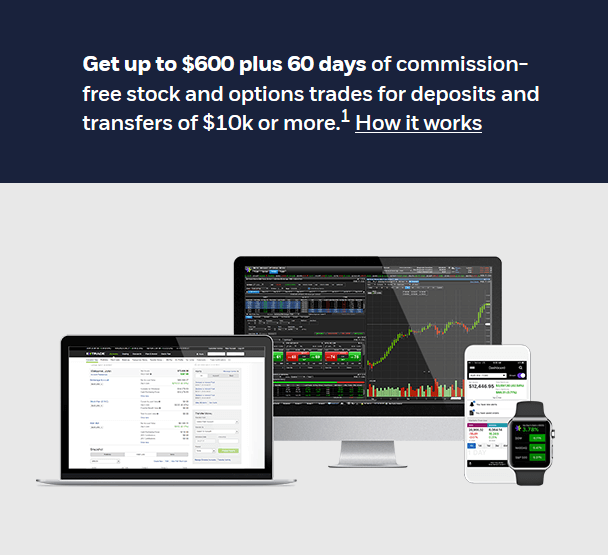 Equity research reports provided
Traders and investors can access portfolio management tools
Educational resources available
Go to Broker
Risk warning: Capital can be lost. Terms and conditions apply.
9. Regulation
9. Regulation and Deposit Protection: Protecting Traders and Investors
ETrade is listed on the NASDAQ and is considered a blue chip company. Since it is publicly listed, ETrade has to publish audited financial reports periodically. This allows investors to find out more about the financial health of the company. Since it is a US-based platform, it has to adhere to the rules and regulations prevalent in the US.
FINRA
Regulatory Authority
The company is regulated by the US SEC, FINRA, FDIC, the US Federal Reserve, and OTS in the US. It is also regulated in Australia by the ASIC, MAS in Singapore and SFC in Hong Kong. All bank deposits are guaranteed by the FDIC. ETrade is a member of SIPC and this means customer assets are guaranteed to the tune of $500,000 per person. Besides this, the company also has an insurance policy that protects investors and their assets. The compensation is more than what CySEC-regulated brokers offer their traders which currently stands at €20,000. This said, forex trades are done through a third party, so traders who trade forex through ETrade will not get the protection that other investors and traders get. This is because these forex trades are done through FXCM, which is the primary dealer, while ETrade is merely the introducing broker.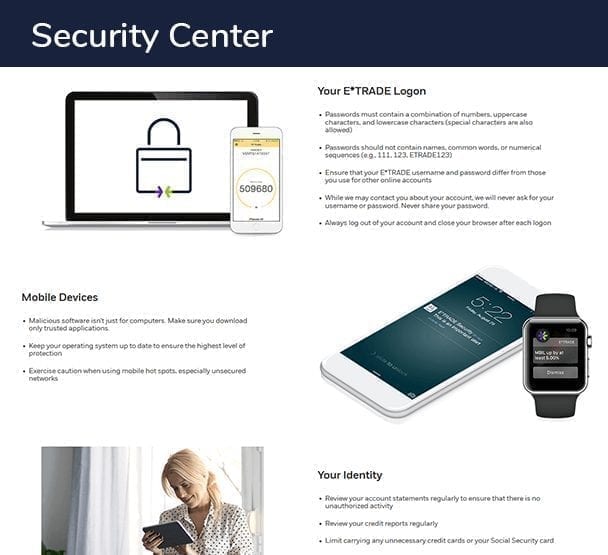 Listed on NASDAQ
Regulated by US SEC, FINRA, FDIC, the US Federal Reserve, OTS, ASIC, MAS, and SFC
Member of SIPC
Go to Broker
Risk warning: Capital can be lost. Terms and conditions apply.
10. Awards
10. Awards and Recognition Won by Etrade
ETrade has won a number of awards and recognition for its trading platform and the investment options it offers for both experienced and new investors. Its mobile app, in particular, has won a lot of acclaim and accolades. In the 2018 Kiplinger's annual survey, ETrade was awarded the Best for Bond Investors and Best for Students of Investing awards. In the survey, the platform also received high marks for mobile trading, user experience, and investment choices. In Barron's annual online broker survey in March 2018, the platform was awarded four out of five stars while also getting awarded the best place for options trading, in-person advice, and long-term investing. It also scored high rating for research amenities, customer service and education, mobile trading, usability, and trading experience, and technology.
StockBroker.com's awarded ETrade the number one mobile trading, the number one web-based platform and the number one option trading awards in its Online Broker Review in 2018. StockBroker.com awarded ETrade a total of 4.5 stars out of five overall. The Review also accorded the Best in Class recognition for Offering of Investments, Mobile Trading, Options Trading, Education, New Investors, and Research. In January 2018, NerdWallet recognized ETrade as the Best Online Broker for Investments. The site also awarded the platform a five-star rating.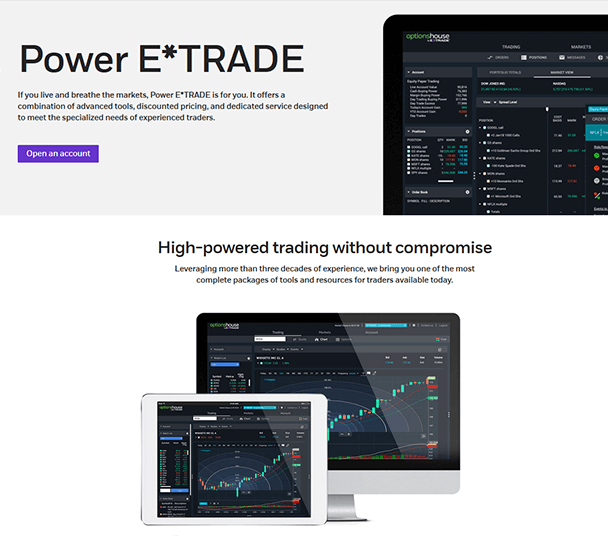 Awarded the Best for Bond Investors and Best for Students of Investing awards
Received four out of five stars from Barron's annual survey in 2018
Named Best Online Broker for Investments by NerdWallet in 2018
Go to Broker
Risk warning: Capital can be lost. Terms and conditions apply.
Conclusion
Etrade has built a solid reputation for itself since its inception in 1982. The platform is renowned for its reliability, on-the-go trading through its mobile app and extensive research and charting capabilities. While it is not the cheapest broker that an investor will find, it does pay to be an active trader. This is because active traders are rewarded through its tiered commission structure.
The platform ranks highly when it comes to share trading, futures, options, mutual fund, and managed accounts. However, when it comes to forex, it executes trades through a third-party. This is a cause for concern as traders are not protected by the platform and have to rely on the third-party protection. This said, its comprehensive knowledge resources can benefit novice and experienced traders and will allow them to make informed investment and trading decisions. It is prudent to remember that ETrade is mainly for US-based investors. UK-based forex traders can find other platforms for better forex trading options.
Comprehensive materials for research and learning
Discounts and rewards for active traders
Numerous trading tools
Number of ways to fund the Etrade account
Forex trading through a third-party
Expensive to trade
Does not provide protection for forex traders
Not the best platform for UK forex traders
Test result
Broker

Go to Broker
Risk warning: Capital can be lost. Terms and conditions apply.