Forex.com falls under the umbrella of its mother company Gain Capital Inc., NYSE. This website has a lot to offer to traders operating all over the world. They deal in forex, indices, commodities, bitcoins and shares. With a good many platforms for trading, including MetaTrader 4, Forex.com forex broker offers a host of other useful powerful trading and research tools. When it comes to finding a robust and solid broker then you can do a lot worse than working with such a well-established broker like Forex.com.
Highlights
Ideal for all traders
Great for traders with large balance
The company operates through ECN
Registered under the FCA
1.
of 7 Forex Broker
Forex.com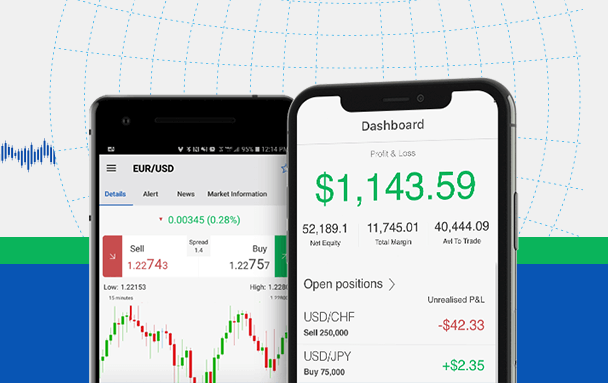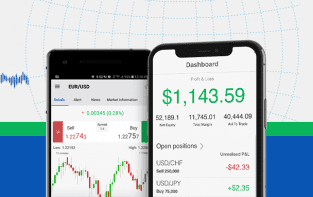 Go to Broker
Risk warning: Capital can be lost. Terms and conditions apply.
Headquarters and regulation
USA (CFTC, NFA)
Fees and Spread
Only Spread
Trading platform
MT4, Broker-owned Software
Demo account
Yes, free $50000 in demo account
Trade Offering
80 Currencies
Services & additional benefits
Live
Hotline
E-mail
Economic Calendar
E-Book
Videos
Courses/Seminars
1. Trading Offer
1.) Forex Trading Offer: What Does Forex.com Have Under Their Umbrella
Highly rated in our Forex.com Forex Trading – Review 2018, Forex.com forex broker requires a nominal minimum balance to open an account, post that they offer below average costs for index and commodity CFDs. At Forex.com forex broker website, you will get competitive spreads for as low as 1.4 Euros/USD. Moreover, you get to trade 24 hours a day for 5 days a week with some of the best Forex pairs and shares. Forex.com offers access to a large range of trading products – 80+ currency pairs, 100+ equities, popular commodities, indices, and cryptocurrencies, along with access to some of the top companies. Broker Comparison reveals Forex to be much ahead with quality execution and opportunity to earn cash rebate.
They understand what traders want and offer refined trading tools, economical spreads and incomparable execution quality on more than 80 pairs of currency.
Tradable:
EUR/USD
USD/JPY
GBP/USD
USD/CHF
AUD/USD
NZD/USD
USD/CAD
Forex.com has been complying with the needs of traders for over ten years. They have a clear understanding of the sophisticated tools, competitive spreads and excellent execution that is needed by trader all over the world. Factors on which the quality of spreads differs include market conditions, volatility, and availability of liquidity.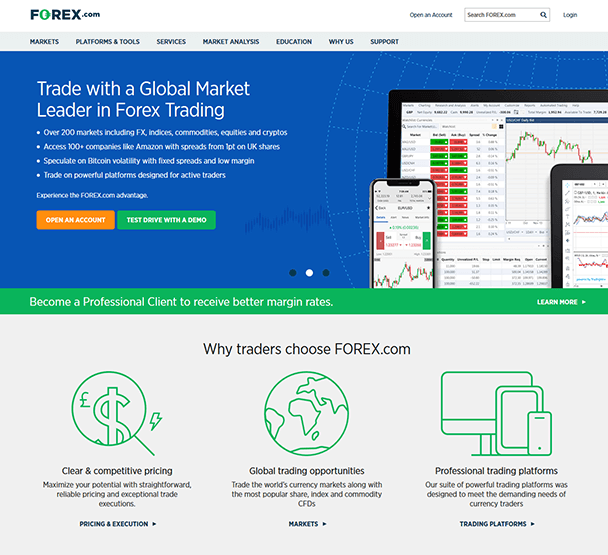 Forex.com offer below average costs and a nominal balance to open an account
Compliance with the needs of traders worldwide
Opportunity to trade 24 hours a day for 5 days in a week
Go to Broker
Risk warning: Capital can be lost. Terms and conditions apply.
2. Costs
2.) Forex Trading Costs: Understanding The Fee Structure
The Forex.com Forex Trading – Review 2018 reveals that Forex.com has pricing that is transparent, reliable and fully competitive. The tight forex spreads will be highly beneficial as you get results that are at par with your expectations with automatic price improvement. You also get hold of your savings as soon as the market moves in your favour.
The Forex trading system is an automated process and at Forex.com, you will have an assurance of fast and accurate pricing with the consistently good delivery of execution. Forex.com provides some great opportunities by bringing you new avenues of price improvement on limit orders. Like all Forex brokers, you are not charged any commission for services at Forex.com. They earn their revenue from adding variable and competitive spreads from as low as 1.2 pips over the prices that traders avail from the market. Traders can also trade through platforms like GTX Direct ECN. Forex.com aims to make sure that your trades are executed at a better speed with better prices.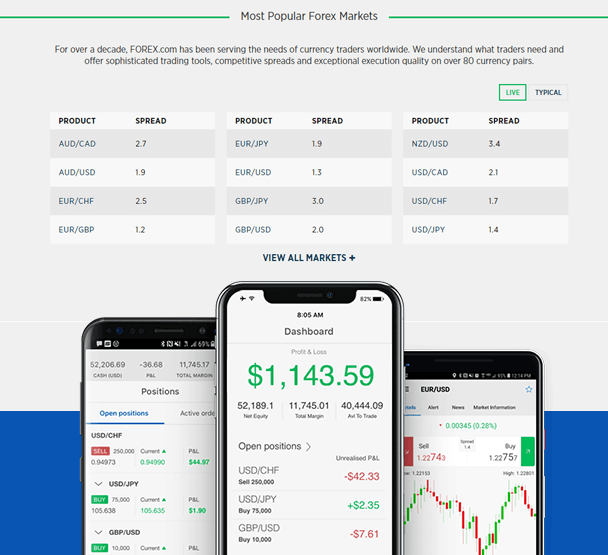 Get hold of your Savings when the market moves in your favour
No Commission to be paid for Forex.com's services
Fast and accurate prices with consistency in Execution
Go to Broker
Risk warning: Capital can be lost. Terms and conditions apply.
3. Account
3.) Accounts: Understanding Forex.com Forex Broker Accounts
Forex.com offers you to choose between a standard and a corporate account. A demo account for practicing is included as well.
Standard account
With the standard account, you can avail ultra-competitive spreads that are inclusive of your costs with no commissions whatsoever.
Commission account
With the Commission account, you get the best spreads available for as low as 0.2* and a low $5 commission for every 100k
Frequently Asked Questions
What Information do I have to submit for opening an account?
You will have to provide your name, address, tax ID number etc for establishing your identity.
Do I need to provide any financial information?
Forex.com has a policy of verifying the source of their clients' funds through a Customer Due diligence (COD) Program in order to prevent money laundering or fraud risks. You might have to provide a bank statement or a card account statement.
How much money is needed for opening an account?
It is better to deposit over 2500 of your selected currency to gather more flexibility while trading from your account. The minimum deposit required, however, is 50.
Does FOREX.com offer IRAs?
US individual customers get the opportunity to set up an individual account with Forex.com and an IRA through their custodians. Visit Forex Support for more details.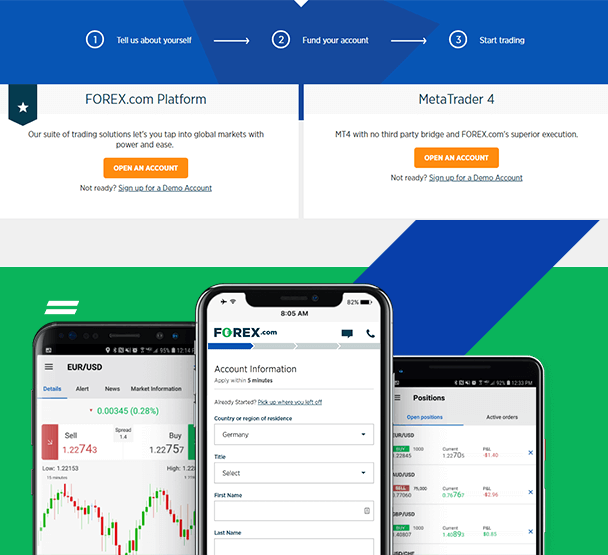 Choose between a standard and a corporate account.
Provide basic information and a nominal deposit to open an account.
IRA from well-known custodians
Go to Broker
Risk warning: Capital can be lost. Terms and conditions apply.
4. Platform
4.) Forex Trading Platforms & Mobile Trading: Learn Where to Trade
As a centerpiece of its offer, Forex.com offers an advance-trading platform, offering some great drawing tools, advanced charging features and numerous technical indicators, which the users can customise. The advance-trading platform also makes available hundreds of integrated trading strategies making it one of the best Forex trading options in the current market.
The Web Trader
The Web trader of Forex.com, with a large array of browsers, might be able to optimise speed and compatibility, but it is not too versatile. We also found in our Forex.com Forex Trading – Review 2018 that it offers full account management with deposits and withdrawals along with a host of impressive drawing tools and advanced charting.
The Mobile traders
The Mobile traders of Forex.com offer real-time trade alerts and notifications through email and SMS, along with integrated news and market analysis sections. They are specially configured to Android and iOS compatibility and duly offer access to multiple order types.
MT4
MT4 on Forex.com can be downloaded directly from the website which supports EAs, with a free hostage as part of the full package. Forex.com also offers analysis and charting features of the MT4.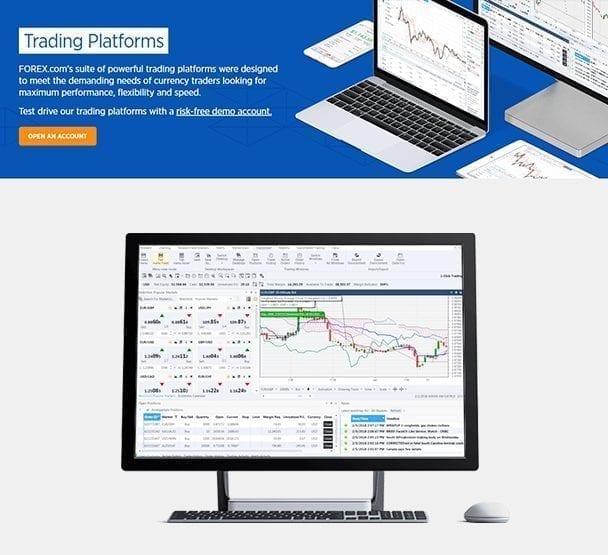 The Web Trader optimises speed and compatibility.
The Mobile Trader comes with integrated news and market analysis sections.
MT4 supports free hostage of EAs
Go to Broker
Risk warning: Capital can be lost. Terms and conditions apply.
5. Usability
5.) Usability Of The Website: Is Forex.com User-Friendly?
Boasting of a very neat and user-friendly interface, the Forex.com website not only is extremely easy to understand and operate on, especially for newcomers; it also has a well thought out FAQ section that provides an answer to most of the traders' doubts and questions. We also found while carrying out our Broker Comparison – Forex Comparison that they offer a variety of educational material at the Learning Centre of the website along with a 'Learn to Trade Forex' self-study course which provides great help to the traders by giving them access to a total of seven lessons covering subjects ranging from pips, margin, analysis and tools to charting and many more.
Along with all this, according to our Forex.com Forex Trading – Review 2018, the traders also get to avail a demo trading account boasting of $50,000 in virtual funds, which further helps them with lessons on covering a live trading platform.
Our Forex Broker Comparison also reveals that Forex.com offers live daily market analysis updates, weekly reviews of financial events and a number of other special reports.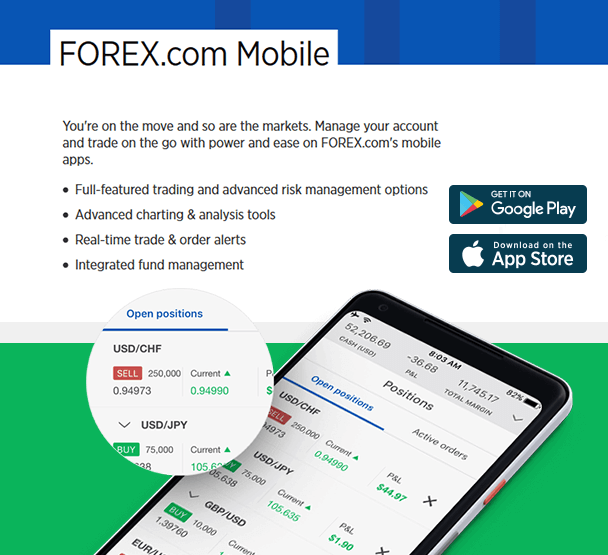 Neat interface of Forex.com website is easy to understand for beginners
Educational material is available for self-study for traders of all kinds
Market analysis and other special reports can be availed on the website, along with webinars and demo trading accounts for learning exercises.
Go to Broker
Risk warning: Capital can be lost. Terms and conditions apply.
6. Support
6.) Customer Support: Findings From Forex.com Forex Trading- Review 2018
Providing an assistance service for 24/7, Forex.com aims at committing themselves to help their clients succeed by all means. The support team can be contacted via Email, Live chat, Fax or Telephone. Apart from being easy to reach during standard market hours, the website's custom client application offers chat support to traders who wish to reach out for any problems they face at their end. However, there are no local branches if one wants to physically visit and avail accessibility services like TDD or TTY.
After every chat conversation, you will be politely asked to rate your chat with a thumbs up or thumbs down button according to your chat experience. This makes way for an excellent way to communicate genuine feedback. A group of experts is available throughout trading hours to offer their assistance if you come across any hurdles. You might have to have a flash player in your system in order to avail the live chat service at all times during the day. It is not swiftly responsive, but the overall service is good enough to cater to any inquiries you might have.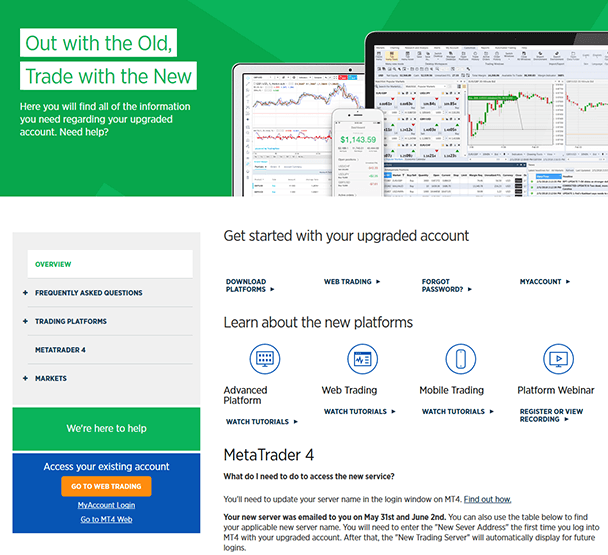 An alert support team comprising of a group of experts
24/5 assistance service during normal trading hours
Scope for genuine feedback to be given by traders availing the chat services
Go to Broker
Risk warning: Capital can be lost. Terms and conditions apply.
7. Payment
7.) Methods Of Payment: All About The Funds
You can pay on Forex.com via debit card. You can also wire transfer money according to your convenience though this will require a minimum transaction of $30 and a maximum of $10,000. You can also use SoFort banking to wire your funds at Forex.com.
You need to visit the funding page and log in to My Account in order to start an easy funding process. Please note that they accept checks that are based on US dollars only. Also, make sure that the name on the check matches the name on your account or else your funding might get cancelled. Funding via checks normally takes 5-10 days to clear and credit to your account depending on the bank policy. You should keep in mind that all checks must be payable to FOREX.com only. They keep their operating funds separate from customer deposits; the latter is distributed across a network of custodian banks. The banks used by Forex.com follows strict guidelines set by a Risk Committee governed by GAIN's Board of Directors. Please refrain from payments by Western Union or PayPal.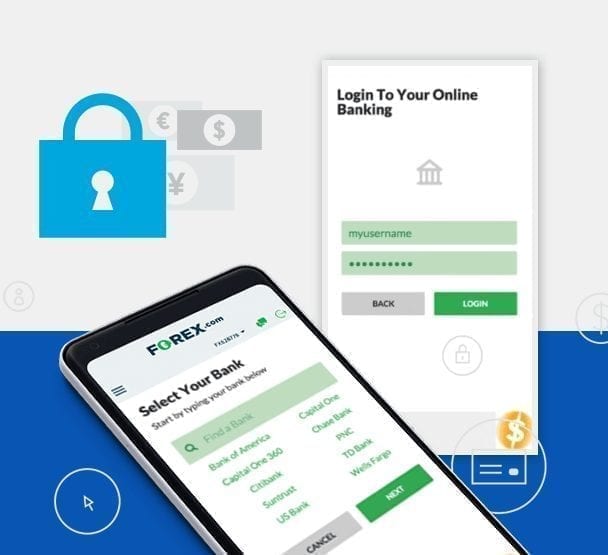 Log in to "My Account" on Forex.com to access the funding page
Transfers are acceptable through debit cards, wired money, echecks, and checks
Payments not accepted through Western Union or PayPal
Go to Broker
Risk warning: Capital can be lost. Terms and conditions apply.
8. Offers
8.) Additional Offers: Extra Benefits of Joining Forex.com
Forex.com's introducing broker programs simply rewards for referring new customers to their award-winning CFD and forex trading brands, City Index and Forex.com . Being one of the simplest broker programs, they make it possible to join quickly and easily without upfront investment or intricate integration. You can go to their Contact us page to get started now!
They also have an active trader program where high-volume traders get up to 10% cash rebates and other attractive benefits. You will also get up to 1.5 % APY interest on average daily margin. Along with these appealing offers, you will be able to avail professional guidance from leading market strategists. You will get a special reimbursement of bank fees on wire transfers.
As benefits for customers, Forex.com offers access to global markets, the best trading experience, and excellent liquidity and execution. For introducing Forex Brokers, some of the offers include Attractive compensation plans for IBs, Real-time monitoring and reporting, the opportunity of partnering with a trusted provider, a steady revenue stream and automated online account opening that ensures fast on-boarding.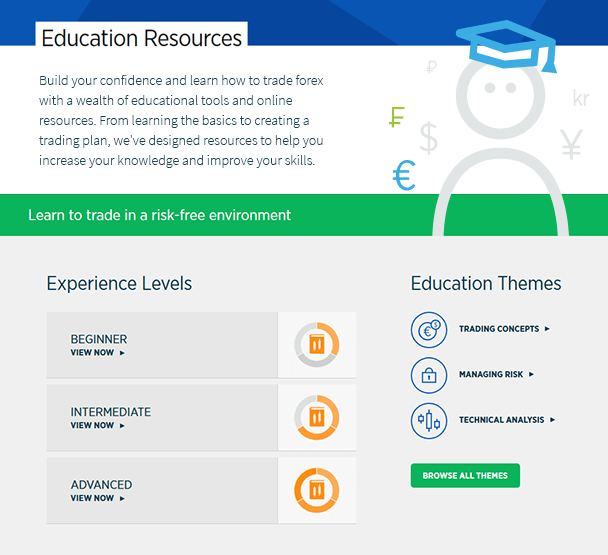 Introducing broker programs offer attractive rewards for new referrals
Cash Rebate and other attractive offers for high-volume traders
A host of benefits for customers
Go to Broker
Risk warning: Capital can be lost. Terms and conditions apply.
9. Regulation
9.) Regulation & Deposit Protection: Is Your Money Safe With Forex.com?
Forex.com forex trading broker is a registered FCM, CFTC and NFA # 0339826 since 2004. They strongly support regulatory oversight and very often review procedures across a range of areas to make sure that their customers' assets are best protected and their interests are well served.
They offer a number of regulatory services including Business Continuity and Disaster Recovery, Risk Management, Supervision of Electronic Trading Systems, Information Security, Anti-Money Laundering, Customer Complaint, and Trade Reporting. They have a strongly functional in risk management philosophy, as a part of which they strive to maintain capital levels in excess and thereby ensure the users are well off during times of economic uncertainty. Their global liquidity plan provides access to important resources from the GAIN group and an external for the credit facility.
CFTC, NFA
Regulatory Authority
Forex.com forex trading broker ensures utmost levels of funds safety by reporting to NFA on a daily basis and also performing assessment and reviews for customer assets. Counterparty risk monitoring procedures are also reviewed and approved on a quarterly basis.
Some of the other Agencies presiding over Forex.com are
Australian Securities and Investments Commission (ASIC)
Canada's Financial Services Agency (FSA)
Commodity Futures Trading Commission (CFTC), the
Investment Industry Regulatory Organisation of Canada (IIROC)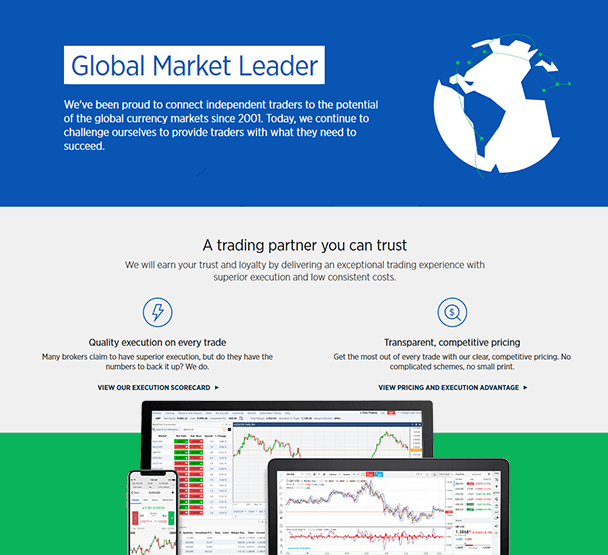 Forex.com forex trading broker is registered with many international regulatory bodies
Strict measures are taken to ensure maximum safety of funds
They operate on a strong risk management philosophy
Go to Broker
Risk warning: Capital can be lost. Terms and conditions apply.
10. Awards
10.) Awards: Where Does Forex.com Stand In The Forex Market
Forex.com boasts of a humongous number of awards collected from the time it was a startup company till the time it became one of the most sought-after and successful forex brokers in the United States. Following are some of the most prestigious awards received by Forex.com over the years.
Forbes "Best of the Web" (2001)
"Start-Up Company of the Year" (2002)
"Growth Company of the Year" (2003)
Ranked #1 Currency Forecaster (2004)
#1 Fastest Growing Company in New Jersey (2005)
Inc. 500 Fastest Growing Private Companies List (2006)
Deloitte Fastest Growing Firms in North America (2007)
#43 Fastest Growing Company in NY/NJ/CT Region (2008)
Best Online FX Provider by MoneyAM (2011)
Best Forex Retail Trading Platform FOREX.com was voted Best Forex Retail Trading Platform at the UK Forex Awards 2012.
Best FX Broker As voted for by the readers of Shares Magazine, they won 'Best FX Broker' at the 2012 Shares Awards.
Best US Forex Broker FOREX.com was voted Best Forex Broker in the USA 2013 at the ForexExpo Awards in Moscow.
Best Forex Broker FOREX.com was voted Best Forex Broker by readers of the FT and the Investors Chronicle at the '13 Investment Awards.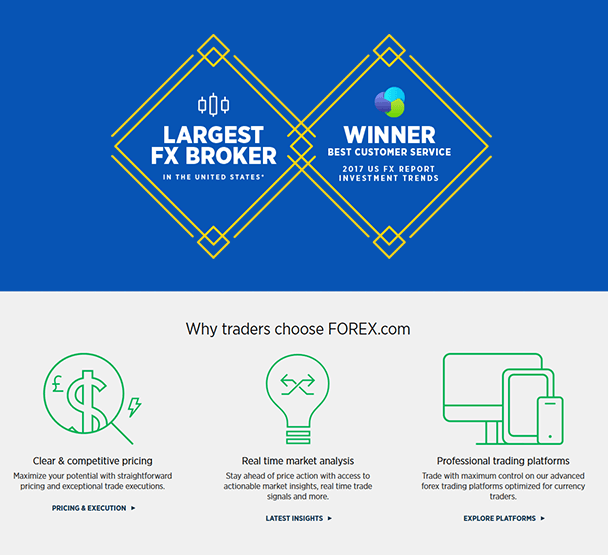 A large number of prestigious awards have been won by Forex.com
Won Forbes "Best of the Web" (2001) when they were just starting
Have won "Fastest growing company awards" a good number of times over the years
Go to Broker
Risk warning: Capital can be lost. Terms and conditions apply.
Conclusion: Final Thoughts for Forex.com Review
We can justifiably conclude that Forex.com is a legitimate and a mighty effective Forex/CFD brokerage with an outstanding platform offer, tremendous product selection, and decent regulatory profile. The website is responsive, user-friendly and detailed to the tee that helps seasoned as well as novice traders find a strong foot in the hectic world of forex trading. The demo account with wholesome virtual money is a very thoughtful and effective measure to help traders learn more about the nuances of trading online.
It is generous of them to offer a demo account along with study material , online webinars and a host of special analysis report updates from time to time to help the newcomers and veterans alike. Offering quite a comprehensive package of available markets and technology, there are a number of good things on offer at Forex.com that includes the "Advantage Trader" platform, prompt customer service a custom research available for traders trying to understand the changing markets and looking for real opportunities.
No commssions
Renowned broker
Good customer service
Average spreads
Not very customisable
Test result
Broker

Go to Broker
Risk warning: Capital can be lost. Terms and conditions apply.